In:
Just as they say, all good things come to an end. Today is the last day of our 12-night cruise; we are making our way back to Rome with one final sea day.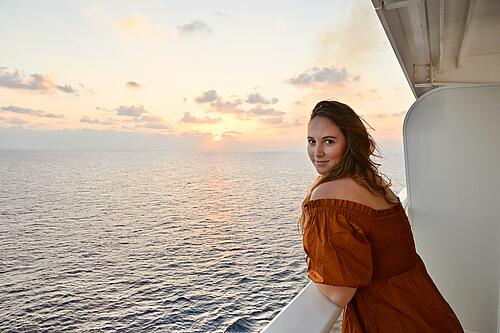 I'm always shocked how quickly time flies when I'm on vacation. I wish the work week could go by this quickly!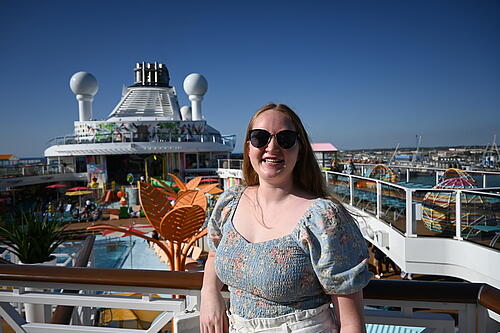 We gained back 2 (much needed) hours of sleep last night thanks to a combination of European daylight savings and losing an hour last week when we made our way to Israel.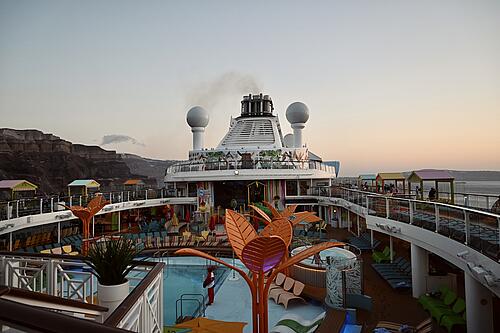 I'll take an extra hour of cruising any day! Although, it was confusing when I woke up and looked at my phone's time since I didn't know whether it had updated for the time change.
Fortunately, I had no place to be today so it didn't really matter the time.
Captain's Corner and Breakfast
Angie and I worked our way out of bed around 10am, which was really noon for our body's time. We've either been getting up early and spending all day exploring or we've been sleeping until noon on sea days, there hasn't been much of an in between!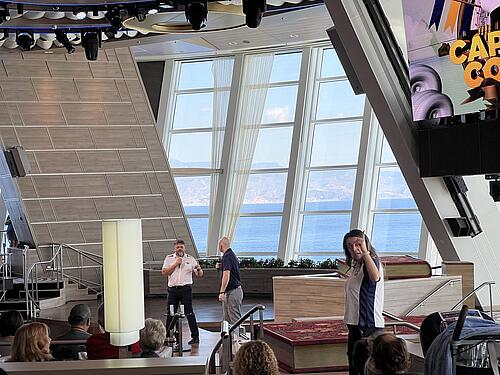 We enjoyed breakfast in Cafe 270 right as Captain's Corner started. I've never attended this event, so it was nice to tune in as I sipped on my boozy Irish coffee.
Last day of vacation means you have to go out with a bang, right?!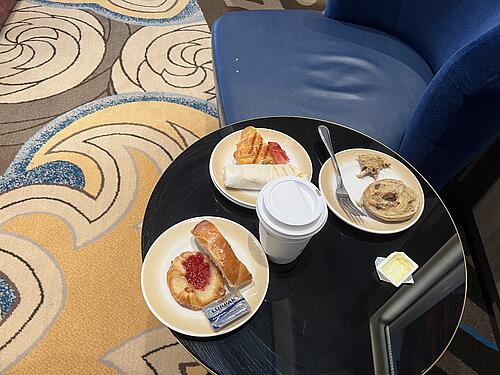 We watched a little behind the scenes video about the crew's living quarters. The captain also answered questions from passengers in the audience. It was a nice event, although Angie and I don't seem to remember too much of what was discussed.
One interesting point the captain made was regarding last night's medical emergency. Around 1am there was an alpha call. The captain said today that we sailed faster through the night to get to the Straight of Messina quicker for the passenger to be evacuated by coast guard.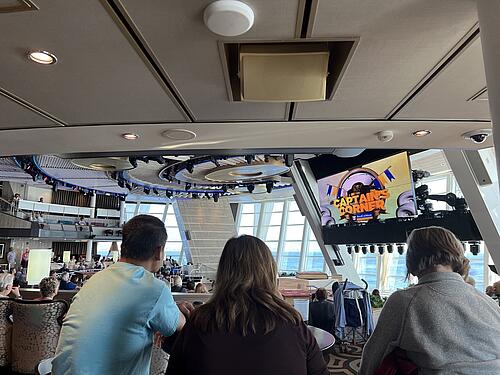 The captain said our medical facility onboard was a better option for the passenger to be stabilized rather than having them evacuated by helicopter, as the helicopter doesn't have as much medical care available during transport.
Galley Tour
During this time, mom was enjoying bottomless mimosas during her tour of the galley!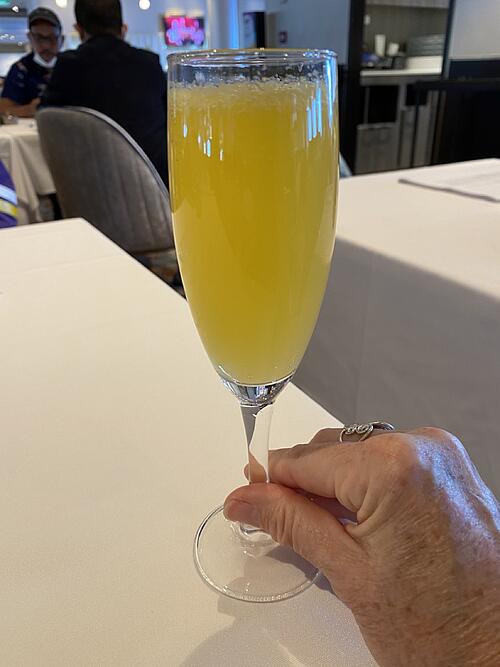 Last night, our head waiter asked if anyone was interested and mom said she actually would enjoy a tour like that!
She said when arriving in the dining room, everyone was required to wear a mask and sign a waiver. The tour started with an explanation of the chef scarf colors and how they indicate how long the chef has been onboard and different specialties; for example, a red scarf means the chef understands dietary restrictions while yellow scarves are reserved for new people in training.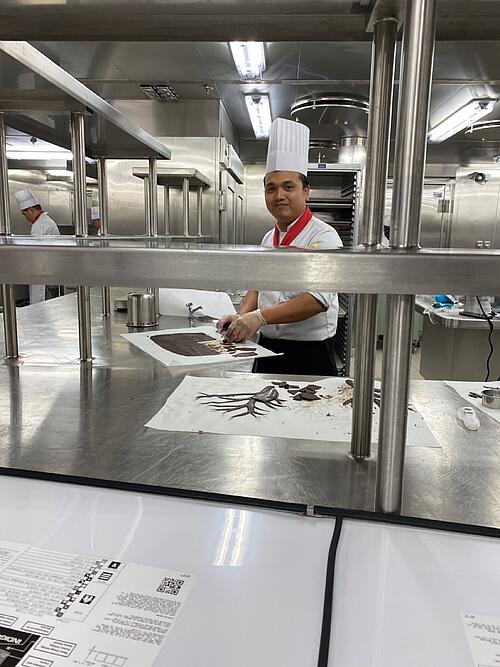 Mom told us they serve 6,000 dinner rolls per service per day! That's about 2 rolls per person per meal. The kitchen has a 'magic machine' that transforms dough into perfectly sized balls to bake in seconds.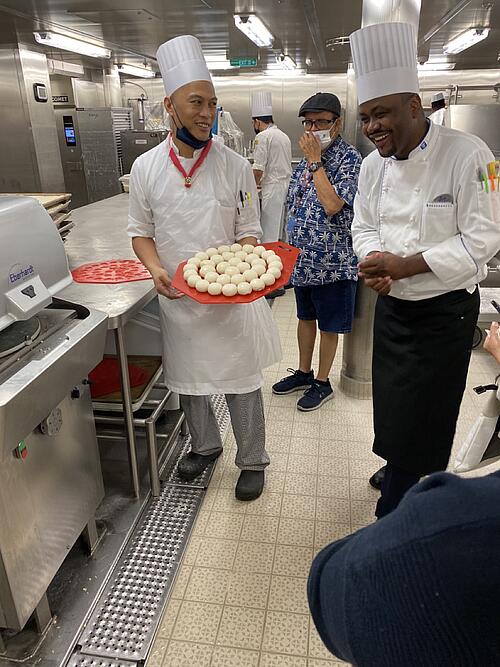 Apparently, the pastry and bakery shifts are 24 hours each. The chef also explained how shorter cruises have all the fresh produce needed for the entire cruise while longer ones, like ours, need to restock for fresh produce at some point during the cruise.
Mom said the kitchen was absolutely spotless with the stainless steel shining everywhere she looked.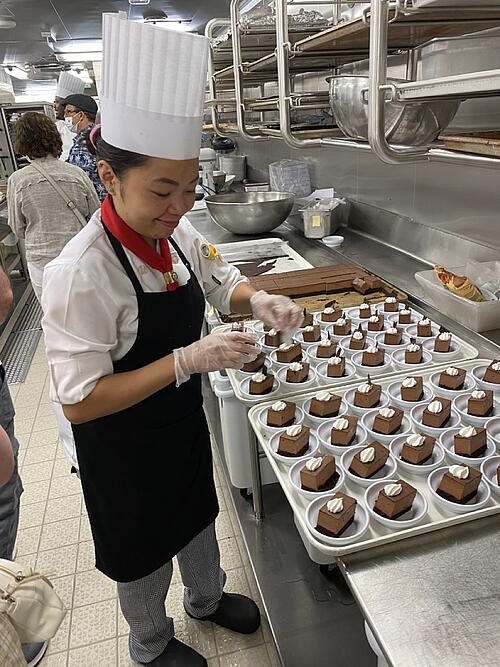 Straight of Messina
After Angie and I listened to the captain speak in Cafe 270, we met up with dad in the Solarium to watch our ship sail through the Straight of Messina. We sailed through the Straight in the early morning during our sailing to Israel, so none of us witnessed the passing.
The Solarium filled up quickly with other people wanting to watch us sail the Straight. We had spots right against the window, which was perfect! I used this time to finalize my blog from the night before.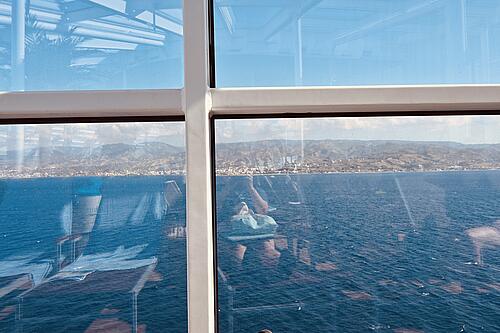 We watched as the pilot came on to guide us through the Straight. There was also a moment when the ship halted for a coast guard ship to sail alongside and take off the sick passenger.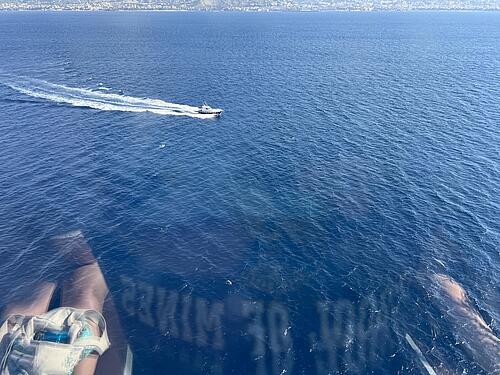 About this time, we decided to have another round of cocktails. I enjoyed a mudslide, which was creamy and delicious.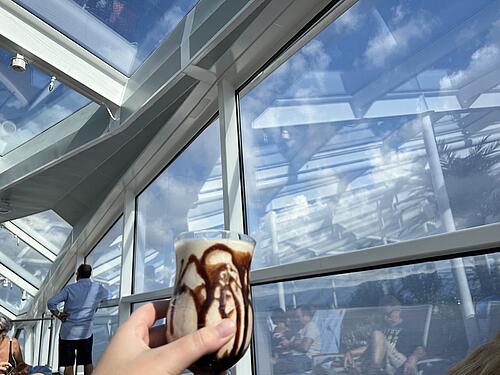 Angie decided to switch it up and tried a smoothie from the Solarium bar. We were surprised to find smoothie and juice options at the Solarium Bar. There were also protein drinks available.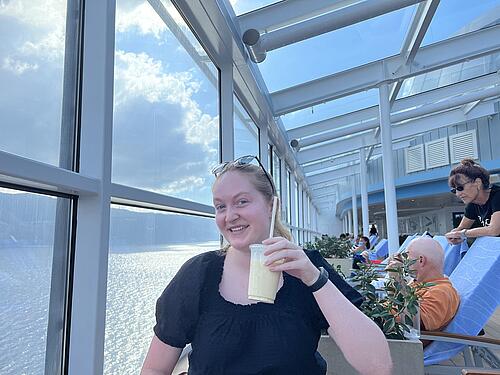 I had one last visit to El Loco Fresh for a final cheesy chicken quesadilla. The pork meat looked tasty as well, so I gave that a try. The last day of a cruise always inflicts this sense of urgency that I need to do it all and try everything since it's your last chance.
My quesadilla tasted extra delicious. I've honestly probably had more quesadillas in the last 12 days than I've had in the last decade!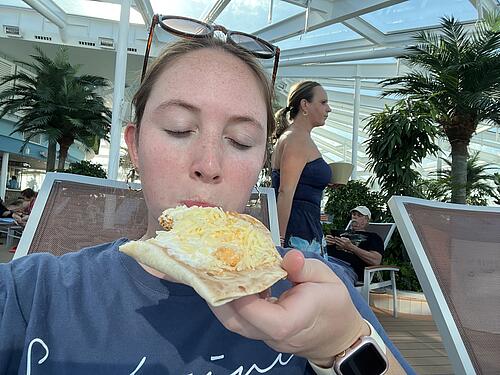 Mom and dad played a round of cribbage during the passage sailing. We also heard all about mom's galley experience and tour during the time!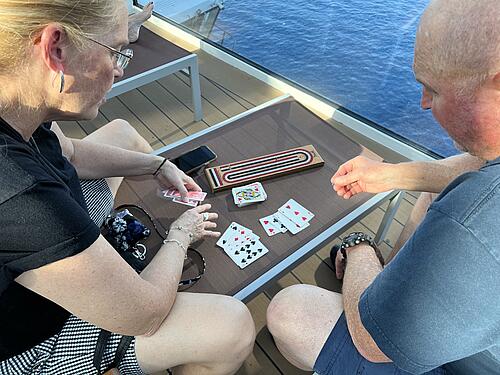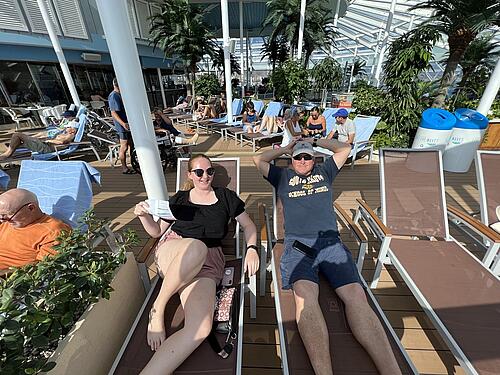 After lounging in the Solarium for a while, it was time to pick out our 4 free pictures that we get with our Diamond Plus benefits. This is a nice perk that we always take advantage of.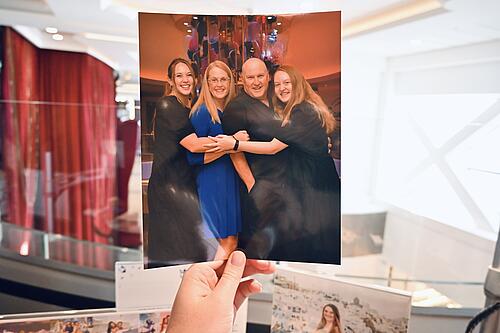 I have never seen on-demand printing stations on a cruise ship before! It's nice that you can order your picture and then within a few minutes, the kiosk prints your picture.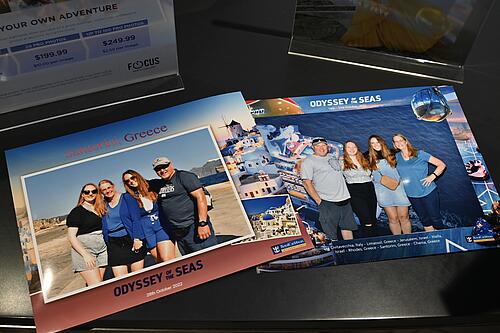 NextCruise Experience and Packing
By this time, I was about ready to head to NextCruise for my 3:30pm appointment. My husband and I are planning a trip for next June on Jewel of the Seas from Amsterdam to Iceland.
I never used to take advantage of NextCruise since I didn't fully understand the perks. Having a reduced deposit of only $200 is a win for me, as my husband's schedule is very unpredictable with the military. You can take advantage of any current promotional pricing and get onboard credit.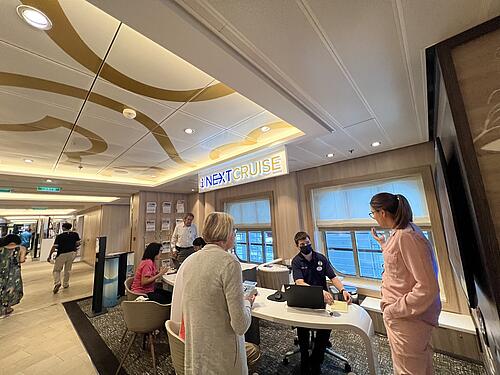 Although I had an appointment, I still had to wait about 25 minutes to meet with a consultant. It was pretty busy, to say the least. Once I was able to met with one of the consultants, we had the reservation booked within 15 minutes.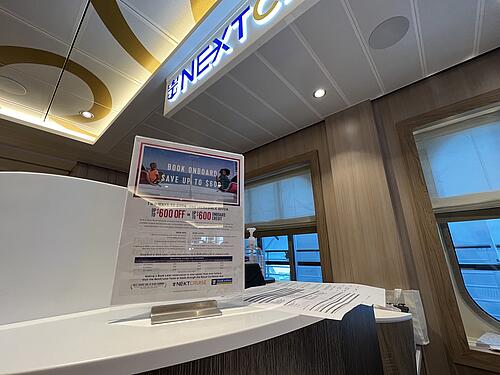 I was also eager to book after seeing Royal Caribbean Blog's post about the American Express offer for spend $1,000 and earn 25k reward points - which I had on a few of our cards.
Iceland, here we come! Having another exciting cruise booked in the future always helps ease the post-cruise depression. This was especially necessary as I went back to our stateroom to start packing.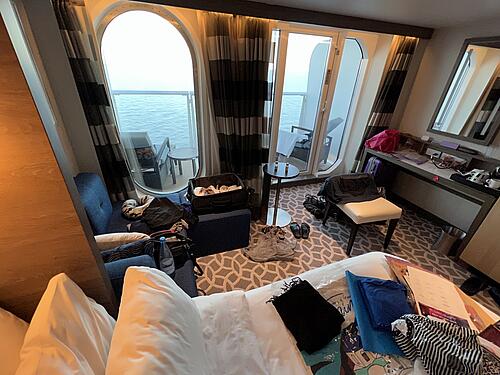 We don't fly out tomorrow from Rome, which makes packing a little bit easier. I wasn't concerned about weight or liquids, so it was really just a scramble to pack things away as quickly as possible so I could get back to enjoying my final day.
Last Evening Onboard
Before our last dinner in the dining room, we went to have one last cocktail at Lime & Coconut Bar to see our favorite bartender. The sun had just set in the distance.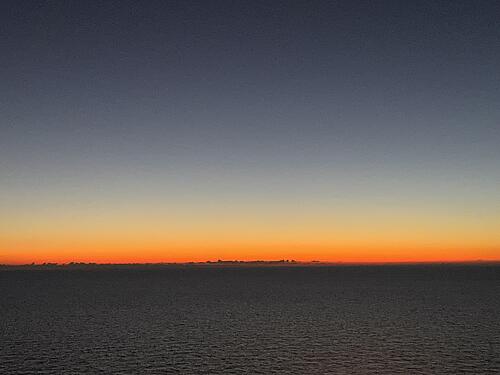 Since we were the only ones there, we asked Dwayne ('Dwa') about tipping; for example, we figured our Diamond drink vouchers would provide the bartender with an automatic gratuity in the same way as if we purchased a drink.
Dwayne explained that the free drink vouchers do not provide any gratuity unless the passenger provides an additional tip on the receipt or gives a cash tip.
We took this opportunity to provide Dwayne with a tip for taking care of us for the sailing and wished him well.
For the last supper, we enjoyed a variety of pot pie, chicken tikka marsala and prime rib. Mom went out with a bang ordering 3 servings of crispy coconut shrimp and escargot. She was pleased to see the escargot improvement after talking with the head waiter.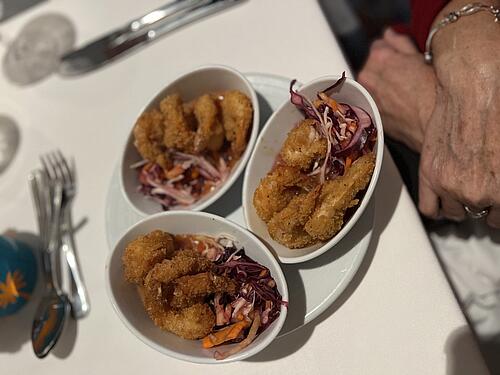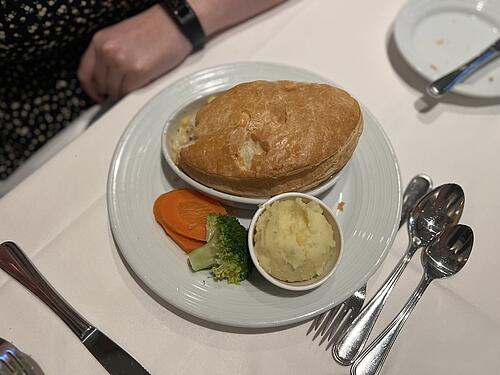 Angie and I enjoyed both the dark chocolate brownie and pavlova for dessert, which are two of our favorites.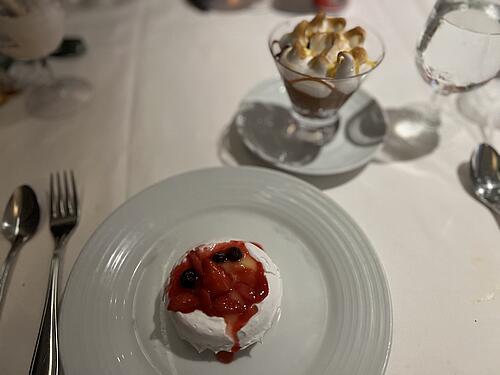 There wasn't much entertainment for the final evening, as we still needed to finish packing and make sure our suitcases were out in the hallway on time.
It's always a sad feeling to see the suitcases line the hallway - you know the end is near.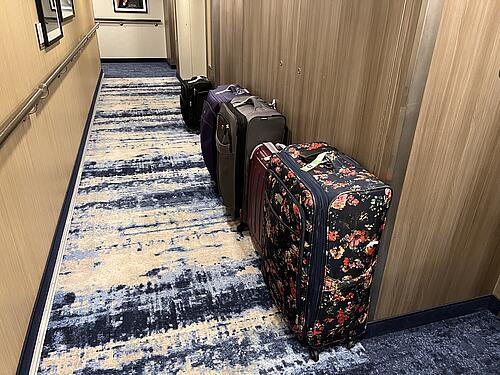 The biggest commotion of the evening was when mom couldn't find her Seapass card; that's a first for all of us! She had to spend about 30 minutes in line at Guest Services to get a replacement card.
As the night came to a close, we all reflected on our favorite memories from the cruise. Of course, Israel was the highlight for all of us. There was an overarching gratitude from everyone that we all stayed healthy and had such positive experiences.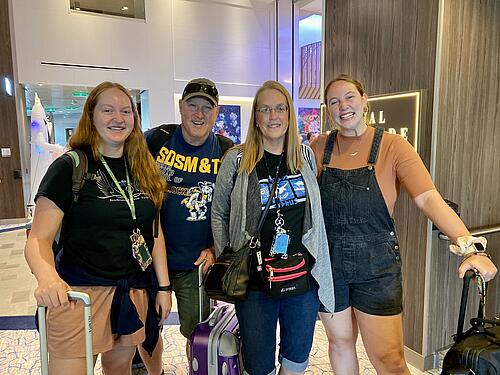 That's a wrap on our 12-night Holy Land cruise. It's crazy when you plan and look forward to a cruise for so long (years in our case), and it finally happens. Time always seems to go too quickly. We are thankful for the opportunity to spend this quality time together experiencing such rich and diverse history. 
Thanks to everyone for following along during our cruise - it's been so rewarding sharing our experiences with all of you and reading your comments!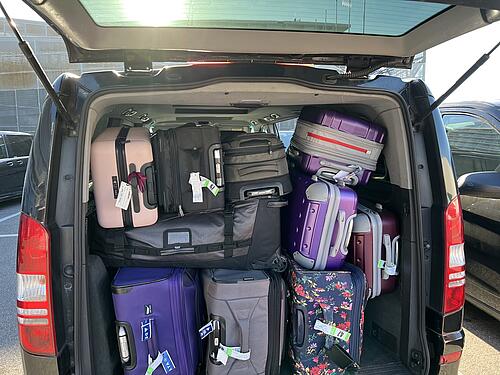 Stray Observations
As I mentioned, there are a lot of people doing back-to-back cruises with this sailing. Approximately 30% of the people on this sailing are staying on the ship for the transatlantic! The next sailing will return to Fort Lauderdale with stops in Italy, Spain and Portugal before crossing the Atlantic. These cruisers found out not too long ago that they needed to take a test, although it's complimentary of Royal Caribbean.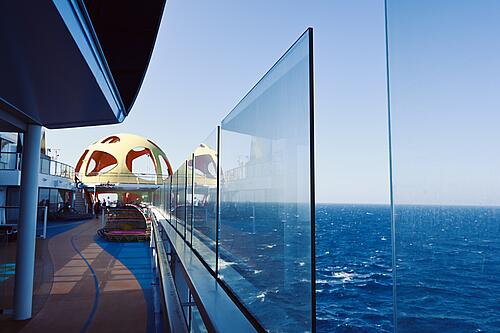 There's certainly been a noticeable increase in coughing within the last few days, but I have only heard of one person testing positive on this cruise.
It seems like there's other illnesses circulating, as we've all come down with some sort of cold during this cruise. We were relieved to see all of our home tests be negative.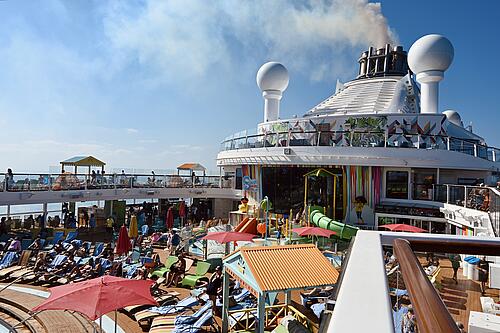 Service onboard has been incredibly attentive across the board. Additionally, the ship is impeccably clean. There was never one moment where the hand sanitizers were empty.