In:
Hello from the beautiful island of Cyprus! Our consecutive sea days came to an end as we pulled into Limassol, Cyprus around 9am.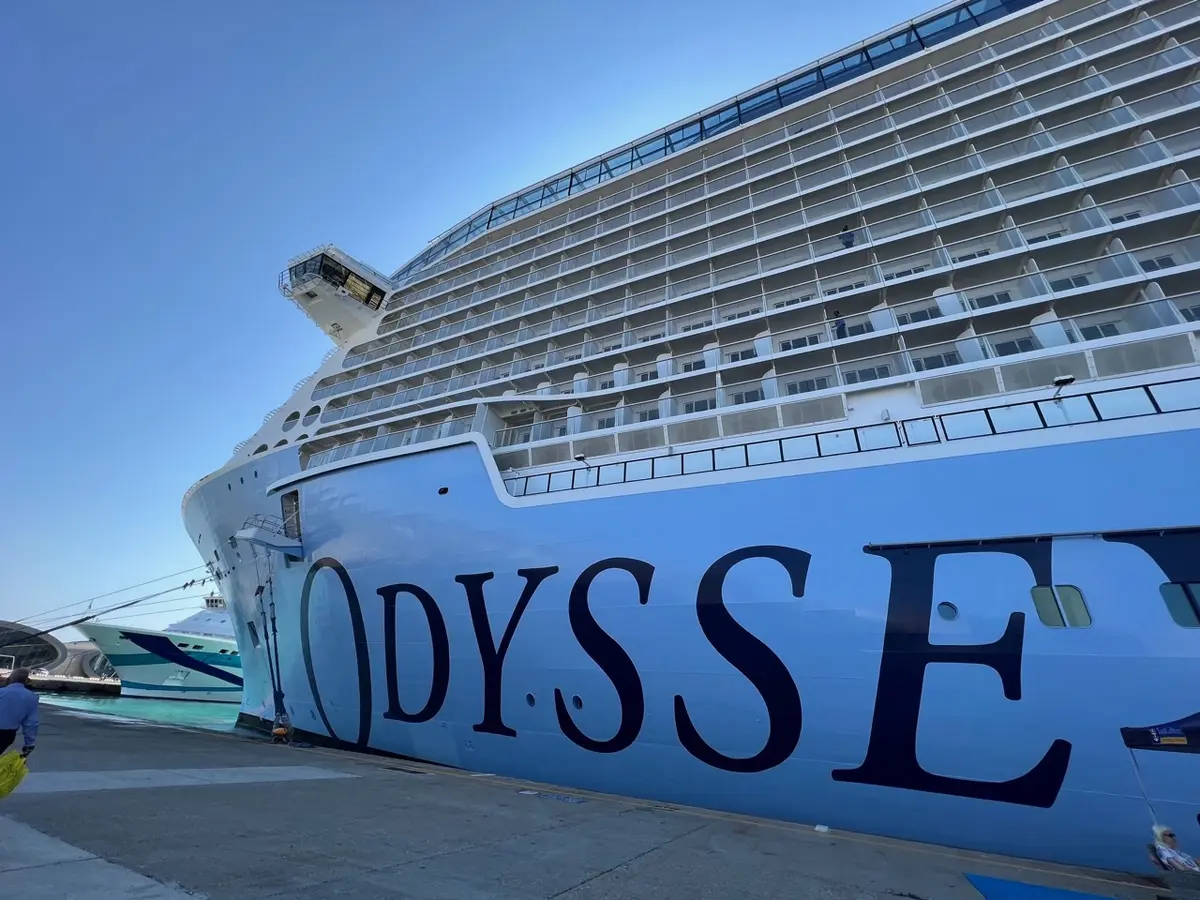 As I mentioned yesterday, we opted to cancel our walking tour excursion through the ship to do our own thing. Knowing we have 3 full days in Israel coming up, we wanted to have the flexibility to do whatever we wanted.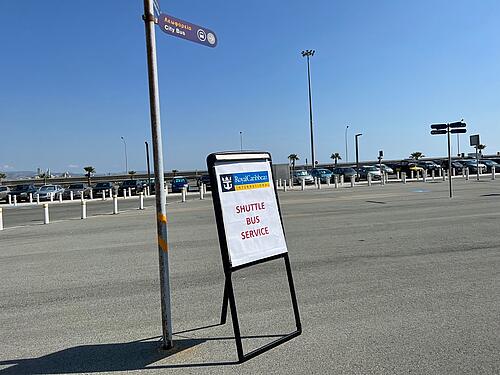 Angie and I enjoyed sleeping in a little longer than we were planning. Tomorrow morning's 6:30am wake-up call will be brutal!
We met up with mom and dad in the Windjammer for breakfast. This was, shockingly, our first time we've been to to the Windjammer. I love all the options available in the Windjammer - I think it's my favorite spot for breakfast when cruising. 
I was hoping to find outdoor seating like my husband and I enjoyed on Anthem of the Seas each morning, but there was no outdoor Windjammer seating for this ship. 
After a delicious breakfast, we made our way to the stateroom to get ready for the day and make our way to the gangway.
A Cyprus Dizzy Spell
After exiting the ship, I had my own 'Alpha Alpha Alpha' medical scare right after getting off the ship!
We took the elevator straight down from the top deck and then got off the ship. I noticed my ears were not popping, which is unusual, so I plugged my nose and forced my ears to pop.
All of the sudden, my ears started making some screeching sounds and everything started to spin. I was so dizzy, I couldn't even look straight. Angie said I looked like I was in a sumo wrestler squat as I tried to get my footing. I started to hang onto my mom and then crouched a bit to create a sturdy base.
Unfortunately, the dizziness got worse and I went straight to the ground. I didn't want to take mom down with me, as she's not necessarily the most physically stable person as is. I didn't feel faint, just extremely dizzy.
I knew if I didn't get to the ground myself that the ground would find me - and I would fall flat on the concrete. There I was, having my own alpha alpha alpha medical scare right off the gangway.
I started to panic - what if I can't see straight for a while?! I've never had vertigo of any sort and I rarely even get seasick. It felt like I was on an uncontrollable roller coaster.
A small group of concerned cruisers came crowding around me but I kept saying, "I'm fine, I'm fine! I popped my ears and now I can't see straight". 
Luckily, after staring straight into the distance for a minute or so, my vision started to get better.  Once the world stopped spinning, I grounded myself and felt fine enough to continue walking. I've never had something like this happen to me - it was a scary moment for sure. 
Perhaps my equilibrium was thrown off from getting off sea to land and then popping my ears exasperated the issue. That's the last time I force my ears to pop!
Exploring Limassol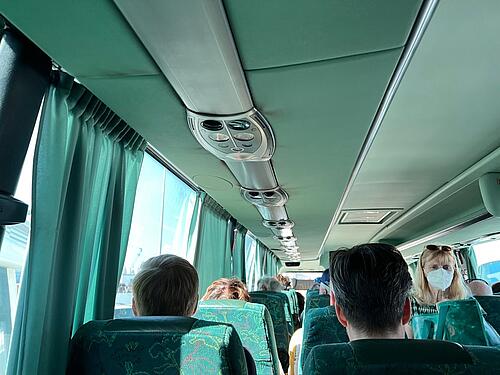 Royal Caribbean provided free shuttles from the port into the city for free. This was a nice option, as the port was more industrial than I expected. The ride lasted no more than 10 minutes into town, which is just a few miles from where our ship docked.
We were out of the shuttle and dropped off near the Limassol Marina, which was a beautiful part of the city. This area was lined with shops, boats and seaside eateries. The water was strikingly blue.
First on our list was the Limassol Castle, which would have been part of our walking tour we originally booked. As we weaved through the side streets, we stumbled upon a lot of little souvenir shops. It was nice to shop and explore the old city without being on a time crunch.
We also noticed there were tons of cats wandering around the island. One of the shop owners claimed a street cat as their own, but we saw probably a dozen different cats throughout the day wandering the streets.
The Limassol Castle was not far from where the shuttles dropped us off. It was an easy and leisure walk - no more than 5 minutes had we walked straight there. The castle was built in 1590 according to our online research and it was a quaint little castle.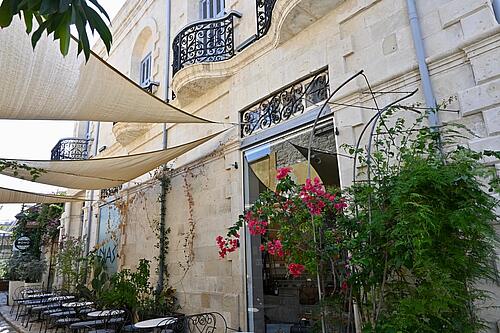 There was an entrance fee for going into the castle and we didn't really feel like going inside, so we just admired the outside of the medieval structure.
Next, we walked through old town a little more and stumbled into some cute side streets and alleys. There were even more shops to enjoy. I was amazed by how quiet the city seemed, but perhaps this was because it was a Saturday.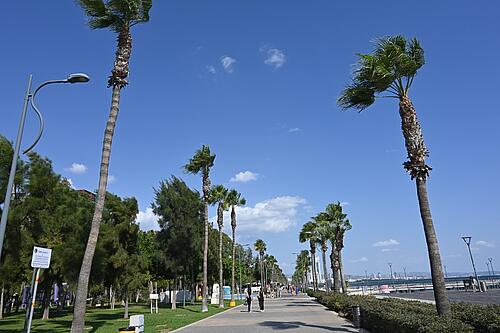 We made out way back to the ocean and found a promenade, which was a nice walkway right along the sea. It was lined with palm trees, parks and eateries. There was a lovely breeze that kept the heat at bay.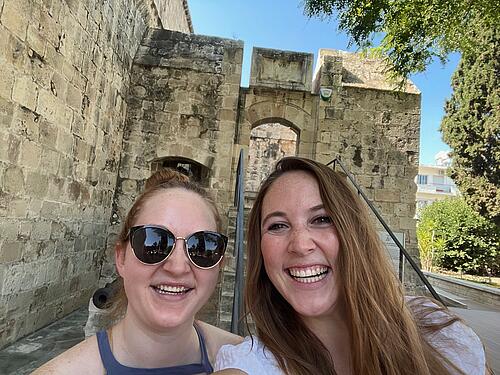 During our walk, we found a spot to sit down and grab a quick drink. The menu stated if you left a TripAdvisor review that you would get a free drink; so, I promptly opened my phone and left a review. Say no more - anything for a free drink! Angie had the free drink while I ordered a limoncello cocktail.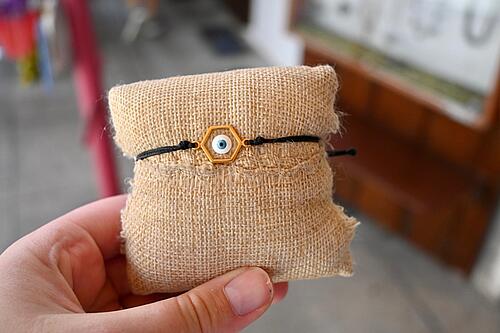 Both cocktails were equally beautiful as they were delicious! It was nice to sit down and enjoy the ocean views under some covered shade.
Once we finished our drinks, we started to make our way back to the shuttle meeting spot; again, we walked along the promenade. This brought us all the way back to the Marina, where we enjoyed more of the local sights.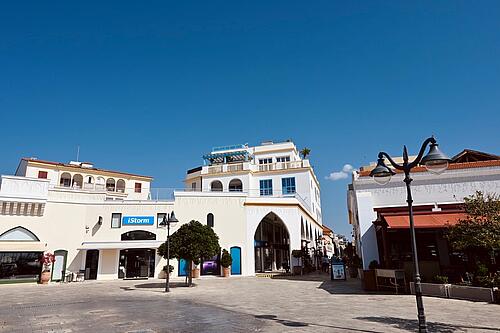 All of us really enjoyed Limassol! I would love to go back and take a tour of some of the other main attractions on the island. Given the port-intensity of this itinerary, we wanted to take it easy today in preparation for our next 3 days in Israel.
Back Onboard
As we made our way back to the ship, we went up to the pool deck for a quick snack. We walked about 4 miles while in Limassol so we worked up an appetite!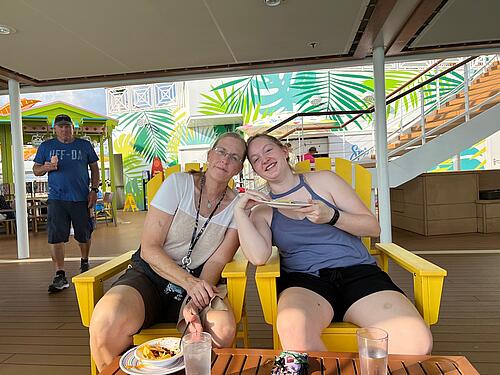 We all went to my new favorite spot, El Loco Fresh. The cheesy chicken quesadilla with sour cream just hits the spot every time. Mom and dad enjoyed some nachos.
The Caribbean band started to play as I went through today's photos. I loved all the songs they were playing - even some Ed Sheeran ones with a Caribbean flair. It was a nice way to spend the late afternoon before we went back to the cabin to get ready for dinner. I even dozed off at one point while relaxing in the lounger.
Giovanni's Italian Kitchen
As the sun started to set, we went back to our staterooms to get ready for dinner. For tonight, we had a reservation for Giovanni's Italian Kitchen. We've dined many times at the old Giovani's Table, but we had not tried this new twist on the Royal Caribbean classic.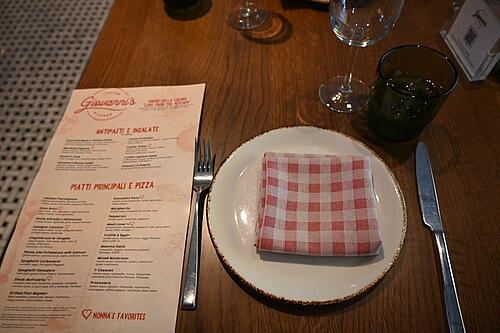 To start, our waiter, Anil, was excellent. His warm presence immediately made us feel welcomed into the restaurant. Since we've never dined at this establishment, there were quite a few things on the menu that we wanted to try.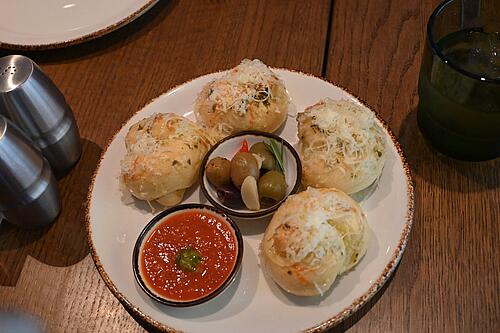 He first brought us the warm garlic knots were oozing with buttery goodness - we immediately ordered a second serving.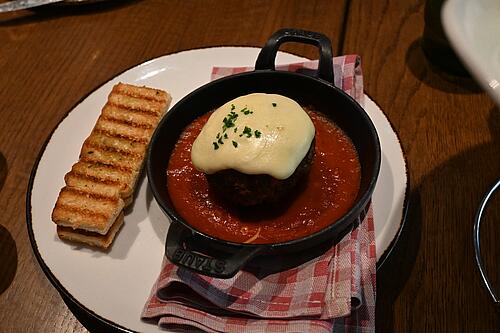 For starters, we tried the Giant Meatball, Stromboli, Truffle Caprese Salad and Calamari. Everything was excellent. I loved the Truffle Caprese Salad and Angie also really liked the Stromboli. The meatball was indeed giant and very hearty.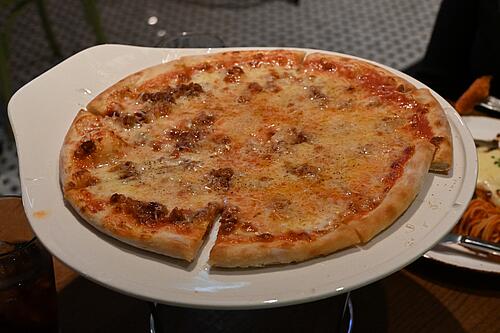 Giovanni's is known for its pizza, so we ordered the Meatlovers pizza and the Truffle & Egg pizza sans the egg. The hit of the night was the Truffle pizza, which had the perfect hints of truffle. There wasn't a piece left at the end of the night.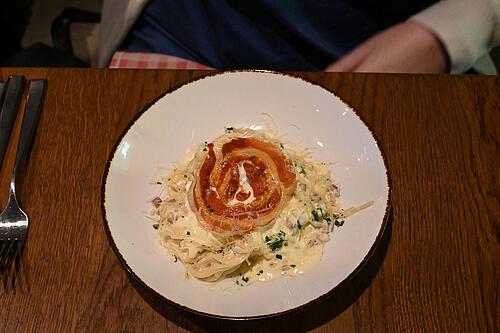 For pasta, we tried the Carbonara and Fettuccini Alfredo. The Carbonara was the showstopper at our table.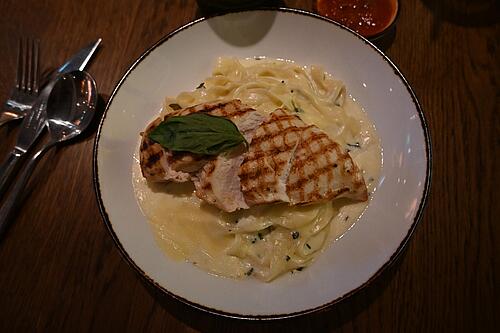 Entree wise, Mom ordered the Chicken Parmesan and Dad ordered the steak filet. Both said their meals were awesome. Dad even said the filet was *almost* as good as the steak he had in Chops Grille the first night! Our compliments to the chef.
Halfway through dinner, we saw the ship start to pull away from the port. We were hoping to see the sunset over Cyprus, but the sun had already set. We waved goodbye to the city as the ship turned around and started its way out to sea.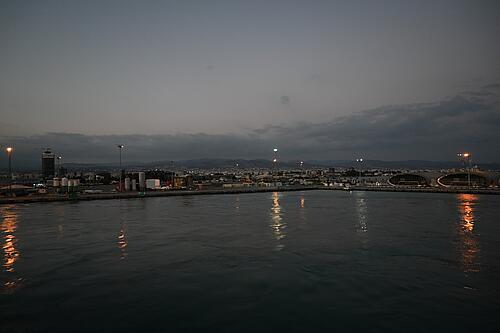 I wish the specialty restaurants had better ocean views, as all we could see were the big yellow lifeboats from inside the both Chops Grille and Giovani's.
Back to our meal, we also ordered a lasagna to share and the serving was absolutely huge. It was practically an entire pan of lasagna; unfortunately, this one wasn't our favorite and we felt a little wasteful for wanting to try it and then not loving it.
Normally, we are pretty good about ordering only what we know we will eat. We've cruised enough to know the portion sizes that are adequate, but we definitely over ordered tonight. If we return to Giovanni's, we know what to order and how big to expect the portions.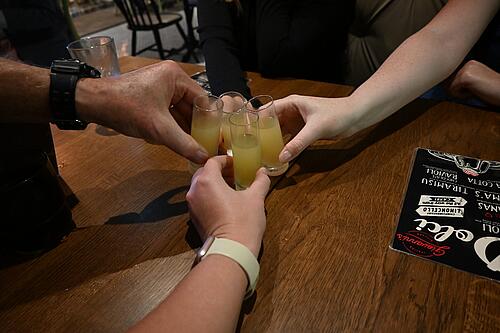 We always save enough room for dessert, which is served with a complementary shot of limoncello. Mom and I are the only ones who like limoncello, so I finished the shots from Dad and Angie.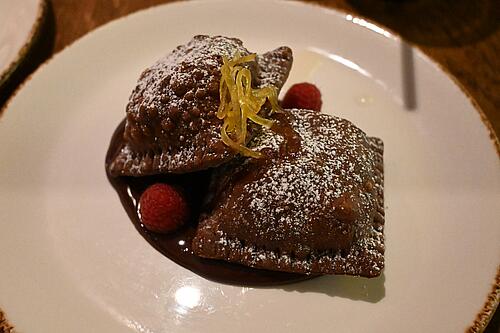 Angie and I tried the Nutella fried ravioli, which was rich and decadent. Dad had the tiramisu and mom had the banana Nutella Stromboli, which is what Anil recommended. We were in Nutella heaven!
Overall, dinner was excellent and we would happily dine at Giovanni's Italian Kitchen again. I love the revamped feel to make the space more trendy and less formal. I always enjoyed Giovanni's Table and the food that was served, but I think we prefer Giovanni's Italian Kitchen.
We had wonderful and attentive service from Anil and his partner - they both made our experience even better. 
Angie said she was 'as stuffed as that Giant Meatball' after the meal! I empathize with this metaphor.
Israeli Plans for Tomorrow
There isn't a ton of entertainment tonight happening, as most are getting ready for the next few days in Israel. We have all day shore excursions booked through the ship for all 3 days.
We originally had a third-party tour booked for tomorrow, but we opted to book a shore excursion through Royal Caribbean instead. Excursions for the days in Israel were booked many months in advance and some have been sold out for months. Just about two months ago, more excursions were opened up and we made the decision to book through the cruise line instead.
There are a few reasons for this. First, we felt it would be the safest option to book through Royal Caribbean since local tour guides might have less risk tolerance. We also had extra flexibility and added convenience of booking through the cruise line
Second, some of the research I did uncovered that immigration in Israel can take a long time once we dock - like up to 4 hours. That's a lot of time to miss out on during our first day in Israel and the Holy Land is our reason for taking this cruise.
Royal Caribbean shore excursions have priority to go through immigration first, so we should be off the ship in the morning once we go through face-to-face immigration. Everyone on an independent tour has to wait for all excursions to clear customs first.
We are required to carry our passport while in Israel. Most of the holy sites require shoulders and knees to be covered, so we are dressing appropriately. Some require women to cover their heads, so we are packing scarves as well.
Tomorrow, we are visiting Bethlehem and Jerusalem when our ship docks in Ashdod, Israel. The tour is 10 hours long with 1 hour driving each way and lunch provided.
We are stoked to be in Israel and to see incredibly historic and religious spots!
Rather than attend activities tonight on the ship, we are ensuring we have everything ready to go for tomorrow. I am going to read through the Israel immigration information that was provided through Royal Caribbean to make sure I am not missing anything important. 
Cameras are charging and passports are ready - here we come, Israel!