In:
Royal Caribbean is slowly beginning to talk about its next new cruise ship by launching a new video series.
"Making an Icon" will be a new video series that Royal Caribbean will produce to provide more details and insight into Icon of the Seas.
Icon of the Seas will be the first ship in a new class of Royal Caribbean ship that the cruise line says will be, "the most transformational ship the world has ever seen."
New episodes will launch in advance of when Icon is unveiled this fall and continue leading up to the 2023 debut.
The teaser for this new series launched today, which hypes the coming episodes that promise a behind-the-scenes look at the making of Icon of the Seas.
Royal Caribbean describes the video series as an "inside look at Royal Caribbean International's journey to create the world's greatest vacation – Icon of the Seas"
"Industrial engineers, interior designers, architects, artists, innovators, teams across entertainment and food and beverage, and more take you behind the scenes to see all that goes into envisioning, designing and constructing the soon-to-be-revealed cruise ship."
"In each episode, experts from Miami, Turku, Finland; New York City, Toronto and beyond come together to create the vacation to rival all vacations."
A few familiar voices are heard in the video, including:
Michael Bayley, Royal Caribbean International President and CEO
Harri Kulovaara, Executive Vice President, Maritime & Newbuilding
Jay Schneider, Chief Product Innovation Officer (CXO) at Royal Caribbean Group
Up until now, Royal Caribbean has been extremely quiet about revealing any details regarding Icon of the Seas.
We still don't have a design of the ship, or are aware of any features.
It did slip out the name of the large white ball we've seen teased as a feature of Icon will be called, "The Pearl".
When Mr. Bayley was asked in June 2022 about when we might get more information, he pointed to September, "We are launching Icon of the Seas starting this September."
"By launching, I mean, we are we are starting to communicate. We have a whole planning program of communication, social media, marketing, TV, radio, you name it."
Icon of the Seas is set to debut in late 2023.
Icon of the Seas by the numbers
While there is not a lot of information about Icon of the Seas, we at least know a few stats based on publicly disclosed information.
Royal Caribbean Group shared in its form 10-Q filing with the U.S. Securities and Exchange Commission at the end of July that Icon of the Seas will have approximately 5,600 berths, which is the ship's capacity.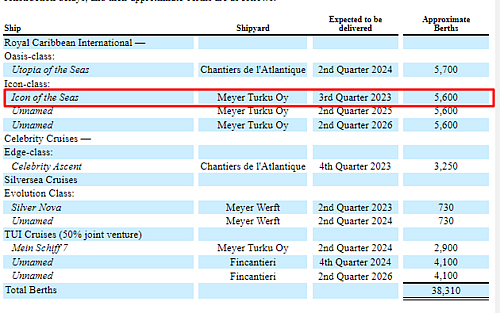 In terms of passengers, Icon would have slightly less passenger capacity than an Oasis Class ship. However, it remains to be seen if Icon will indeed be larger than the Oasis Class ships.
In March 2022, Royal Caribbean Senior Vice President of Hotel Operations, Sean Treacy, indicated Icon of the Seas will be larger than the Oasis class cruise ships.
"Icon will be the biggest. It launches in the fall of next year and will be the first new ship class for Royal in a decade," Mr. Treacy said while onboard Wonder of the Seas during a trade event.