In:
Though I consider myself to be a seasoned cruiser on Royal Caribbean ships, I still learned some new things to remember for upcoming sailings.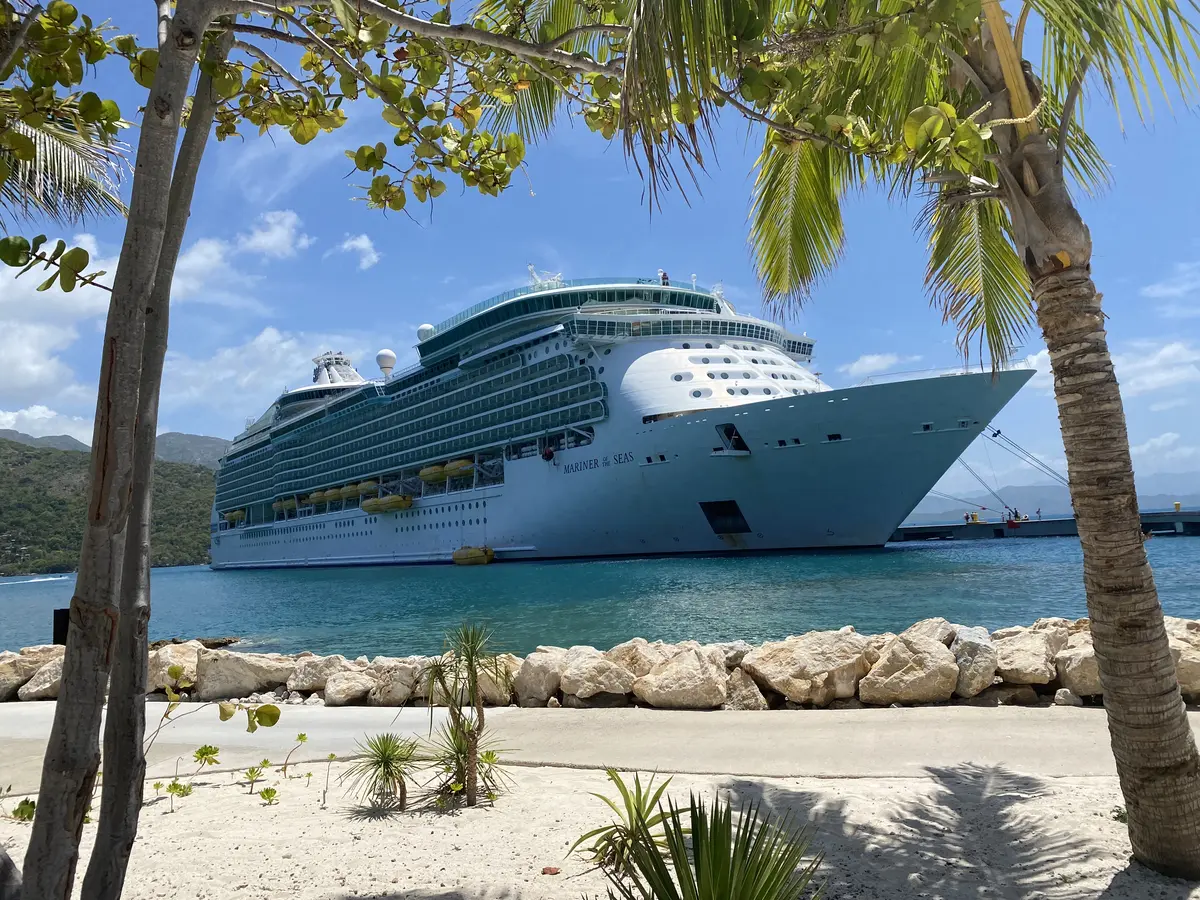 Take a look at the top 10 things I learned while I was on the Mariner of the Seas this July. Knowing a few of these simple tricks can help you during your next cruise!
Importance of the Royal Caribbean app
Before 2020, I had never needed to use the Royal Caribbean app on my smartphone while I was on a cruise. We always had our compass given to us in our stateroom, a physical menu in the main dining room, and an in-person muster drill. Now, Royal Caribbean highly encourages you to download the app before your sailing so you can access all this information online.
I like most aspects of the app, but I missed being able to receive a compass every night in our stateroom. Same in the dining room - I like to look at a physical menu rather than scrolling on my phone.
Luckily, both of these can be easily resolved by asking your stateroom attendant for a physical compass and your waiter for a physical menu.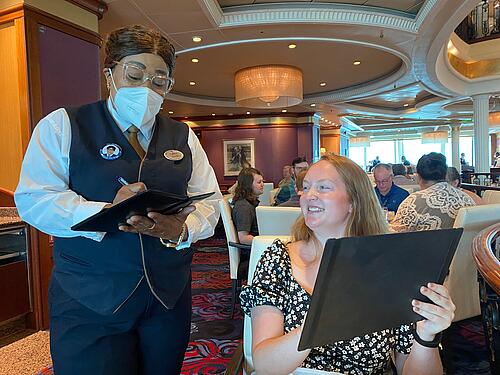 I have no complaints about the muster drill, though. It was so much easier and faster to do it on your own following the steps on the app.
Food options
While I was aware that Royal Caribbean ships have plenty of food options, I learned a few interesting facts for those that are vegan or gluten-free.
To accommodate a gluten-free diet, the main dining room takes your order the day before so they can prepare your meal for the next evening. The dining staff tries their hardest to accommodate these requests, and it seems as though they can make almost any meal work. 
As I was scrolling through the app one evening, I noticed there was a vegan menu in addition to the regular main dining room menu. If you only have a normal menu, you can ask to see the vegan menu.
Read more: Vegetarian and Vegan Guide to Royal Caribbean
I had previously been on the Mariner of the Seas earlier in 2022, and it had a build-your-own omelet station at the Windjammer. This time around, it was not there, which I was sad about. On the bright side, they still made various pre-made omelets to choose from, such as ham and cheese, vegetable, and cheese.
Diamond Drinks
For those that love sweet treats like I do, this next tip will be important to remember.
I wanted to learn the differences between Ben & Jerry's milkshakes and Johnny Rockets' milkshakes. While you have to pay for anything from Ben & Jerry's, I did not have to at Johnny Rockets.
In the past, the milkshakes were not included as one of my Diamond drink vouchers, but it was this time! The worker explained to me since the milkshake is under the $13 drink limit, it qualifies like any other cocktail or mixed drink.
Another discovery I made was the coffee drinks at Cafe Promenade. I did not think these drinks were included either, so I waited until the end of the cruise to ask if they were included. Low and behold, they were as well! 
Check-in time matters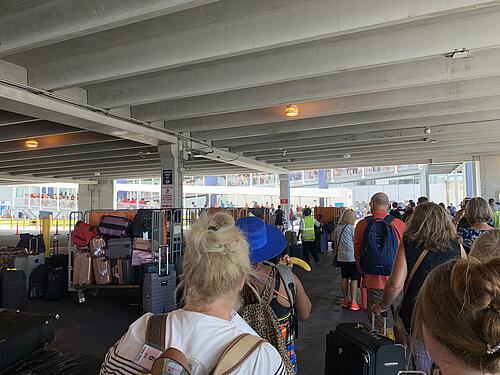 Since I booked this cruise pretty last minute, I had only a few options to pick from when it came to the arrival time. I had the option of either 1:30 or 2 p.m. I went with the 2 p.m. slot because I did not want to be rushed to leave my hotel. In the end, it didn't matter what time I picked, because the line was so long!
While I was waiting in line, I could hear people saying they had an arrival time of 10 a.m., 11 a.m., noon, etc. I was shocked to hear this, but I later learned that this sailing was at full capacity and wasn't located at its normal launching terminal. Those two things combined made for a 1.5-hour wait just to check-in. 
After finally getting on the ship, I found out that those that had an early arrival time did not have a long wait like I did. If your travel allows, sign up for an early check-in time so you can avoid the crowds and start your vacation sooner!
Rideshare apps to and from port
This was my first time using a rideshare app to get to and from the cruise. I was worried the price was going to be extremely expensive to drive 45 minutes (I was at the Orlando airport going to Port Canaveral), but I was pleasantly surprised when I saw my options. 
Each way, Lyft was cheaper, so I used this app. (Uber was at least another $50-$100 more.) It was easy to find a ride to the ship, but it was more difficult to get one after the cruise. 
After getting off the ship, I immediately put in a request for a Lyft, and it notified me that it was busy and may take a long time to have a driver pick me up. I did not mind waiting, but I had to request a driver two times before someone picked me up. It did take about 45 minutes in total to order the ride and have them find me at the port.
In the future, it may be worthwhile to schedule a Lyft or Uber to pick you up. Or, you can take the airport shuttle instead.
Dinner theme nights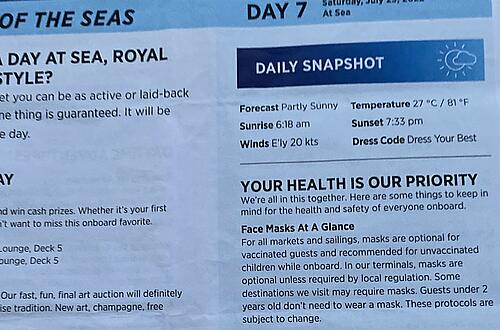 I remember on past cruises how there would only be formal nights and casual nights. Now, there seems to be a new theme every once in a while! From Caribbean to Tropical, cruisers are encouraged to fit the theme when dining in the main dining room.
A big change I saw was formal night now being called "Dress Your Best." There was certainly a range of different attires - some people brought their gowns and tuxedos, while others wore dresses or a nice top with dress pants. I usually went with the latter and wore business casual, as did most cruisers.
Ask your stateroom attendant
In addition to requesting a physical compass, I learned of two other things you can request from your stateroom attendant.
After three nights of sleeping with a lumpy pillow and waking up with a sore neck, I asked my attendant for a new pillow. That night, he gave me a feather pillow, and it was so much better than the pillows we were originally given.
Also, since the showers only have a 2-1 body wash and shampoo, I asked my attendant for some conditioner. He certainly delivered because he gave me plenty to use for the rest of the cruise.
Helicopter pad access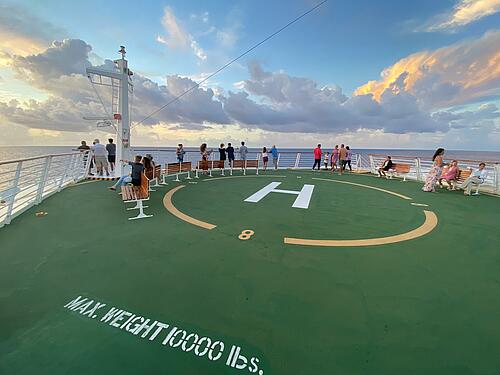 When the sun would set in the evening, I wanted to find a great spot on the ship to admire the views. I tried deck four, but some nights I just could not see the sunset. 
I then saw some stairs that led up to the helicopter pad. It was a little difficult to find the access point, but just head towards the front of the ship on deck four, and you should see the stairs.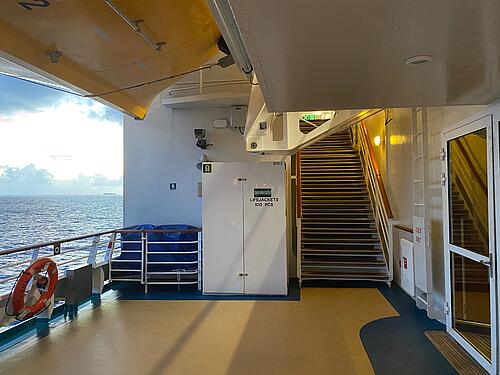 Once I was there, I saw other people had the same idea. It was truly an excellent place to view everything that was happening. This place would also be great to go when the ship sails in and out of port!
Walking path substitute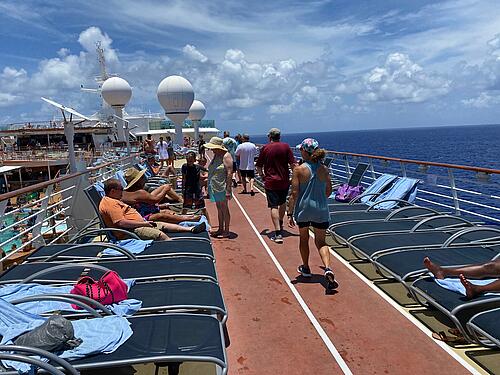 The Mariner of the Seas does have a walking path on deck 12, but it is hard to use because it is surrounded by chairs and people. 
Deck four is a good place to get your steps in because there is a path that goes almost the entire way around the ship. To go all the way around, you would need to cut through the sliding doors near the front of the ship and walk to the other side. More than half of this loop around the ship is shaded, so it is the perfect place to walk with little to no interruptions.
Solarium tip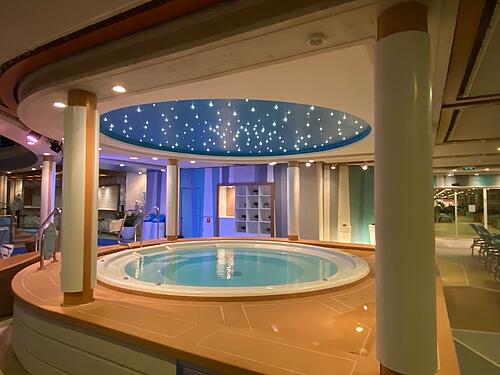 I always love to relax in the Solarium, and many others do too. That makes it hard to find a spot during the day because it is a busy spot among cruisers. I found that a great time to enjoy the Solarium is around 8 p.m. or later. There was no one in the daybeds, so I was finally able to snag one! It was so quiet that I could hear the waves as I relaxed. 
Another important tip I learned: while there are hot tubs in the Solarium, they may be closed when you first arrive. However, there is always at least one hot tub open 24 hours a day, either in the Solarium or outside on the pool deck.