In:
While we don't know what it is yet, the sphere-like object that is part of Royal Caribbean's newest cruise ship has been installed onboard.
Royal Caribbean released a new construction update teaser that talks about the pearl-shaped object being added to Icon of the Seas.
We first spotted this object in December 2021, and it remains a mystery as to what it possibly could be.  Royal Caribbean has not confirmed what it is, but we do know now where it is located.
In the video update, the object was placed about mid-ship, amidst the various blocks of Icon of the Seas during her construction progress.
It measures 46 feet tall and 50 feet in diameter, with 578 aluminum external panels.
According to the update, the object is 175-metric tons and was transferred on a barge down to the shipyard for installation.
Icon of the Seas is under construction in Turku, Finland.
Other interesting facts:
9 miles of cables for power & lighting
1,323 feet of air conditioning ducts
Steel mounting frames on the inside
It required two tugboats to move it to the shipyard
5,600-metric-ton-crane lifted it into position
It's taken 45,000 working hours to construct the sphere
What is the sphere?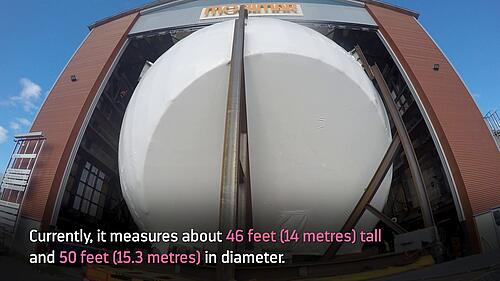 Since news of the sphere's existence came to light, Royal Caribbean has not confirmed what it is.
In fact, Royal Caribbean has released no information about what the design of the ship will be at all.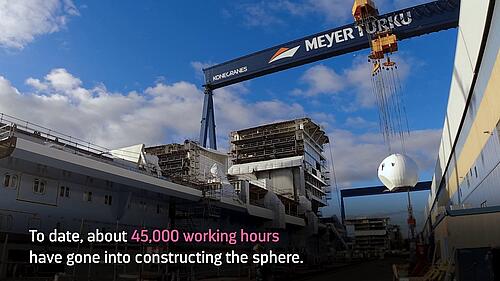 In March 2022, Royal Caribbean's Senior Vice President and Chief Product Innovation Officer Jay Schneider said about the new class of ship, "everything you'll see on icon will will be an evolution or revolution."
"And and we'll push forward again us being the at the top of the mantle on the ultimate family vacation."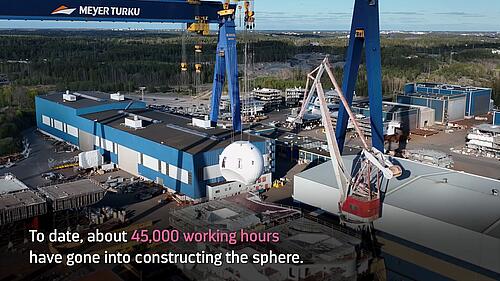 There has been quite a lot of guesses shared on social media as to what the sphere might be, but it remains a question.
Whatever it ends up being, we'll have to wait for Royal Caribbean to reveal it at a later date.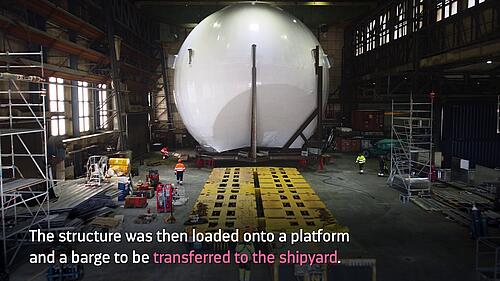 Icon of the Seas will be the first ship in the Icon Class to launch.  She is scheduled to be delivered in Fall 2023, and there are two other Icon Class ships on order.
The other two ships will be delivered in 2025 and 2026.