In:
There is a lot that goes into planning the world's largest cruise ship, including a lot of new drink choices.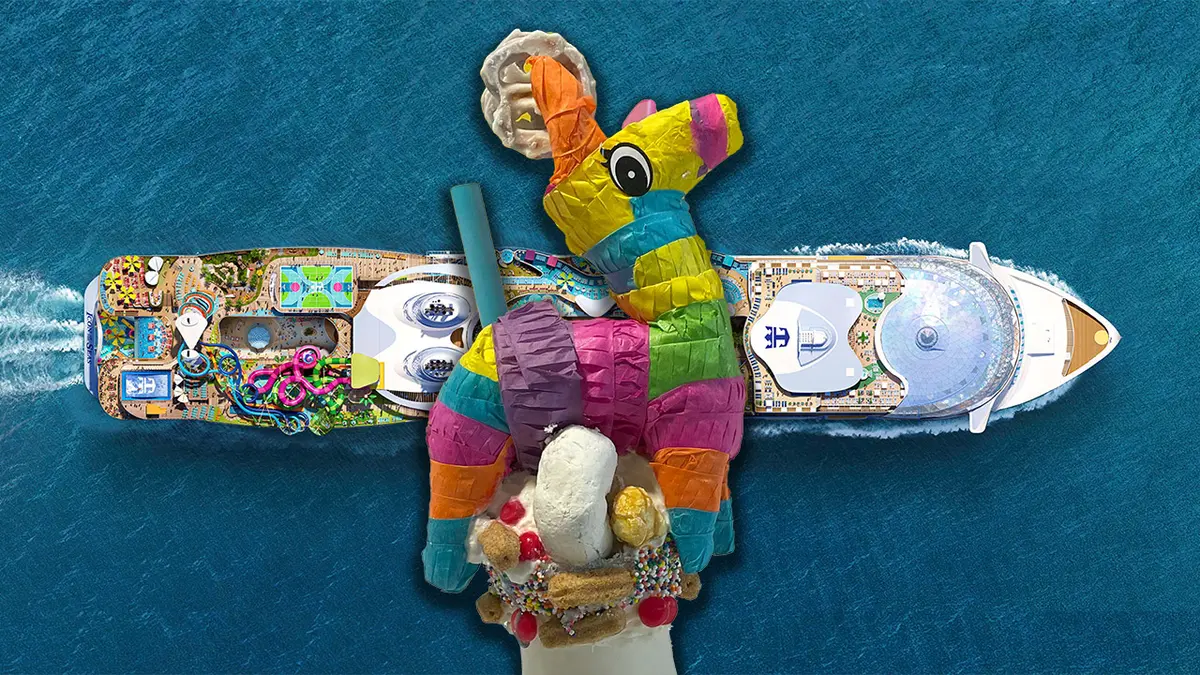 When Icon of the Seas launches in January 2024, she will surpass Wonder of the Seas as the largest cruise ship in the world, meaning that you will find both first-at-sea and new-to-brand experiences onboard. 
With over 15 bars and lounges dispersed throughout all eight neighborhoods, you are certain to find something new to enjoy, including new beverages and spins on Royal Caribbean favorites. It is all about choice, convenience, and variety. 
"Our incredible beverage team really have embraced the neighborhoods. Whether it's Surfside or Central Park, the experience with beverage will leave our guests wanting more," said Jason Liberty, President & CEO of Royal Caribbean Group. 
Read more: Royal Caribbean reveals 15 bars and nightlife spots on new Icon of the Seas cruise ship
Over 150 drinks were tested. Onboard Icon, you will find 60 brand-new cocktails
Experts in architecture, food and beverage, entertainment, and more came together for months of research, mockups, and testing. Every part of the experience was considered, starting with the space. The ship was laid out to make sure that it made sense, as well as to get a sense of the venue's physical feel, in order for the team to help understand the needs of the operation. 
Alex Palmeri, Manager of Beverage for Royal Caribbean International said, "...what we found is that the options are endless for Icon of the Seas, so we've really had to hone in on what's going to be the best approach for our guests."
As this Icon has been marketed as the ultimate family vacation, it makes sense to offer a variety of drinks to appeal to everyone: kids, adults, and even those with sophisticated palettes. 
The result? A mix of traditional beverages, as well as revamped cocktails and those the cruise line are dubbing "Iconic cocktails," which will only be available on Icon Class ships. Plus, every single bar will have a non-alcoholic section on the menu that has been specifically chosen for the theming of the venue. 
Lemon Post
In Surfside, you'll find Lemon Post, the first bar that has been created for the whole family to enjoy. Have you ever wanted to build your own lemonade? Well, here you can!
According to Palmeri, this is her favorite venue onboard Icon due to the number of fresh juices and flavor profiles available. It really is trying to appeal to all generations! 
To create this venue's Iconic beverage, the team started with crafting the mocktail. Once that was finalized, they were able to reconstruct it to add the alcohol. 
Desserted
In the mood for a sweet treat? Head to Dessert, a milkshake bar that offers some crazy concoctions! The highlight on the menu is the Churro Milkshake with Cinnamon Toast Crunch on top. 
Other options are topped with cakes and cookies; however, you can opt for classics, too, such as a simple vanilla or chocolate milkshake. 
Adults will also love boozy milkshakes to try!
The Hideaway
The Hideaway's focus is going to be delivering an elevated beach club experience-- think a top-notch DJ and people flowing in and out of the pool with a drink in hand. 
In order to accomplish that, the bar's focus will be champagne-based cocktails. Examples of possible drinks include Conch If You Are, which will be made with Prosecco, St. Germain, and Lemon, as well as Summer 75 made with gin, Prosecco, and citrus. 
Lime & Coconut
The Lime & Coconut is not a new bar. In fact, it has become a fan favorite! For the first time, though, there will be frozen drinks bar with flavors that appeal to all flavor profiles.
Plus, you can mix and match as you see fit! They'll even have some combinations on the menu if you are unable to decide. 
Swim and Tonic
The cruise line's first-ever swim-up bar, Swim & Tonic, is going to have a drinks menu that plays on the bar's name. All beverages embrace tonic, meaning that they're all tonic-based drinks, like Limoncello & Tonic and Whiteport & Tonic. 
Don't expect your standard gin & tonic, though.The beverage team got creative in how they integrated tonics with different spirits!
Lou's Jazz 'n Blues
Here, you can expect to find classic cocktails with a jazzy spin-- think of cocktails inspired by the largest jazz cities in the world! 
Take the B Flat Negroni, for example. Rather than using gin, campari, and sweet vermouth, this drink will be crafted with gin and a lighter version of vermouth. 
Bubbles
You will not be able to take a leisurely stroll through Central Park without passing Bubbles, the walk-up champagne bar that will have mimosas, bellinis, champagne mojitos, and more at your disposal. 
Why not grab a glass of bubbly while listening to one of the live musicians to wind down after a fun day exploring everything this one-of-a-kind ship has to offer?
1400 Lobby Bar
During the day, 1400 Lobby Bar will serve up some tropical juice-based drinks. The evening menu will transition into more sophisticated offerings, like manhattans and old fashioneds. 
One important part of the planning process was ensuring that each venue onboard has its own personal identity. To accomplish this, three icons in the beverage industry were brought in: Tony Abou-Ganim, Kim Hassarud, and Cat Miltenberger.
Each individual worked on bars in different neighborhoods to help make sure that they all have their own distinct flare. 
Abou-Ganim, for instance, helped develop 1400 Lobby Bar. 
The Overlook
Located in the AquaDome, the Overlook is the perfect place to relax and escape from the hustle and bustle of other neighborhoods.
The "Iconic drink" of this venue is the Overlook (Aquadome) Spritz, which will be crafted with Don Q Coco Rum, Living Coral Sparkling Rosé, Lagoon Bay Icelandic Orange Bitter, Reàl Coco Cream of Coconut, lime juice, and soda juice. It will be garnished with an edible orchid! 
Rye & Beam
Ree & Beam is going to spruce up the classic espresso martini. Rather than a traditional martini, this coffee lover's go-to can be topped with sweet vanilla foam, creating different layers of experiences within a single beverage. 
Those under the legal drinking age (or who don't want a cocktail early in the morning) can opt for the cinnamon coconut cold brew, which can be topped with the same sweet vanilla foam.
Plus, you will find a few tea-based cocktails here, too.  
Point & Feather
Point & Feather is Icon of the Seas' English Pub located in the Royal Promenade. Compared to other pubs, passengers of Icon will find that Point & Feather has a brand-new layout to be able to host dart tournaments, as well as feature a live guitarist at the center of all the action. 
Opposite of Swim & Tonic, their cocktail menu will be gin based, and you will be able to order cocktails crafted with different flavored gin. 
Cantina Fresca
Nothing goes with tacos like a cold Mexican beer or margarita, right? Thankfully, Cantina Fresca will be located close to El Loco Fresh, and they will be all about margaritas!
Playmakers Sports Bar & Arcade
Like Lime & Coconut, Playmakers is not new; however, the space onboard Icon of the Seas makes it the largest Playmakers ever!
Here, you will find drinks with over-the-top presentations, like a Bloody Mary with interesting garnishes served inside the infamous helmet!
Schooner Bar
While peanut butter and pineapple sounds like an unlikely combination, you might find your new favorite drink on the Schooner Bar's new menu.