In:
The second day of my 4-night cruise on Oasis of the Seas is a sea day as we make our way to Costa Maya, Mexico. The weather today was perfect, with near total sunshine and a slight breeze, making for a beautiful day to spend onboard a beautiful ship.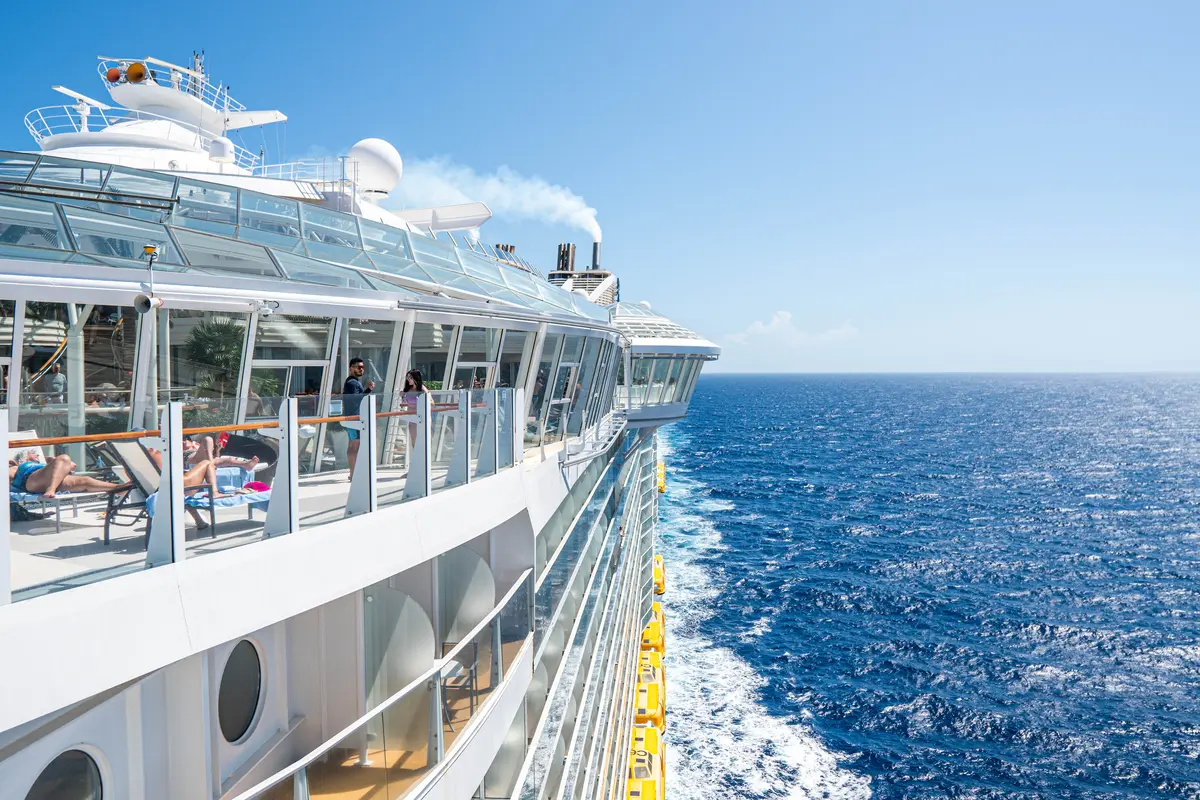 I headed to Central Park as the sun was rising around 7AM and had a quick, casual breakfast at Park Cafe. I was happy to see a specialty coffee station within Park Cafe, as I did not have to brave the Cafe Promenade line for my latte.
Early morning on a cruise ship is my favorite time of day. The ship feels nearly empty before guests wake up, there are no lines anywhere, and a sunrise walk on the pool deck is always wonderful.
The majority of my day was spent filming our upcoming full ship tour of Oasis of the Seas on the Royal Caribbean Blog YouTube channel, which will premiere in the next few weeks. As a result, I walked up, down, and around the ship today to explore every nook and cranny onboard.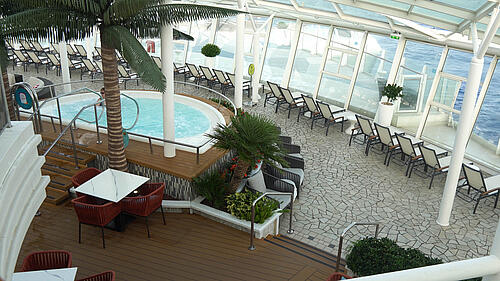 First up was the Solarium. I love the Solarium's layout on Oasis of the Seas! Not only is it filled with jacuzzis, comfy seating, and a pool, but there is a huge outdoor sundeck area to enjoy.
Solarium Bistro is not open for dinner on this sailing, instead offering a combo breakfast and lunch. Today's hours were from 9:30 to 1PM, so I had a casual buffet lunch there. By lunch time, the Solarium was packed with people.
In fact, it felt as if every person on the cruise headed to the pool deck at the same time! Because I had never cruised prior to last year, I was used to cruising with capacities from around 30-60%. Being on a cruise closer to full capacity is a bit of a shock (there's a line for food?), but it also gives a fun energy and atmosphere to the cruise that wasn't as possible with so few guests.
Puzzle Break Center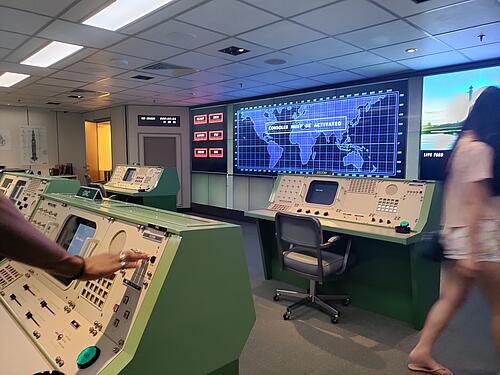 Today I also had the opportunity to try the Puzzle Break Center onboard. This is the first cruise I have been on where the escape room was open, so I was excited to try it out as I had never done an escape room before on neither land nor sea. The escape room comes at an extra cost of $20 per person.
Mission Control: Apollo 18 is the Puzzle Break Center on Oasis of the Seas, and players must solve puzzles and challenges to send their rocket off to space before time is up. The room is set up with six launching stations, each of which has three sets of challenges to solve.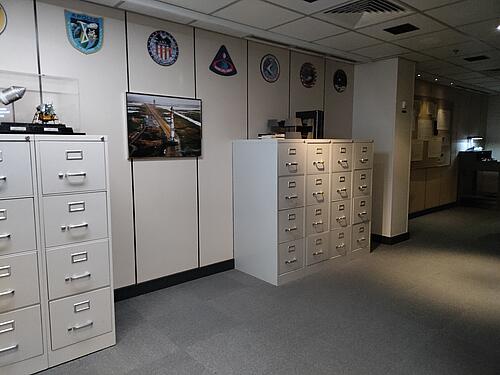 There were around twelve passengers in the room and we all worked together to try and break out in time. From finding hidden keys to figuring out interactive patterns and puzzles, it ended up being a lot more fun than I initially thought it would be. Plus, our group solved the escape room with just 4 minutes to spare!
Relaxation and entertainment
Next up was my daily smoothie at Vitality Cafe, this time strawberry banana with peanut butter! I also relaxed a bit in the spa's thermal suite and took an afternoon walk on the pool deck.
I had reservations to see the matinee show of Cats, but when I went down to the theater I was informed the show got changed to the fourth day of the cruise. Instead, I decided to enjoy a glass of wine at Vintages, the wine bar onboard Oasis of the Seas.
Vintages is never very crowded and always has comfy seating, so it's a nice place to go onboard to get away from the crowds. Plus, the venue has a tapas menu and does wine tastings!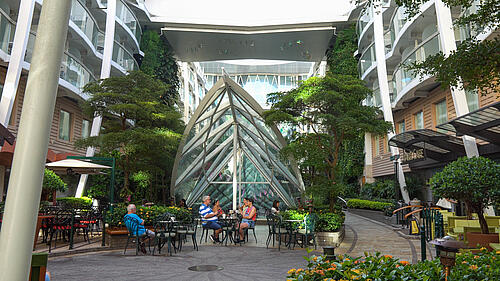 I opted for an early dinner at Park Cafe and enjoyed soup and salad, followed by a well-deserved nap in my stateroom. The biggest perk of staying in an interior cabin is definitely how well you sleep when in a room with no windows!
Prior to the ice skating show, I made my first ever visit to the Diamond Club. I did not realize there are complimentary appetizers in the evening in the Diamond Club (I thought only breakfast was served), so this was a nice surprise!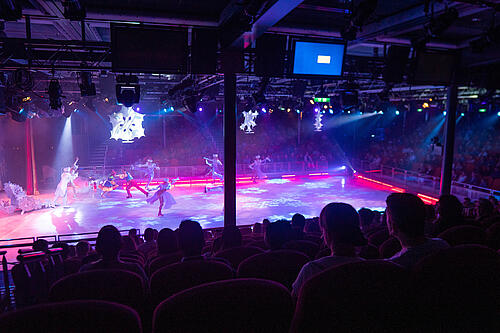 Tonight's ice skating show was Frozen in Time. Ice skating shows are one of my favorite entertainment options on a Royal Caribbean cruise, and while I did not fully grasp the storyline of the show, I was impressed with the talent and set design in Studio B. The costumes at ice skating shows never fail to make me laugh, especially tonight's full body duck costumes worn by the cast!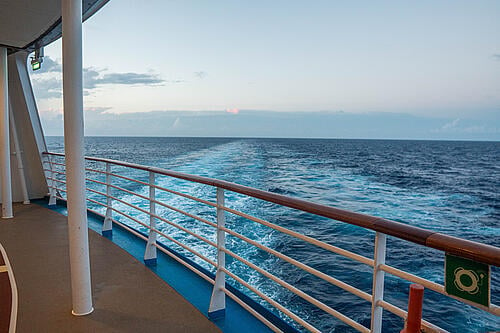 I watched the sunset from the "secret" chairs at the aft of the running track. As there are only a few chairs there and not many guests know about the area, it was a peaceful way to end a sea day onboard Oasis of the Seas.
The rest of the evening was spent listening to bossa nova and jazz music at Jazz on 4 before calling it a night to get ready for a port day in Costa Maya tomorrow.