In:
The last two years were anything but easy for the cruise industry, but things look to improve in 2022.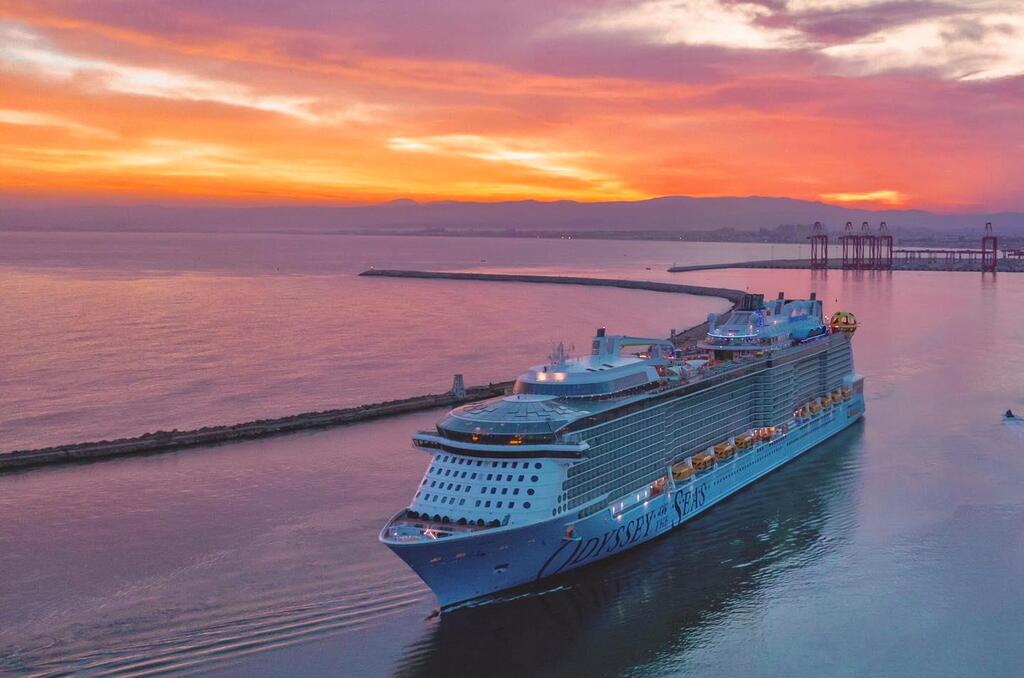 Cruise Lines International Association (CLIA) put out its annual State of the Cruise Industry Outlook that highlights how the cruise industry is bouncing back from the pandemic, as well as progress in environmental stewardship and other initiatives.
Royal Caribbean is one of many cruise lines that are part of CLIA, which represents the cruise industry in many aspects of the public and government sectors.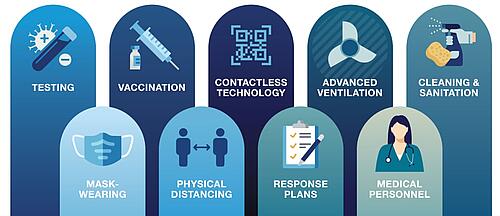 CLIA believes this report highlights the responsible restart process cruise lines have undertaken, which rely heavily on the proven Covid-19 protocols that have been implemented onboard ships.
Here's a look at some of the major highlights from the report.
Restart process
More than 75% of ocean-going member capacity has returned to service.
CLIA projects 100% of that capacity will be back in service by August 2022.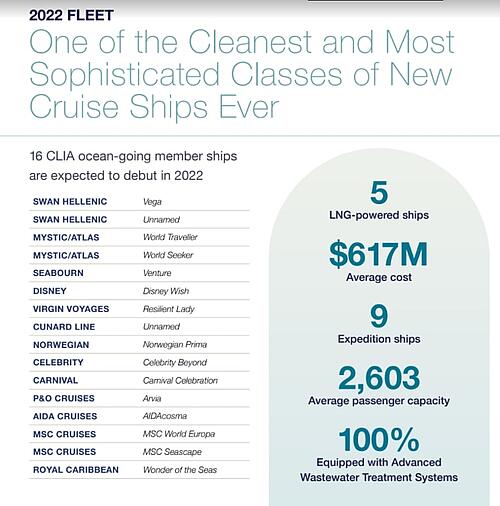 In addition, 16 new cruise ships will debut in 2022, including five LNG-powered vessels and nine expedition ships. The class of 2022 will be 100% equipped with Advanced Wastewater Treatment Systems.
Royal Caribbean will have one of those new cruise ships when Wonder of the Seas makes her debut this spring.
Economic impact of cruisers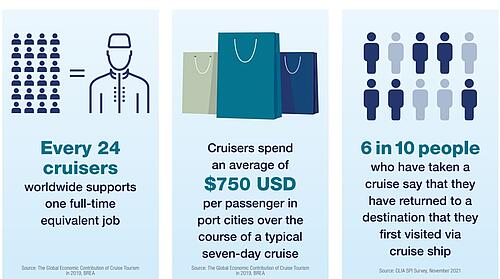 It's no secret cruise ship passengers bring extra income to the ports of call they visit, and CLIA demonstrated this fact with specific figures.
Every 24 cruisers creates one full-time equivalent job
Cruisers spend an average of $750 USD per passenger in port cities over the course of a typical seven-day cruise
6 in 10 people who have taken a cruise say that they have returned to a destination that they first visited via cruise ship
Facts & Trends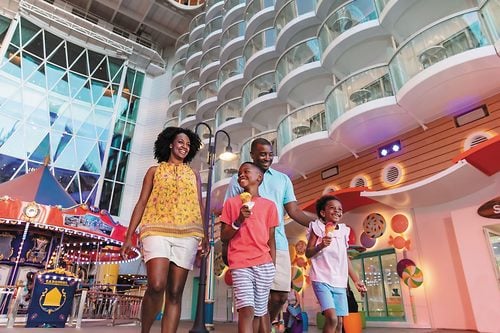 CLIA also included in their report some interesting facts about who goes on cruise ships.
Top Five Source Regions on Average from 2018-2020
North America: 51%
Western Europe: 21%
Asia: 12%
Australasia: 5%
South America: 5%
Top Five Destinations by Average Passenger Volume from 2018-2020
Caribbean, Bahamas & Bermuda: 44%
Asia & China: 13%
Central & Western Mediterranean: 8%
Australasia: 5%
Panama Canal & South America: 5%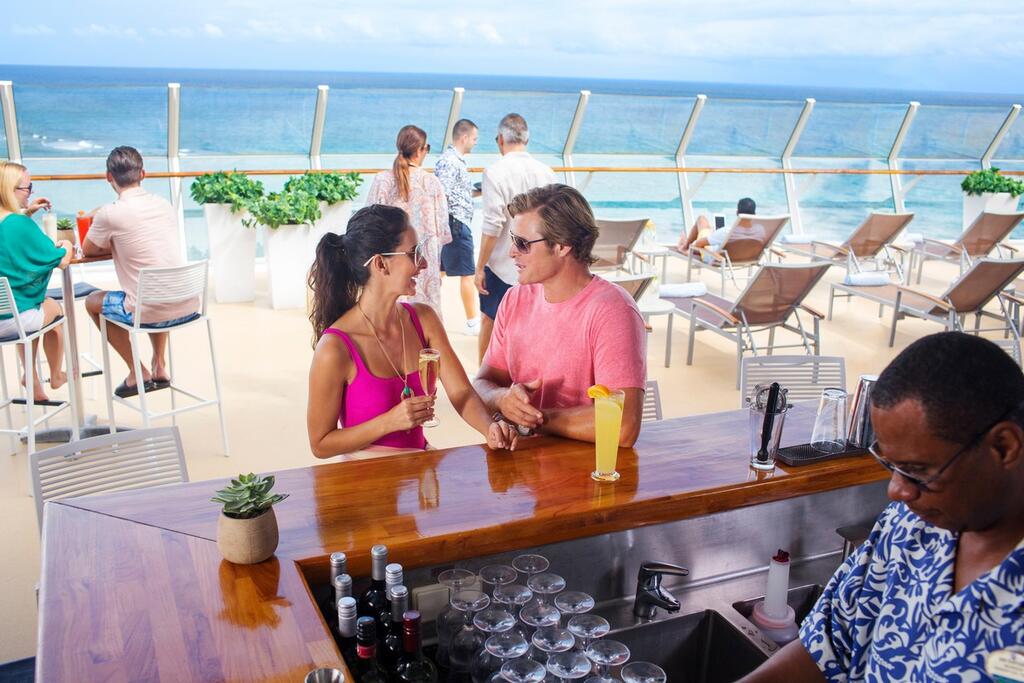 Cruise Tourist Age Averages from 2018-2020
60+: 33%
40-59: 32%
20-30: 20%
0-19: 14%
47.6 is the average age of cruise tourist
Percentage of Cruise Passengers Who Plan to Cruise Again
Traditionalists: 73%
Baby Boomers: 77%
Gen-X: 82%
Millennials: 85%
Gen-Z: 79%
Carbon Neutral by 2050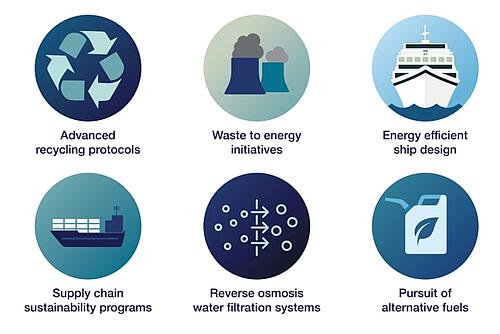 The cruise industry is pursuing carbon neutrality by 2050, which is an initiative the Royal Caribbean Group committed to in October 2021.
Royal Caribbean Group calls it "Destination Net Zero", but the goal is the same for all CLIA members:
Delivery of a net zero emissions cruise ship
A path to net zero emissions by 2050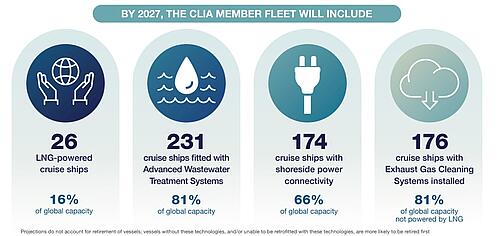 To that point, over the next five years, CLIA's ocean-going cruise line member fleet will include 26 LNG-powered cruise ships, 231 ships fitted with Advanced Wastewater Treatment Systems, 174 cruise ships with shoreside power connectivity, and 176 cruise ships equipped with Exhaust Gas Cleaning Systems installed.
Read the full report
You can read the entire State Of The Cruise Industry Outlook 2022 here: