In:
Today is a sea day and my second day onboard Independence of the Seas. We were originally supposed to be at Perfect Day at CocoCay today, but will be there on Thursday instead due to weather conditions.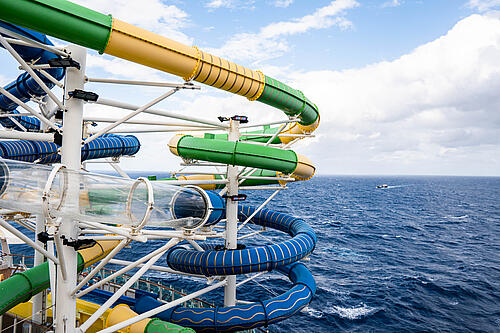 I woke up early this morning hoping to catch some sun on the pool deck, but unfortunately it was wet and windy! This is the Caribbean, though, so I was hopeful that the weather would improve as the day went on.
For breakfast this morning I decided to go to the Main Dining Room. I had never eaten in the Main Dining Room for breakfast, so I was excited to try it out. I love the ambiance of the Main Dining Room on Voyager and Freedom-class ships. The architecture and decor is elegant and ornate, and it reminds me of a movie set!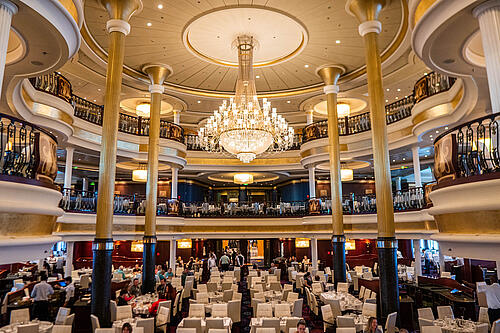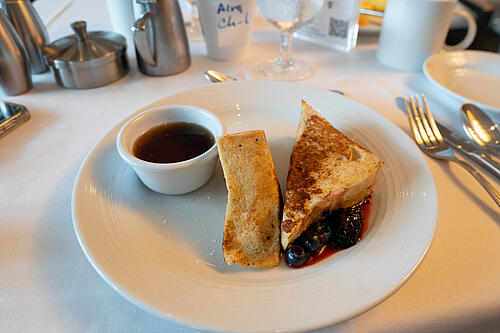 The woman at the table next to me was traveling solo and we chatted with each other throughout breakfast. 
This is my first solo cruise and, I have to admit, I was a bit nervous beforehand. Would I be bored? Will I not talk to anyone for days? What will dining be like?
Now that I am on my second day, though, I realize I had nothing to worry about. It is easy to be social when cruising solo, and I've found that both passengers and crew are eager to strike up a conversation.
The weather seemed to be improving after breakfast, so I took a walk around the outdoor Promenade deck and Helipad. One of my favorite parts of Independence of the Seas is the huge amount of outdoor deck space. The Promenade deck spans the entire length of the ship and is a calmer area to walk around compared to the pool deck.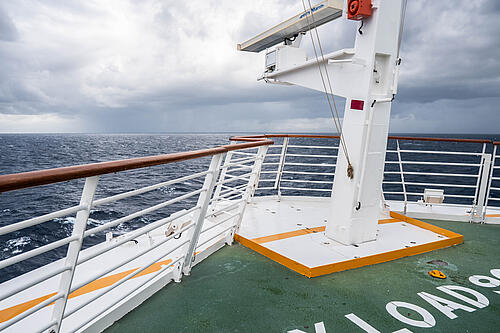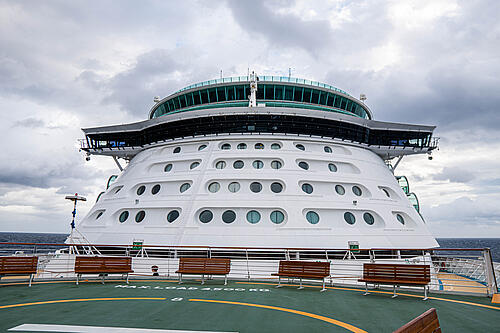 I spent a couple hours before lunch editing videos for the Royal Caribbean Blog YouTube channel. Lunch today was in the Windjammer. As soon as I sat down, though, I realized the weather outside was beautiful, so I quickly ate and went out to the pool deck.
Ice cream in one hand and camera in the other, I explored the pool deck and Sports Court for a while as I filmed the full ship tour of Independence of the Seas, which will appear on our YouTube channel in a few weeks.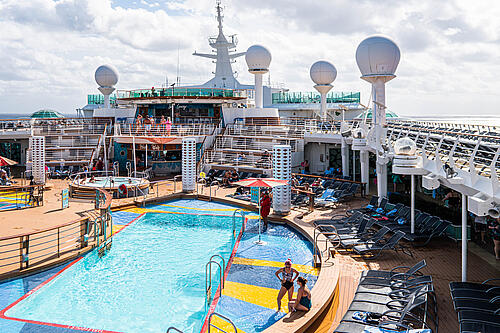 As a Freedom-class ship, the pool deck on Independence is long and has a full kids area including Splashaway Bay, two main pools, and five whirlpools. That's not even counting the Solarium, which has its own pool and two large whirlpools that stick out over the side of the ship.
While still windy, it turned out to be a gorgeous afternoon, and I was delighted to finally have a sunny day at sea! My previous two sailings were to Alaska in October and a foggy sailing from Los Angeles in November, so I fully appreciated the sunshine today. It's definitely more comfortable than the snowstorms we had a few weeks ago at home!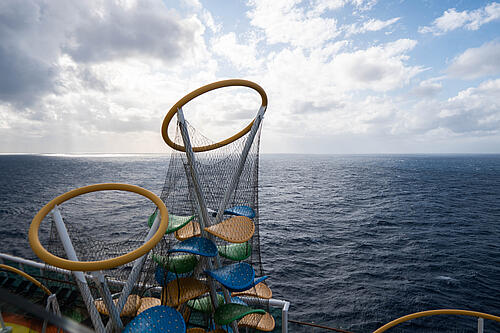 After hanging out on the pool deck, I went to Schooner Bar for "Where in the World" trivia. Being a geography nerd, I expected to do better than 10 answers right out of 15, but it was still a fun way to break up the afternoon outside.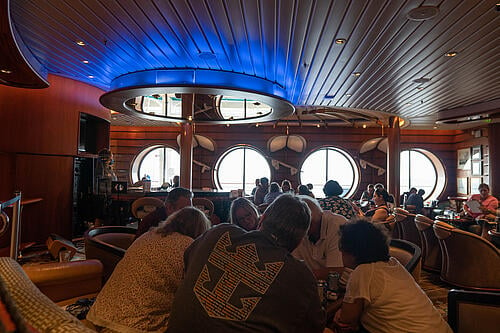 Following trivia, I relaxed in my stateroom before heading to the Royal Theater to watch Grease: The Broadway Musical. Independence is my first cruise that offers a Broadway show, so I was looking forward to checking it out as I have heard a lot about the Broadway shows onboard.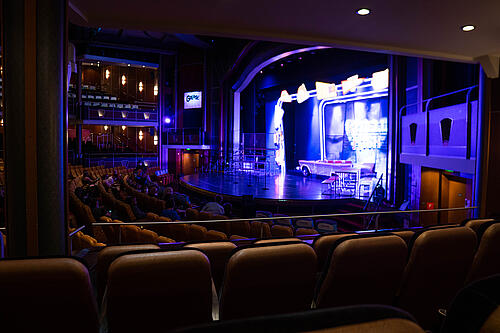 Once the show started, though, I was quite confused! While there were a few lines of acting and dance moves here and there, the cast was mostly stationed at the microphones singing a concert. Where was the dancing? The acting? The Broadway aspect of the show? Why was it over after 45 minutes?
Little did I know that, due to unforeseen circumstances, Grease got changed to Grease: In Concert instead of the full-length performance. In the Cruise Planner, the show was listed as Grease: The Musical with a length of 90 minutes, so it must have been a recent change. I also admit that I had not been paying attention to the Entertainment Director at the beginning of the show, so he may have mentioned this to the audience beforehand.
Nonetheless, I still really enjoyed the performance and energy the cast brought to the stage! The performers were super talented and the set designs and costumes were well done. I am hoping that the full Broadway show is being performed when I sail on Harmony of the Seas next week.
Walking up, down, and around the ship all day while filming wore me out, so I had a small dinner at the Windjammer before going back to my stateroom for an early night.
Tomorrow we will be in Nassau, our first port of call. I will be spending the day at a resort on an all-inclusive day pass, and I am excited to share my experience there with you all tomorrow!
Stray observations:
All passengers are following the mask protocols and distancing well. I feel safer onboard than I thought I would. That being said, I am still trying to avoid crowded indoor areas. I also sat far away from most passengers today in the Royal Theater as an extra precaution.
While I didn't end up seeing the full Broadway show, I love how Royal Caribbean offers Broadway musicals onboard its ships. Sometimes I find the regular shows to lack an easy-to-follow storyline, although the dancing and singing is always great.
After five cruises, my conclusion is that the best food venue Royal Caribbean offers on the pool deck is El Loco Fresh.
Live Blog Index