In:
Royal Caribbean's Mariner of the Seas set sail on it first revenue sailing since the cruise industry shutdown, and I will be live blogging from onboard this first sailing.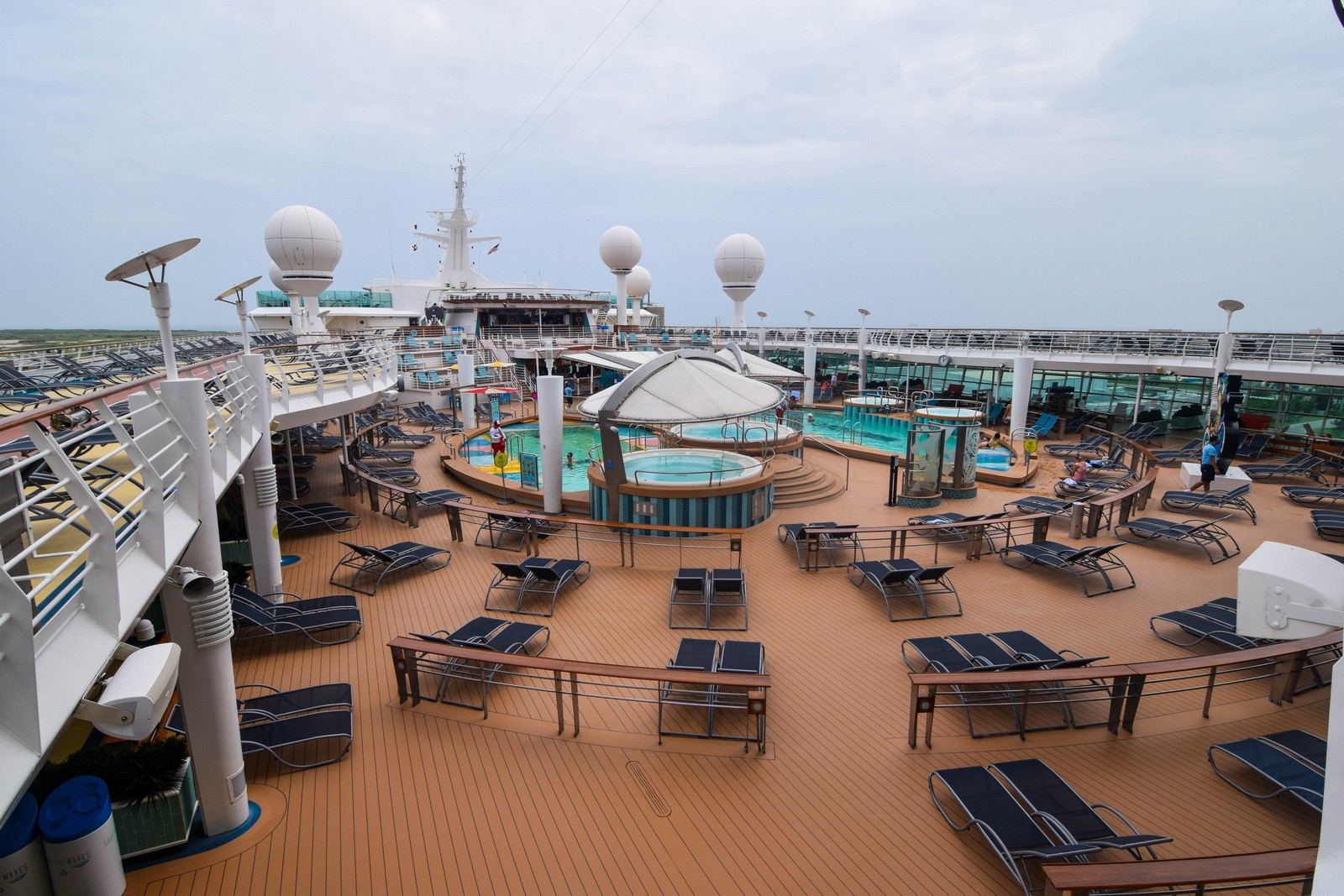 With Mariner's return, exactly half of Royal Caribbean's 26 ships are back in service, marking an important milestone in Royal Caribbean's return to service.
I booked this cruise earlier this summer when the restart plans started to shape out, and being that Mariner sails from Port Canaveral and I live in the Orlando area, getting onboard was a simple task.
As fate would have it, I ended up on Mariner's test cruise as well a couple weeks ago, but I rarely need an excuse to go on any ship these days. While this is my sixth sailing I have been on since the restart, that euphoria I think everyone feels to finally be back onboard is still there.
I had a 1pm check-in time for this cruise, so I departed my house a little before noon and made the roughly one hour drive to the port.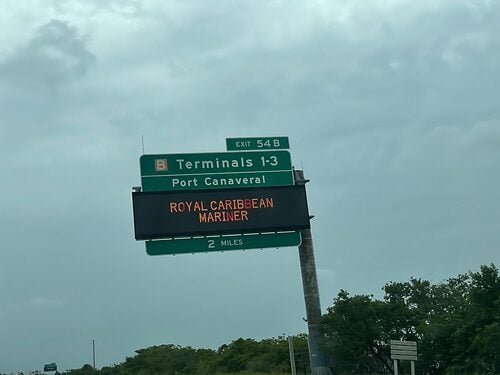 The check-in process was super easy, and I cannot stress the importance of doing as much of the check-in before your cruise.  It saves so much time, and I'll have a more in-depth blog post tomorrow explaining everything you should do.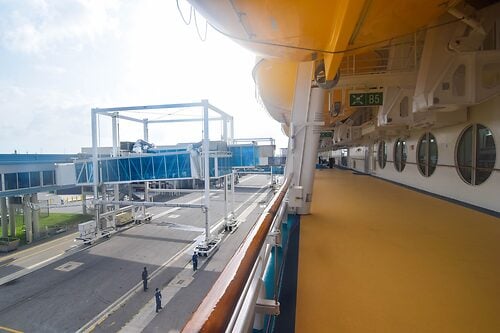 Speaking of doing things before the cruise, I got a negative antigen test from CVS on this past Saturday.  CVS is the easiest option to get a test because they start taking reservations as far out as two weeks before your cruise.
While I printed out my negative Covid test result, I forgot it at my printer. Luckily, CVS emails and texts you a copy, so I was able to use a digital copy of the negative test result (you need the physical vaccine card, no digital copies of that accepted).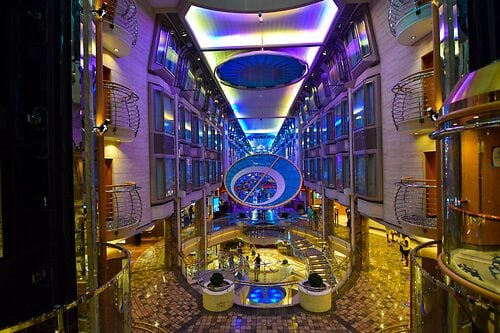 Once onboard the ship, I went straight to my room.  The nice thing about this being the first revenue sailing is all the rooms are ready already, so no wait.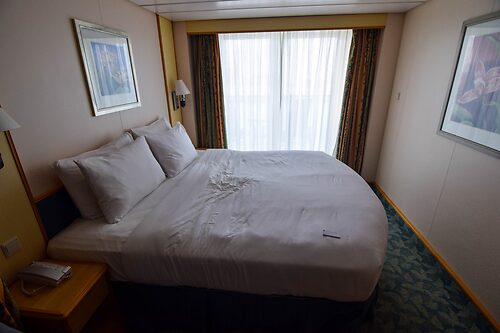 One change between the test sailing and this revenue sailing is guests are given tracelet contact tracing wristbands.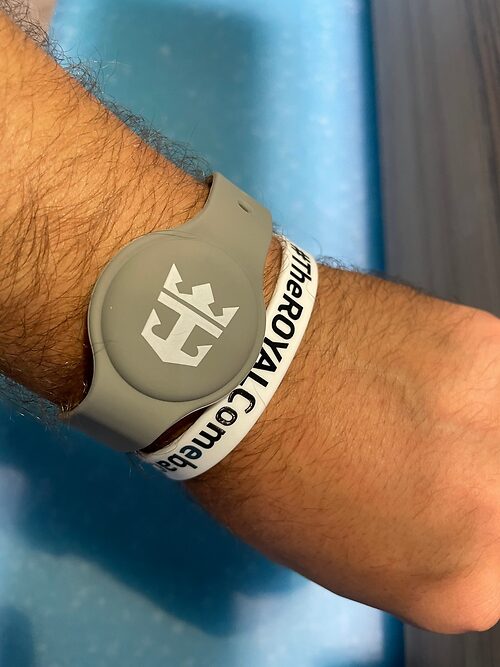 Royal Caribbean is also clearly mixing up the vaccinated wristband designs, with this week's band being a white silicon design instead of the blue satin wristband from the test cruise.
I have a ocean view balcony for this cruise, and it is your standard Royal Caribbean balcony room. There is space to move around, and of course that private balcony to enjoy whenever you want.
I headed up to the Windjammer for a late lunch. The garlic fried rice they have is really good.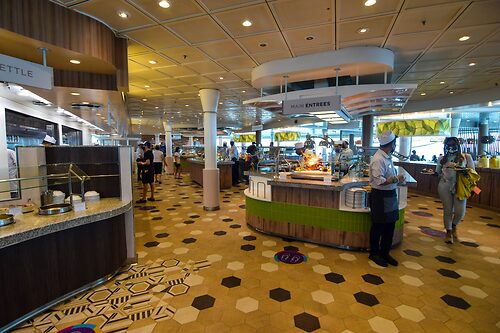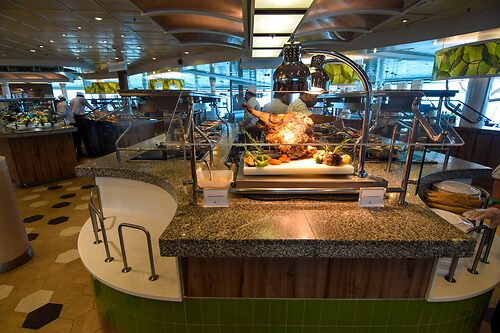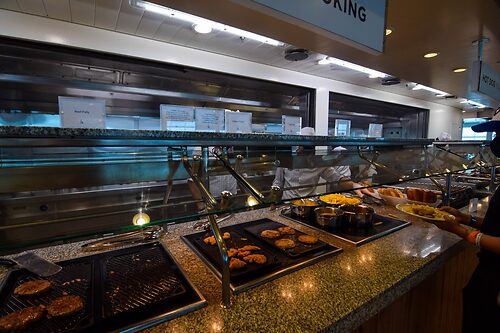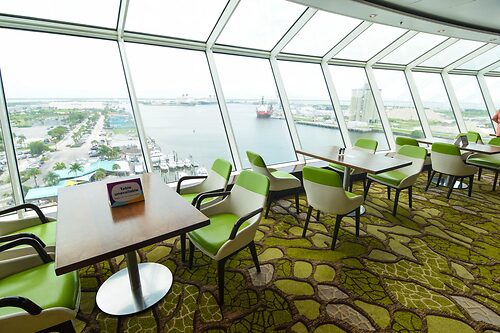 In terms of protocols, things are about the same as any other ship right now. Masks in public areas, but you can remove masks when outside, or in fully vaccinated areas. No masks needed at Perfect Day at CocoCay.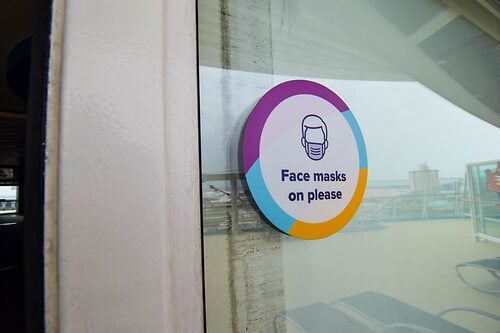 The new vaccination policy to match The Bahamas requirements does not begin until September 3, so there are still adults who are unvaccinated onboard.
One thing I neglected to see on the test cruise was the Adventure Ocean space.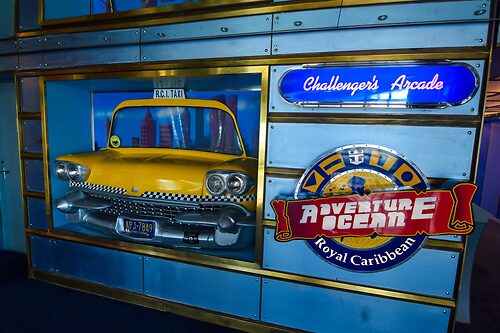 Adventure Ocean is open on this sailing, and they allow families to sign up for sessions in advance to ensure there is a limited capacity.
The staff said kids would be limited to 4 sessions per sailing. Each session is 3 hours long.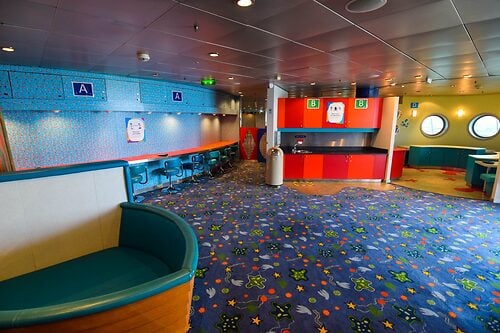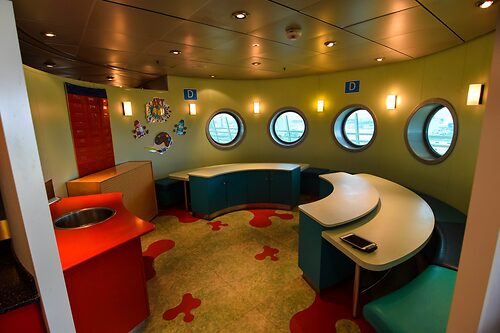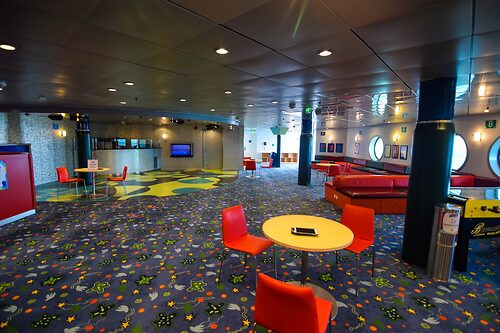 The nursery limit is 4 kids at a time.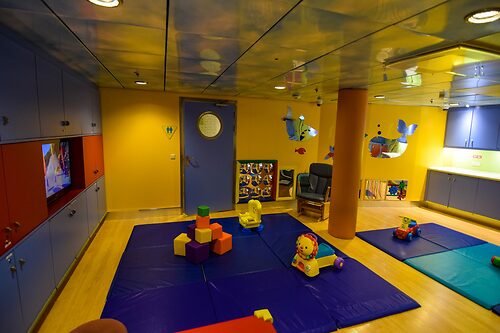 At this time I remembered to do the emuster, which allows me to complete the ship's safety drill via the Royal Caribbean app.
The crew members working the muster stations are always so happy and enthusiastic, it is a nice welcome onboard.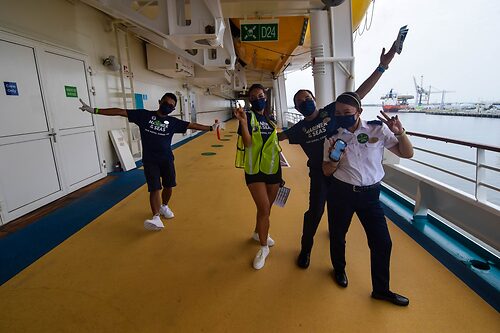 Speaking of the muster drill, evidently there were some guests slow to complete the safety drill, so our departure from Port Canaveral was delayed until around 6pm or so.
I missed sailaway because I was eating dinner in the main dining room this evening.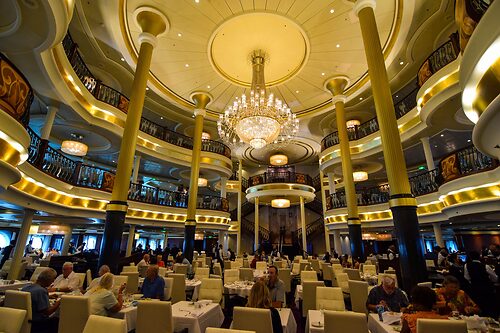 In case you missed it, RoyalCaribbeanBlog's video editor, Jenna, is onboard as well and this is her very first cruise. I figured dinner in the main dining room was a must-do for her first night on a ship.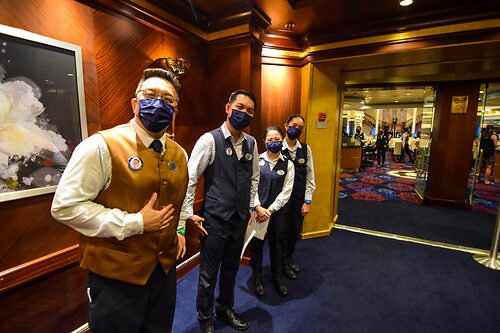 Service was great and very attentive. I went with the mushroom soup, spaghetti bolognese and of course a serving Indian curry.
The Indian curry is not on the menu, but there are always alternative options for various reasons, such as vegetarians, and anyone can request them.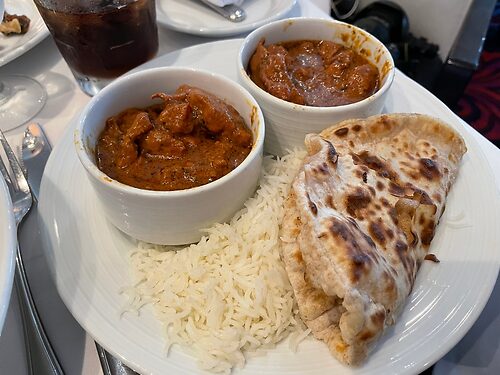 After dinner, I went over to Studio B to check out the ice skating show onboard.
The ice shows are a fun performance, and the show started exactly as I walked out of dinner. With the ship sailing at reduced capacity, getting into a show at the last minute is possible, whereas it likely would have been at capacity on a sailing pre-2020.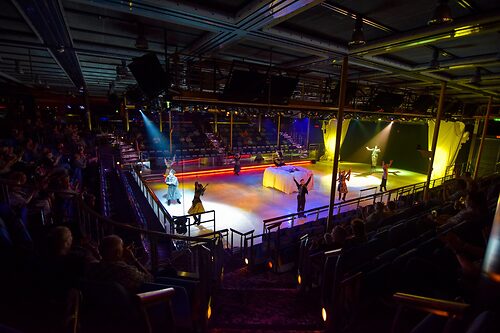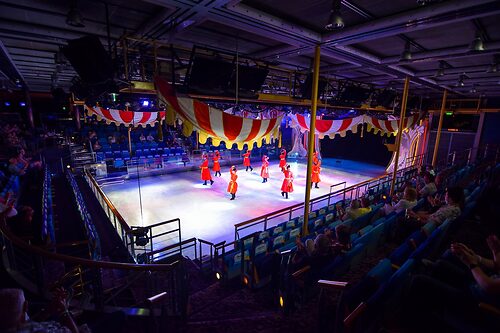 After the ice skating performance, my plan was to simply walk through the casino to break some larger bills (the casino is a good alternative to guest services for getting change), and I decided to play roulette.  There was no one at the table and a $5 minimum.
I ended up breaking even, but I got to play for about an hour.  Not a bad return on my investment, as it was fun playing the numbers.  It was especially fun when a few of my numbers hit!
I walked up to the pool deck to catch the last glimpse of twilight.  The weather all day has been cloudy, and it was quite windy on the pool deck. That's okay, I'll trade bad weather today for good weather tomorrow at Perfect Day at CocoCay.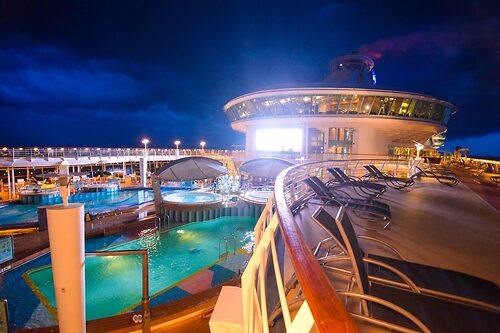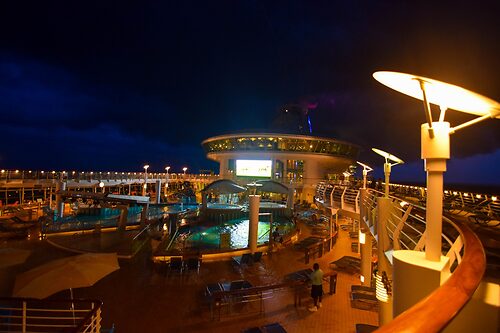 Our itinerary is CocoCay, Nassau, sea day.
Tomorrow should be a fun day relaxing around the island again!