In:
The second day of the Mariner of the Seas test cruise takes us to Royal Caribbean's private island of Perfect Day at CocoCay.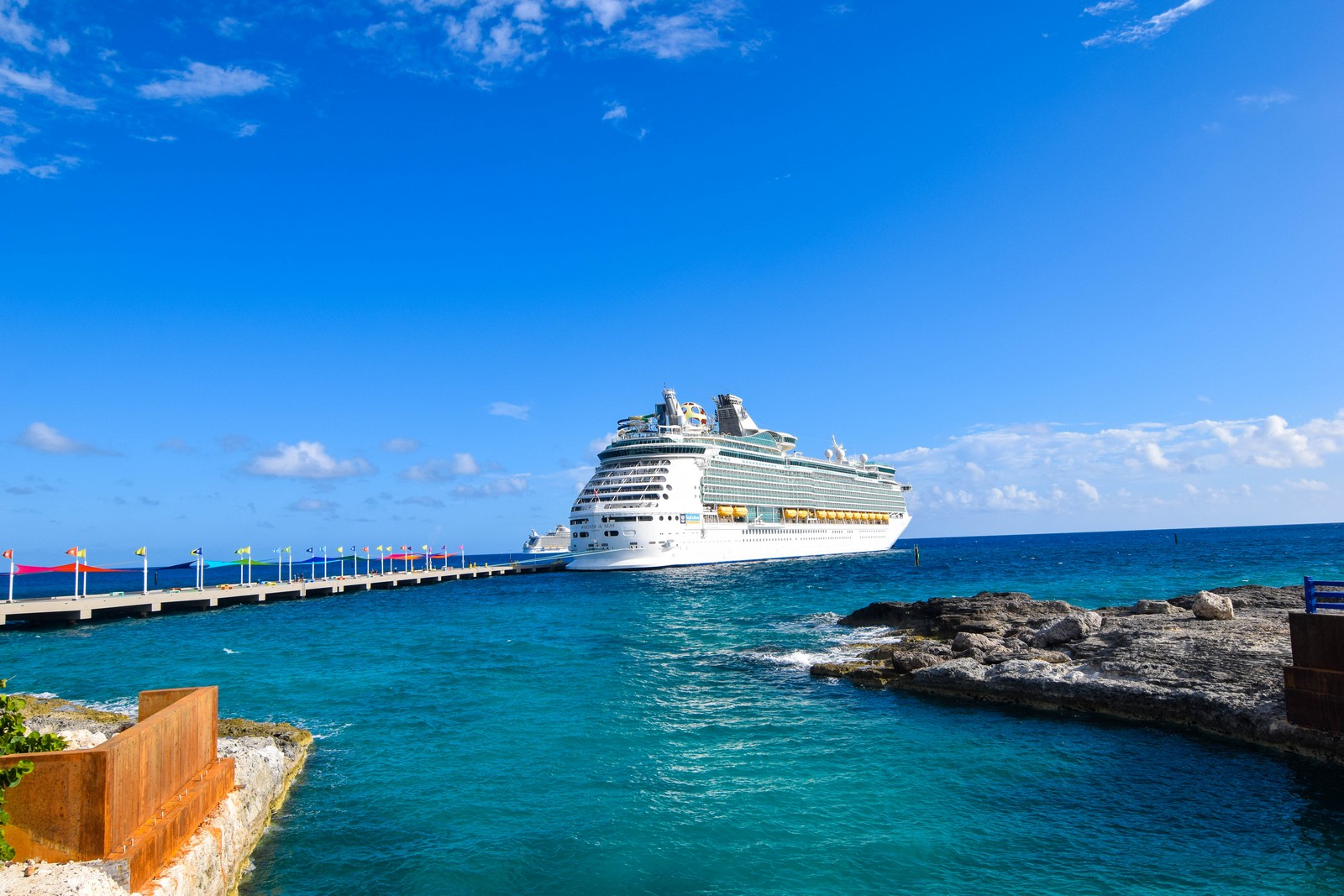 Being that I have been here a few times, I aspired to do something different this time around.  Erica from Cruise.Blog challenged me to find 5 things to do at CocoCay that I've never done/seen/eaten. Challenge accepted!
The ship docked quite early and was cleared to let guests off at 8am, although I slept in a bit and was off the ship a bit before 9am.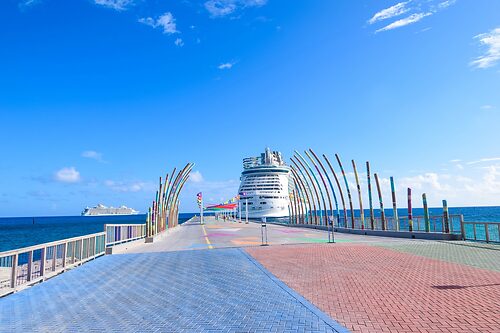 I figured to find something different, I would head in the direction of Chill Island, as I tend to gravitate towards things on other side of the island.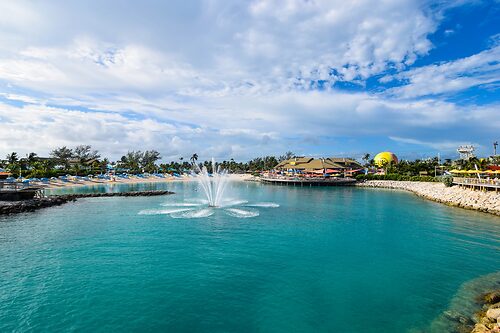 Immediately I ran across my first new thing: hammocks.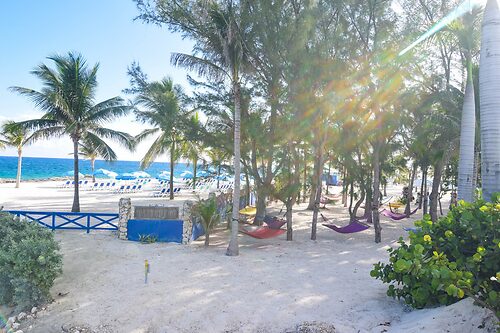 There are hammocks all around the island, but I think the best hammocks are near the bridge that leads to Chill Island because they are under a number of palm trees that provide a lot of shade.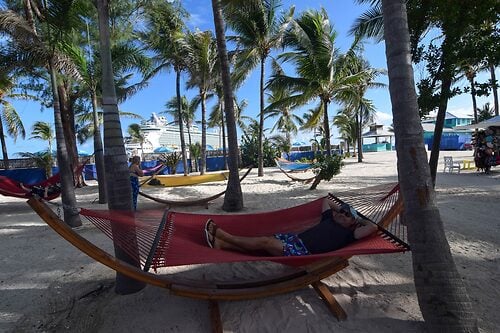 With the cooler temperatures of the morning and a nice breeze, it was really relaxing and I could have easily taken a nap here if I stumbled upon these later in the day.
Being in the area, I walked down the beach of Chill Beach, which is really beautiful and with few guests around that early, it was a nice morning stroll.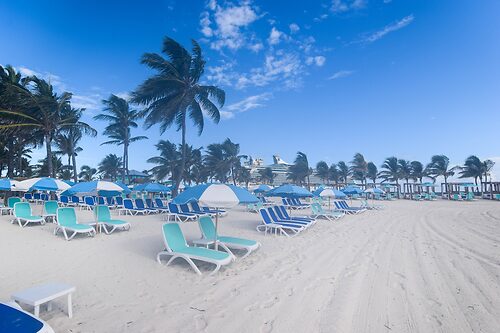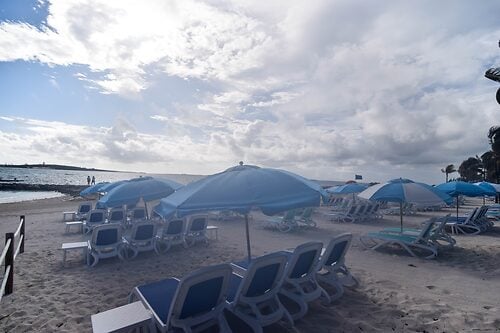 The next thing I tried that was brand new was to go to Harbor Beach to try the marine bean bags.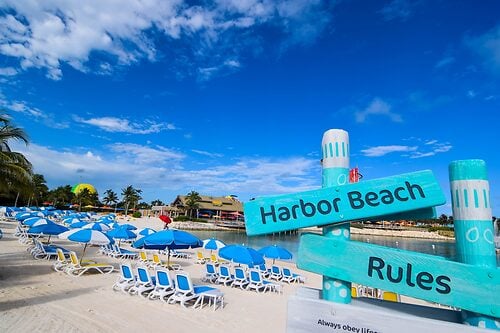 The beach bags are not new, but I remember seeing them in the past but never tried them out.  These things are really comfortable, and I would much rather slump into one of these than a standard beach lounger.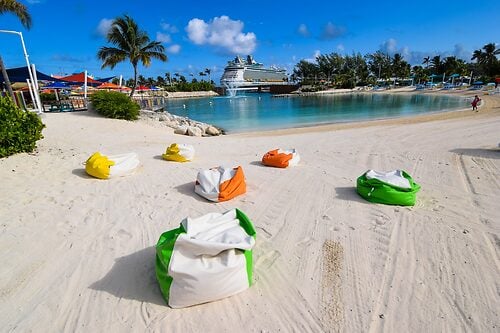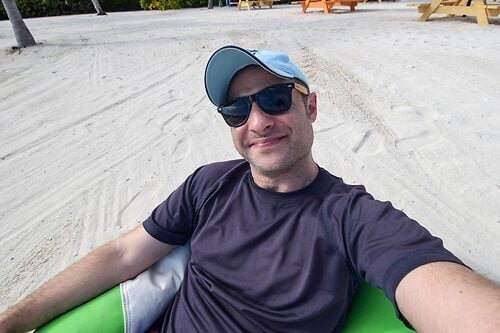 Harbor beach is another overlooked gem of the island, as it has little to no waves and usually gets far less crowded than Breezy Bay or Chill Island.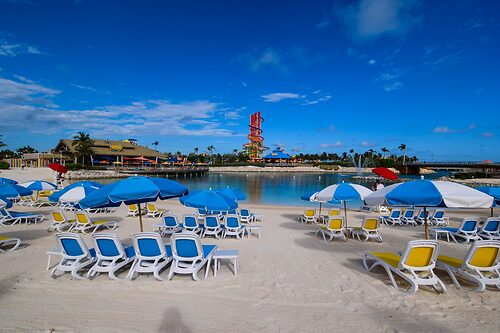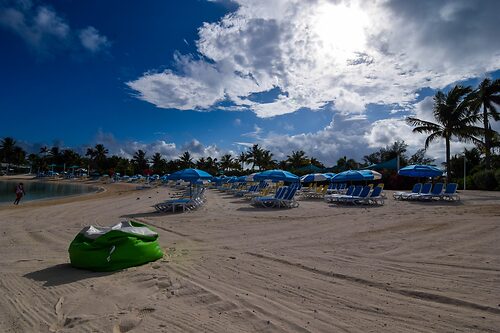 With two new things down, I wanted to do something a bit more active, so I headed to the sports court of Breezy Bay where they have a few games you can play.
These games are complimentary and include volleyball, bean bag toss, jenga and more.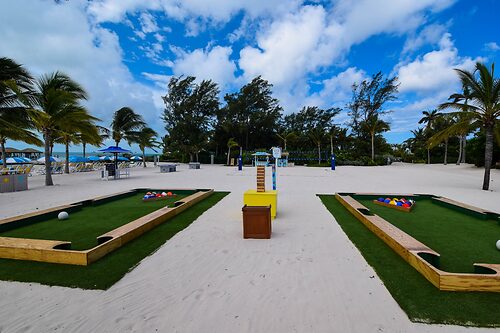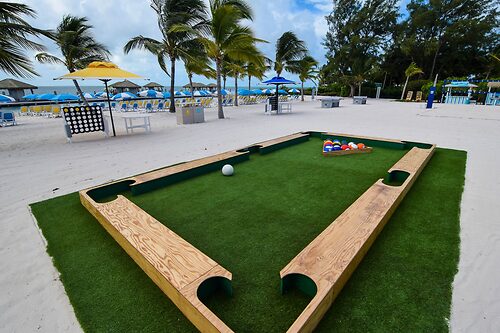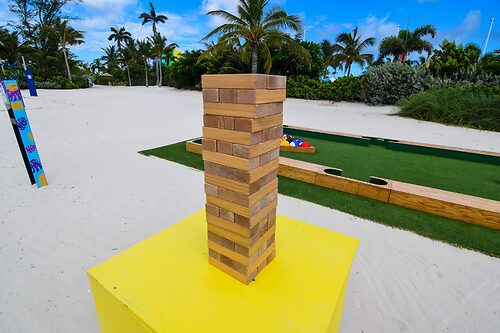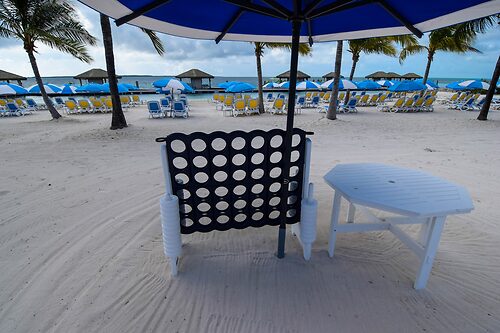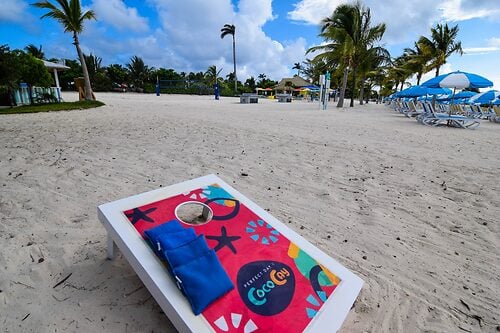 I was drawn to something completely different that I had never seen before: wall golf.
Essentially, you put a golf ball in a wooden circle at the bottom of the golf course. The circle is controlled by two strings, which you pull to move the circle left, right, and up.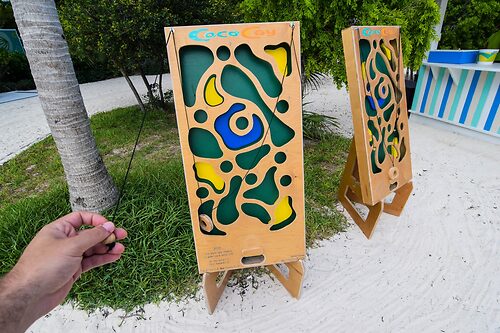 The goal is to move the ball around the course without falling into one of the hazards and successfully into the hole. 
I am happy to say years of video games gave me a superior edge in this game because my hand-eye coordination was on point.
By now the temperature was starting to rise and I was ready for a cool down, so I headed to Oasis Lagoon.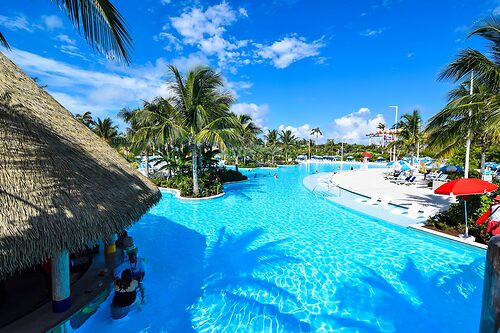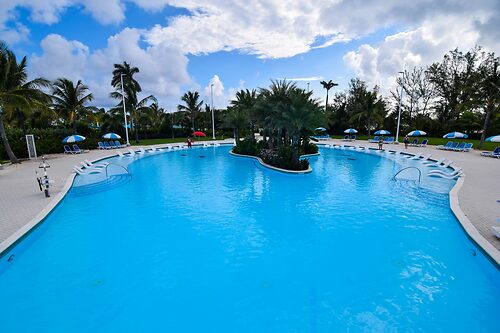 Oasis Lagoon is my favorite spot to chill, and the pool was so under crowded because of how few passengers are onboard it was like having the pool bar to ourselves.
Time for number four on my challenge, and I decided to eat lunch at Chill Grill.  While I have walked around Chill Grill, I'm not entirely sure I have actually stopped for a meal here (usually I go to Snack Shack for lunch). 
The Portobello sandwich was a surprise hit because it tasted more like an eggplant parmigiana sandwich than I expected.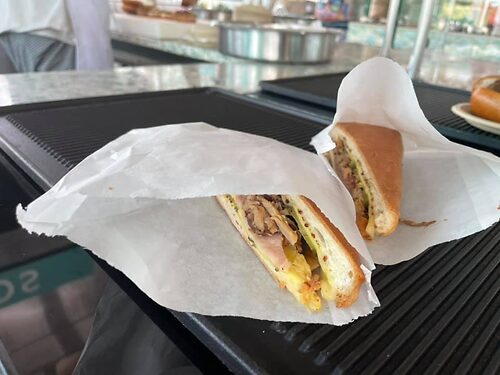 I also really loved the taco bar, which was very similar to the burritos you can make at El Loco Fresh.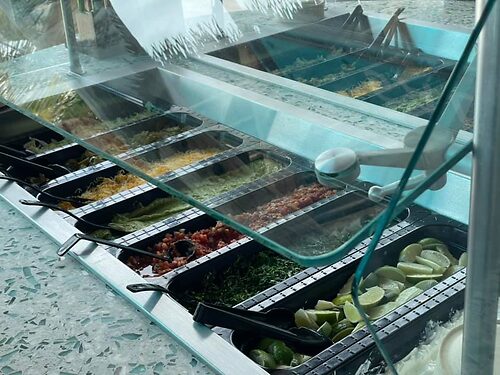 For my final part of the challenge, I decided to swim out to the floating bar.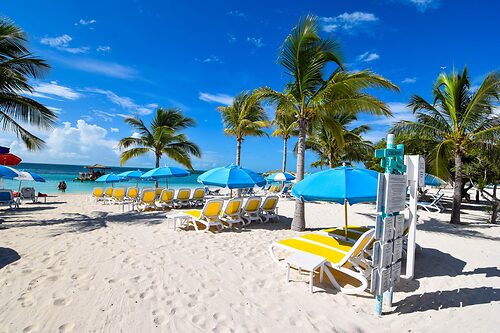 In fairness, I had been to the floating bar, but it was in its old location before the Coco Beach Club was built and I am pretty sure this version is larger than the old floating bar.  So I'm going to count it for this challenge!
There was such a strong breeze on the floating bar that it was quite comfortable being out there because the hot temperatures did not feel as oppressive.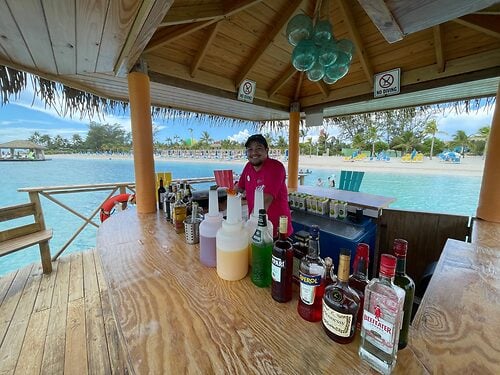 After a full day at CocoCay, I was feeling not only content but sleepy.  So I headed back to the ship for a shower and nap.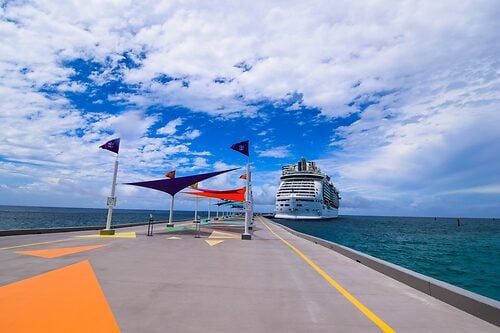 For dinner this evening, we went to Izumi to have sushi.  
Izumi on Mariner of the Seas is primarily a hibachi option, but there is a sushi bar as well.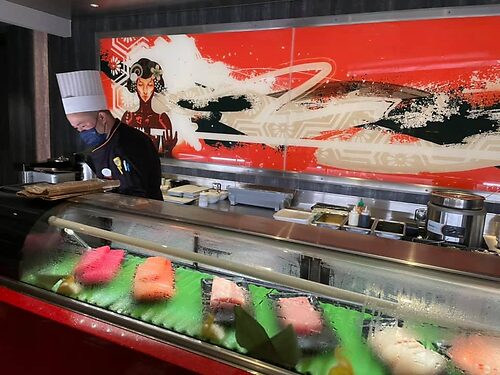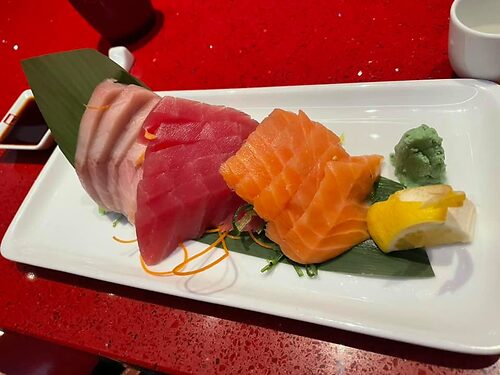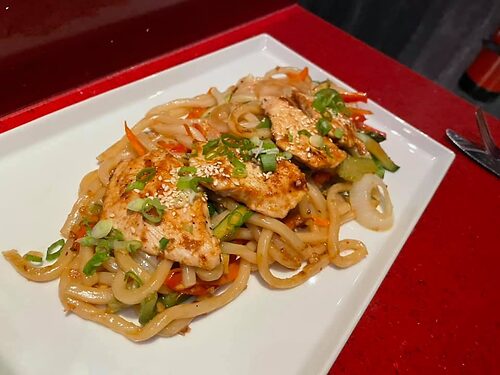 Overall, the two night test cruise went off without any issues that I noticed and I really enjoyed being onboard.
Royal Caribbean will have other test cruises in the future, including Oasis and Liberty of the Seas coming up in a few weeks. I hope everyone that gets to go on those test sailings enjoys the experience as much as I did.
Next up for me will be a return to Mariner of the Seas for her first revenue sailing on August 23.  Look for more live coverage from that sailing!