In:
When Royal Caribbean introduced the Bionic Bar with its one-armed robot bartenders 7 years ago, it turned heads.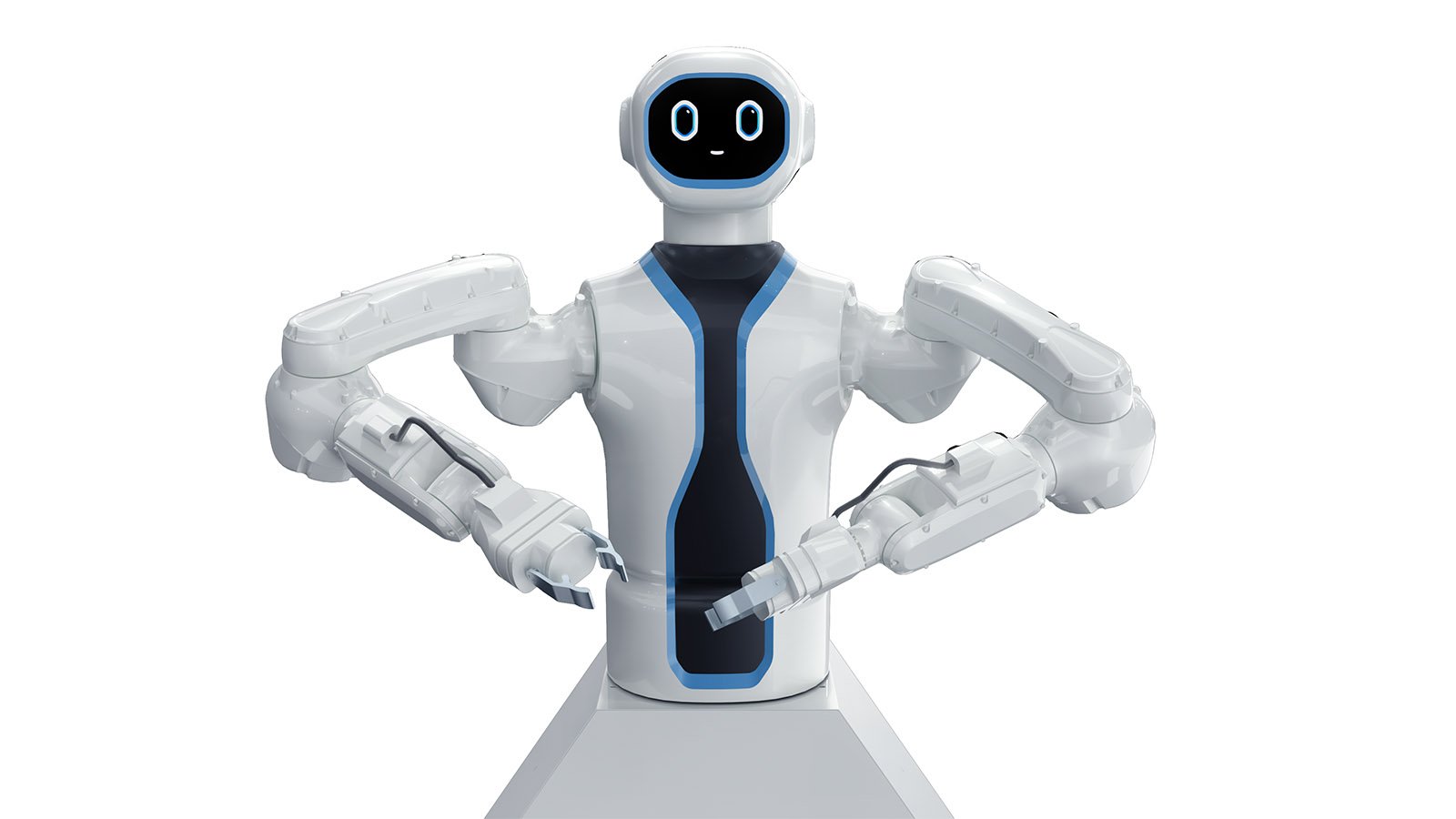 Now, there's a new bartender in town.
MSC Cruises announced today the first humanoid bartender will be found aboard its MSC Virtuosa cruise ship.
Known as "Rob", the bartender will be part of the MSC Starliner One bar experience, which is themed to a futuristic spaceship.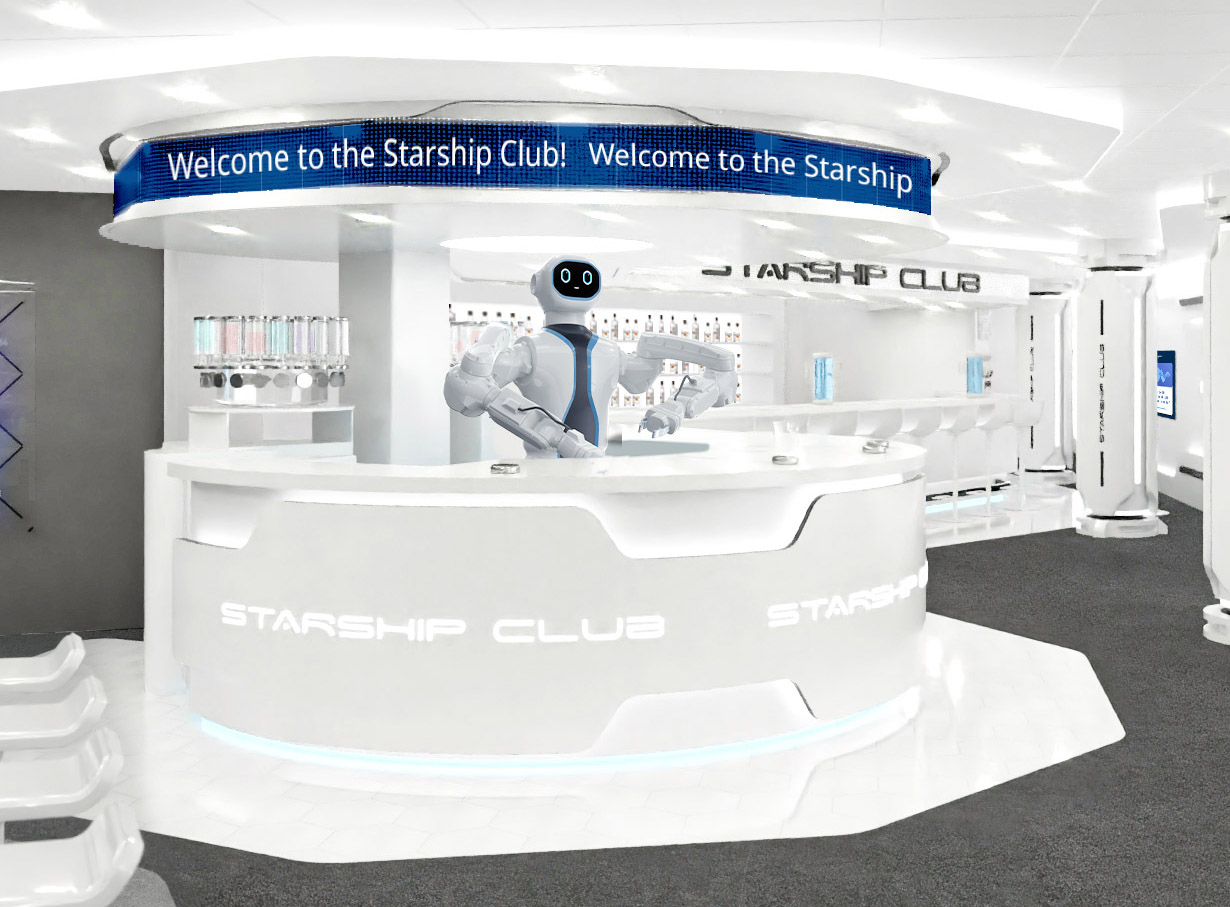 Rob can mix and serve cocktails (with or without booze) and personalize drinks as well. He can even talk to guests in 8 languages (English, Italian, Spanish, French, German, Brazilian Portuguese, Chinese and Japanese). His LED face can convey a variety of emotions.
This humanoid robotic bartender moves his arms, body and head in a highly natural way, all collaborating to give the impression that a real bartender is preparing the cocktail - a very unique engineering feature. Different facial expressions and a voice have been designed to give Rob a human-like personality.
Parallels between Rob and Royal Caribbean's Bionic Bar started almost as soon as MSC made the announcement.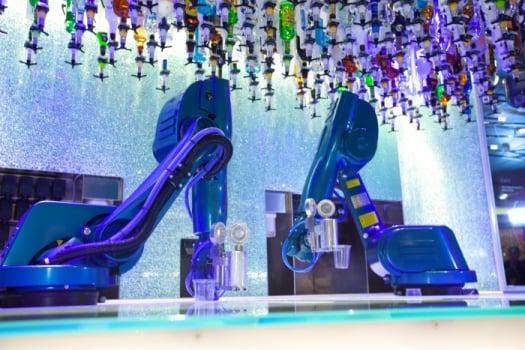 Beginning on Quantum of the Seas, Royal Caribbean introduced the first robotic bartenders in 2014.
The Bionic Bartenders are not humanoid. Instead, they are a robot arm that can make drinks based on orders placed by guests via tablets.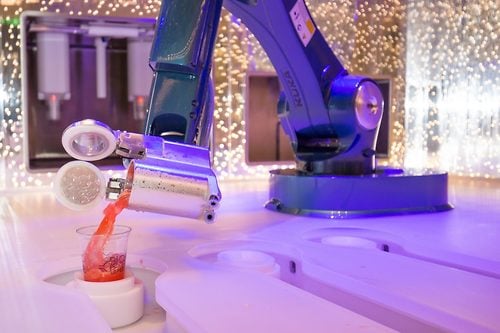 The Bionic Bar concept has spread to a number of cruise ships in the fleet since the debut, including other Oasis and Quantum class cruise ships.
Ordering drinks
Guests will place orders for drinks in specifically designed vertical digital cockpits. 
Guests can monitor the status of their drink while Rob makes it through digital monitors within the area and a ticker-tape-style LED strip above the robotic island.
The cosmic cocktails are served in custom-designed futuristic souvenir glasses.
Between making drinks, Rob can interact with guests and change his facial expressions or even dance.  He is capable of telling jokes, riddles and space trivia.
The MSC Starship Club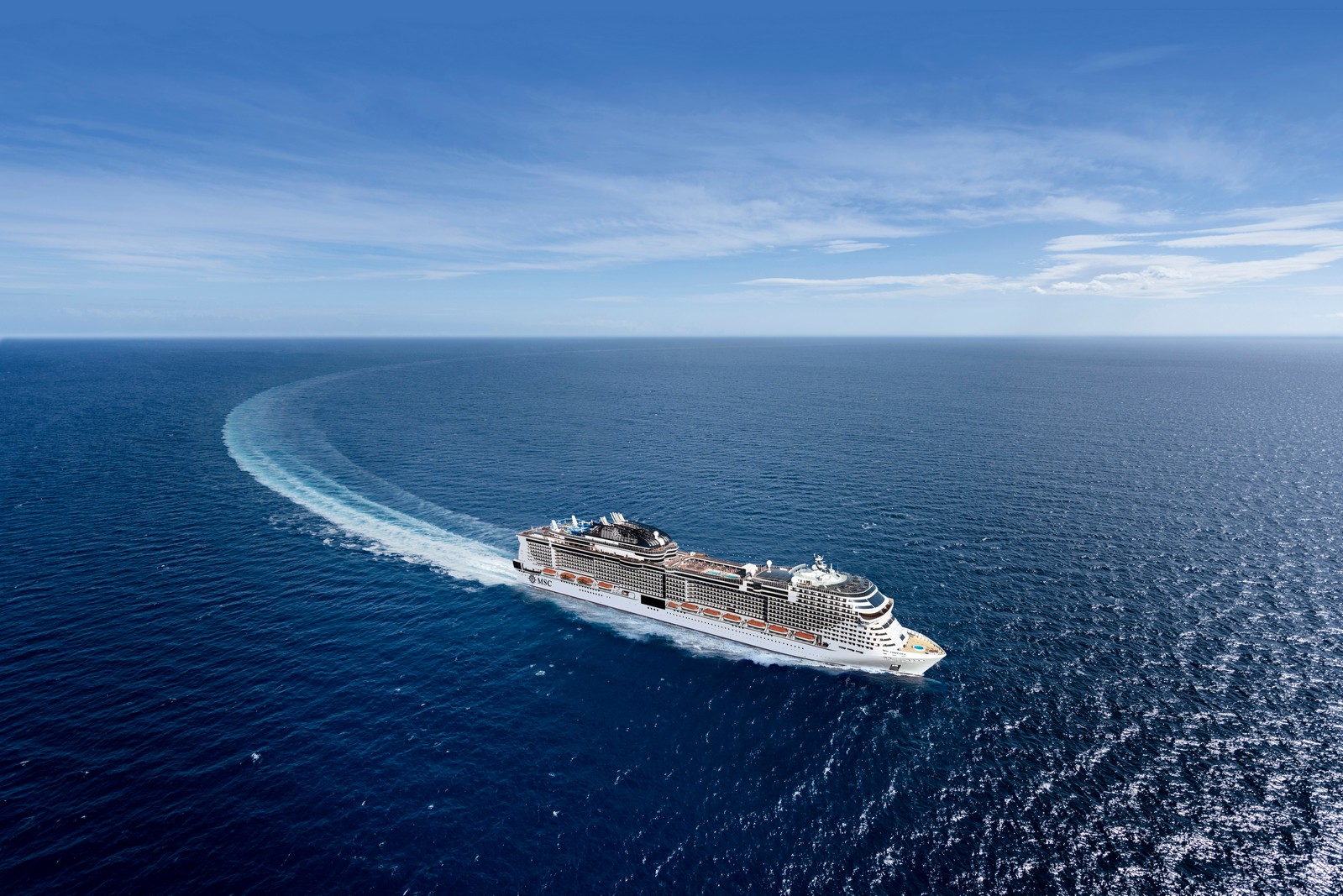 In addition to Rob, the bar has 3D holograms, an immersive digital art wall and a 12-seater infinity digital interactive table, giving guests the possibility to explore space with their own personalized galactic tour.
MSC said they have spent almost six years developing the space, and worked hard to push the boundaries of engineering.
During this time, MSC Cruises has worked with leading experts from companies specializing in robotics and automation, interior design as well as entertainment and digital experience solutions to create a custom designed entertainment venue with a humanoid robot as the star.
The robotic island solution is completely automated and integrated with all the catering machines and tools needed for the end-to-end drink preparation and delivery. Safety glass and the 2-level safety laser barriers have been installed to avoid any mishaps.
Human bartenders will be always be on-hand to assist and prepare unique beverages too as part of the overall experience.
The MSC Starship Club also offers an extensive futuristic menu served from the human bar in addition to the cocktails served by Rob These cocktails are not included within the drinks packages.
MSC Virtuosa is the newest cruise ship for MSC Cruises anbd after completing a few three, four and five-night cruises in the Mediterranean, MSC Virtuosa will be deployed to Northern Europe in summer 2021 with a range of itineraries to the Norwegian fjords and Baltic capital cities.