In:
When Royal Caribbean announced it had sold Empress of the Seas, it did not say who bought it, but we might have an answer now.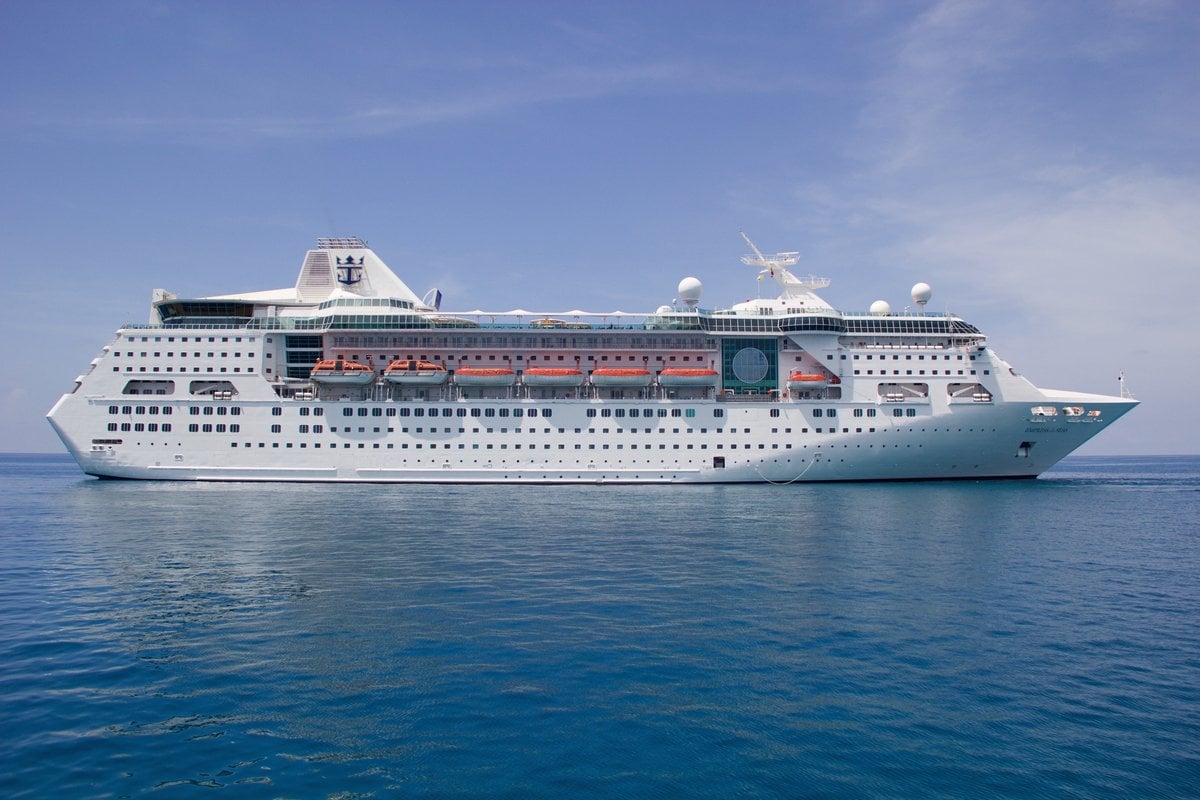 An Indian cruise line, Cordelia Cruises, shared a message from its CEO to announce it has acquired Empress of the Seas.
The message was posted by Cordelia's CEO Jurgen Bailom, It gives me immense pleasure to inform you that Waterways Leisure Tourism Pvt Ltd. that recently acquired over the Jalesh Cruises brand, has decided to further capitalize the immense potential of cruising by entering in the Indian market with the Empress of the Seas, that belonged to the global giant Royal Caribbean International until recently. "
"With an individual capacity of 2,000 passengers, she has sailed many coastlines and high seas in her glorious past. I look forward to your support in continuing the legacy of Jalesh Cruises in upholding the spirit, culture, and value of "Incredible India" and being the evangelist of Joy by curating memorable cruise holidays that delight customers."
Read more: Royal Caribbean and fans say goodbye to two cruise ships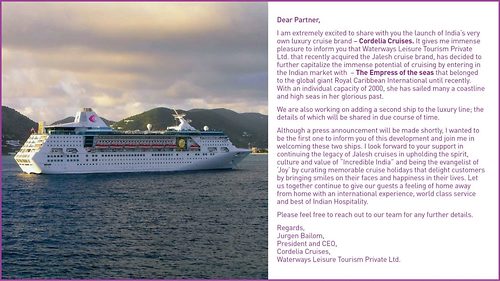 Thanks to unofficial website CrewCenter for spotting the news.
The announcement includes a photoshopped image of Empress of the Seas with the new logo onboard.
Royal Caribbean has only said it sold the ship (and Majesty of the Seas) to "an undisclosed party, based in Asia-Pacific."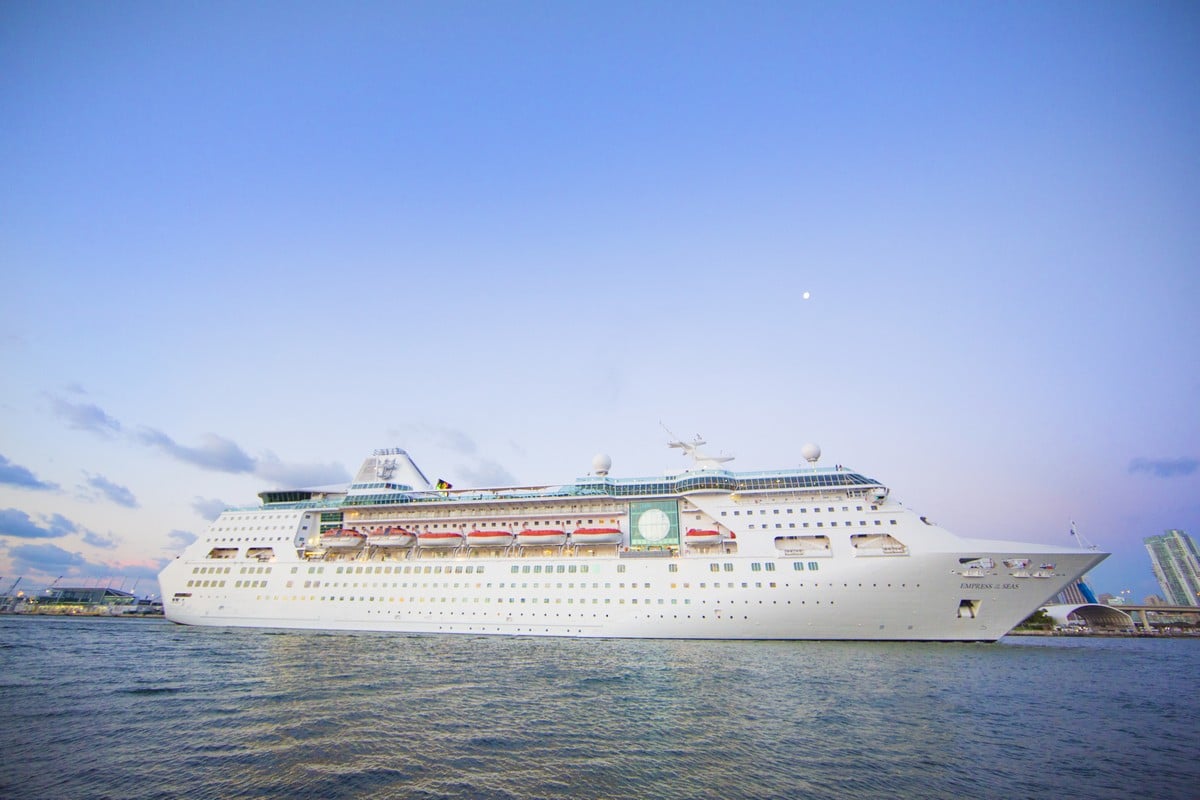 The message had no mention of Majesty of the Seas, which leaves its new owner still unknown.
Mr. Bailom's message did say they are working on adding a second ship to the cruise line, but provided no further details.
Empress of the Seas was launched in 1990 (then known as Nordic Empress) by Royal Caribbean following the acquisition of Admiral Cruises.  She was designed specifically for the short cruise market, offering 3- and 4-night cruises to the Bahamas.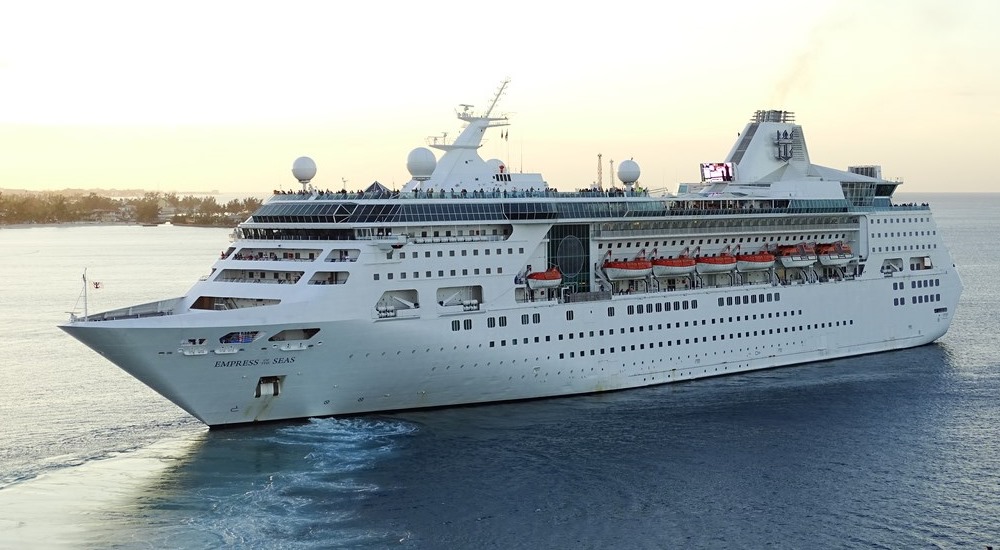 Empress went on to offer cruises to a number of destinations and accruing a series of accolades over the years.  She was the  first cruise ship to sail out of Cape Liberty in Bayonne, New Jersey when Royal Caribbean opened the terminal in 2004.  She was Royal Caribbean's first cruise ship to visit Cuba in 2017.
Read more: Two Royal Caribbean executives share stories from Empress and Majesty
Royal Caribbean International President and CEO Michael Bayley lamented the loss of these classic ships, and their impact on the company.
"Empress and Majesty of the Seas made indelible marks on the cruise industry with their revolutionary design and size. Touted as the cruise industry's most groundbreaking ships when they were introduced, they continued to make history throughout their more than three decades of service."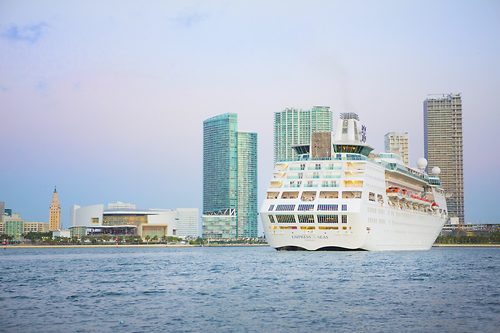 "Saying goodbye to these two beloved ships is a major moment in Royal Caribbean's history – one that is difficult but necessary. With plans for new, innovative ships to join our fleet in the upcoming years, we look forward to our guests and crew continuing to make new memories with us."