In:
While I have shared many other recipes for Royal Caribbean foods and drinks, the Spaghetti Bolognese from the main dining room is one I have been trying to find for a long time.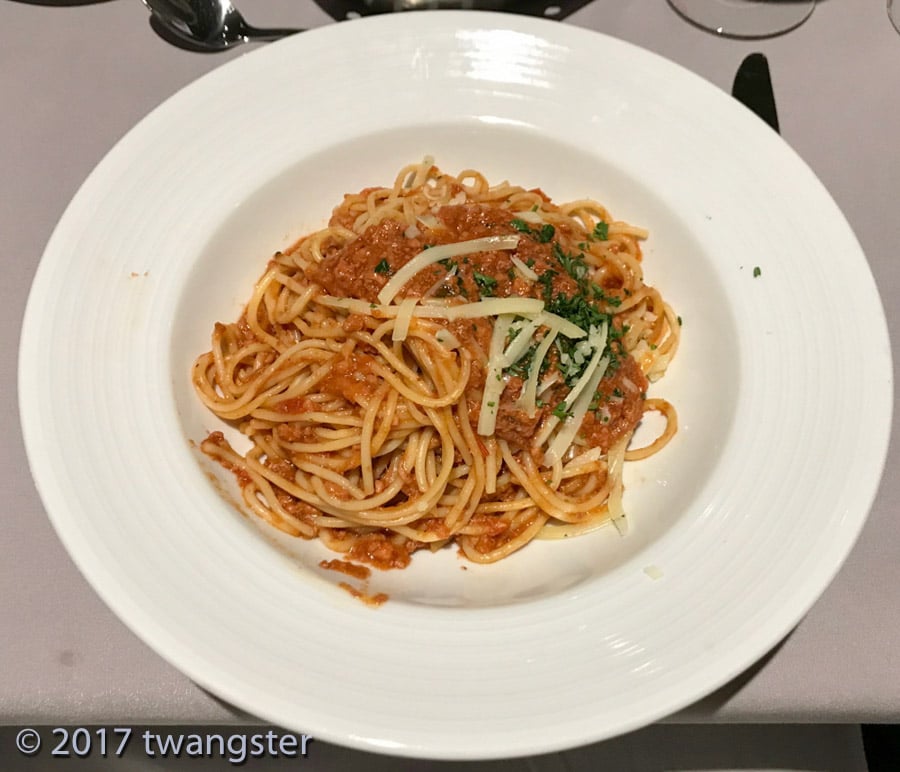 Spaghetti Bolognese is a staple of the main dining room menu, and is available every night.
When I regale cruisers with the tales of enjoying one of my favorite Royal Caribbean foods, they often give me a curious look as to why I am so fond of spaghetti and meat sauce, but there is just something so darn good about how Royal Caribbean makes it.
Perhaps the medley of seasonings used makes the world seem to shine, or the perfectly cooked sauce makes it feel like you walkin' in a dream, but you know you're not dreaming signore. Scuasmi, but you see, back on Indy, that's a great dish.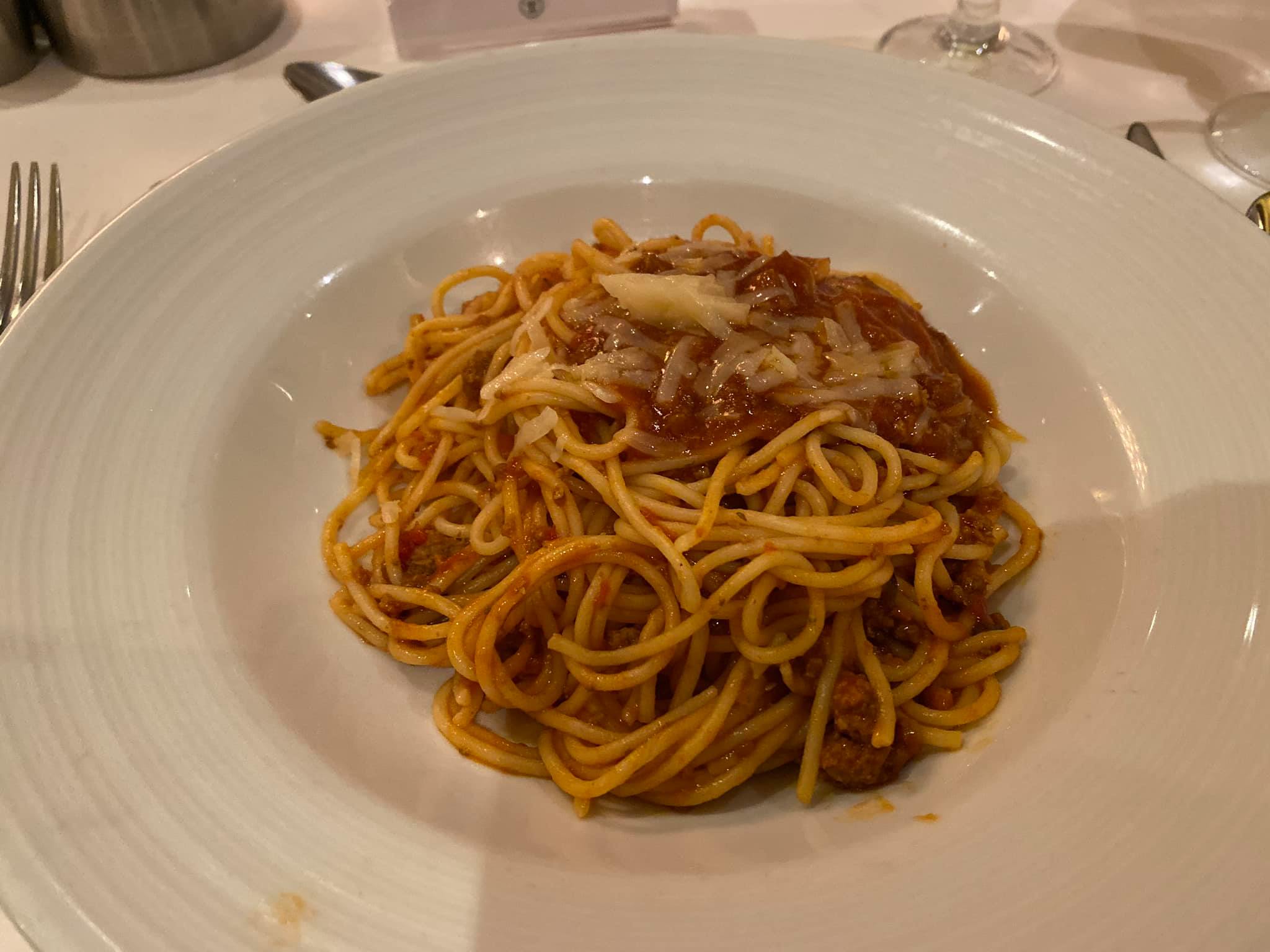 I had been unable to find the recipe for this dish until RoyalCaribbeanBlog reader and fellow New York bagel lover Mark Pizzo sent me a copy he had received from a cruise back in 2018.
Like myself, Mark and his son were enjoying a fabulous meal in the main dining room when the waiter noticed that Mark had eaten every bit of his spaghetti Bolognese. The waiter made it a point to have a copy of the recipe sent to his stateroom.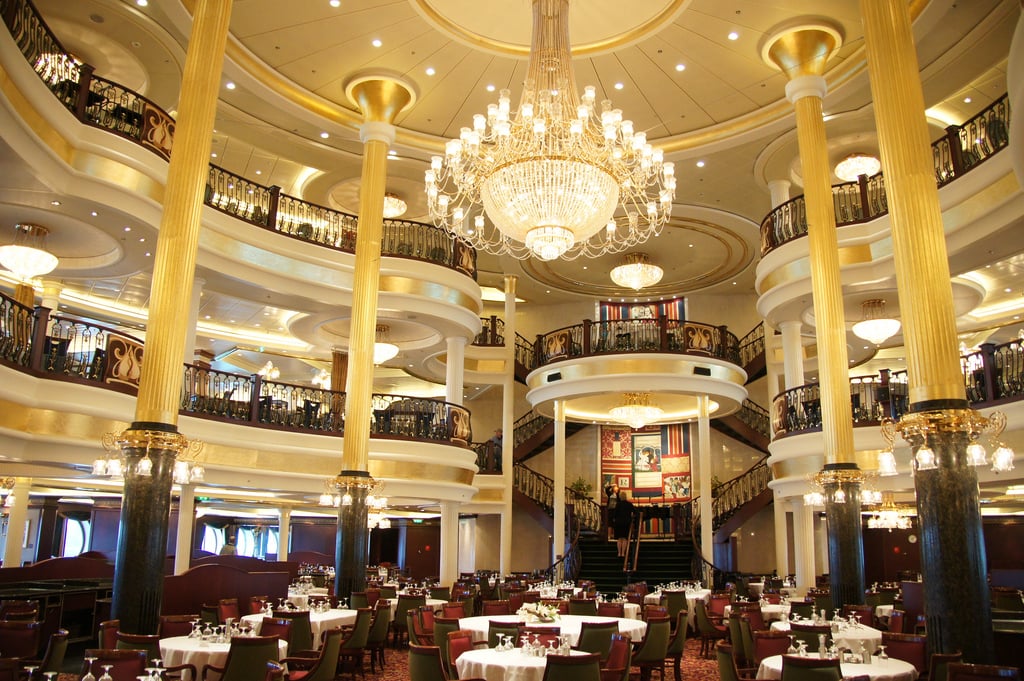 The original recipe from Royal Caribbean is to make 100 servings, so you probably should pare it down to something that will feed less than a small army.
Spaghetti Bolognese ingredients
25 lbs beef ground chuck
250 mL Olive Oil Extra Virgin
1 lbs Garlic whole peeled (fine diced)
2 lbs Shallot cloves peeled (fine diced)
6 lbs Yellow onion medium (fine diced)
3 lbs carrot jumbo (fine diced)
3 lbs celery (fine diced)
10 oz thyme (chopped)
10 oz oregano (chopped)
6 liters wine cooking red burgundy
4 cans sauce
4 cans tomato whole (chopped, blended)
10 oz kosher salt
10 oz White pepper ground
37.5 lbs spaghetti pasta
Grated Parmesan
Italian parsley
Mark took the liberty of plugging the recipe into a recipe converter so that it would only feed a battalion. I am no cullinary expert, so good luck with the kitchen math.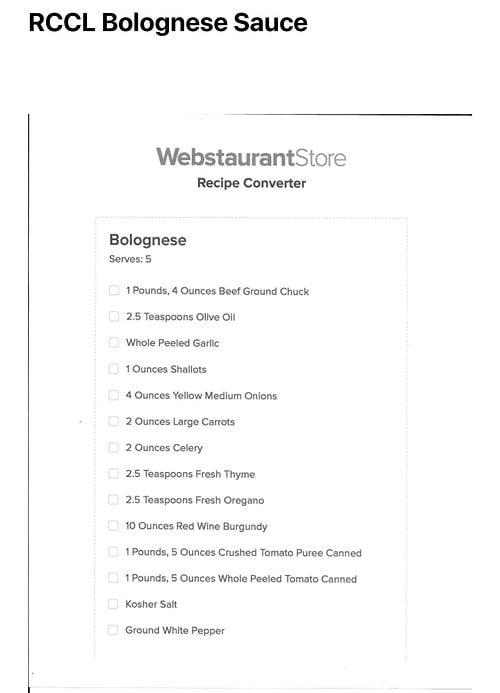 Suggested music while preparing spaghetti Bolognese
Dean Martin - That's amore
Spaghetti Bolognese Instructions
Making the Bolognese sauce
Sautee beef in olive oil and cook until all meat is cooked well and all liquid has evaporated.
Add garlic, shallots and onions. Continue cooking
Add carrots, celery. Continue cooking
Add red wine
Add San Marzano tomatoes from can, ensure to chop or blend as pieces are too large
Add fresh herbs, season well. Bolognese should be cooked very well and have a nice, meaty, garlicky and tomato flavor and aroma
Assembly
Cook spaghetti.
Toss spaghetti with Bolognese sauce, mix well
Place pasta in bowl
Garnish with chopped parsley and add grated parmesan cheese
Don't forget to start your meal with Royal Caribbean's caesar salad as well, for a classic Italian dinner at home.
Buon appetito!