In:
It is never too late to celebrate Royal Caribbean's 50th anniversary, and nothing says a celebration quite like cake!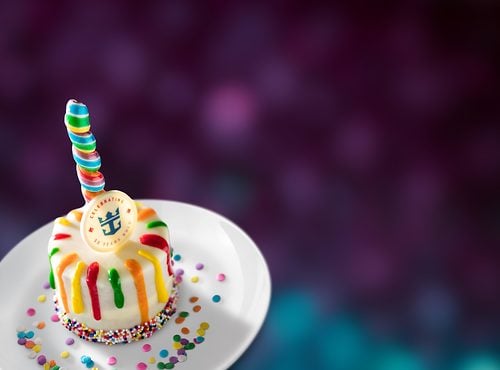 For many months, Royal Caribbean was serving guests in the main dining room a buttercream birthday cake, topped with rainbow sprinkles, a swirled lollipop and chocolate coin.
For my fellow cruise fans also going through cruise withdrawal, here is how to make your very own Royal Caribbean birthday cake at home!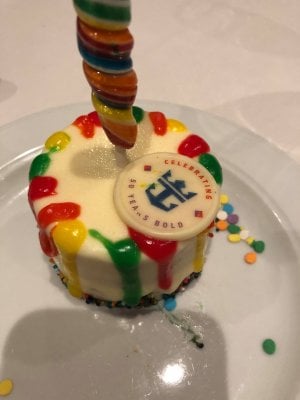 50th Birthday Cake Ingredients
Serves 4. Ready in 1.5 hours (or 1 hour if you buy sponge cake).
Vanilla Sponge Cake
4 eggs
1 cup granulated sugar
1 cup all-purpose flour
1 teaspoon baking powder
3 tablespoons melted butter
1 tablespoon vanilla extract
3/4 cup nonpareil rainbow sprinkles
1 tablespoon hot water
candies, for garnish
Note: you could save time by purchasing store-bought sponge cake.
Vanilla butter icing
1/2 cup butter, softened
1/3 cup powdered sugar
1.5 teaspoons vanilla extract
3 tablespoons milk
White Chocolate Glaze
1/3 cup of milk
2 tablespoons corn syrup
1/3 cup white chocolate
2 tablespoons apricot gel
1 teaspoon gelatin powder
Suggested music while preparing 50th Birthday Cake
Kool & The Gang - Celebration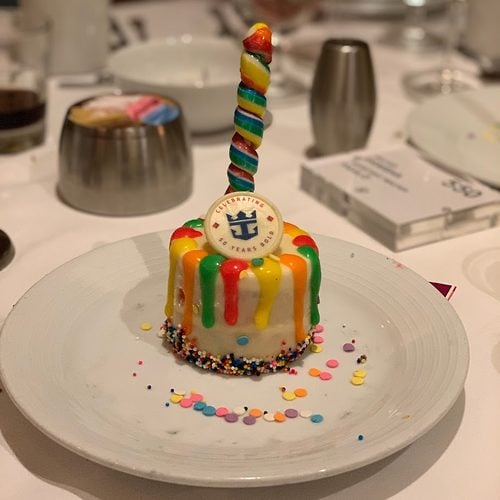 50th Birthday Cake Instructions
Vanilla Sponge Cake
Preheat oven to 350°F
Prepare a 1/2-inch baking pan by brushing it with softened butter, then lightly dust it with flour
Beat eggs and vanilla extract in mixer for about 1 minute on high speed
Slowly add the sugar and beat for 15 minutes
In a bowl, sift flour and baking powder
Separately, combine butter and hot water in a cup
Carefully fold flour mixture into eggs, then fold butter mixture into batter
Fold rainbow sprinkles into batter evenly and pour into buttered pan
Bake for 30 minutes
Remove from oven and allow to cool on a rack
Vanilla Butter Icing
In a large bowl, beat butter until creamy
Add sugar, vanilla and enough milk to achieve desired consistency
Reserve
White Chocolate Glaze
In a small pot, combine milk, corn syrup, apricot gel and gelatin powder, and bring to boil
Add white chocolate and mix until smooth
Reserve
To Assemble
Cut sponge cake with a 2- or 3-inch ring
Use 1 tablespoon icing between of the three sponge cake layers, spreading evenly
Over a cooling rack, drizzle glaze evenly to cover the cake
Place in freezer for 30 minutes, or until set
For color drizzle, reserve a little glaze with each color, mixing each in separate bowls
Drizzle colors on top and garnish with fun candies
I hope this recipe helps bring a little (sweet) Royal Caribbean fun to your home.  If you manage to create it, please share a photo in our comments below so we can all see your creation!