In:
Royal Caribbean's Symphony of the Seas is the largest cruise ship in the world, and with a title like that, there is plenty to see, do, and explore onboard!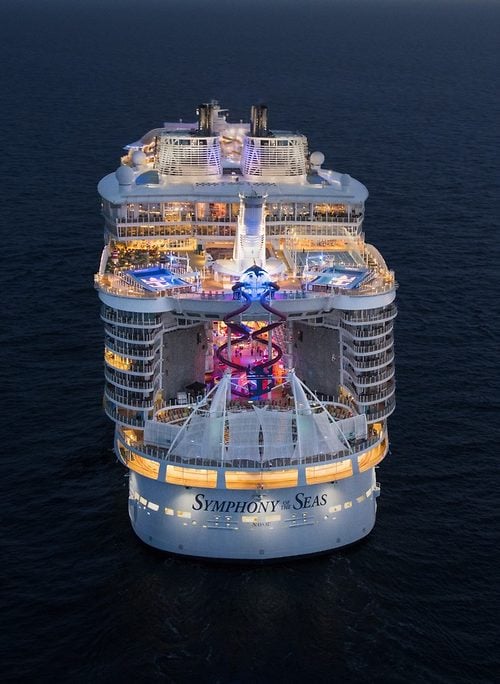 Going on a Symphony of the Seas cruise means access to incredible dining, shows, daily activities, and fun destinations to visit.  With so much opportunity, here is what you need to know to maximize your time onboard.
Table of Contents
Do the pre-cruise check-in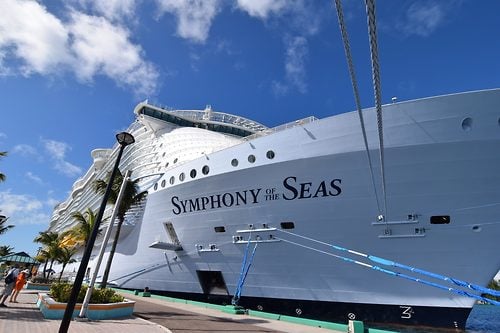 Before you ever step foot onboard Symphony of the Seas, be sure to complete the online check-in.
Doing online check-in will save you time at the terminal, and greatly speed up the entire process once you arrive for your cruise. After all, it is much more enjoyable to breeze through the terminal and get onboard faster!
The easiest way to check-in for your cruise is to download Royal Caribbean's app and log into your account to get it started.
You can check-in up to 90 days before you sail date, but it must be completed no later than 3 days prior to sailing. It is easy to forget, so be sure to get it done early.
Checking in online is super quick, and will save you time later at the port.
Don't forget to book entertainment before your cruise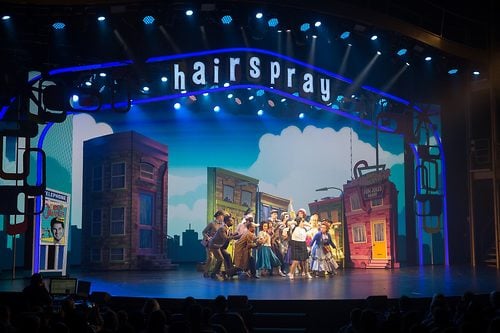 Symphony of the Seas has a lot of amazing shows and activities onboard, and you will not be the only person who wants to try to do them all.
On Oasis (and Quantum) Class ships, Royal Caribbean allows guests to prebook shows and activities from the Cruise Planner. These reservations guarantee you a spot at a specific time to see a show or engage in an activity.
Making reservations for shows is complementary, so you have nothing to lose by making a reservation.
There is no set time frame when shows will become available to book, but it is usually closer to your sail date, in the 30-45 day range.  The key is to periodically check the Cruise Planner for when it may appear.
Do eat at the less crowded restaurants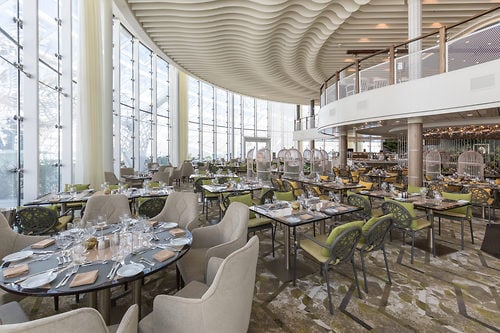 Typically cruisers on a Royal Caribbean ship will head to the Windjammer or main dining room to eat meals, but on Oasis Class ships these venues can easily get crowded.
Instead, you want to dine at the less busy, but still awesome complimentary restaurants.
On embarkation day, hit up El Loco Fresh or Park Cafe.  El Loco Fresh has tacos, burritos, chips and more to enjoy and you can get in an out super quick. Park Cafe has the world-famous Kummelweck roast beef sandwich!
Throughout the cruise, Solarium Bistro is a vastly underrated complimentary restaurant that rarely gets crowds because many people are completely unaware it exists, or what it offers. It is open for breakfast, lunch and dinner.
Do find the hidden spots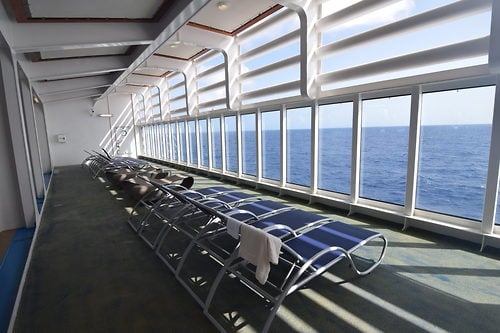 A cruise ship as big as Symphony of the Seas has some great hidden spots, so be sure to note them all before you get onboard.
My favorite hidden spot on Symphony of the Seas is the chairs on jogging deck on the back of the ship. These chairs offer a great view of the ocean passing by, and are a great place to relax on a sea day.
Refer to this Symphony of the Seas secrets page, so you do not miss any of them.
Do explore the ship early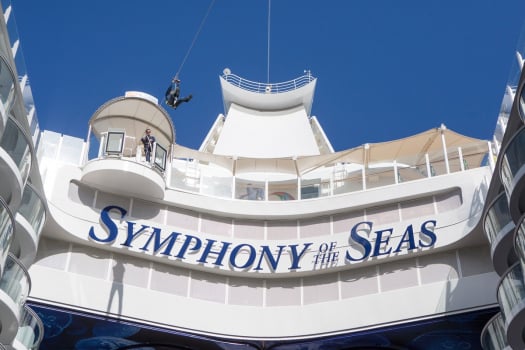 Since Symphony is so large, you will want to get your bearings early.
The size of the ship does not mean it is difficult to get around.  In fact, Royal Caribbean designed the ship to be easy to navigate, but you should try to get a sense of where everything is as early as you can.
After you get something to eat on embarkation day, it is a good idea to start exploring the ship.  There are seven neighborhoods to Symphony of the Seas, so try to walk around and see where the major areas and activities are located.
A common mistake made by first-timers is they do not realize a certain activity or area was on the ship until it was too late.
Do stay onboard on a port stop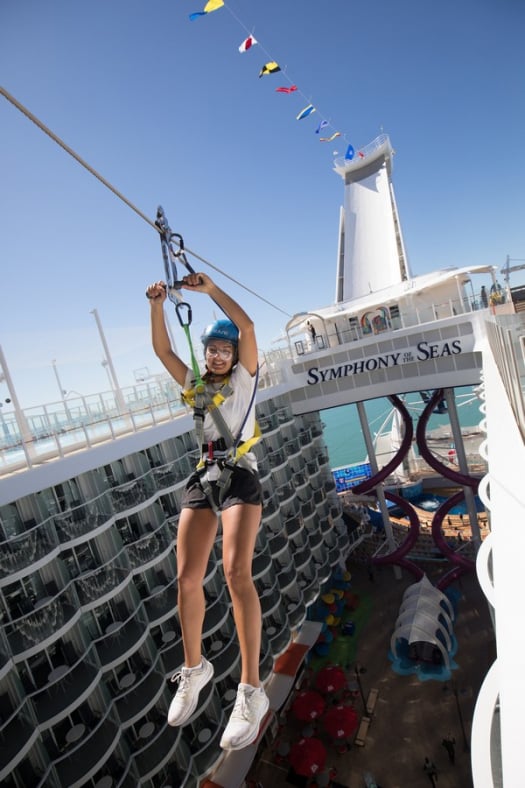 Spoiler alert: You cannot see and do everything on Symphony of the Seas in just one 7-night cruise.
You might consider skipping a port stop at one point and staying onboard to explore the ship instead. Many activities are open on Symphony of the Seas while the ship is docked in a port, and you will find significantly less crowds onboard.
Staying on your ship while in port means very short lines for water slides, the FlowRider, pools and more. It almost feels like you have the ship to yourself! 
More: 10 free activities on Symphony of the Seas
Don't miss the ice skating and AquaTheater shows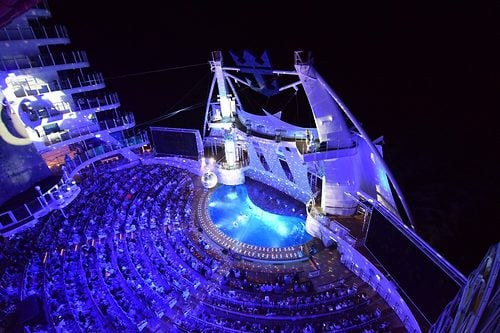 I know what you are thinking, "Do I really want to see an ice skating show?" or "What the heck is an aqua show?", but they are must-sees!
Royal Caribbean takes pride in its entertainment, and the shows offered in Studio B and the AquaTheater are top-notch and worthy of being in a Las Vegas hotel.
The performers are highly trained and talented folks from all over the world, that audition for the opportunity to be featured in a Royal Caribbean production.
Symphony of the Seas has a number of great shows to see including:
1977 ice skating show in Studio B
Hairspray the full Broadway musical in the Royal Theater
HiRO aqua show in the AquaTheater
Flight: Dare to Dream introduces cutting-edge 3D flying technology, video and automation in the Royal Theater
Do go to Johnny Rockets for a free breakfast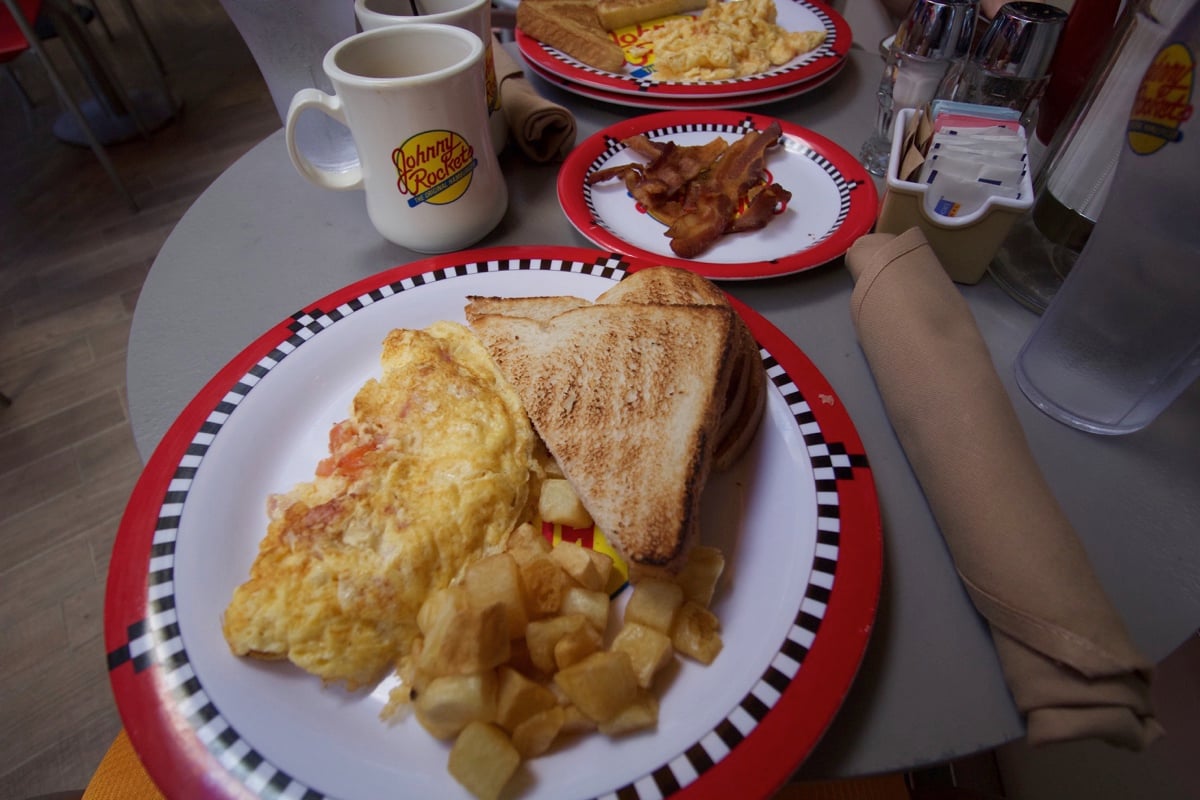 One of my favorite tips for any Oasis Class ship is to go to Johnny Rockets for breakfast.
Johnny Rockets has a cover charge for lunch and dinner, but it is complimentary for breakfast and serves up the kind of traditional American breakfast items most guests love.
The best reason to dine at Johnny Rockets for breakfast is that it is totally free and rarely crowded. Most guests are unaware it is open for breakfast, nor that it costs nothing.
Do check out the interactive art
Royal Caribbean ships are known for their art collections, and Symphony of the Seas features interactive art that is more than just a painting or sculpture.
Paradox Void (Gregor Kregar, New Zealand) – Upon boarding the ship on the Royal Promenade, guests are welcomed by a monumental, kaleidoscopic maze of mirrors and colored lights. This 20-foot-tall, three-ton sculpture is made of 1,200 mirrored stainless-steel triangles and 200 sections of LED light strips. The piece invites travelers to interact with it via seating elements incorporated inside of the actual sculpture.
*Location: deck 5, forward
Sound Shell (Daniel Canogar, Spain) – Inspired by the spiraling shape of a seashell, this LED, interactive sculpture activates when a guest steps into the shell for an intimate, rich audiovisual experience composed of unique soundscapes and soothing light therapy.
*Location: deck 6, aft
Drier-Wig (dEmo, Spain) – One of the best photo-ops on board, the out-of-the-ordinary, motion-activated purple wig emits music when guests step beneath to wear it "on" their heads.
*Location: deck 6, starboard
Don't be scared to ride the Ultimate
Abyss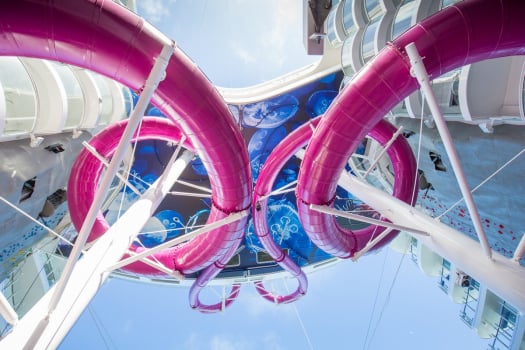 The Ultimate Abyss is that giant purple slide on the back of the ship that looks like something only daredevils would enjoy, but it is far more tame than you might imagine.
Towering 150 feet above sea level, it is a dry slide that sends guest plummeting down a 100 foot drop, but not all at once.  There are a lot of twists and turns that greatly reduce the speed going down.
Not only is the Ultimate Abyss a lot of fun (and free) to ride, it is not nearly as scary as it looks, so give it a shot!
Do visit the Big Wonder at night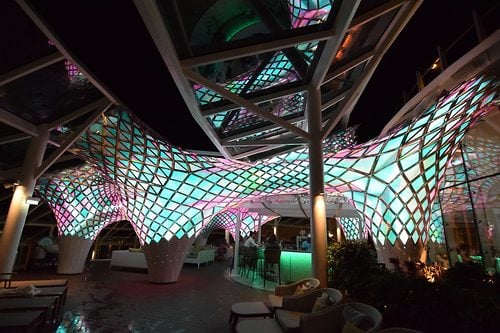 Located in the Solarium on deck 15 forward, the Big Wonder is a beautiful work of art, and the perfect backdrop for a cocktail or two.
While the Solarium Bar is open in the day and evening, be sure stop by after the sun goes down because the entire structure is lit up at night and becomes even more impressive.
It is a great spot for taking photos with the 2,594 square feet structure in the background, or the focus of your photo as you share with friends and family back home.
Don't miss the specialty restaurants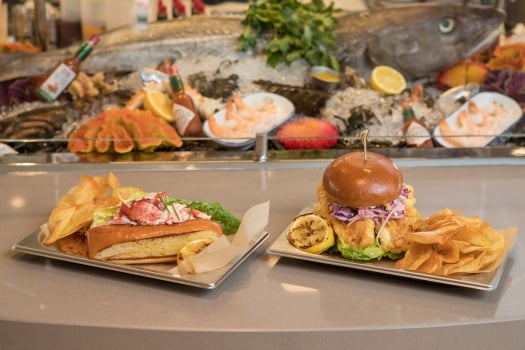 While there is no shortage of great complimentary food on Symphony of the Seas, you really ought to consider a meal or two at one of the specialty restaurants.
Symphony of the Seas is jam-packed with some of the best specialty restaurants across the fleet.
One of my absolute favorite restaurants is Izumi, which features the Hibachi option that never disappoints.  Teppan-style dining is always a hit with families.
Hooked Seafood is another relatively new restaurant for Royal Caribbean, and features a robust raw bar.
Central Park is home to three different signature restaurants: Chops Grille, 150 Central Park & Jamie's Italian.  Each are excellent choices for a night out!
Save these Symphony of the Seas tips!
Did you find these tips helpful? 
Be sure to save these tips for your future reference by bookmarking this page, or you can pin the image below to Pinterest!