In:
Symphony of the Seas offers guests a lot of fun activities and things to do onboard that will keep your family busy throughout your Royal Caribbean cruise.  In fact, the cruise line includes a lot of entertainment in your cruise fare, which means there is no additional cost to enjoy them.
Among the many choices, we picked out our top ten things to do on Symphony of the Seas that have no additional cost.  
1. Hairspray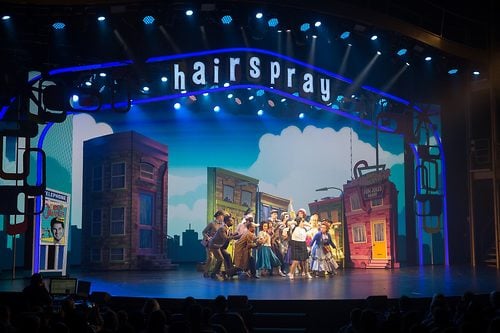 Did you know the hit Broadway show, "Hairspray" is included in your Royal Caribbean cruise fare?
Hairspray is set in Baltimore in 1962 where Tracy Turnblad, a big girl with big hair, only has one passion – to dance. After winning a spot on the local TV dance program "The Corny Collins Show", she is transformed from outsider to irrepressible teen celebrity. As a trendsetter in dance and fashion she goes up against the program's reigning princess, wins the heart of heartthrob Link Larkin and plays a major role in the integration of the television show. Welcome to the 60's!
2. Laser Tag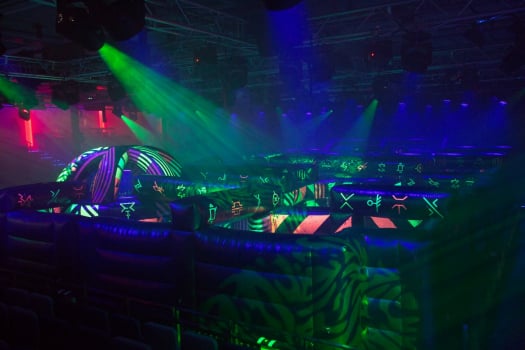 At special laser tag sessions, Royal Caribbean transforms Studio B into a glow-in-the-dark arena that invites everyone to see if they can conquer the, "Battle for Planet Z".
Guests can don special laser tag vests, grab a laser tag gun and head into the arena for a fast-paced team-game that rewards the group that works well together and coordinates their efforts.  Just like laser tag on land, Battle for Planet Z is a high-energy race with bragging rights for the rest of the cruise on the line!
3. Zip line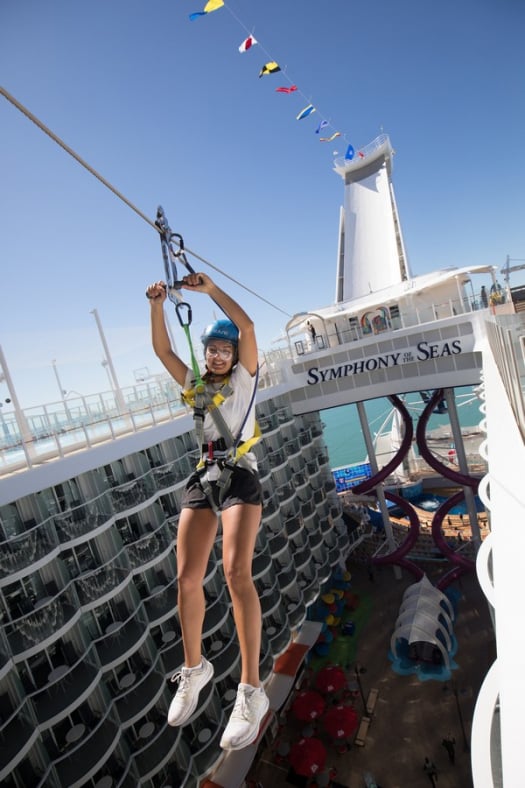 On Symphony of the Seas, you can zip line 9 decks above the Boardwalk on a path that measures 82 feet from start to finish.
Passengers must be at least 52" tall to participate and weigh a maximum of 275 pound, also must at least weigh 75 pounds.
The zip line is free and guests must sign a waiver.
4. Ultimate Abyss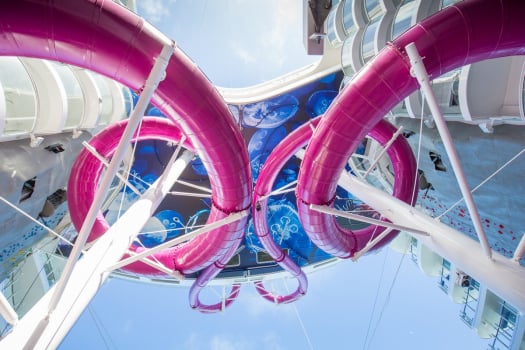 Guests wanting a thrill will be sure to checkout the Ultimate Abyss slide on Symphony of the Seas.  
The Ultimate Abyss is more than 150 feet above sea level and offers side-by-side slides that send guests down 10 decks at a rate of 9 miles per hour. Launching onto the ride from a glass platform, guests can take one last look at the Boardwalk 10 decks below before climbing onto a customized mat and taking the plunge into the depths of the daunting slides.
Rides on the Ultimate Abyss are included with your cruise fare, so you will have plenty of opportunity to scream down the slide, over and over again.
5. AquaTheater shows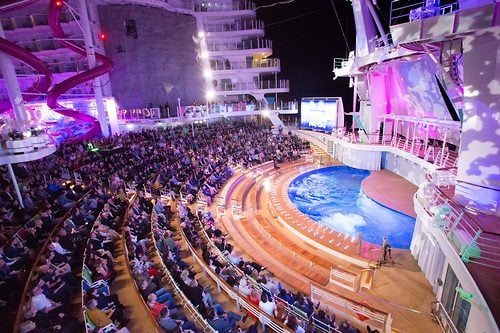 The AquaTheater is arguably one of the top entertainment venues on any Royal Caribbean ship, because it offers some of the very best shows the cruise has developed.
Onboard Symphony of the Seas, guests can enjoy performances of "AquaNation", which features something Royal Caribbean calls "4D harnessing" for its aerialists, who can move  up and down, side to side and forward and back into the audience space. Another AquaTheater show, "HiRo" is coming soon to Symphony of the Seas and Royal Caribbean promises it will raise the bar for aqua shows with more high flying feats, unexpected stunts and extraordinary acrobatics than ever before.  HiRO pushes the limits of a theatrical production at sea with cutting-edge technology and choreography and. No two shows are the same, making it worth seeing twice. 
The AquaTheater on Symphony of the Seas features two 10-meter high platforms and the hydraulic-floored pool, the largest and deepest freshwater pool at sea, below serves as podiums for high-diving, hair-raising aerobatics that AquaTheater audiences have come to love.
6. Ice skating at sea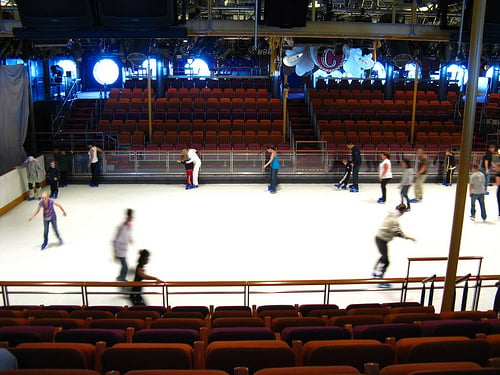 While on Symphony of the Seas, you can don a pair of ice skates and try ice skating at sea.  Regardless of your previous ice skating experiences (or lack thereof), anyone can put on a pair of skates and join in.  Free skates are offered throughout the cruise along with special time for advanced skaters.  
Skates and safety equipment are provided for free, although passengers may bring their own skates.  Passengers must wear long pants and must sign a waiver to participate.
Be sure to catch the complimentary ice show in Studio B, 1977, too!
7. Water slides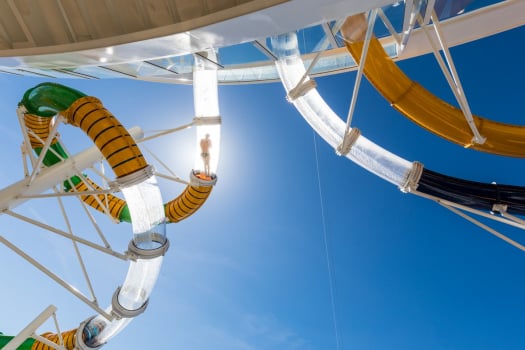 There is no question guests of all ages find water slides a favorite cruise ship activity, and Symphony of the Seas offers three slides to enjoy over and over again.  
The Perfect Storm trio of water slides offer two racer slides and a champagne bowl slide that are included in your cruise fare.  As you slide down any of the slides, you will twist and turn three decks into a splashy finish.
8. Splashaway Bay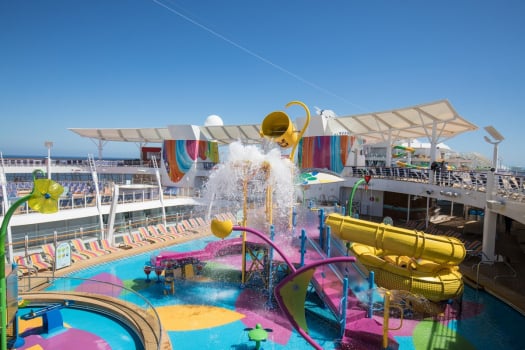 Got kids? If so, expect them to want to spend a lot of time at Symphony of the Seas's aquatic adventure park known as Splashaway Bay.
Splashway Bay has plenty of splashing, with fountains, buckets, sprays and even slides for kids to enjoy to their heart's content.  Splashaway Bay was built to be a focal point of the pool area, and offer yet another improvement on what the cruise line has been known for in the past.
Like all the pool deck fun, Splashaway Bay has no cost to use, and is certain to be a very popular spot with your kids.
9. A ride on the carousel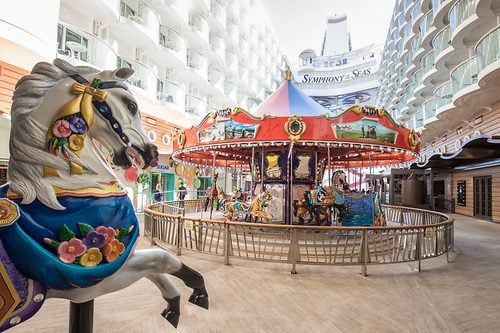 In the Boardwalk neighborhood, guests young and old can enjoy a ride on a classic carousel that is sure to bring a smile to anyone's face. The carousel on Symphony of the Seas is hand-crafted and especially designed by Carousel Works for Royal Caribbean and is one-of-a-kind.
Inspired by turn-of-the-century carousels that were found in the northeastern United States, Symphony of the Seas' carousel is a classic attraction that is as beautiful in design as it is enjoyable to ride.
10. Mini-golf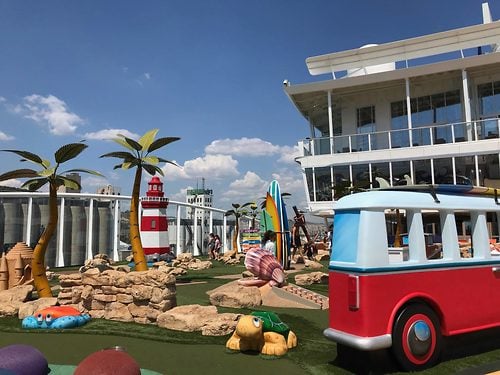 Miniature golf has been a timeless family activity, and on Symphony of the Seas you can put your putting skills to test.
You can play on the green as often as you like, while enjoying some beautiful views of the ocean that surrounds you.  No reservations are required, just show up and grab a putter and ball.  Be sure to try out night time mini golf one evening to mix things up.