In:
Over the weekend, Arne Wilhelmsen passed away, a key founder of Royal Caribbean. His passing reminds us of his contributions to the cruise line that millions have enjoyed ever since.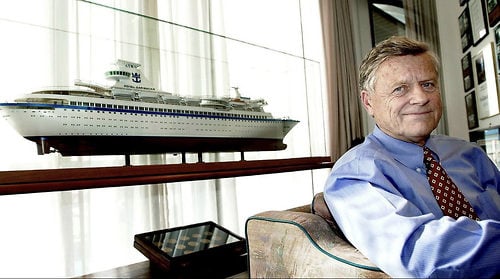 Arne grew up as the son of Anders Arnt Wilhelmsen, who was one of Norway's preeminent maritime leaders, and owner of Anders Wilhelmsen & Company.
Along with Arne's brother, Gjert, became a partner in his father's firm.  Arne was a graduate of Harvard Business School and had a solid grounding in New York shipping.
During Arne's tenure in the United States, he recognized new trends in American lifestyles, which became an important factor when his father was approached about a partnership to build two cruise vessels for the Caribbean.
Before a final decision could be made, Arne joined others in this proposed new partnership on a trip to Miami and met with retired Admiral and Miami port director Irwin Stephens.  The group discussed plans that would ultimately create the world's largest passenger port.
Fast-forward to April 1969, when the keel for Royal Caribbean's first ship, Song of Norway, was laid and eight months after that, the hull was launched. The launch marked an inexorable Miami countdown; delivery was less than a year away and the public had no idea that a new cruise line with a new kind of ship was coming.
The man to decide the marketing of Royal Caribbean fell to Arne Wilhelmsen.  He had many concerns, such as what customer groups should be targeted? What prices should be charged? How would travel agents best be enrolled? Which areas of the United States should be most assiduously cultivated?
Wilhelmsen urged an optimal price-payload balance even if ticket prices prevented the vessel from always sailing at full capacity. Pricing and product should match consistently, with only seasonal fluctuations taken into account.
Wilhelmsen, along with other executives, began their marketing campaign in person.  There were cocktail meetings, promotional film screenings, and persuasive sales talks.  Wilhelmsen also called on travel editors to help curate the Royal Caribbean message.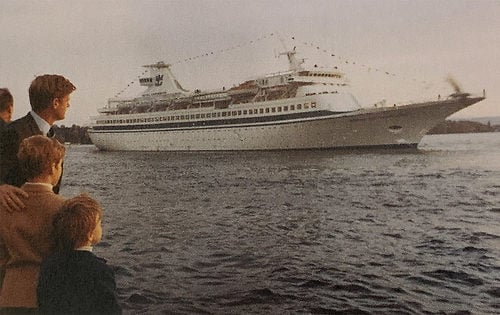 The launch of Song of Norway started off quite well. The first six cruises were kept purposefully below capacity to fine-tune hotel operations. But starting with the seventh, capacity shiploads were the norm. So insatiable was the demand that officers, compensated accordingly, often relinquished their cabins to passengers.
The fledgling cruise line enjoyed an incredible public response; positive word of mouth spread like wildfire. Advertising was unnecessary. Song of Norway's high degree of passenger satisfaction did the rest.
Over that first year, Song of Norway excelled, an incomparable debut. The company, its inspired first vessel and a cruising legend were off and running.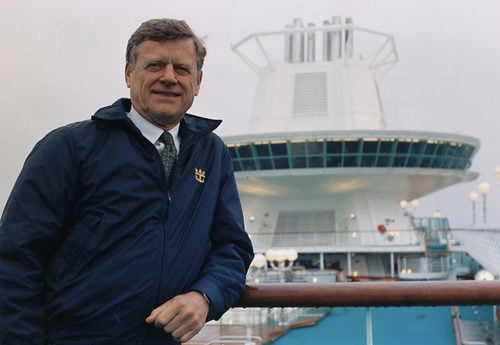 Royal Caribbean has come a long way since the debut of Song of Norway, and its success today can be traced back to the work of men like Wilhelmsen and the other families that worked to make a Caribbean cruise line into a reality.