In:
There are a lot of cruise fans who are stuck at home and dreaming of the day they can get back onboard a Royal Caribbean cruise, so former Cruise Director Abe Hughes decided to offer a virtual cruise for them.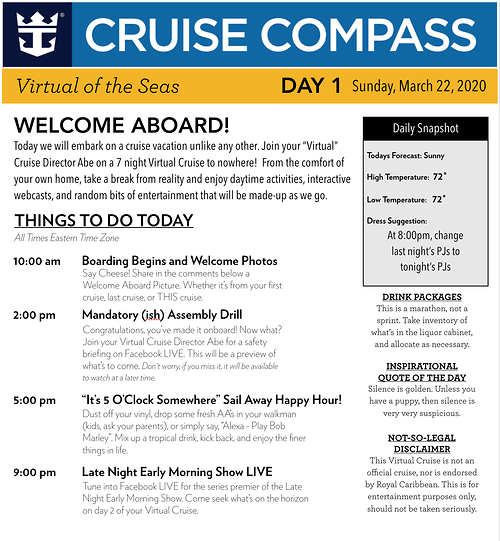 Dubbed "Virtual of the Seas", Hughes crafted a daily Cruise Compass to provide his friends at home activities that would not only keep them occupied, but were similar to the sort of activities you would find on a cruise.
Hughes is no longer a Cruise Director, although he does still work for Royal Caribbean in their sales department supporting travel agents near his home in the midwest.
Each day, there was a new Cruise Compass for anyone interested to read that had activities they could do at home, as well as collaborate online.  This included Sudoku, trivia, napkin folding and more.  
Each evening, Mr. Hughes hosted a Facebook Live session of his morning show recording that he used to do onboard the ship.
The idea proved so popular, that Royal Caribbean announced Virtual of the Seas will sail again, with a 4-night "cruise" that begins on March 30.
All aboard! We're craving a change of scenery and are embarking on a virtual cruise. Join Abe Hughes starting tomorrow as he takes over for the week. Because when you can't actually travel the next best thing is to go virtual from the comfort of your couch. #VirtualoftheSeas pic.twitter.com/t6Q6utGxPY

— Royal Caribbean (@RoyalCaribbean) March 30, 2020
You can follow Abe Hughes on his Facebook page and join in on the second sailing of Virtual of the Seas!