In:
Royal Caribbean has delayed the next sailing of Anthem of the Seas by one day due to widespread reporting of Chinese passengers on the previous sailing who were feared to be infected with the coronavirus.
Local media reported on the ship's return to Cape Liberty in Bayonne, New Jersey as cause for concern that a coronavirus outbreak could have been onboard.  In the hours since the ship returned to port, personnel from the Centers for Disease Control (CDC) boarded the ship and conducted screenings, concluding no presence of coronavirus.
The hospital is following proper infection control protocols while evaluating these individuals. New Jersey currently has no confirmed cases of novel coronavirus and the risk to residents remains low.

For more information on novel coronavirus visit:https://t.co/XoWMvzv6Rv pic.twitter.com/ED30tFMx0r

— Governor Phil Murphy (@GovMurphy) February 7, 2020
While the ship has been cleared by local authorities, Royal Caribbean has decided to delay Anthem of the Seas' departure until February 8, 2020 in order to "reassure concerned guests" that the ship is indeed cleared by the CDC.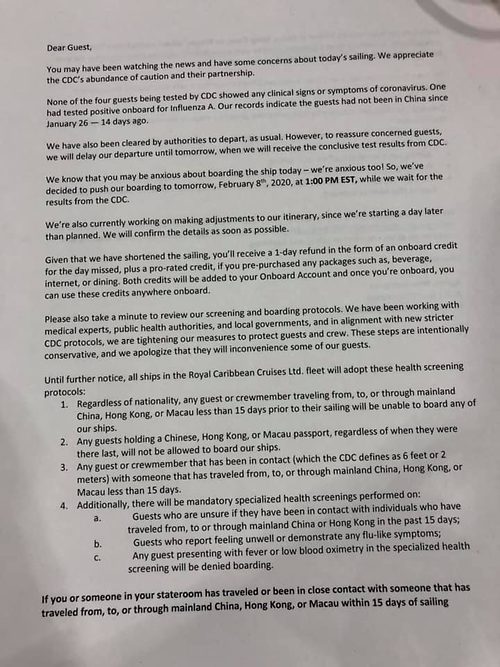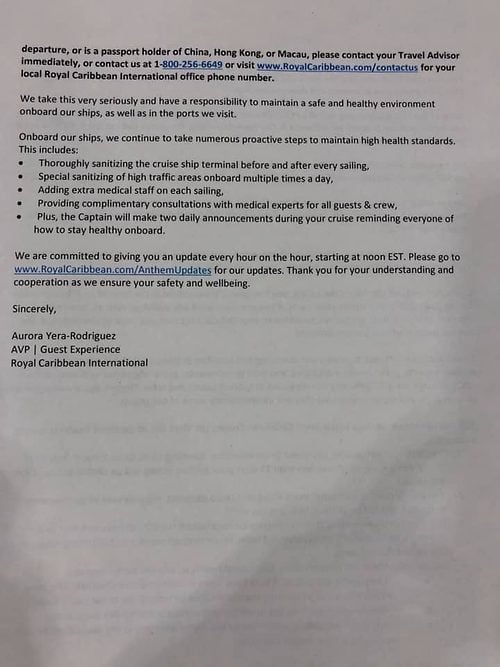 Letters courtesy of Emily Hufnal
Royal Caribbean is offering guests a 1-day refund in the form of onboard credit for the missed day onboard, as well as credits for any pre-purchased internet, drink or dining packages.
Royal Caribbean reiterated it is working with medical experts, public health authorities, and local governments to ensure its screening and boarding protocols are working to protect guests and crew.
Royal Caribbean also has taken numerous proactive steps to maintain high health standards. This includes:
Thoroughly sanitizing the cruise ship terminal before and after every sailing,
Special sanitizing of high traffic areas onboard multiple times a day,
Adding extra medical staff on each sailing,
Providing complimentary consultations with medical experts for all guests & crew,
Plus, the Captain will make two daily announcements during your cruise reminding everyone of how to stay healthy onboard.