In:
Australian comedian Celeste Barber accepted a thrill-seeking challenge by Royal Caribbean to complete as many as possible onboard Royal experiences in one day. The clincher is, Celeste is on dry land.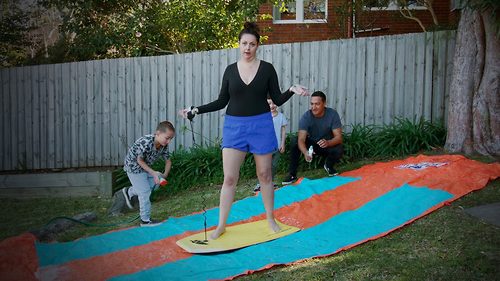 Royal Caribbean Australia has partnered with the Instagram star to show how fun the activities are onboard a Royal Caribbean cruise.
"How could I resist this challenge? On a Royal Caribbean cruise you have so many great activities all in close proximity. I was totally up for the challenge of attempting to do all the awesome things you can do on a Royal Caribbean cruise but doing them all in one day on dry land. Bring it on!" said Celeste Barber.
Celeste attempts to replicate a variety of Royal Caribbean's unique onboard activities including RipCord by iFLY, FlowRider, and a show-stopping stage show performance. The Bionic Bar, and Jamie's Italian by Jamie Oliver also feature in the series. Celeste puts her own comical twist on the activities, and takes her family along for the crazy challenge.
"I worked out pretty quickly that trying to do all these activities on land with my family was completely exhausting and was going to leave me broke so the idea of doing them all on a fancy cruise with a glass of wine nearby was far more appealing. Also, you had me at free kids club!" said Barber.
Thrilling activities, game-changing technology, unparalleled entertainment, and vibrant dining options come together to create the ultimate, contemporary cruising experience – only found on Royal Caribbean.
"My husband, kids and I all get excited by different things and activities on family holidays and on a Royal Caribbean cruise #hothusband can surf and skydive, my kids can run riot in the pools and games arcade while I can grab a cocktail from a robot mixologist (I know, what?!), and watch a live show. Then we can all meet up and eat all the carbs at our favourite Jamie's Italian.  I can't imagine any of us ever getting bored on a Royal Caribbean cruise!" said Barber.
"As demonstrated by Celeste, endless experiences await guests onboard our ships, allowing travellers to holiday like never before. We've got you covered in terms of diversity, abundance and value. And the best part – as I'm sure Celeste would attest to – everything is conveniently located right at your fingertips," said Susan Bonner, VP and Managing Director, Royal Caribbean Australia & NZ.