In:
The two words that seem to strike anxiety into so many new cruisers are "formal night".  Something about this dress code generates a lot of questions about what to expect.  
Here is an overview of what you need to know about formal night on your Royal Caribbean cruise.
Basics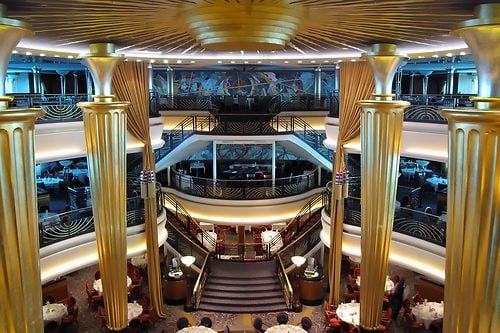 Let us be clear: formal night (and other dress codes) apply only to the main dining room.  Whether it is formal or casual dress code, it only applies to what you wear to the main dining room, and not elsewhere onboard the ship.  Other restaurants (like specialty restaurants) have their own dress code, which supersedes the main dining room dress code.
On select nights of your cruise, the main dining room will have formal dress code suggested. These are evenings where Royal Caribbean suggests guests dress up the most.  
Royal Caribbean lists this as formal night suggested dress for formal night: Suits and ties or tuxedos for men (black tie is optional), cocktail dresses or pantsuit for women
How fancy is formal night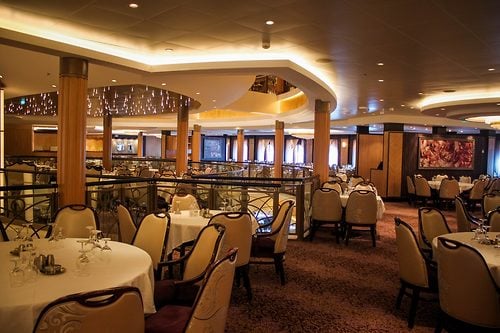 Despite the name, formal night is not nearly as fancy as you might think. Formal night is certainly the most dressed up evening attire required on your Royal Caribbean cruise, but it is not as ornate as you might imagine.
Evening wear for formal night will vary, and you will see some guests wearing tuxedoes and gowns. It is our observation that most guests tend to dress a bit less fancy than that, with men wearing suits or sports coats and women wearing cocktail dresses. Essentially, it is clothing that is a bit nicer than you might wear on other nights of the cruise.
If the idea of formal night really bothers you, the good news is you absolutely do not have to get dressed up on your Royal Caribbean cruise. The formal night dress code is only for the main dining room and specialty restaurants, so anywhere else on the ship is fair game for shorts, flip flops and tank tops. The Windjammer and other quick service venues will be open and without any formal wear.
When is formal night and how many will there be on my cruise?
There can be 1-3 formal nights during a sailing and is at the ship's discretion. 
3/4/5 night cruises - usually on Day 2
6 night cruises - usually on day 2 and 5
7 night cruises - are usually on Day 2 and 6
Oasis and Allure use Day 2 and 5 on Western itineraries and Day 2 and 6 on Eastern itineraries.
14-night and longer cruises will have three formal nights.
There are no formal nights on Empress of the Seas sailings.