In:
Tropical Storm Otto has forced Royal Caribbean to make an itinerary change to Empress of the Seas' scheduled itinerary.
In a letter distributed to guests onboard, the ship's Captain explained the storm's effect of high winds and rain in the vicinity of Falmouth, Jamaica are expected to significantly disrupt the guest experience. Therefore, Empress of the Seas will visit Ocho Rios, Jamaica instead on November 24 from 8:00am to 4:00pm.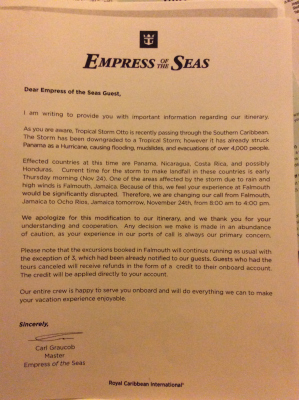 Due to the proximity of Ochio Rios to Falmouth, shore excursions booked with Royal Caribbean will continue to run as usual, with just three exceptions.