In:
Royal Caribbean's Anthem of the Seas offers so many innovative and fun activites onboard, so naturally many guests onboard are all interested in doing them too.
If you want to do all the cool activities onboard, here are some surefire methods to see it all, without waiting for it all.
Do your online check in the fast way
In order to do any of the really fun things onboard Anthem of the Seas, you need to first get onboard, so why waste time waiting in the cruise terminal?
Royal Caribbean offers a new program, where you can go "sidewalk to ship" in 10 minutes and if you take advantage of this, you too can get onboard much quicker.
What you need to do is fill out all the important legal information at home and even take their own "selfie" photo to be used with their SeaPass card.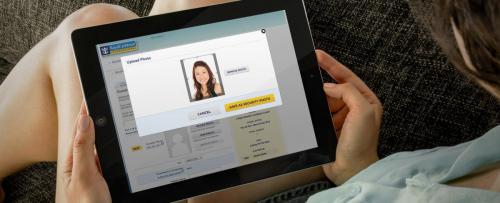 You will still be able to check-in the "old fashioned way" at the cruise terminal too but those that take advantage of the new system will get onboard a whole lot quicker.
The best times to go on North Star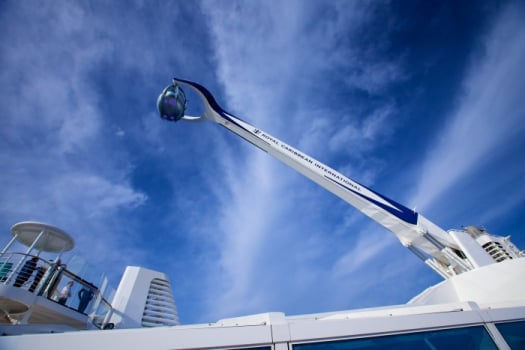 Anthem of the Seas' North Star observation pod is arguably the most impressive, and popular, activity on the ship.  Who does not enjoy sweeping views of everything around you from a height of 300 feet?
If you want to check out North Star, or even experience it more than just once, there are ways to beat the long lines that tend to be there.
The best time to experience North Star is when you are in a port, because most guests are off the ship exploring the port of call.  This means, there are far less guests to compete with for a line.
In addition, try for hopping in line bright and early in the morning.  If you can wrangle yourself out of bed and get in line 10 minutes or more before North Star opens, you will likely find yourself on the first ride of the day.  Lines quickly develop shortly thereafter.
Interestingly, you can also find luck with less lines during dinner hours.  As more and more guests leave the pool area and head somewhere to eat, there is less competition for North Star rides.  Those last few rides of the evening can often have little to no wait.
Book Ripcord online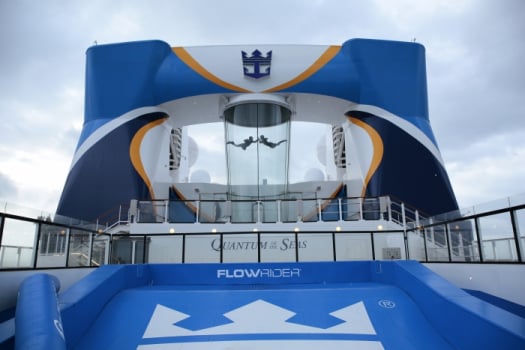 One feature on Anthem of the Seas that always captures the attention of guests is Ripcord by iFly.  This skydiving simulator sounds, looks and feels really, really cool, and many guests want to give it a try.
If you want to experience Ripcord, your best bet is to reserve a spot online before your cruise.
Using Royal Caribbean's Cruise Planner, you can reserve a time to ride for you and others in your group.  And there is no additional cost!
By reserving in advance, you will avoid the line of guests who are trying to figure out when they can be squeezed in for a ride.
The secret to Bumper cars and the FlowRider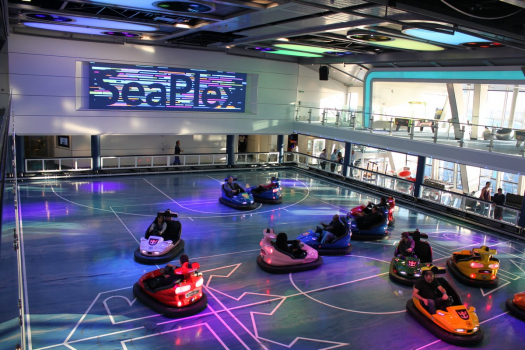 It might seem like the bumper cars and FlowRider surf simulator have very little in common, but if you want to experience either, the secret is the same: go on embarkation day.
Usually these activities are up and running as you board the ship, but most guests are not thinking about them yet.
Given that Anthem of the Seas is based out of Bayonne, New Jersey, a ride on the FlowRider during the cooler months of the year may not sound like a great idea but if you want a chance to ride the FlowRider over and over and over again, head there on embarkation day.
Likewise, bumper cars on embarkation day will find the shortest lines.  It is your best bet for slamming into other guests without a really long wait.
Dinner at the any of the restaurants
There are a lot of restaurants onboard Anthem of the Seas, and if you are on Dynamic Dining Choice, you will have the opportunity to eat at any of them, when it is convenient to you.  But you ought to plan ahead where and when you will be eating to avoid possible waits.
Royal Caribbean has done a lot to engineer the Dynamic Dining experience so that wait time to be seated is mitigated, but we suggest you make reservations in advance to assure yourself of the shortest waits.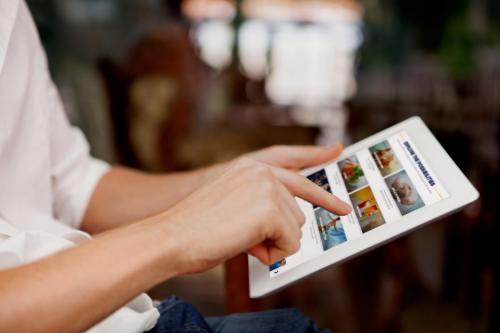 Guests can book reservations for any of the complimentary or specialty restaurants online via the Cruise Planner.  
The Cruise Planner is simple and you can always change the times you book, so you do not have to worry about being "locked into" anything you select.  
In our experience, having reservations always beats trying to show up without one.
See the Bionic Bar in action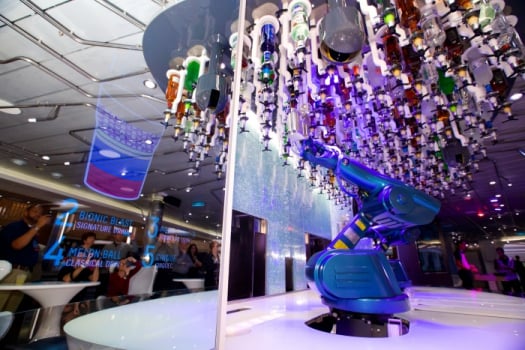 Something sure to catch anyone's attention as they walk by, is the Bionic Bar, where robots make cocktails for guests on demand.  
Because it draws the eye so easily, crowds often form around the Bionic Bar because everyone wants to see the robots in action (and probably take a selfie with them).
If you want to find the lowest crowds at the Bionic Bar, try for the late afternoon.  
There is a noticable slowdown after 3pm, when many guests are all over the ship doing other things and the Bionic Bar is not nearly as busy.  And it's more likely you actually want a drink at this time, rather than morning hours, which are also fairly uncrowded.
The Bionic Bar picks back up in the evening, when you will find a DJ usually playing music nearby, so take advantage of the Bionic Bar right before it's 5 o'clock somewhere.