In:
One of the highly touted experience on Royal Caribbean's Quantum of the Seas is the jewel-like capsule that takes passengers more than 300 feet above sea level for stunning views of the area around you. Today we review this new onboard activity and look at why you might want to try it too.
North Star is available on Quantum-class cruise ships.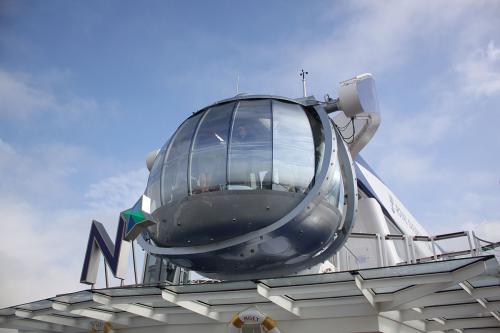 Experience
Checking in
To ride North Star, you just have to get in line for it. Unlike some other onboard experiences, Royal Caribbean offers no means of pre-arranging North Star time, unless you happen to book it as part of a special event (like a wedding).
The line for North Star begins on deck 15 and there is an extended queue that can be used if the line gets long enough. Royal Caribbean provides signs at different intervals in the line to let you know about how long your wait is from that point.
Getting onto North Star is a first come, first served basis.  You will climb a set of spiral stairs to the loading area on deck 16 (there is a handicap elevator as well) where the doors to North Star open and you may enter.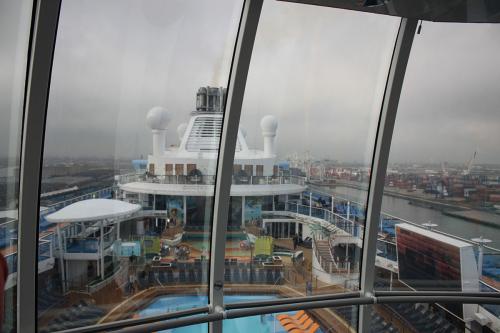 Going up
Once inside the 3.6 meters x 4.5 meters space, you can move around to any vantage point you can find.  There are no seats and you will stand the entire time.  
North Star accommodates 13 guests, plus there will be room to accommodate a wheelchair passenger as well, for a total of 14 guests, and one operator.
Once the doors close, North Star will begin to ascend, giving you a wide view of your ship as well as the area around you.  The North Star pod is attached to a 135 foot arm that can extend up to an 80-degree angle and move around.  When the ship is in port, the arm only goes up and down due to local laws and will not move over the side of the ship.  While this limits the views somewhat, it does make for quicker ride experiences, which is good if you are waiting in line.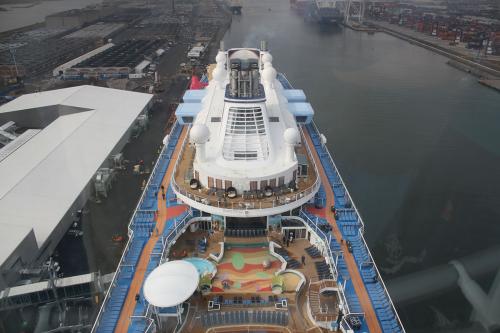 At its apex, North Star delivers some really amazing views of the area around you.  You're free to bring cameras to take photos or video and there's enough room in the pod to move around to get a view of everything.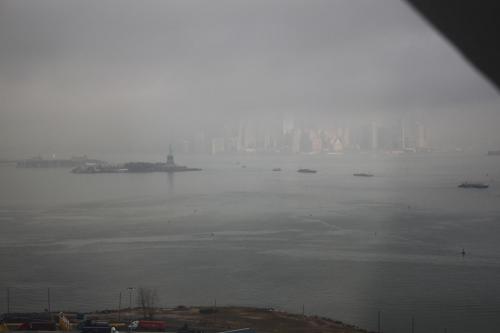 The entire ride lasts about 10 to 15 minutes.
Comments
North Star is one of the highlights of any Quantum of the Seas cruise and it seems like it's a must-do experience given how popular it is. We think Royal Caribbean delivers a really cool opportunity to see not just your ship but the area around you in a way that could only be replicated by taking an airplane or helicopter.
Considering North Star is complimentary, it's something we recommend doing at least once for the fun.  North Star moves quite slowly and despite the 300 plus foot statistic, it's hardly a thrill ride.  Unless you have a crippling fear of heights, this should be a great bit of fun for all.
The issue many guests run into are the lines for North Star.  Long lines will develop for North Star, especially on sea days.  It's a testament to its popularity and we've seen lines for upwards of two or three hours. 
Our tip for avoiding these lines is to see North Star right as it opens in the morning or try for port days when there are less passengers onboard to compete with.  The line will also move faster on port days because North Star is restricted to only go up and down while in port.