In: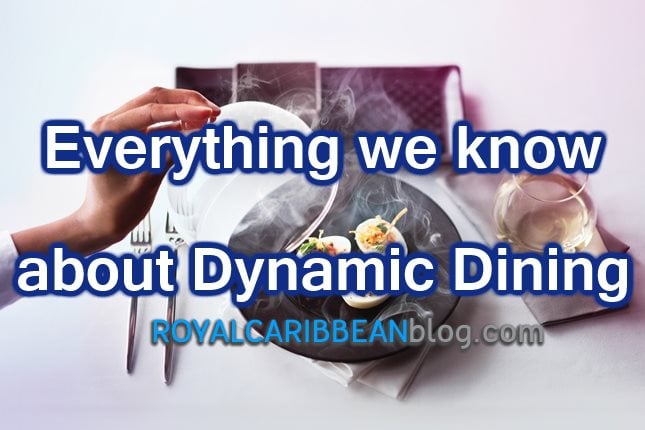 Ever since Royal Caribbean announced the advent of Dynamic Dining that will be coming to its newest class of cruise ships, the Quantum-class, fans everywhere have been talking about it.  Dynamic Dining promises to be the next evolution in how we have dinner on a cruise ship.
Understandably, there's a lot of intrigue regarding this new kind of dining experience and people want to know what it is exactly and what to expect. We don't know everything quite yet, but here's a listing of all the information on Dynamic Dining that we do know in one place.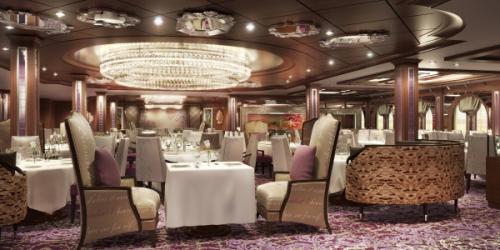 What exactly is Dynamic Dining?
The core concept of Dynamic Dining is Royal Caribbean is removing the main dining room completely and instead offering a number of complimentary and specialty (cost extra) restaurants for guests to choose from.
Passengers can book specific times for any of these restaurants in advance, prior to their cruise or opt to book reservations onboard the ship.
Which ships will Dynamic Dining be offered on?
Dynamic Dining will be available on Quantum of the Seas, Anthem of the Seas and the yet-to-be-named third Quantum-class cruise ship.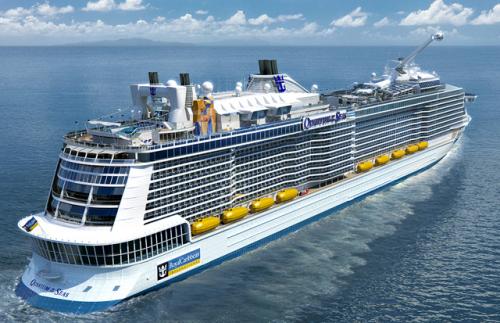 Will Dynamic Dining be added to other Royal Caribbean ships?
At this time, Royal Caribbean has no plans to expand Dynamic Dining beyond the Quantum class. 
Royal Caribbean CEO Adam Goldstein said explicitly they have no plans to add Dynamic Dining to other ships but if Dynamic Dining does well perhaps in many years down the line they could look at expanding Dynamic Dining to other ships.
What restaurants are being added to replace the main dining room?
The new complimentary restaurants include
American Icon Grill, a take on the classic American road trip, pulling together best-loved regional favorites into one comfort-style menu
Chic, where the height of contemporary cuisine is realized and the freshest ingredients, such as proteins that pack a punch and sauces made from scratch, are evolved for a modern palate
Silk, a vibrant and exotic destination where the spices of the Far East bring new flavor to adventurous palates through a Pan-Asian menu
The Grande, a luxuriant nod to a bygone era of classic European ocean liners when dining was a time honored ritual, featuring timeless dishes, and where every night is formal night.
Coastal Kitchen, a concept created exclusively for suite guests, fusing Mediterranean influences with the unmatched riches of California's bountiful farmlands.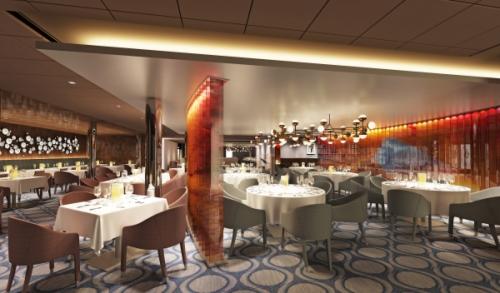 The new specialty restaurants include
Wonderland, an elaborate feast for the senses in a setting where Royal Caribbean chefs twist their culinary kaleidoscopes to invent a dreamscape of never-before-seen fare
Jamie's Italian, featuring rustic Italian favorites, handmade - using seasonal ingredients and Jamie's tried-and-tested crowd pleasers
Michael's Genuine Pub, the first American gastropub at sea and the next evolution of Royal Caribbean's relationship with James Beard Award-winning chef Michael Schwartz, offering simply-prepared food and drinks made with quality ingredients from the best artisanal producers
Devinly Decadence at Solarium Bistro, Royal Caribbean's fittest dining destination, serving the foods you love all under five-hundred calories, designed by Devin Alexander, media personality, New York Times bestselling author and chef of highly-rated television show, "The Biggest Loser".
​There will also be other specialty restaurants offered that aren't new to Royal Caribbean, such as Izumi, Johnny Rockets, Chops Grill and the Chef's Table.
The Windjammer is being re-designed (and kept open 24 hours per day).  Royal Caribbean is also adding a food truck, the SeaPlex Dog House.
SEE OUR DYNAMIC DINING RESTAURANT PHOTO GALLERY
​When can I start making reservations for Dynamic Dining?
Royal Caribbean will open up their brand new booking system for Dynamic Dining on May 15.  
There will be a new app to help guests make reservations and manage reservations both prior to their cruise and during it.
How will gratuities be handled with Dynamic Dining?
Gratuities will be the same as they are now.  Royal Caribbean charges an automatic gratuity to each passenger for each day of their cruise and gratuities are then given to the crew automatically.
Passengers can always stop at guest relations on their cruise and have automatic gratuities removed in favor of a different amount.
What if I want to dine with a large group?
Royal Caribbean says Dynamic Dining can accommodate groups up to 16 people.  Reservations will be able to be linked together and while your large group may not be able to sit at the same table, the staff will do their best to seat you at tables near each other.