In:
Royal Caribbean's main dining room is likely to be somewhere you visit almost every night of your cruise.  It's hard to deny the fun experience of dining there as well as the really tasty food you can enjoy.  
The main dining room offers meals included in your cruise fare with an ever-so-faint hint of formality.  Each evening, there are many courses of dishes to try from entrees to appetizers to desserts and everything inbetween.
If you want to make sure your main dining room experience is the best possible, check out these top tips!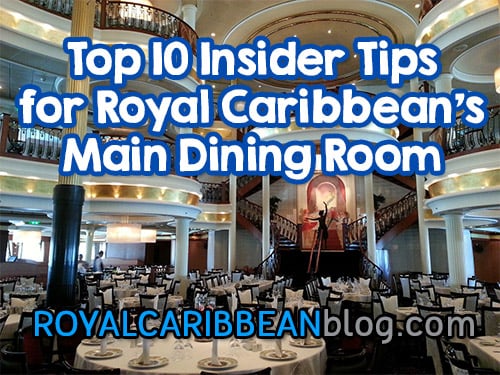 1. Order more than one of anything
When you dine in the main dining room, pretty much everything on the menu is included and that means you should feel free to order more than just one entree or appetizer.  Or even order multiples of your favorite dishes.
Royal Caribbean allows its guests to order as much as they want while dining in the main dining room.  This policy allows you to not just order the dishes that you love but also branch out and try something different.  It is all the same price, so there's nothing to lose!
2. Make dietary requests before you board
If you have a dietary restriction, such as you are vegetarian, need gluten free foods or any of the other dietary needs, then you will want to let Royal Caribbean know about them up front. 
Royal Caribbean can accomodate dietary needs such as food allergies, gluten-free, Kosher, low-fat, and low-sodium.
In additional, vegetarian meals (including Indian-style vegetarian) are available on all menus in the main dining room.  Guests do not need to make a special request for these meals.
Lactose-free/soy milk, Ensure, and Kosher meals are available no extra charge. All you have to do is notify Royal Caribbean at least 45 days prior to sailing (90 days for European/South American Itineraries).
You may also send an e-mail request to [email protected]; please include in the e-mail the guests' names, booking number, ship name and sail date.  It's best to make requests like this at least 90 days in advance of your sailing.
3. You can change your table
If you get onboard your ship and realize the table layout is not what you prefer or perhaps the other guests you are seated with are not a good mix for you, there is usually opportunities to change your table.
Speak to the head waiter at any point in your cruise to arrange for a table change.
It may be a good idea to scope out your table situation on embarkation day and speak to the head waiter early that day to ensure you have ample opportunity to make a change.
If you prefer to dine alone, you can also email Royal Caribbean your table request.  Send an email 3 to 4 weeks prior to your cruise to [email protected]
4. You can bring your own wine
Since 2012, Royal Caribbean has allowed its passengers to bring up to two bottles of wine per stateroom onboard your cruise.
Bring the bottles to the main dining room and your waiter will be happy to open and serve it to you, with a small corkage fee.  This can be a great way to not only save money on wine, but also ensure you are drinking exactly the bottle of wine you love most.
5. Order food the way you want
Do not be afraid to ask your waiter for special requests that are not of the dietary need variety, but just something you really love.  Perhaps you like having a plate of vegetables to start your dinner off with or anything else that is not on the menu.  
Speak with your head waiter to make the request.  If the ship has the ingredients onboard to make it, odds are they will be happy to make it for you.
In general, we have found a 24 hour notice will ensure the chef's crew can take care of the request for you.  
In addition, if tonight's menu features an ingredient you do not enjoy, feel free to ask your waiter if they can make the dish without it.  The dining staff are looking to make your main dining room experience as good as possible.
6. Bring back extras to your room
If there is something on the menu that you just cannot finish or perhaps you want an extra for later, your main dining room wait staff are happy to wrap up food to go.
Sometimes making dinner on time just is not in the cards, but your waiter can arrange to have some or all of your food prepared to go up to your stateroom to enjoy when time permits.
Like so many of our tips, be sure to simply ask and they will be happy to arrange it for you.
7. Enjoy the main dining room for lunch and breakfast too
Naturally everyone thinks of the main dining room for dinner, but did you know it is often open for breakfast and lunch too?
Most days, the main dining room is open for breakfast in a first come, first served style.  In addition, on sea days the main dining room will be open for lunch as well.
The breakfast menu will remain largely the same each day but the lunch menus do change, just like the dinner menus.  There is also a wonderful salad bar for lunch that is sure to please almost anyone.
8. Make My Time Dining reservations before you board
If you opt for Royal Caribbean's main dining room experience that is available when it is convenient for you, My Time Dining, then be sure to make your reservations early and well before your cruise sets sail.
While you can make My Time Dining reservations during your cruise, for optimal availability, you will want to make reservations as soon as you can.
The peak dining times of 6:30pm to 8:00pm are always busy, so you will want to make reservations before your get onboard to avoid waiting for a table.  In fact, the larger your group, the more important making My Time Dining reservations are.
9. Pack for formal night
Depending on the length of your Royal Caribbean cruise, there can be one or more formal nights in the main dining room, so you will want to pack the right clothes for the occassion.
Despite the name, formal night is not nearly as dressed up as you might think.  Royal Caribbean describes formal night as ladies wearing something like a cocktail dress or pantsuit, while men should wear a suit (tie optional).
In practice, the dress code is a bit more relaxed, even for formal night.  Men can simply wear khakis or dress pants and a collared shirt.  For women, a nice dress or blouse with appropriate bottom will suffice.
The key is to be aware formal nights exist and to pack something for them. 
10. Enjoy the main dining room experience
Dining with strangers, twirling your napkins, jumping into a conga-line...these are just some of the nuances of a main dining room meal on Royal Caribbean, and while they may not be something you would do most nights at home, it is best to drop your inhibitions and embrace it.
The antics of the main dining room will vary from ship to ship but instead of raising an eyebrow about these sort of experiences, let loose a little bit and "go for it".  Remember, you're on vacation and very likely, you will never see these people again.  Plus, it is much more fun when you are part of the experience than not.
OK — your turn!! What are YOUR top tips for dining on Royal Caribbean? Let us know in the comments section below!