In: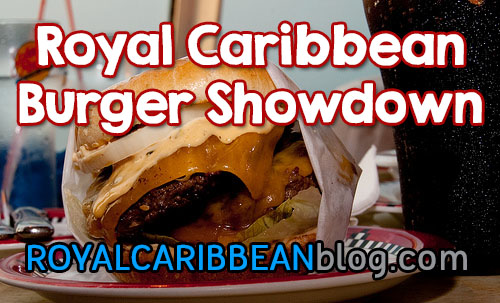 Burgers are a staple of cruise food and Royal Caribbean offers a few different burgers across its fleet, but the question is which is the best?
Today we're going to compare the burgers Royal Caribbean serves up across its fleet to determine which one comes out on top!
1. Windjammer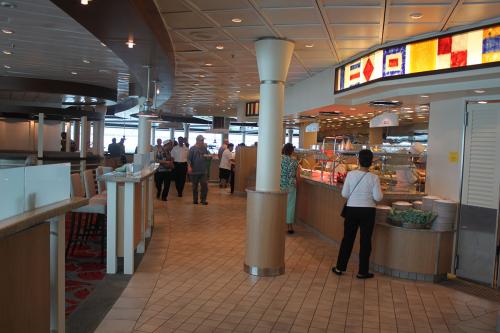 Part of the appeal of the Windjammer is it serves up really good food, all day long.  For lunch and dinner, their burger bar offers burgers that you can customize to your hearts content.  
You can opt for the traditional lettuce, tomato and onion or you could bring your burger to a different station and enhance it beyond what the burger bar offers.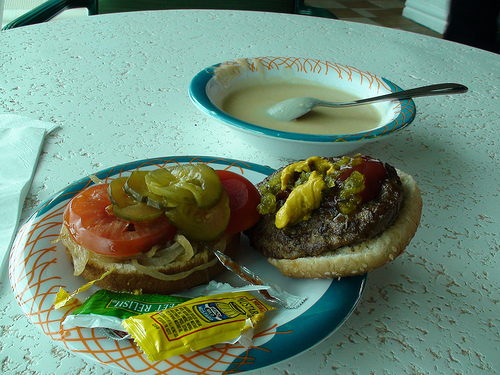 Photo by daschu27
The key to the burgers in the Windjammer is how fresh they are. Ideally you want to grab one that is fresh from the grill rather than one that's been sitting under the heat lamps for a while.  
2. Johnny Rockets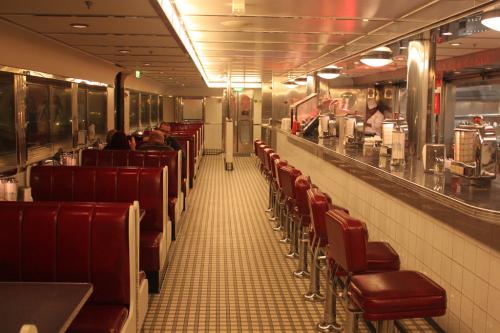 The heavy favorite for a good Royal Caribbean burger has to be Johnny Rockets.  The land-based restaurant is known for its burgers so their sea-based operations are very similar.
Johnny Rockets relies on the basic premise that its burgers should remind you of classic Americana.  Its menu features fresh, never frozen, made-to-order hamburgers, sides, shakes and desserts.
In addition, there's a number of different burgers to choose from, The Original, #12, Smoke House and Streamliner.  Different kinds of burgers is always a big advantage.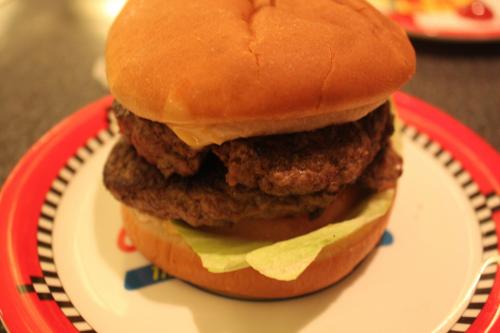 The only thing going against Johnny Rockets is their inconsistencies on some ships.  I've had excellent meals on one ship and not-so-great on another.  
3. Seafood Shack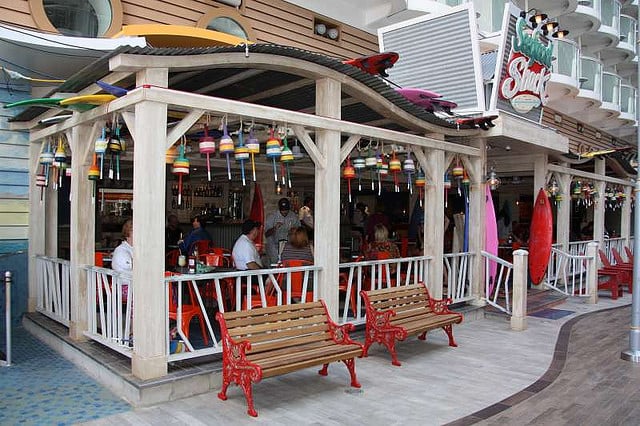 Photo by Franz Neumeier
On Oasis of the Seas, the Seafood Shack serves up, well, seafood but it offers two different kinds of burgers as well that are worth noting.
If you're in the mood for a quality burger, the Seafood Shack has the Bermuda Onion Hamburger and the Key West Fisherman Burger.  The char-broiled Bermuda Onion offers fried onion rings which are a great addition.  The Fisherman burger is a breaded catch of the day burger for those looking for a healthier alternative.
The Seafood Shack may be a good choice for when others want seafood but you want to grab a burger instead.
4. Jamie's Italian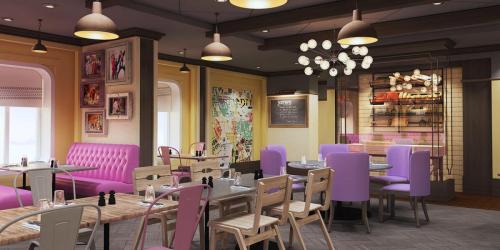 A few restaurants on Quantum-class will offer burgers and Jamie's Italian is one of them.  The restaurant is the product of celebrity Chef Jamie Oliver, a famous chef from England.
Jamie Oliver has added The Jamie's Italian Burger to the menu, which is described as, "Prime British chuck & flank steak with smoked mozzarella, mortadella, balsamic onions, tomato, pickles & chillis, served on a charred bun".
The burger here promises to be of a higher quality beef combined with better garnishments.  
Like Seafood Shack, a burger from Jamie's Italian could be the "dark hourse" choice for best Royal Caribbean burger given Jamie Oliver's reputation for good food.
5. Devinly Decadence at Solarium Bistro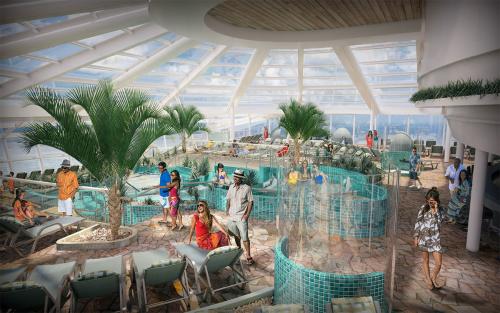 Chef Devin Alexander is the star of NBC's The Biggest Loser and she's created a special menu for the Solarium Bistro. 
Given her reputation she created a "healthy burger". Seriously. It's actually based on the Big Mac but with far less calories.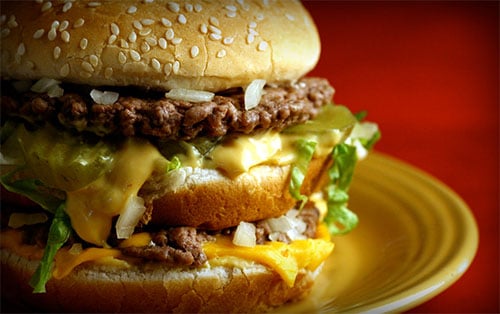 I sampled this burger at the recent Quantum of the Seas dining reveal event in New York and it tasted just like the fast food variety but was told it was healthier so I was sold.
So when you find yourself on Quantum of the Seas or Anthem of the Seas maybe this is the burger to try so you can avoid the post-burger regret.
6. Chops Grille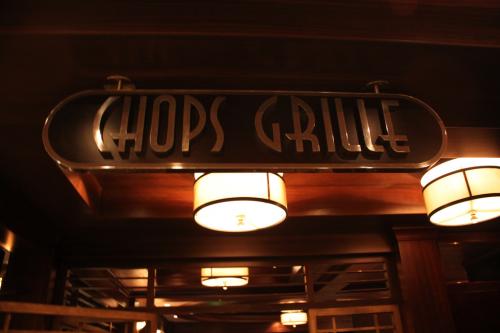 Royal Caribbean is rolling out a brand new menu to its signature specialty restaurant, Chops Grille, and there is a burger available on their menu.
Chops Grille is offering a dry-aged steak burger on a broche bun with melted Gruyere cheese along with Pancetta.  That does sound pretty darn good.
The thing to remember about Chops Grille is it's one of the most consistantly good restaurants in Royal Caribbean's fleet.  I've lost count how many times I've eaten here and yet it is always a good choice.
7. Wipeout Cafe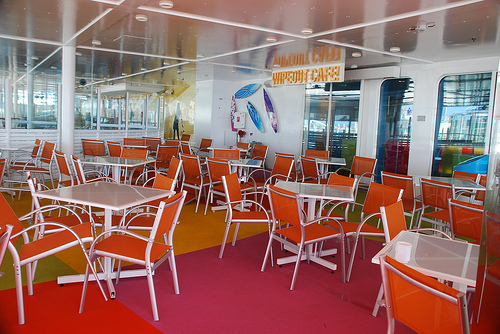 Photo by blmiers2
On the aft of Oasis-class ships, you will find the Wipeout Cafe for quick bites to eat.  The idea is to grab something in between spending time on the Sports Deck being active.
Wipeout Cafe offers burgers much like the Windjammer but with less of a crowd.  In fact, I'm not sure I've even set foot here other than passing through but when you want a burger and don't want to hoof it somewhere else, this is the place for you.
8. Seaview Cafe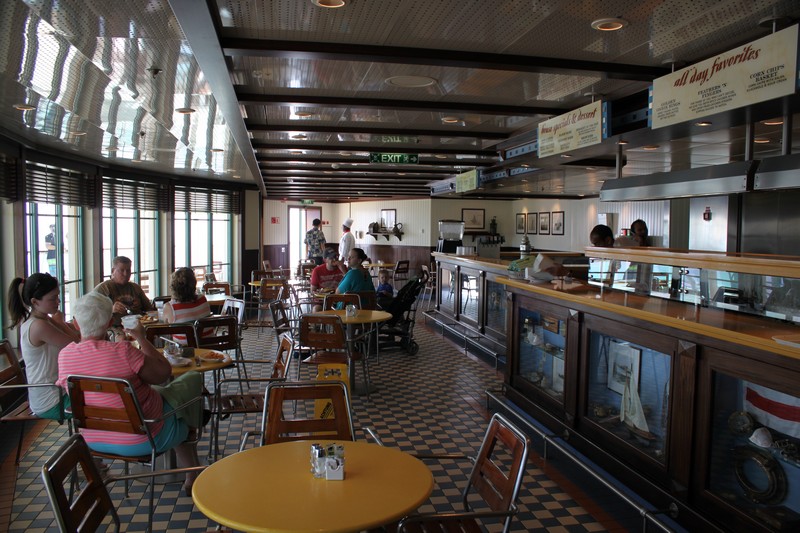 If you happen to be sailing on Jewel of the Seas before it gets its refurbishment then run (don't walk) to the Seaview Cafe.
The Seaview Cafe is known for its quality, fresh made food for free.  What makes the food at Seaview Cafe different is it's not mass produced in advance.  When you order a burger, then the cook grabs a patty and starts to cook it.
Anyone that knows what makes good food will tell you freshly made food is always the best choice so it's not surprising to find the burgers (and all the food) here to be really good.
Once Jewel of the Seas gets her refurbishment, the Seaview Cafe will be replaced with a specialty restaurant but until then, check this one out!
And the winner is?
Which Royal Caribbean burger has your vote for the crown? It's a tough choice so share your vote in the comments for this post and choose wisely!