In:
If you've been a reader of this blog for a while, you may know that my last trip to Johnny Rockets on Freedom of the Seas did not go so well.  So when my Navigator of the Seas cruise came around, I was quite content not stopping here if things didn't work out scheduling wise.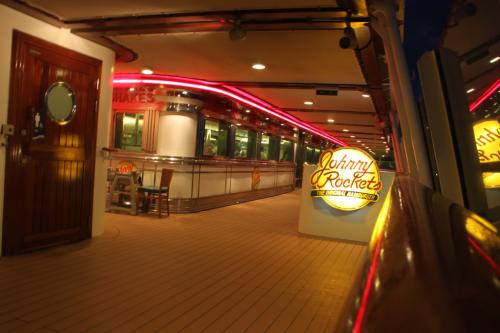 A few nights into the cruise, my wife and I were at the main dining room and I was enjoying my meal when I finished my entree and still felt a little hungry.  I then thought about what I wanted and for whatever reason, I started craving a burger.  
I mentioned this notion to my wife who also said she was in the mood for french fries.  So we decided to skip dessert (to the horror of our waiter) and took the elevator straight up to Johnny Rockets.  
I was hoping for a short wait and for the food here to finally redeem itself.
Atmosphere
Johnny Rockets across Royal Caribbean's fleet of cruise ships is pretty much the same look and feel.  Based on the restaurant chain on land, you'll find a vibe to the place, with lots of chrome and red leather.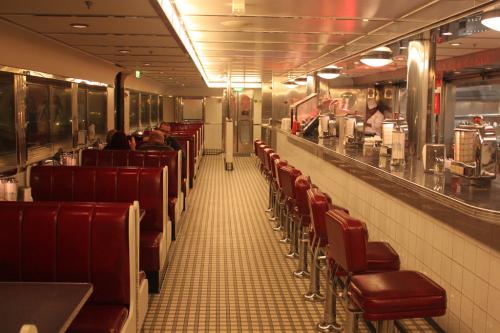 The seating is mostly booths, both inside the restaurant and outside.  It was still a little too breezy to eat outside so we opted to remain inside.  There are also stools at the bar that you can sit at, which if there is a wait, you can go right up to and seat yourself.
Johnny Rockets plays music from the 1950's and 1960's primarily and while there are jukeboxes at every booth to pick music from, none of the jukeboxes seemed to actually work.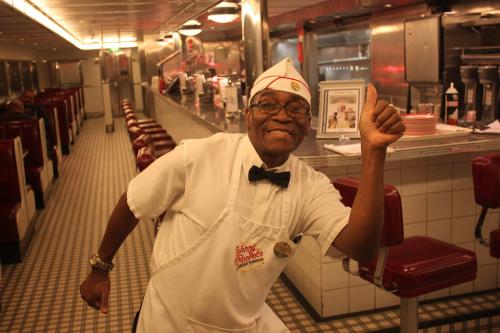 As we walked into Johnny Rockets at around 9:30 or 10:00pm, there was no wait and just a few people eating.  We chose a booth inside and took a seat.
Eats
Everyone who eats at Johnny Rockets get a plate of french fries and onion rings along with dipping sauces.  You can get as much of this as you want.  Unlike other times, the fries and onion rings tasted freshly made.  No 99% breading, 1% onion in these rings.  And the fries did not taste like they had been under heat lamps all day.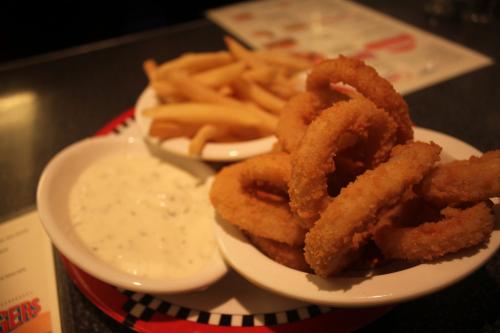 For my wife, who was craving the fries, it hit the spot.  Even I enjoyed a few of these, especially the onion rings.
For our main courses, I wanted a burger but felt a little guilty having a burger after eating dinner so I decided I would order two items and just sample each.  That was the plan anyway.
I ordered the double burger and the chicken sandwich.  A couple of bites of both and I'd be satisfied.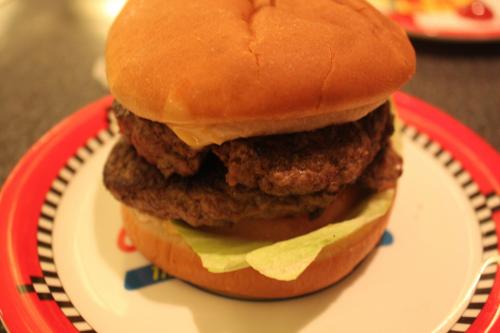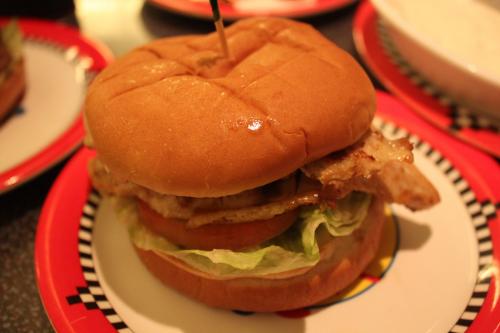 To my delight, both sandwiches came out really, really good.  The burger meat was very moist and had a lot of flavor.  Without realizing it, I had polished off about three quarters of the burger before I decided my "sampling" was done.
The chicken sandwich was also really good and there was no tough, chewy parts of the chicken filet here.  Once more, I ate more of this than I had originally planned.
My wife went with the grilled cheese sandwich as she wanted something lighter than a burger to eat.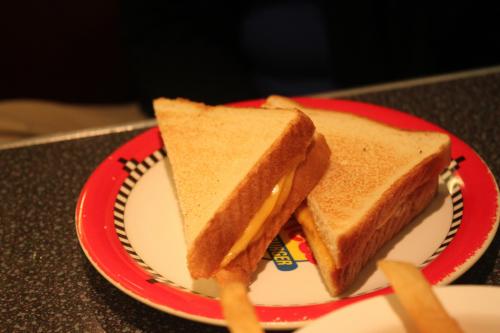 Grilled cheese is a pretty simple sandwich and my wife reported it tasted quite good.  The right amount of grilling without burning the bread and not too much cheese in the middle.
It was kind of a shock to me, but we walked away with a satisfying and really good meal at Johnny Rockets!
Overview
I was pleasantly surprised with my experience at Johnny Rockets on Navigator of the Seas.  Not only did it "hit the spot" for my craving, but it also restored my faith in Johnny Rockets on Royal Caribbean cruise ships being a good idea.
Perhaps the Johnny Rockets experience varies from ship to ship and maybe going in the evening improved our chances.  
I know what many of you are thinking, "Matt, how could you not have a milk shake?" and we were so full by the time we got our food that a milk shake was just too much.  And I never doubted the awesomeness of Johnny Rocket's milkshakes because even on my worst Johnny Rockets experiences, the milk shakes remained quite good.
I enjoyed my meal at Johnny Rockets and while I don't think it's somewhere I would go to have dinner, it is a great spot for lunch or late night snacking. Its hours of operation are much later than the main dining room or Windjammer.