In:
Johnny Rockets has become famous for its simple menu of burgers, fries and milk shakes combined with a 1950s décor and for many years now, Royal Caribbean has offered passengers the chance to experience Johnny Rockets at sea aboard a few of their cruise ships.  Today we review this specialty restaurant and look at what is available for you to enjoy.
Johnny Rockets is featured on Freedom class ships, Voyager class ships, Oasis class ships and Majesty of the Seas.
Atmosphere
If you've never been to a Johnny Rockets before, on land or sea, it's a '50s style diner that features a lot of chrome, white and red.  It's simple enough and its staple is serving up "all-American favorites" like burgers, milk shakes and fries.  The Royal Caribbean experience is pretty similar to what you find on land, with perhaps a smaller venue but largely it's hard to find differences between the two.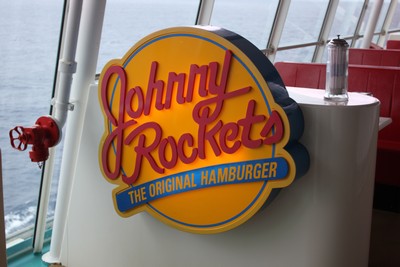 Johnny Rockets offers three seating options, indoor booth, outdoor booth and indoor bar stools.  By far the indoor booths are the most popular because of the climate control but since most Royal Caribbean cruises that feature Johnny Rockets serve warm-weather ports, sitting outside is usually a viable option.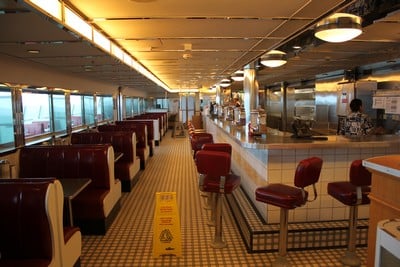 As you walk in, you will find the restaurant playing music from the 1950s, 1960s and 1970s with nickel operated jukeboxes at each booth (although none of them were functional on our cruise).  There's old fashioned straw dispensers on the table and every so often the entire staff of the restaurant breaks into a dance number to entertain the guests.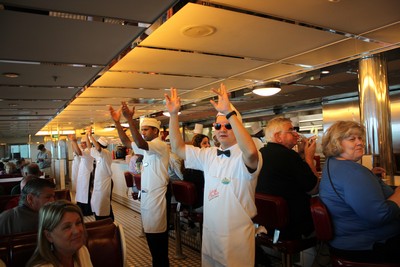 Eats
The Johnny Rockets menu is pretty straight forward in terms of what is offered.  Burgers are what the restaurant is known for, but there's melts, salads, hot dogs and a sandwich or two to round things out.  Their milkshakes are also famous for being quite good.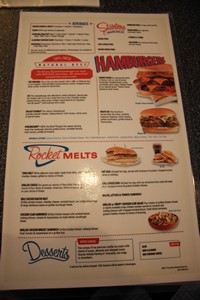 To start with, everyone is served french fries and onion rings.  They are on the menu but my guess is they are so popular that Royal Caribbean decided to just serve them to everyone in the way other restaurants serve bread as you are seated.  The fries and onion rings are fine but you can tell they were frozen and have been microwaved.  As a matter of personal taste, I did not care for the onion rings because there was more breading than actual onion, never mind that they are probably the same quality onion rings I can buy in my supermarket's frozen food section.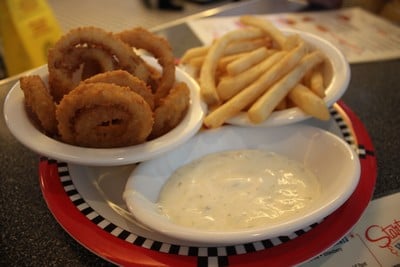 Looking at the menu, I felt compelled to order what Johnny Rockets is best known for and opted to start with a bowl of chili and then ordered the Rocket Double burger and a strawberry milkshake.  For the purposed of the review, I wanted to get what I felt was representative of the restaurant.
First up was the milk shake and I have to say this did not disappoint.  Milk shakes are the one item on the menu that costs extra on top of the cover charge to eat here and it I'm sure the rationale behind that decision is because everyone enjoys these bad boys and would otherwise order milk shakes constantly.  My shake was quite good, with the right thick consistency that is more than just ice cream in a cup without going overboard.  Definite two thumbs up and frankly, I probably drank too much of it before my meal came out.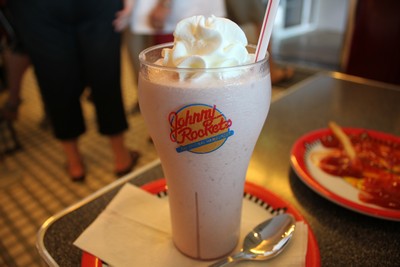 The chili was fairly bland, although the grated cheese and chopped onion on top helped.  In addition, the chili was luke-warm and once again I suspect this was pre-made (probably frozen) and just reheated.  I saved a little bit to add to my burger but it's not something I'd recommend.
After a long wait, my burger arrived and it looked okay but once again, I was not impressed.  It was just okay and I'm not sure I could not have come up with something similar at the Windjammer lunch buffet for less cost and probably a lot quicker.  Yes, the burger is better than your average fast-food burger but it's nothing great and about half way through I decided it was not worth finishing.  Considering this is what Johnny Rockets prides itself on, I was disappointed.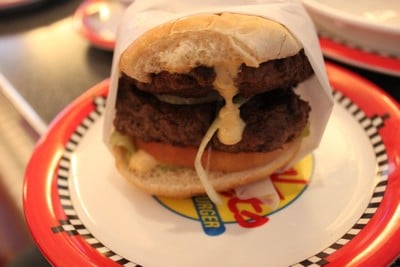 Overall
This was my third time at a Johnny Rockets on Royal Caribbean and my experience here is similar to my past times as well.  The food here just is not that great and everything tastes like it was once frozen.  If I'm paying extra to eat here, I expect the quality to be better than what I received.  Combined with the fact there's almost always a long wait to eat here and the cover charge, I find it hard to recommend dining at Johnny Rockets.
I will say the milk shakes are quite good and if you can get a coupon in your Crown and Anchor Society ultimate value book for buy one get one free (as we did this time), it's probably worth it.
My recommendation is if you do eat at Johnny Rockets, just munch on the fries and order a milk shake and skip the rest of the menu.  The slow service and mediocre food just aren't worth it and I felt like we were better off dining at the Windjammer than here.  Given the fact that my experience this time mirrors other times dining here and more than likely there is a Johnny Rockets near your home town, you are best served to skip the one at sea and save your money for another specialty restaurant onboard.
Johnny Rockets is open between 11:30 a.m. and 1:00 a.m. and we reviewed Johnny Rockets aboard Freedom of the Seas.
Have you eaten at Johnny Rockets?  Do you agree with our review? Share your thoughts in the comments!