In:
We were up bright and early today, 6am to be exact, to be ready for our day in Belize City.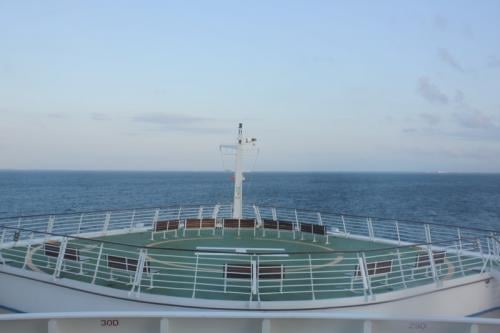 We ordered room service for the room for 6:30am but at about 6:08am room service called to tell us the food was on its way. I didn't need to sleep those extra 20 minutes anyway, right?
We ordered the usual assortment of room service breakfast and it wasn't anything I'd write home about.  Mass-produced eggs never turn out well and this was more of the same.  The hasbrowns and toast were fine but we needed something to eat to get us going and quick so it worked.  
You may be asking why we got up so very early and the reason is Belize is a tender port, which means we have to take ferries from Navigator of the Seas to the port.  Complicating things is the port is about a 20 minute ride away, which is long for a tender.  
I had also read horror stories about the lines for tenders in the morning and we were concerned about making our excursion on time.  So by 7:30, we were walking down to deck 2 to get in line.  When we got there (about an hour before first tender was estimated to leave), there was just one couple ahead of us. The line started to build slowly but surely and by about 8:00, the line started snaking back up to deck 3 and beyond.  
Despite the fact we did not have a Royal Caribbean excursion, we were not forced to let others with Royal Caribbean excursions go through.  A little before 8:30 we were on the first tender with no problem.  The takeaway for Belize is either be like us and show up an hour early or wait for the lines to die down and roll in after 10am to avoid the lines.
When we got on the tender, I can tell you the sea was angry that day because the ship was bobbing up and down and I was getting nervous this would not be a pleasant trip.  Luckily once we started moving the boat stopped swaying as much and there was no issue with being sea-sick.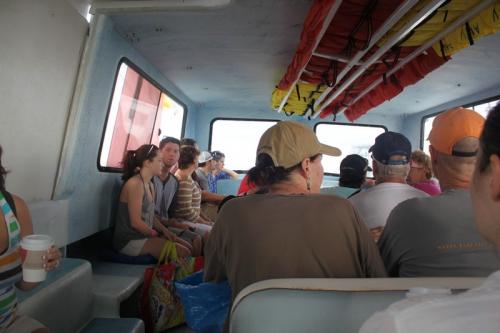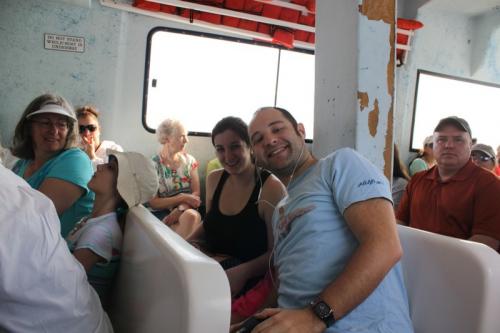 We had booked a private beach experience on Goff's Caye, a small island accessible by boat about 30-minutes from port.  It had lots of good reviews online and seemed like a good choice.
We got to Belize City's port area and found our excursion at the dock.  We were escorted to a desk to make the final payment, get our wristband and instructions.  It turned out the boat to Goff's Caye would leave at 10am, leaving us with an hour to spend in the port. We walked around the shops and part of me wishes I had left the port area to at least see the real Belize City but my wife wanted to take it easy and just wait in port.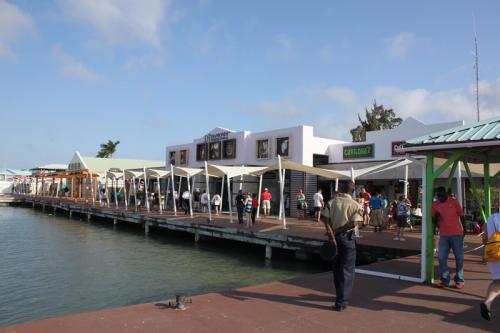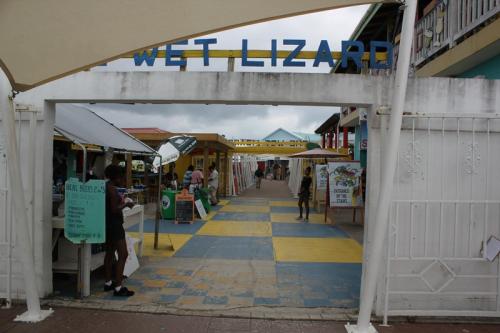 By 10am, we were on our boat and on our way to Goff's Caye.  We were on more of a speedboat, so the wave factor was less pronounced and we made it to Goff's Caye quickly.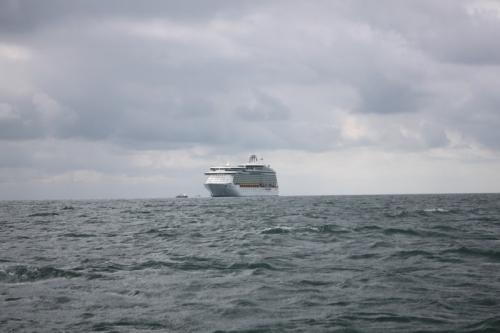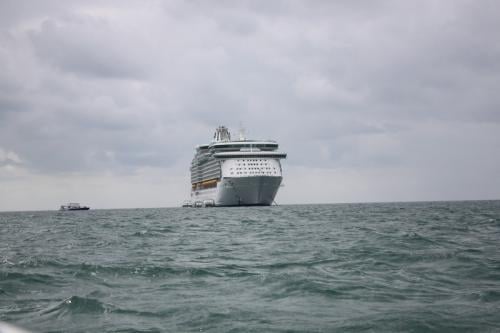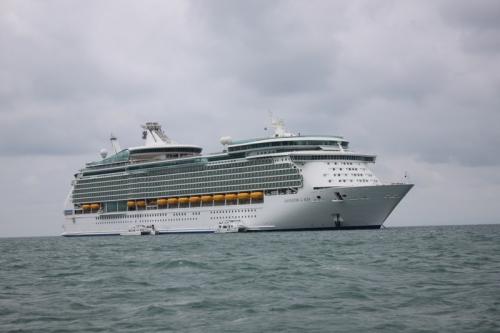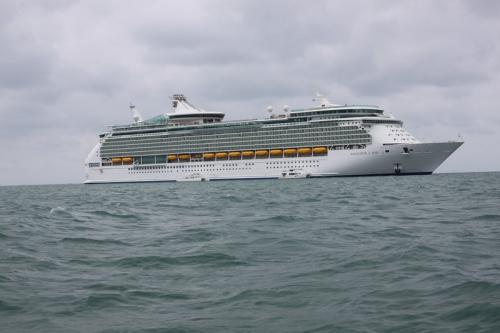 The island is basically a reef with sand on it.  It's very small, perhaps a quarter to half an acre in size with a restroom and kitchen area. There are chairs for rent for $5 each (no umbrellas).  
Most of the people on the excursion took part in a snorkeling trip around the island.  We did not because of our 3 year old, so we just hung out at the beach all day.  Once again, your fearless blogger managed to fall asleep after a few beers and much of the afternoon disappeared.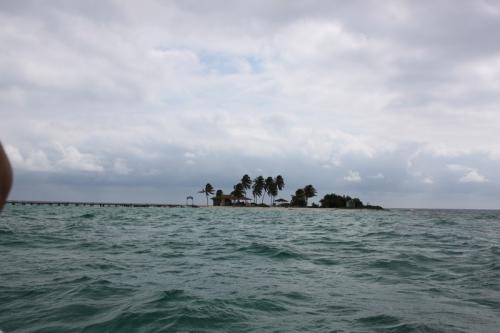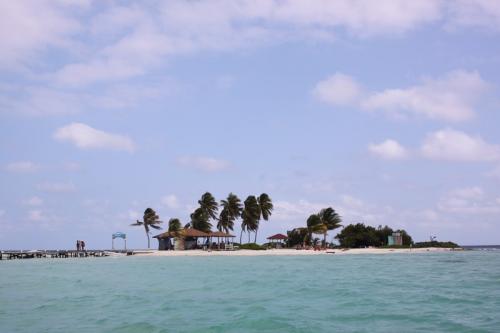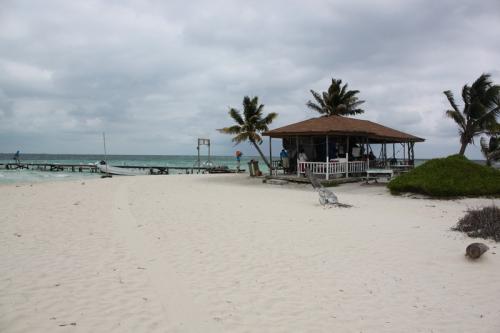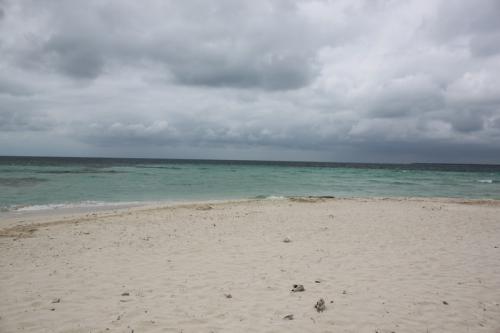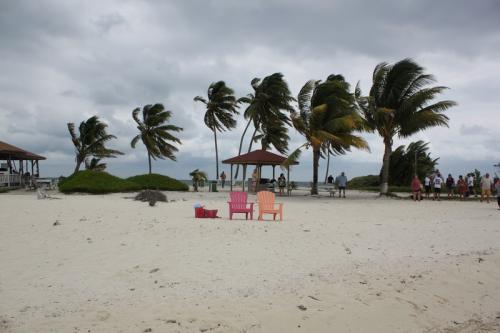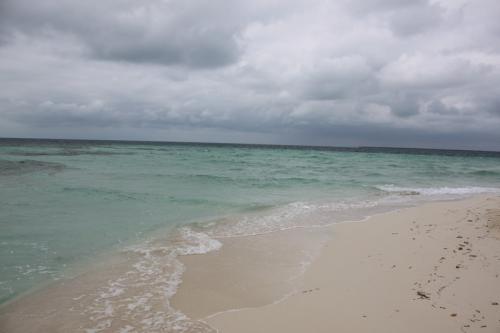 Another valuable lesson I learned on Goff's Caye: Before you take a nap on the beach, remember to apply sunscreen. I will be remembering Goff's Caye for a few days quite painfully.
They do have fruit punch and water included in the price of your excursion with the option to buy drinks and food for additional cost.  The lunch is a bbq and had the choice of chicken kabobs, hot dogs or lobster tail.  All come with rice and corn.  For 2 kabobs and a hot dog, it was $19.  Two beers were $5.  The food was basic but did the job.  It won't amaze you but if you're hungry, it's the only choice.
The island is beautiful and it was cloudy when we got there, but as the day wore on the sun came out and it was a lot of fun.  Everyone in our group really had a good time relaxing, having some drinks and taking it all in.  
At 2pm we boarded our boat back to Belize City and then we turned around and took the tender back to Navigator of the Seas (with a pit stop when we got onboard at Cafe Promenade because why not).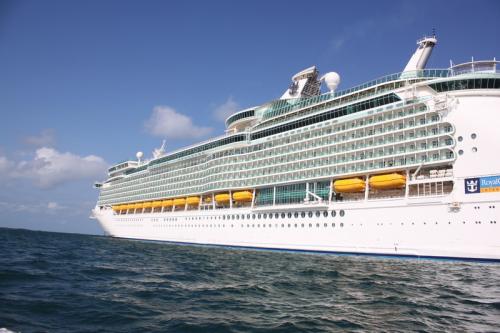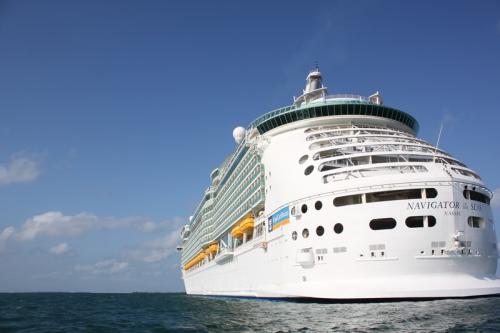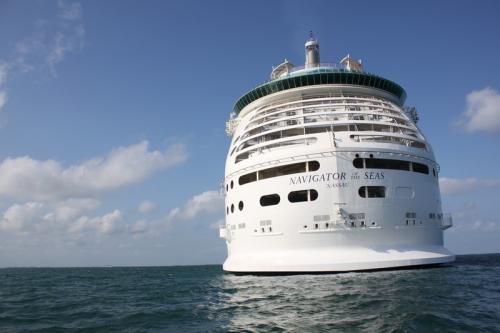 Looking back, I thought the tender process in Belize wasn't as bad as many made it out to be.  The key is to arrive very early or take your time and go later in the morning.  
Back to Navigator of the Seas and it was time again for showering and changing for dinner.
I took a stroll around the Royal Promenade and snapped up these two photos that may be of interest. Cafe Promenade has a very smal Cupcake Cupboard available.  In addition, here are the current Ben & Jerry's prices.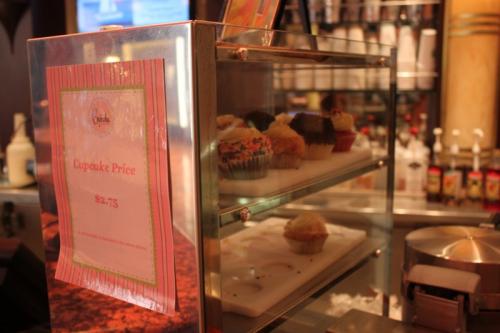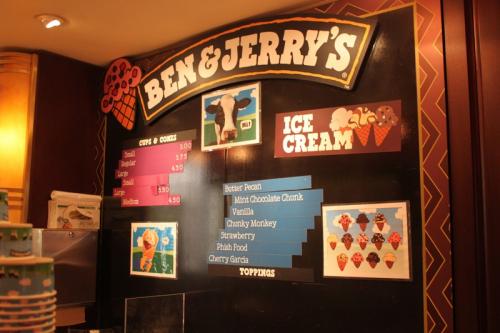 I also went out to the bow of the ship to catch the sunset but I was thwarted by clouds.  Still pretty to see but was hoping for that perfect shot.  Some day!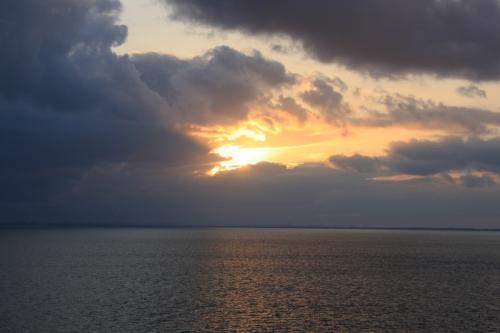 We went to see the show for the evening, which was "Now and forever" a musical tribute to Broadway.  My wife is a Broadway fanatic so this was all for her.  
The show features songs from a wide selection of Broadway shows over the years and while it isn't as good as full-fledged Broadway shows that can be found on other Royal Caribbean ships, it has enough to hold your attention, especially if you are a Broadway fan.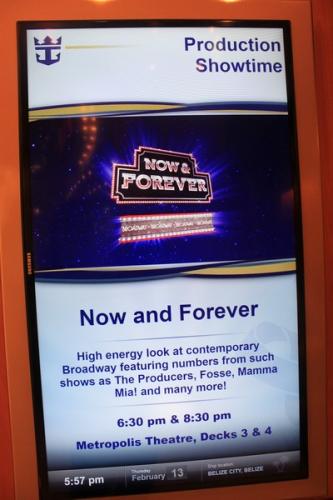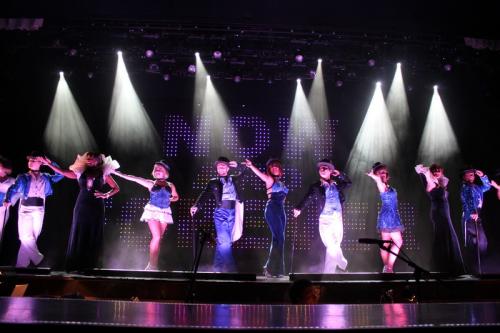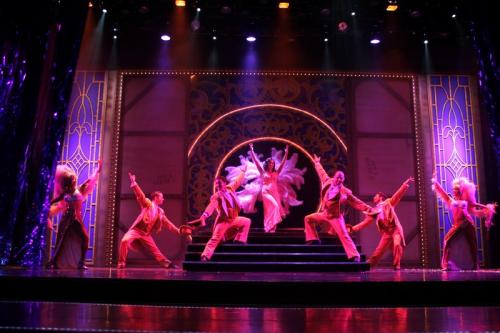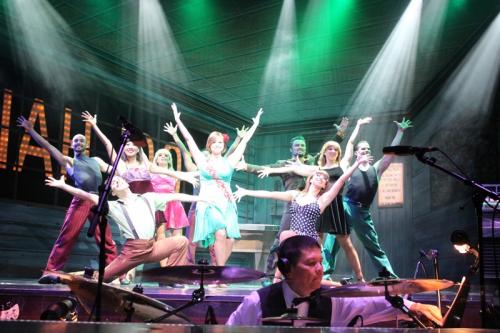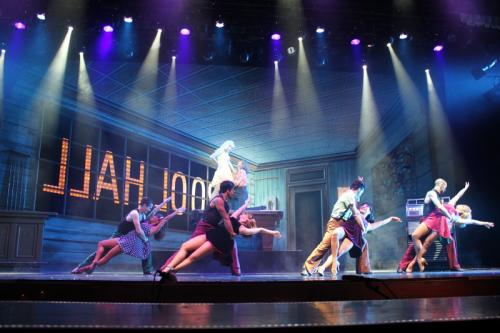 After the show we took our daughter to dinner in the Windjammer and then dropped her off at Adventure Ocean.  Tonight, we had the opportunity to check out the brand new Sabor Modern Mexican restaurant, arguably the one new addition not named virtual balcony that people are talking about the most.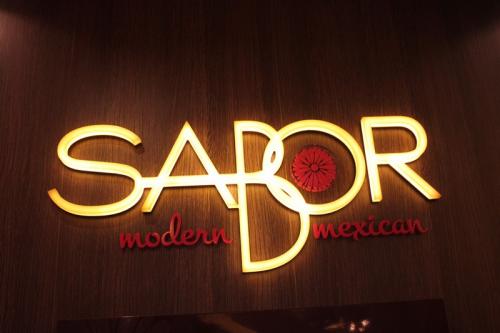 I will save the full review of Sabor for a seperate post but I can safely tell you it blew away my expectations.  In short, Sabor served up some of the tastiest food I've had in a while.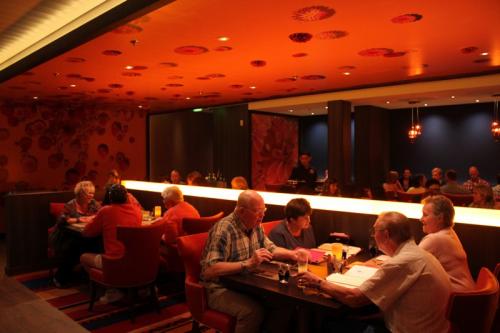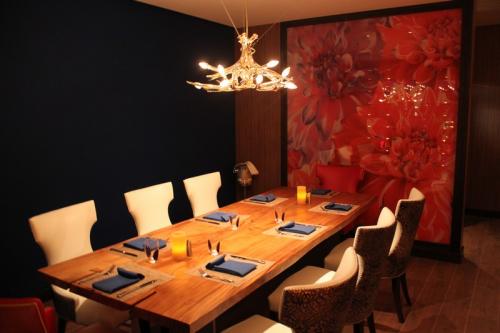 Everything about the experience eating here was centered around authenticity and freshness.  You can tell Royal Caribbean has put their best foot forward with Sabor because it's one of the best specialty restaurants I've ever eaten at.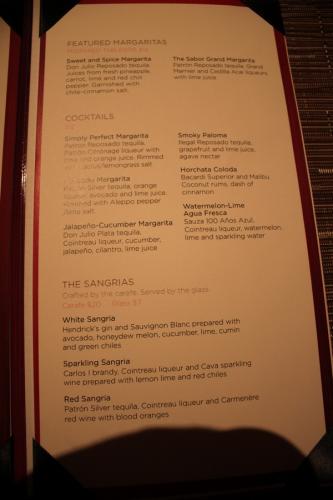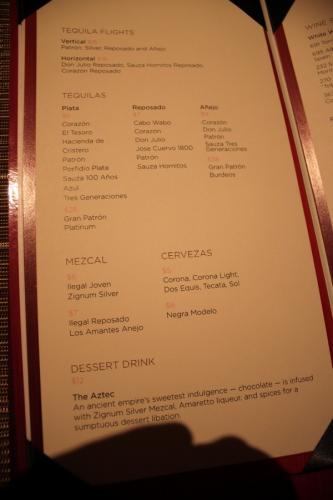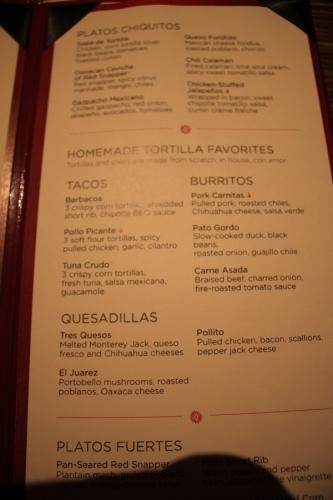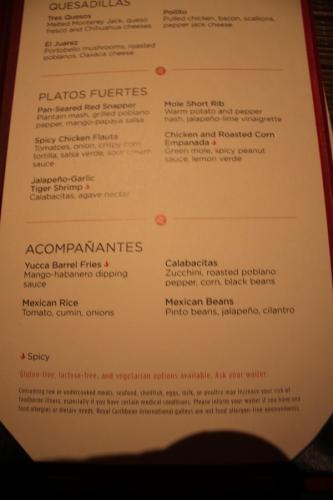 From when you are seated and the guacamole is made in front of you to the hand-made salsa and chips to the margarita cart where you see your drinks made, Sabor amazes because of its simple yet elegant presentation.
From what I understand, Sabor is a test on Navigator of the Seas and if she is well received, the changes could make their way to other ships in the fleet (coughQuantum of the Seascough).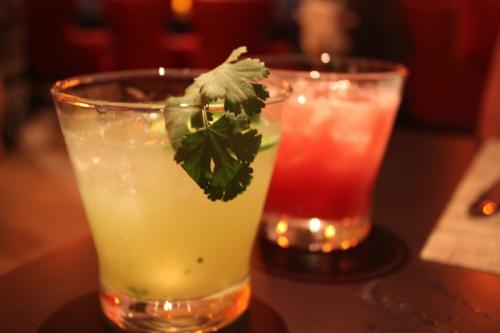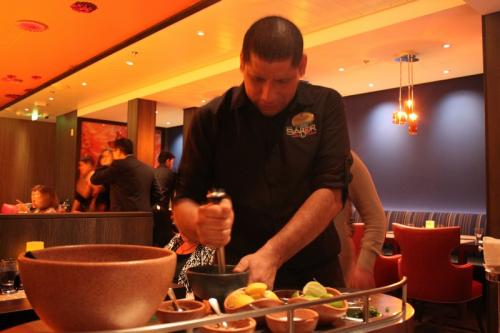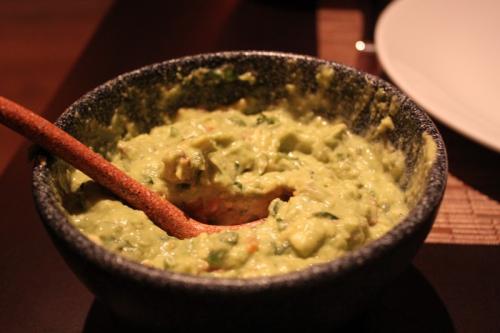 Food-wise, the appetizers and entrees are all included in the price of your cover charge ($25 per person).  We tried a lot of food and despite the groans of trying to walk around after the meal, it was all worth it because everything we ate was anywhere from very good to excellent.
When we were there the restaurant was nearly full and speaking with the manager and the wait staff, the place has been slammed since it opened, which is a good sign.  I flat out asked the waiter how did their predominately Texas population, who are used to great Mexican all the time, respond to the food.  He simply said, "they keep rebooking for more reservations."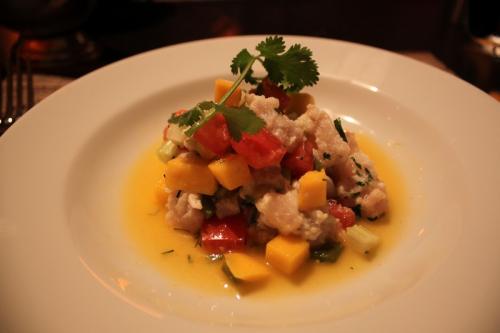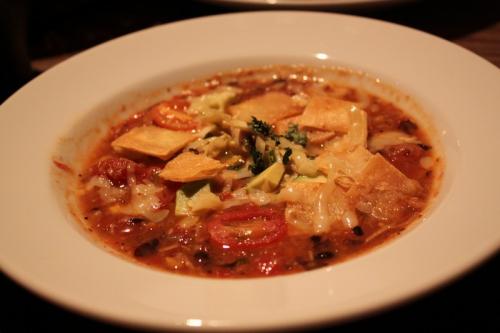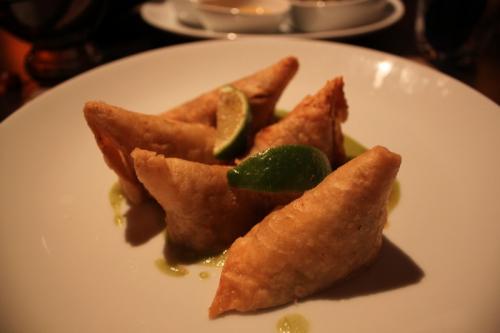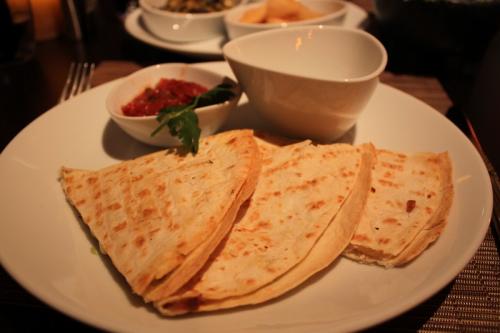 I'll have much more in my full review of Sabor next week but if you have Navigator of the Seas booked currently, do yourelf a favor and book it now.
After dinner, we walked around and had another drink or two around the ship.  We stopped in at the Two Poets British Pub to take in live music and then went up to deck 12 for some fresh air and to watch the "Dance it if you know it" song trivia.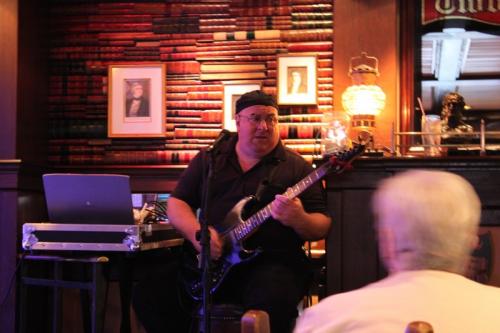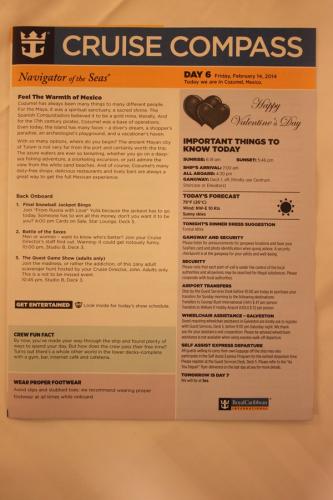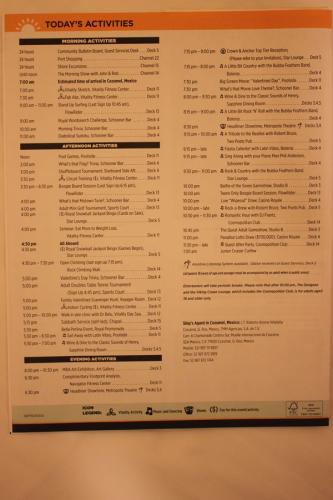 Tomorrow is our last port stop, and that's in Cozumel, Mexico.  It's also Valentine's Day so happy Valentine's Day to all you love birds.  I'm taking my wife on a date to Chops Grille to try their brand new menu out, so we will have details to share tomorrow (about the menu, not our sappy chit chat).