In:
Sometimes unexpected things happen on your vacation and most of the time they are out of your control and today was one of those days.
We woke up early this morning with excitement, around 7:00am, and everyone was ready for the cruise to begin.  That was until we checked online and discovered Navigator of the Seas was not letting guests off the ship. In fact, the ship wasn't even in port.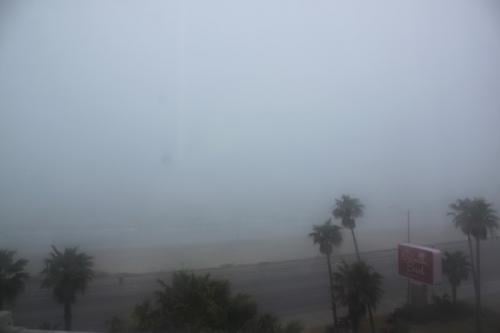 Due to heavy fog, Navigator of the Seas was sitting off the coast of Galveston because the port was closed due to heavy fog.  During this time of the year, fog is common and delays due to fog happen because of lower visibility.
I had read tweets, emails and other online messages from passengers onboard Navigator of the Seas indicating they were not docked yet.  By 9:00am I had recieved the first automated phone call of the day from Royal Caribbean telling us our departure was delayed and there would be an update at 11:00am.
So we did the best we could and had another breakfast at Miller's Seawall Grill, which was as uninspired as dinner.  So we sat around the hotel waiting for something to happen.  Thankfully our hotel, the Galveston Beach Hotel, was beyond accomodating.  They allowed all the cruise guests to stay in their rooms as long as they needed without any additional cost.  It was really quite refreshing because it allowed our daughter to nap and us avoiding hours upon hours in the lobby.
The 11am call told us the earliest we could arrive would be 4pm so we took a walk along Seawall Drive and found a Mexican restaurant called Gorditas Mexico that advertised itself as authentic Mexican and it was pretty darn good.  It ended up being about $30 for all of us so it sounded good to me.
By 2:00 I started seeing a flurry of messages saying things were looking better and Navigator was starting to move. At 2:20 Royal Caribbean told us to arrive no earlier than 6:30 for a 7:00 boarding.
There's no question that having your vacation delayed is frustrating but when the delay is a result of something out of your hands, there's really not much you can do.  The key is to "go with the flow" and just deal with it.  If we had a rental car, I would have driven around Galveston and done more.  
I think Royal Caribbean's automated responses were adequate and I hear we are getting $20 per person in onboard credit (although I have no first hand confirmation) to cover lunch, which is certainly a nice gesture.  So for anyone cruising from Galveston in winter, keep this in mind as a possibility just like a hurricane impacting Florida ports in the fall.
At any rate we left the hotel at about 5:30 and arrived to the terminal to find a really big line. I guess most people ignored the 6:30 time or had no where else to go.  The line was massive but it's what I expected.  Luckily the lines did move, which is better than long lines that do not move. I think we made it through all the lines and onboard in about 45 minutes.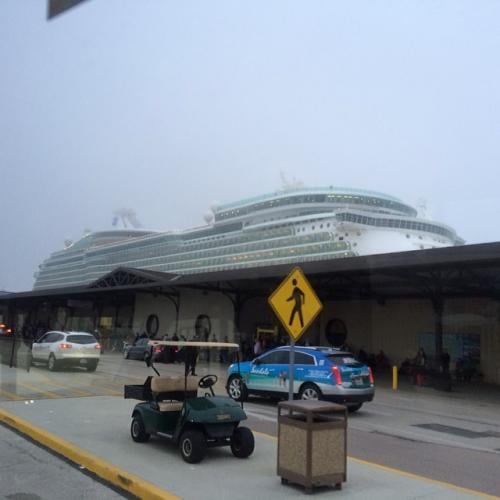 Once onboard, it was an odd embarkation day because everything was out of whack.  The main dining room was open for everyone and it was just open seating instead of assigned times.  The Windjammer was open too as per usual.  I overheard a crew member at Chops announcing a 30% off just for tonight deal.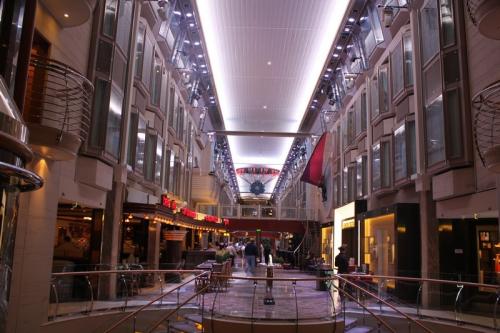 Some of the bars were open, although an announcement indicated due to Texas law they could only open a few bars while in port.
All staterooms were ready so we went up to our family ocean view stateroom.  We're in room 6500 and it's all the way forward and massive! It's meant for 5-6 people but we were able to book it for just the three of us.  My daughter even gets her own room with a curtain door.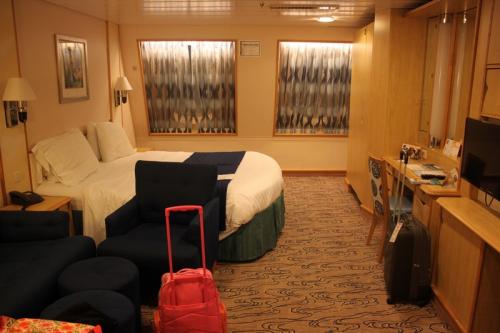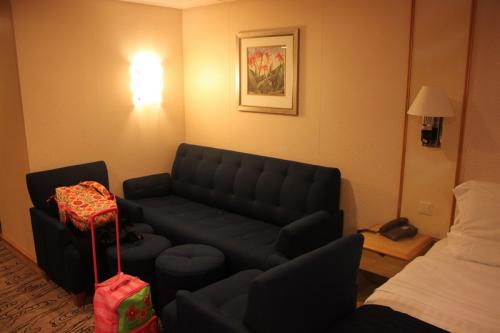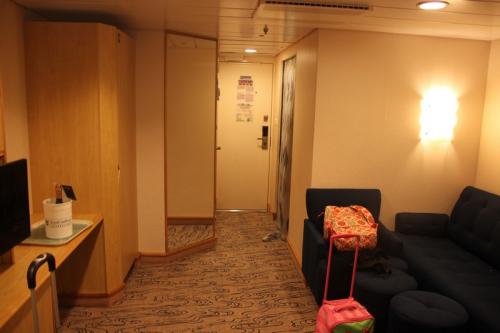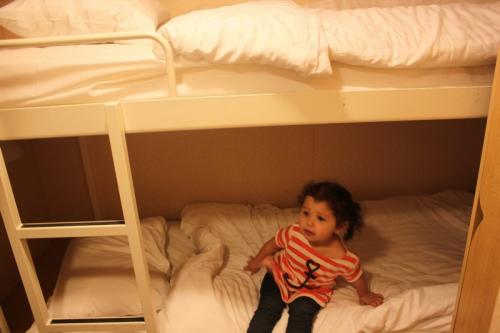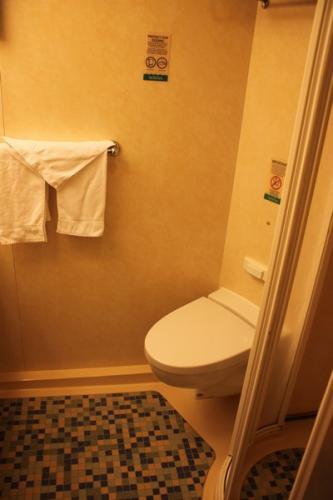 We went to Adventure Ocean to register our daughter.  This is the kids club on Royal Caribbean and it looked great.  No Adventure Ocean activities today but it will all get going tomorrow.  My daughter loved it in there and was upset when we had to leave.  She'd prefer to spend the whole week there right now!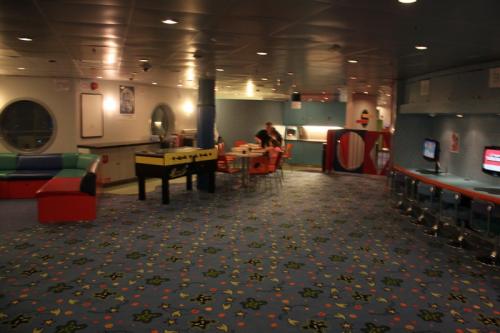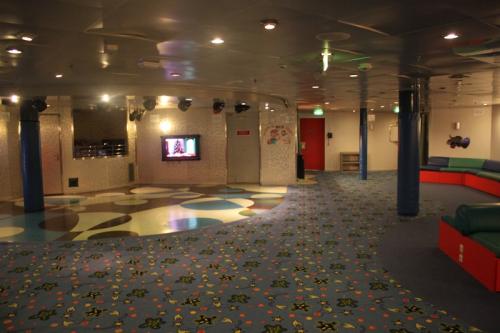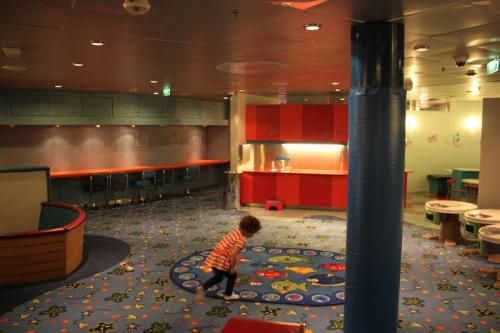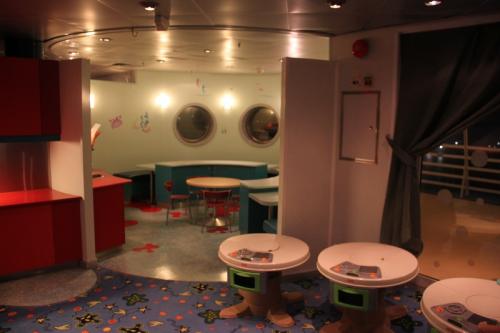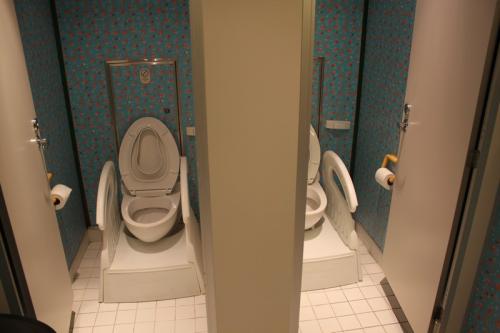 Walking around the ship, you can tell it's been refurbished and this will be a continuing theme of our posts this week.  The carpets smell and feel new.  Everything looks bright and fresh.  It's really quite nice and exceeded what I was expecting going on this ship.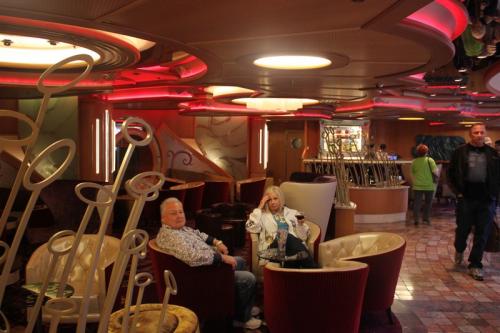 We walked around the decks a bit to see a little bit more but decided to head to dinner to eat before our 10pm muster drill.  At the main dining room, it was open seating because of the delay in boarding but the menu was otherwise normal.  In fact, they had escargot on the menu, which was the first time it was actually available since 2012 for me.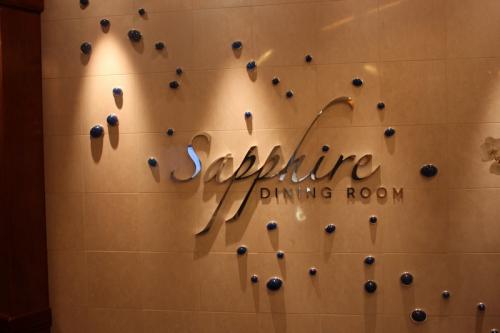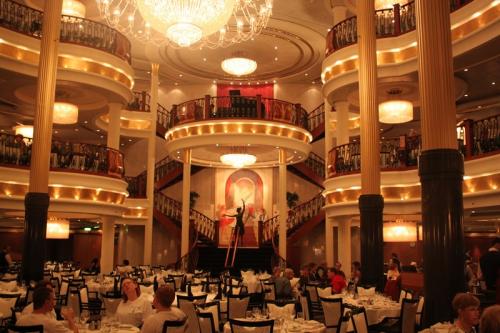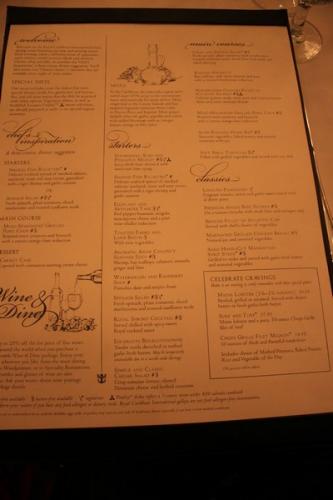 Tomorrow is a sea day, although it may be Galveston day two at the rate this fog is going.  Honestly, I don't really care although the advantage of a sea day is we will go south and it could be warm enough to go swimming (it's too cool out to really go swimming).
All in all, Royal Caribbean did the best they could with the situation they had.  I think they handled the situation well and the automated calls were informative and timely enough to keep us in the know.  It was frustrating and I cannot imagine what people disembarking did if they had flights but I'm happy to be onboard now and enjoying the cruise, even if we haven't moved a foot yet.
We have lunch planned at Giovanni's Table but otherwise the day is open. Hoping our daughter will love her time in Adventure Ocean so me and my wife can go explore the ship more and really start to relax.  
I'll also have more photos of what's new and different on the ship.  Post your requests in the comments!