How to Make Specialty Restaurant Reservations
In:
Royal Caribbean is adding more and more specialty restaurants to its cruise ships and if you want to try one (or more) of these eateries on your next cruise, here's a guide to reserving a spot for you.
How to make a reservation online
Prior to your cruise, you can reserve specialty restaurants up to 4 days prior to your cruise departure date.  Booking reservations online in advance gets a time and day for you but you will also have to pay for the experience at the time of booking.
1. The first step in booking a Royal Caribbean specialty restaurant is to go to RoyalCaribbean.com and click My Cruises from the top navigation.  
You will need to have an account with Royal Caribbean (free) and have linked your upcoming cruise with your account.  We won't cover how to do this in this article, but I will assume you have done this earlier.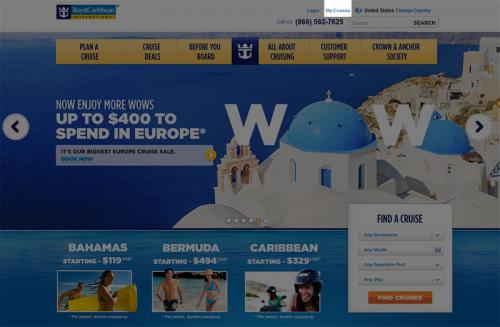 2. Once logged in, click on the Reservation Number for the cruise you want to book a specialty restaurant.
3. There are a couple of ways to book restaurants but I find this method to be the easiest to follow. Click Pre-Cruise Planner.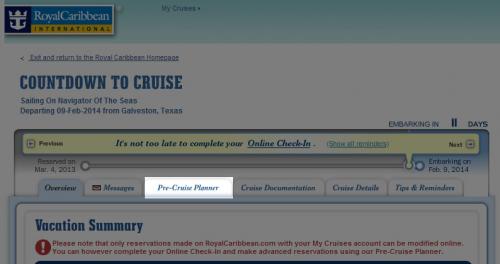 4. Scroll down the page and locate the section titled Specialty Restaurants & Dining Experiences  and then click the button that says Shop or Modify Specialty Restaurants.
5. The page you are brought to has what I consider to be a confusing interface so I prefer to locate the drop down menu towards the top right of the page and select Specialty Restaurants from it and click Go.

6. From this page, you can either select a restaurant or dining package individually or select the search by calendar function.  For simplicity sake, click on a restaurant name.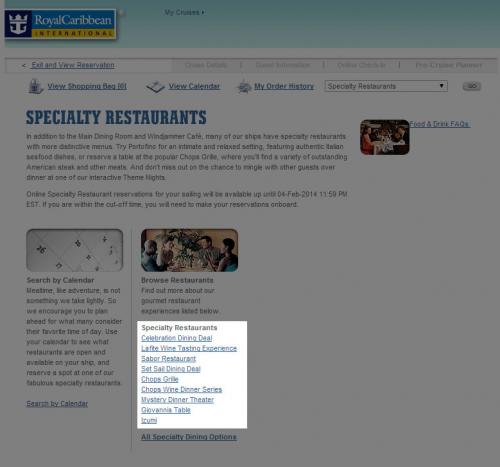 7. Here you will have a description of the restaurant, see the price, hours of operation and a sample menu.  When you're ready, click the button that says Reserve Now.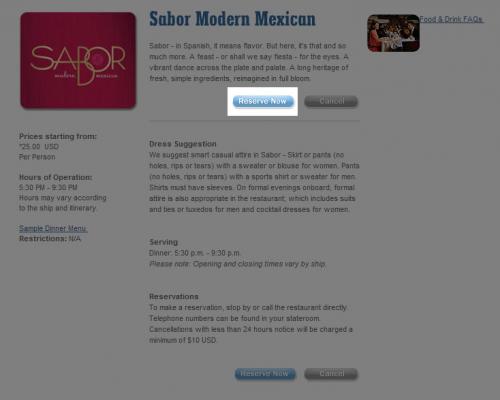 8. Select the number of guests, date and time from the drop down menus in the middle of the page.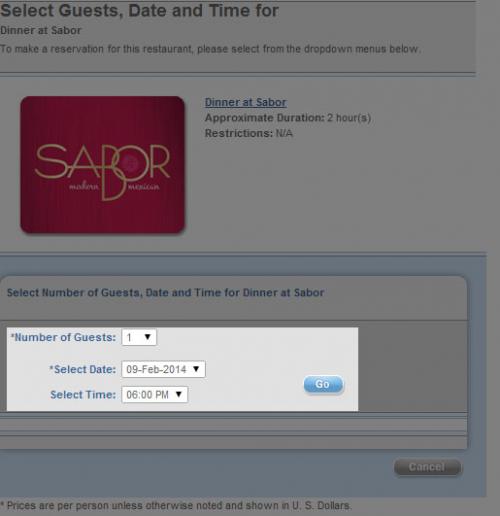 9. You can now select the passenger(s) in your reservation that will be going.  
If you had selected two people on the page prior for the reservation, you must select two names here.  The number of people you select from this page must match the number of guests you selected earlier.  If you need to adjust, go back one page and change the number of guests and try again.
Advanced reservations are limited to parties of six persons or less in all Specialty Restaurants.
Once you select the passenger(s), click Continue.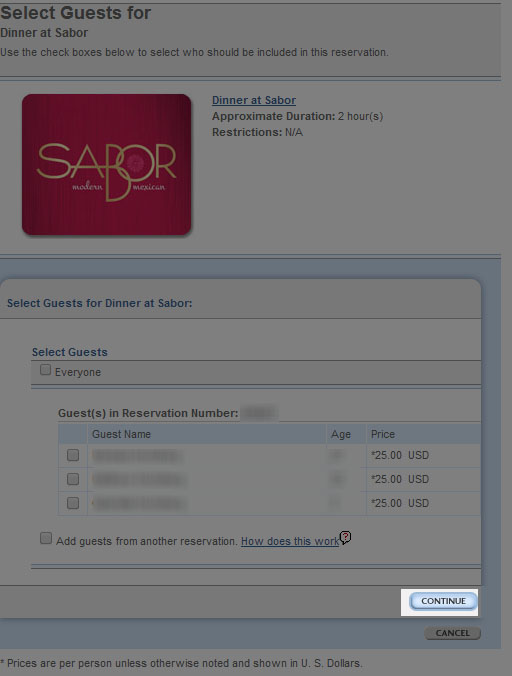 10. Now you will confirm the reservation details and if it all looks good, click Continue.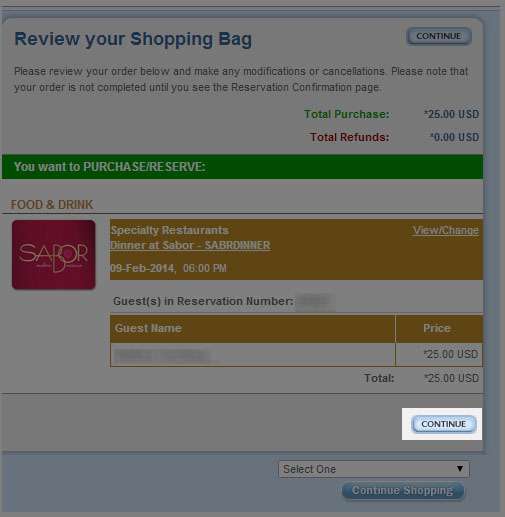 11. On this page, you will enter your payment details to be paid at the time of your booking. After entering all the pertinent information, click Submit this Payment & Continue.
12. Woo-hoo, you've booked a specialty restaurant!
How to make a reservation onboard your Royal Caribbean cruise
If you're on your cruise or have less than 4 days until you go on your Royal Caribbean cruise, then you will need to make a reservation for the specialty restaurants onboard your cruise.
You can book any specialty restaurant from the following locations
Any specialty restaurant
Guest Services
From your stateroom television (on select Royal Caribbean ships)