In:
Going on a Royal Caribbean cruise with four people or less is pretty easy in terms of picking out staterooms, with the only difficult question being how much can you afford.  But what about those families with five or six or even more people in a family?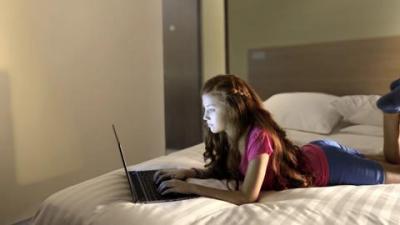 There are a few different options available to your family to consider, each with advantages and drawbacks.  Not every option may be available on every cruise, but you should be able to find something that works for you.
Family Oceanview Stateroom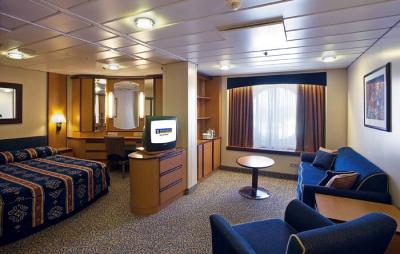 If you'd like to have everyone in one stateroom, the Family Oceanview Stateroom can be a great choice.  It boasts room for six people and anywhere from 265 to 328 square feet of space, there's a lot of room here.
The stateroom has a king size bed with additional bunk beds in separate area and separate sitting area with sofa bed.  
Royal Caribbean requires a minimum of five people for this stateroom, so it doesn't sell out that quickly although they will open it up to less people if the room is still vacant close to its sailing.
The chief drawback to this stateroom is its location, which is all the way forward.  Staterooms in the very front (or rear) of the ship are subject to feeling more motion of the ship.
Royal Caribbean ship classes available: Radiance, Voyager, Freedom, Oasis (as well as Vision of the Seas, Rhapsody of the Seas, and Enchantment of the Seas)
Family Interior Stateroom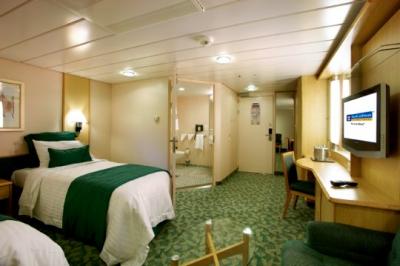 The most inexpensive stateroom for up to six guests will be the Family Interior Stateroom.  This inside stateroom offers no view but can accomodate larger families.
It features two twin beds that convert to a Royal King along with a sofa that converts to a double bed, two Pullman beds, private bathroom and sitting area.
Royal Caribbean ship classes available: Freedom, Oasis
Family Promenade Stateroom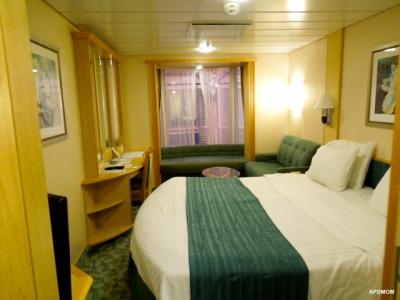 Like the Family Oceanview Stateroom, the Family Promenade Stateroom offers a lot of space (327 square feet) with a view of the Royal Promenade.
These staterooms accommodate six guests in its twin beds, sofa or pullman beds and sitting area.
The advantage of this stateroom is that it's in a better location (closer to mid-ship).
Royal Caribbean ship classes available: Freedom
Royal Family Suite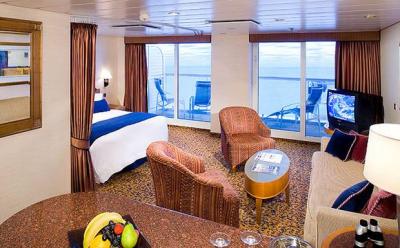 If you have more money to spend, take a good look at the Royal Family Suite, which boasts 560-580 square feet of space along with a private balcony.
This family room can accomodate up to eight guests and is perfect for those who want the most space for their families. 
Each stateroom has a Royal King,one room with third and fourth Pullman beds, two bathrooms (one with a tub) and living area with double sofa bed. 
Needless to say, this stateroom can be expensive and out of many families' price ranges.  But if you can afford it, there's no better way to stay in one stateroom with a lot of people.
Royal Caribbean ship classes available: Voyager, Freedom, Oasis, Quantum
Family Connected Junior Suite with Balcony
New for the Quantum-class, is the Family Connected Junior Suite that has 575 square feet of space along with a private balcony.
What makes this room type unique is it features three different categories of staterooms, connected through a vestibule to form a special layout that provides 3 bedrooms, 3 bathrooms and a balcony for all your family needs. Sleeps 8 to 10 guests.
Royal Caribbean ship classes available:  Quantum
If all else fails: Two staterooms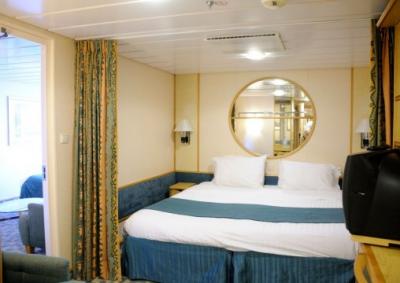 If no other option will do, booking two staterooms is always an option.  Often, the cost of two staterooms can be cheaper than some of the family staterooms and can offer more seperation between family members (a plus for families with teenagers).
Booking two staterooms also allows for connecting staterooms, in which there is a door between the staterooms that allows for easy flow between them.  This can be convenient during the day to keep the doors open, essentially creating a two room stateroom.
Royal Caribbean ship classes available:  All ships