Royal Caribbean plan to overhaul Cape Liberty approved
In:
Officials from the Port Authority of New York and New Jersey have approved a proposal by Royal Caribbean to redevelop the Cape Liberty cruise port in Bayonne, New Jersey.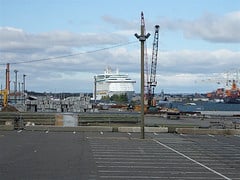 The Board of Commissioners approved the plan earlier tonight at a meeting.  The purpose of the proposal is to allow the port to handle Royal Caribbean's newest cruise ship, Quantum of the Seas, which will arrive in November 2014.
Port Authority Director Bill Baroni commented on the decision, "This new lease extension will bring to Bayonne one of the most modern cruise terminals in the country. Royal Caribbean is going to invest $50 million in the new terminal and two parking facilities for people going out of Bayonne."
Baroni believes Quantum of the Seas will also give Bayonne's economy a boost.
"This new terminal will help create jobs in construction and will have a long term economic benefits on our region.  When a ship like this calls a port that ship brings about $1 million a trip to the city in local economic activity. Once completed, the terminal is expected to bring in 600,000 people every year." 
Baroni did say that Royal Caribbean's proposal still needs to have its finances approved by the Bayonne Local Redevelopment Authority and once that happens, construction will begin in a few months.  The project should be completed by 2014 right before the new cruise ship arrives.
Royal Caribbean will fund the project in conjunction with the city of Bayonne, which would issue $70 million in bonds. 
Once completed, the new terminal will see passenger volume rise by 25 percent to 600,000 per year, according to Baroni.