In:
The Government of Finland has announced it will support STX Europe with a $37 million loan if the shipyard can secure a deal with Royal Caribbean to build a third Oasis-class cruise ship.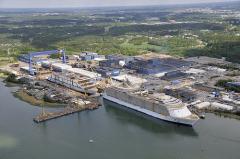 STX has been lobbying the Finnish government for the 28 million Euro deal without luck until the government stipulated that it would indeed grant the money from its European Union-approved aid provided that a deal between STX and Royal Caribbean can be reached.
STX had previously built the first two Oasis class cruise ships for Royal Caribbean and many reports point to STX to be the leading candidate to build this new cruise ship.  Other possibilities for building the ship include shipyards in France and Germany.
The deal between the Finnish government and STX could employ about 20,000 workers, which would be a welcome boost for the local economy given Finland's cooling economy.
STX Finland said it was disappointed at not getting the loan and would continue talks with other creditors.