Royal Caribbean CEO "embarrassed" by accounting error
In:
Royal Caribbean held its conference call today to announce the company's second quarter financial results, Royal Caribbean chairman Richard Fain characterized an accounting error from the previous quarter as being "embarrassed".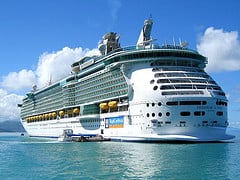 Nonetheless, Fain was excited about the company's short term future and was overall positive about the direction Royal Caribbean is going in, "It still looks like this will be one of the best years in our history".
As a result of the error, Royal Caribbean lowered its full-year earnings per share prediction by 30 cents at the midpoint to a range of $2.90 to $3.20, mostly in order to reflect a revision to how it accounts for interest expense.
Despite Fain's and other executives attempts to diffuse the accounting error situation, Royal Caribbean's stock took a hit following the call, with the price dipping as low as 11% from its market open price.
The interest-expense accounting error related to the amortization of certain financing fees, and caused the revision of some prior results and lower guidance for the rest of the year. The revision is a noncash item, and Fain said the team that made the error also found it and quickly reported it.
During the call, Brian Rice, Chief Financial Officer for Royal Caribbean, called the mistake a human error and like Fain, was embarrassed by the situation.