In:
Royal Caribbean has signed a deal with Spanish shipbuilding firm Navantia to revitalize three of its ships in Cadiz, Spain.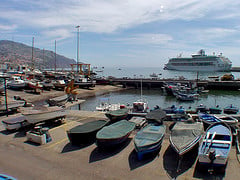 A delegation of nine people from  Royal Caribbean visited the Cadiz shipyard on June 21 and 22 to settle the contract that allow the maintenance and modernization of three ships at dock in the capital. The delegation was led by Revitalization program director, Petteri Keso, as well as the director of fleet maintenance in Europe, Tracy Murrell.
Royal Caribbean representatives inspected for two days the Navantia facilities and warehouses, where more than 450 containers come with the equipment necessary to tackle the repairs.
Navantia believes they helped sign Royal Caribbean thanks to their experience working on other cruise ships such as  Norwegian Jade, NCL America, Milenium, Celebrity Cruises, and the Grand Voyager, the Grand Mistral and Grand Celebration of Iberocruceros.
This history has served, among other things, to capture the interest of Royal Caribbean's represenatives. The represenatives from Royal Caribbean have also confirmed the first ship to enter the Cadiz shipyard will be Splendour of the Seas to recieve major repairs and modernization.  Splendour will arrive in November to undergo a modernization plan that includes the habitability of the ship, "which will be completely renovated."
Royal Caribbean has also reserved time for the repair of two other ships, which will undergo a revitalization plan.  Then in May 2012 Grandeur of the Seas will enter the dock followed by Serenade of the Seas in November.