In:
Port Canaveral CEO J. Stanley Payne wants to add a brand new multimillion dollar cruise terminal to Port Canaveral, Florida to help stimulate the growth of the cruise ship industry in the popular port.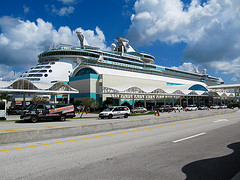 Royal Caribbean already home ports a few of their ships at Port Canaveral, including Freedom of the Seas and Monarch of the Seas.  
Payne believes that while no tenant is specifically interested in the terminal right now, by building a new terminal, it will catch the attention of the cruise industry and generate interest in adding ships here.  "Once cruise lines start seeing you as a port that can't grow, then you have a problem," Payne said.  Payne also pointed out the fact that Jacksonville and Miami are building or upgrading terminal spaces in their ports.
A new cruise terminal could cost between $40 million to $75 million, depending on the amenities port officials decide to include in the terminal. Port Canaveral's existing three terminals for cruise passengers handles the six ships.  The newest port is terminal number 8 and was built specifically for Disney in 1996, with a nearly complete new $22 million upgrade for the terminal that is needed for its two new ships that will call Port Canaveral home in 2011 and 2012.
The cruise industry is the port's No. 1 revenue generator and it has been responsible for millions of dollars in new investments in Brevard County. A study released earlier this year by Lancaster, Pa.-based Martin Associates, which specializes in analyzing the operations of ports throughout the world, said the port helps generate $1.1 billion in revenue across all of its businesses, and $48 million in state and local taxes.