Royal Caribbean looking to expand to Nicaragua?
In:
The Spanish language site Estrategia Negocios is reporting that Royal Caribbean is working with the country of Nicaragua to rebuild the port of San Juan del Sur.  The idea is to rebuild the port, which will promote more cruise ships operating in the Pacific to stop in Nicaragua.  Nicaragua Tourism Minister Mario Salinas sees the cruise business as "a segment to exploit. "  In addition, the Nicaraguan government is also working on the construction of 'inter-oceanic canal in Nicaragua tourism', a mechanical transport system move boats and yachts between the Pacific and Atlantic oceans.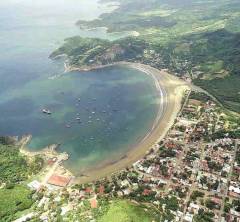 Perhaps Nicaragua is looking for something similar to the deal that Royal Caribbean has reached with Jamaica to open a $170 million port at Historic Falmouth Jamaica.  By opening a new sea port, Nicaragua seeks to increase the weight of the tourism industry in the country, to which the sector currently contributes about 5.2% of GDP, with about 930,000 visitors during 2009, which resulted in an increase of 8.6 % from a year earlier.  Nicaragua ranks low in tourism compared to its neighboring countries such as Costa Rica and so this, along with other measures taken, will hopefully increase tourism in this Central American country.