Port of Balitmore booming with traffic
In:
While recent news has Norfolk, Virginia losing it's Royal Caribbean ships, Balitmore, Maryland is experiencing an influx of growth that has made the port of Baltimore a new hub of cruise ship activity with the arrival of the second year-round cruise ship to call there. Carnival, Celebrity and Norwegian lines all have ships in Baltimore and now Enchantment of the Seas will call Balitmore home.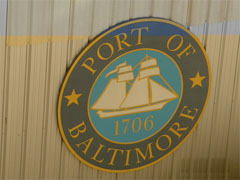 Baltimore's cruise terminal was built in 2006 and in 2008, 27 cruises left from Baltimore. In 2009 and 2010, cruise business grew three times that and a record 113 cruises are already scheduled for 2011, with an expected 240,000 passengers, compared to only 47,000 three years ago.
Port of Balitmore representative Richard Scher says the Port of Baltimore is such a hot spot because of its location.  It's right off I-95, just 10 miles away from BWI and within 90 miles of three other major airports.