In:
Royal Caribbean has offered cruises to the New England coast area as well as Canada's eastern coast for some years now but ports in the area as projecting elevated number of cruisers to be visiting this year.
"Maine ports are expecting 335 cruise ship calls this year, up from 281 last year. Ports in the Canadian Maritimes and in Newfoundland are projecting 467 calls, 84 more than in 2009. Boston is anticipating a record 300,000-plus cruise ship passengers to pass through its port."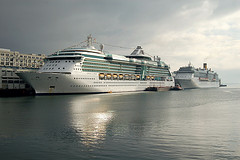 Currently three Royal Caribbean ships serve New England, including Jewel of the Seas (out of Boston), Explorer of the Seas (out of Bayonne, NJ) and Enchantment of the Seas (out of Balitmore).  For those looking for something a little different than just a cruise to the Caribbean, a summer cruise to the northeast can be a fun and exciting opportunity. Interestingly enough, the peak season for a New England cruise is early fall, which coincides with the changing of the autumn leaves, which can make for some really pretty landscapes.
"September and October remain the peak months for cruise ship trips, but more ships are now showing up in the region in July and August and earlier."