Distinct features to entice cruises on Allure of the Seas
In:
Allure of the Seas is set to have her maiden voyage in December of 2010 and already, Royal Caribbean is giving us all plenty of reasons to check her out.  Sure the ship is enormous and goes to some great ports in the Caribbean, but how about amenities such as 3-D movie theaters, new restaurants and trendy retail stores?  JourneyETC posted an article looking at some of these new features.
"Allure of the Seas will offer guests a new set of onboard amenities and entertainment and dining options that will help make a most memorable vacation," said Lisa Bauer, senior vice president, Hotel Operations, Royal Caribbean International. "Though Allure of the Seas and Oasis of the Seas are sister ships, each ship's distinctive onboard experience will offer guests a wide selection of choices that appeals to every age and lifestyle. Throughout, guests will also enjoy the Royal treatment, delivered by every member of our world-renowned friendly and engaging staff and crew."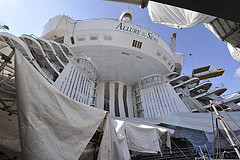 One of the new restaurants on Allure of the Seas will be Rita's Cantina, a Mexican-California hybrid restaurant that will be in the Boardwalk area to include new nightlife to Boardwalk with live guitar music, drinks and dancing.  In addition to Rita's, another new restaurant is slated to be added to the Boardwalk area, The Boardwalk Dog House, an outdoor hot-dog specialty counter located where the donut shop is on Oasis of the Seas.
If shopping is more your thing, GUESS Accessory boutique will be located in place of Focus Photo Shop on deck six and offer their signature line of accessories such as wallets, jewelry, handbags and more.
All of this is to differentiate Allure of the Seas from it's sister ship, Oasis of the Seas, and to give cruisers just as much reason to look forward to her debut as they did for Oasis.