In:
New cruise ships and destinations are coming to a Royal Caribbean cruise near you between now and 2024.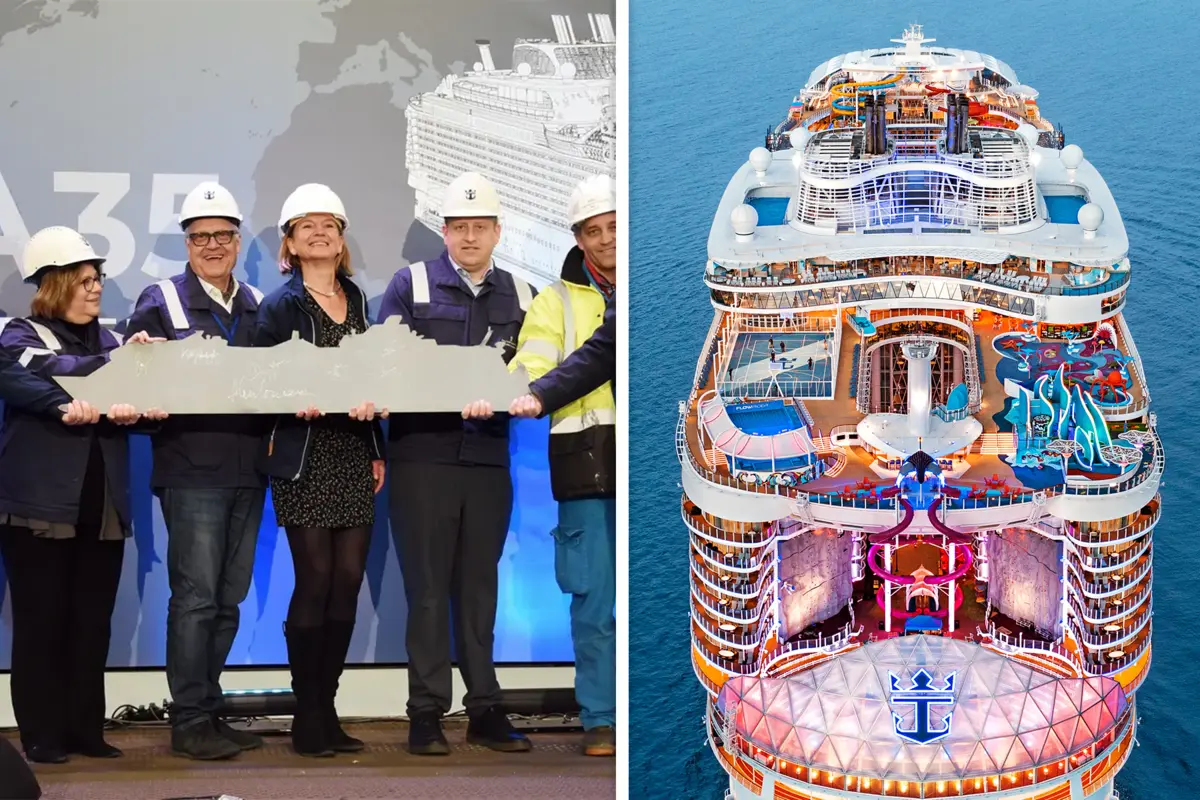 Change is continuous at Royal Caribbean, and despite the challenges the cruise industry has faced since 2020, expansion plans are still underway. In fact, Royal Caribbean just broke its own record for most cruises booked in a single day and week.
This is a great indication that demand is high for cruising, and Royal Caribbean is ready to deliver with the newest amenities, ships, itineraries, and more.
From time to time, Royal Caribbean reveals its long term plans to give customers a glimpse of what is coming next. There are not usually a ton of details shared until Royal Caribbean is ready to pull back the curtain more, as the nature of cruise ship development is that some decisions are changed or purposefully left undecided until closer to launch.
Here is a project by project look at everything new and coming soon to Royal Caribbean.
Wonder of the Seas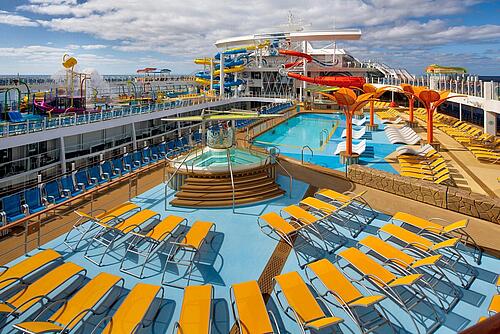 Wonder of the Seas is the newest cruise ship in Royal Caribbean's fleet, offering the latest and greatest of the cruise line's features and amenities. Her maiden voyage was on March 4, 2022. She will spend the summer 2022 cruise season in Europe prior to being homeported in Port Canaveral, Florida.
With a gross tonnage of 236,857, the ship is 362 meters long and 64 meters wide, and it features a total of 18 decks and 2,867 staterooms to accommodate up to 6,988 guests. Wonder of the Seas is the largest cruise ship in the world.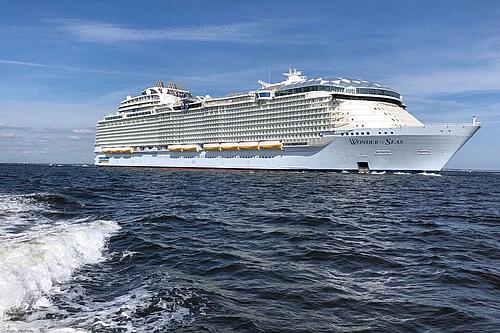 Wonder of the Seas is also the first cruise ship to feature eight neighborhoods, including the new Suite Neighborhood alongside returning favorites such as Central Park and the open-air Boardwalk. Something else new to Wonder of the Seas is The Mason Jar, a southern-inspired restaurant featuring a menu of dishes from various regions of the American south.
Read more about Wonder of the Seas:
Icon of the Seas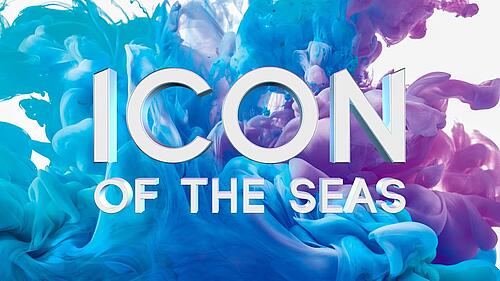 The next new cruise ship in Royal Caribbean's fleet will be Icon of the Seas, which is currently being built at the Meyer Turku shipyard in Finland. Icon of the Seas is said to be a "game changer" for the cruise industry.
Icon of the Seas will be the first ship in Royal Caribbean's Icon Class, and will be followed by two additional Icon Class ships. The ship will be powered by LNG (liquified natural gas) and include environmentally friendly applications that will reduce carbon footprint.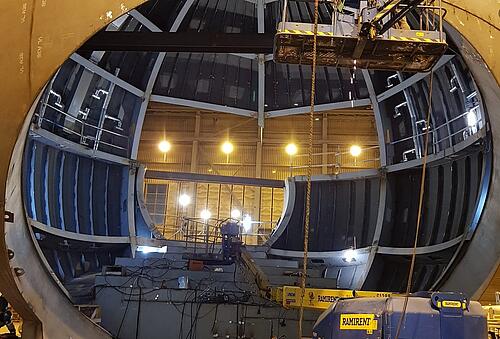 Royal Caribbean has not released many details about Icon of the Seas, and many are eager to learn more about the new Icon Class. After all, the last time Royal Caribbean debuted a new class of ships was in 2014 with Quantum of the Seas.
The ship is estimated to have a capacity of around 5,600 passengers and will be 200,000 gross tons in size. Icon of the Seas will be homeported in Miami after debuting in the UK summer season of 2023.
Utopia of the Seas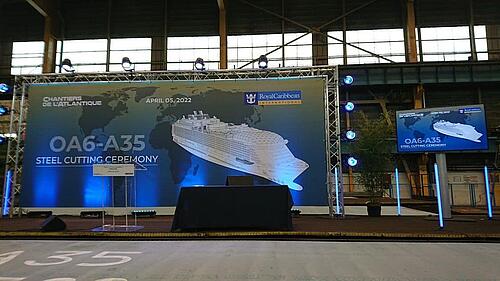 The sixth ship in Royal Caribbean's Oasis Class has begun construction and is expected to launch in spring 2024.
Like Icon of the Seas, Utopia of the Seas will be powered by LNG (liquefied natural gas), the first Oasis Class ship to do so. By using LNG power and the addition of further environmentally friendly applications onboard, Utopia of the Seas will reduce emissions and boost its energy efficiency.
As Utopia of the Seas is an Oasis Class ship, she will likely share a similar layout to other Oasis Class ships, offering venues and amenities like the AquaTheater, Central Park, Ultimate Abyss, and more.
As Wonder of the Seas had quite a few differences compared to other Oasis Class ships, it's unclear yet whether Utopia of the Seas will share these same features.
Related: Wonder of the Seas vs other Oasis Class ships
Galveston cruise terminal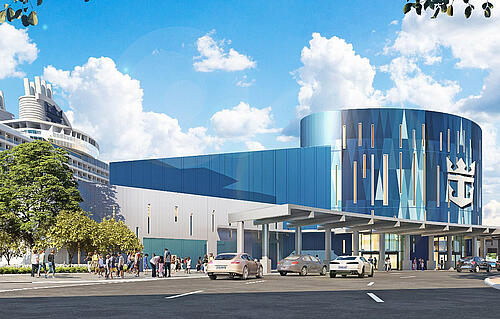 Royal Caribbean is currently building a new cruise terminal in Galveston, Texas that is set to open in fall 2022. The $125 million cruise terminal is 161,300 square feet and features state-of-the-art technology, including mobile check-in and facial recognition to expedite guest arrival. The terminal will be designed and developed sustainably to meet LEED (Leadership in Energy and Environmental) certification standards.
Allure of the Seas will begin offering cruises from Galveston in November 2022.The terminal will also be able to accommodate Royal Caribbean's Icon Class ships.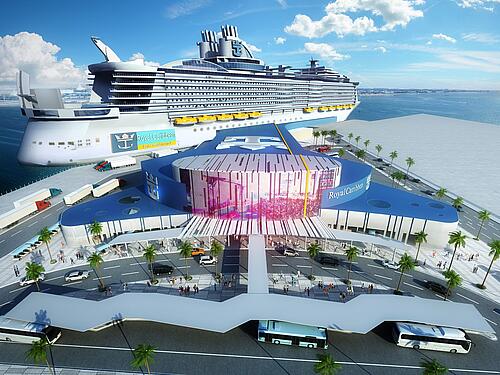 Suite guests sailing from Galveston will be able to enjoy an exclusive VIP area in the terminal, providing suite guests with an upgraded seating area to enjoy before boarding begins.
Related: Royal Caribbean previews new cruise terminal in Galveston
More cruise ships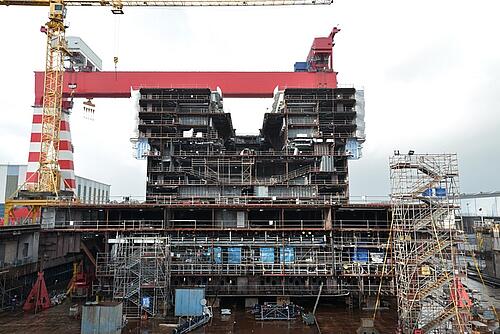 While Royal Caribbean currently has orders in place for three Icon Class cruise ships and Utopia of the Seas, the coming years may see more orders placed for new cruise ships.
At an event for the delivery of the new Celebrity Beyond, Royal Caribbean Group CEO Jason Liberty said the company is considering ordering new ships for its three brands: Royal Caribbean International, Celebrity Cruises, and Silversea.
No information has been shared on what these cruise ship orders will be, so it's unknown whether the additional cruise ship orders will be for additional ships in Royal Caribbean's existing ship classes or for a brand new ship class altogether.
Hideaway Beach at Perfect Day at CocoCay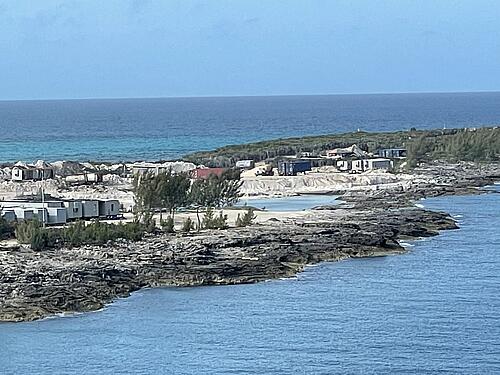 Hideaway Beach, an adults-only area of Perfect Day at CocoCay, is currently being constructed and set to open in mid to late 2023. The island's capacity is predicted to increase by 2,000 - 3,000 guests following the completion of Hideaway Beach.
The beach is located to the west of the island's pier, adjacent to CocoCay's Thrill Waterpark. The western side of the island is still undeveloped aside from storage and housing for some crew members, so this is the first project to expand Perfect Day at CocoCay on that side of the island.
Most details about Hideaway Beach are still unknown, including whether or not the beach will be complimentary and what facilities will be located at Hideaway Beach.
Royal Beach Club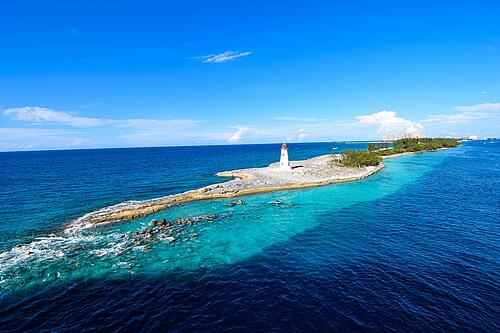 In March 2020, Royal Caribbean announced plans to build the Royal Beach Club on the western end of Paradise Island in Nassau. Royal Caribbean owns thirteen acres of land on this part of Paradise Island and an additional seven acres are leased to the cruise line by the Bahamian government. The land is conveniently located right next to the Nassau cruise port.
Royal Caribbean's plans for the Royal Beach Club are to develop Paradise Beach and Colonial Beach to create an arrivals area, family zone, water sports center, food and beverage services, and swimming pool for guests to enjoy. Cabanas, daybeds, water sports, alcoholic beverages, and local tours will be available as well for an extra cost.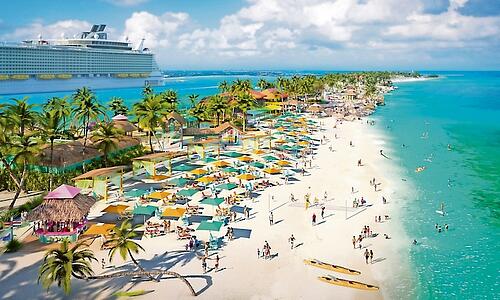 The Royal Beach Club will be able to accommodate around 3,500 passengers. Therefore, unlike Perfect Day at CocoCay, the Royal Beach Club will not be a complimentary island stop for all passengers. Instead, it can be expected that passengers will reserve the Royal Beach Club as a shore excursion for an additional fee.
There is no set opening date for the Royal Beach Club, but Royal Caribbean hopes to welcome the first guests sometime in 2023.
Perfect Day at Lelepa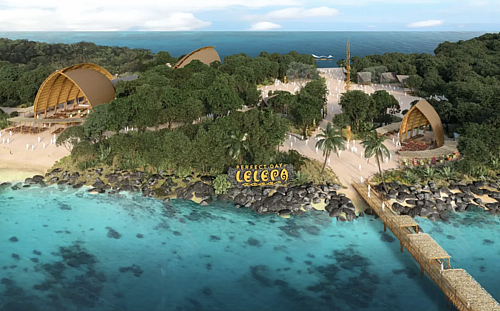 Despite delays due to the pandemic, construction is still underway for Royal Caribbean's newest private destination, Perfect Day at Lelepa. The private destination will be located in the South Pacific country of Vanuatu on the small, uninhabited island of Lelepa.
While Perfect Day at CocoCay features amenities like waterslides and a wave pool, Perfect Day at Lelepa will provide a more tranquil, traditional beach day for visitors. In addition, it will be the world's first private cruise destination to achieve carbon neutrality, and all energy consumed on the island will be generated from renewable resources.
Related: First look at Perfect Day at Lelepa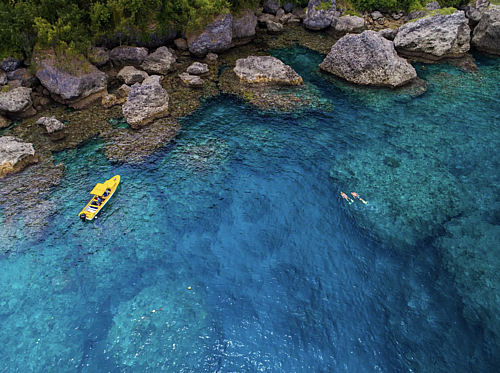 Royal Caribbean International President and CEO Michael Bayley explained how Perfect Day at Lelepa will focus on showcasing the island's natural beauty and diverse local culture.
"We believe our destinations should be sustainably designed. That idea goes beyond simply protecting the ecological features of Lelepa and includes showing respect for the people and traditions that make this a special place."
Perfect Day at Lelepa will handle fewer passengers than Perfect Day at CocoCay. Approximately 3 million passengers visit CocoCay each year, whereas Perfect Day at Lelepa is estimated to accommodate around 800,000 visitors per year.
There is no set opening date for Perfect Day at Lelepa, although it is expected to open within the next few years.
Panama canal cruises
In 2021, Royal Caribbean began sailing from the port of Los Angeles for the first time in over ten years, with Navigator of the Seas offering cruises to the Mexican Riviera.
Royal Caribbean continued to expand its itinerary options by announcing itineraries that depart from either Colón, Panama or Cartagena, Colombia. The sailings will be 6 or 7-nights on Rhapsody of the Seas between December 2023 and April 2024.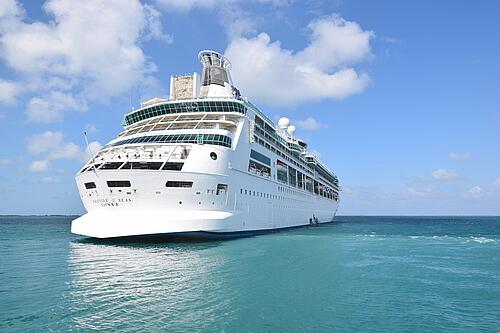 One of the biggest advantages of these sailings is the opportunity to traverse the Panama Canal, which had usually only been reserved for Royal Caribbean's longer repositioning cruises. Plus, the itineraries feature lesser-visited ports like Quepos and Puntarenas in Costa Rica and Cartagena in Colombia.
Royal Caribbean Blog is offering a Panama Canal group cruise from March 16-24, 2024 for those interested in sailing around the Southern Caribbean and Panama Canal.
Projects on hold or abandoned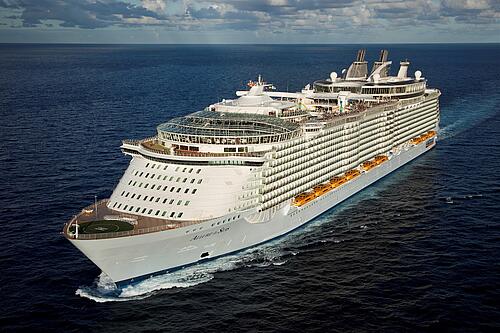 The public is at the mercy of Royal Caribbean to give updates on projects, or for there to be statements made as a matter of public record, to get a sense of any progress.
Many projects were announced before 2020 that are at best on hold, or perhaps even canceled. These are projects and ideas Royal Caribbean announced at one time, but there has not been an update in quite some time.
The Royal Amplified program, which upgrades Oasis, Freedom, and Voyager Class ships, has been on hold since the start of the pandemic. Ships like Allure of the Seas, which was due for amplification in 2020, do not have any enhancements scheduled.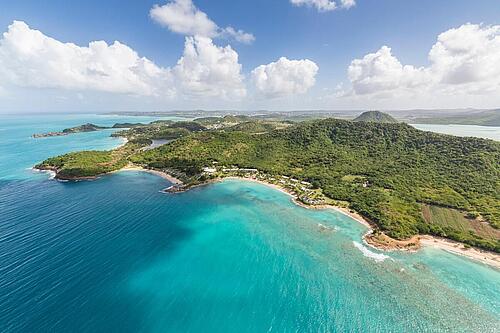 In addition, the Royal Beach Club in Antigua, which was originally supposed to be finished by 2021, appears to be on hold. While Royal Caribbean still plans to build a Royal Beach Club there, their priority is to finalize the Royal Beach Club in Nassau first.
Likewise, there have not been any new updates on a Perfect Day makeover for Labadee.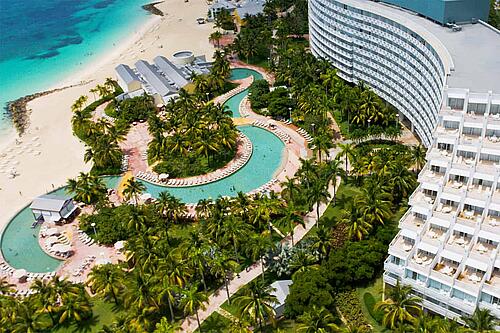 Lastly, while Royal Caribbean originally planned to purchase the Grand Lucayan Resort in Freeport, Bahamas, the sale was determined, as stated by Bahamian administration, to "not be in the best interest of the Bahamian people."
Related: Royal Caribbean's plan to buy Grand Lucayan resort in Freeport canceled
Royal Caribbean's Senior Vice President and Chief Product Innovation Officer Jay Schneider indicated in March 2022 that Royal Caribbean still has plans to continue with port development in Freeport.