In:
New cruise ships and destinations are coming to a Royal Caribbean cruise near you between now and 2025.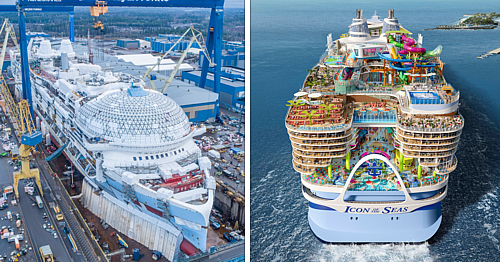 Change is continuous at Royal Caribbean, and the next few years are looking to be monumental for the cruise line, with brand new ships, private island expansions, and exciting itineraries.
From time to time, Royal Caribbean reveals its long term plans to give customers a glimpse of what is coming next. There are not usually a ton of details shared until Royal Caribbean is ready to pull back the curtain more, as the nature of cruise ship development is that some decisions are changed or purposefully left undecided until closer to launch.
Here is a project by project look at everything new and coming soon to Royal Caribbean.
Icon of the Seas
The next new cruise ship in Royal Caribbean's fleet will be Icon of the Seas, which is currently under construction at the Meyer Turku shipyard in Finland. Icon of the Seas will be a game changer for the cruise industry and will be the biggest cruise ship in the world when she launches.
Icon of the Seas will be the first ship in Royal Caribbean's Icon Class, and will be followed by two additional Icon Class ships. The ship will be powered by LNG (liquified natural gas) and include environmentally friendly applications that will reduce carbon footprint.
Related: Icon of the Seas: Itinerary, features, and more
The ship will be split into eight separate neighborhoods, each of which offers its own set of amenities, activities, and dining options:
AquaDome, an indoor AquaTheater in a multipurpose space with wraparound ocean views and dining venues
Central Park, an open-air park in the middle of the ship
Chill Island, the ship's pool deck, which features a swim-up bar, infinity edge pool, and an adults-only retreat named Cloud 17
Thrill Island, home to the Category 6 waterpark and other adrenaline-filled activities
Surfside, an outdoor neighborhood dedicated to young families, with a splash area, kid-friendly restaurants, a carousel, and an arcade
The Hideaway, a neighborhood with a beach club atmosphere in the ship's aft, which features a suspended infinity pool and bar
Suite Neighborhood, an exclusive suites-only area with a sun deck, Coastal Kitchen restaurant, and casual Mediterranean restaurant
Royal Promenade, an indoor thoroughfare with bars, lounges, dining venues, and shops 
The ship will have a maximum capacity of around 7,600 passengers and will be 250,800 gross tons in size. Icon of the Seas will be homeported in Miami with her first revenue sailing on January 27, 2024.
Utopia of the Seas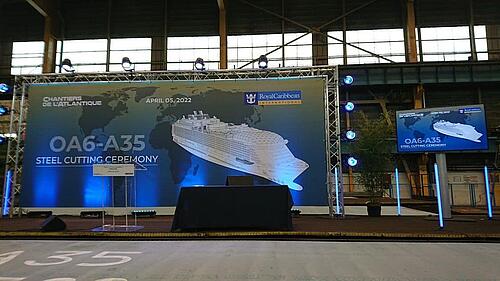 The sixth ship in Royal Caribbean's Oasis Class has begun construction and is expected to launch in 2024.
Like Icon of the Seas, Utopia of the Seas will be powered by LNG (liquefied natural gas), the first Oasis Class ship to do so. By using LNG power and the addition of further environmentally friendly applications onboard, Utopia of the Seas will reduce emissions and boost its energy efficiency.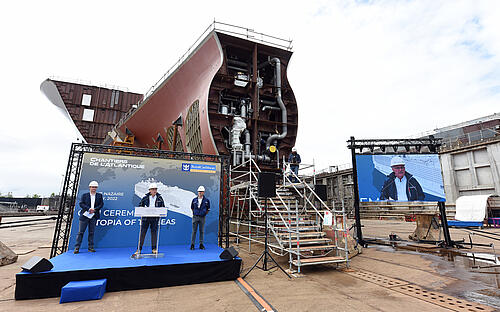 As Utopia of the Seas is an Oasis Class ship, she will likely share a similar layout to other Oasis Class ships, offering venues and amenities like the AquaTheater, Central Park, Ultimate Abyss, and more.
As Wonder of the Seas had quite a few differences compared to other Oasis Class ships, it's unclear yet whether Utopia of the Seas will share these same features.
Related: Wonder of the Seas vs other Oasis Class ships
More cruise ships
While Royal Caribbean currently has orders in place for three Icon Class cruise ships and Utopia of the Seas, the coming years may see more orders placed for new cruise ships.
At an event for the delivery of the new Celebrity Beyond, Royal Caribbean Group CEO Jason Liberty said the company is considering ordering new ships for its three brands: Royal Caribbean International, Celebrity Cruises, and Silversea.
No information has been shared on what these cruise ship orders will be, so it's unknown whether the additional cruise ship orders will be for additional ships in Royal Caribbean's existing ship classes or for a brand new ship class altogether.
The second Icon Class ship began construction in February 2023.
Hideaway Beach at Perfect Day at CocoCay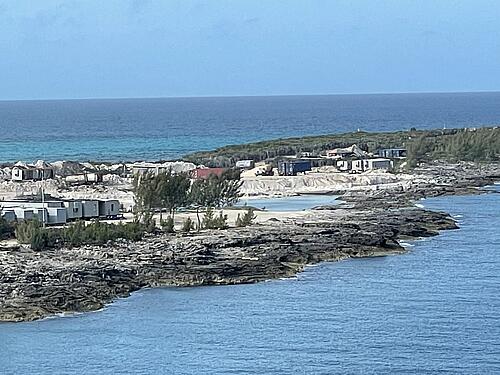 Hideaway Beach, an adults-only area of Perfect Day at CocoCay, is currently under construction and set to open in late 2023. The island's capacity is predicted to increase by 3,000 guests following the completion of Hideaway Beach.
Related: Guide to Hideaway Beach adults-only beach at CocoCay
The beach is located to the west of the island's pier, adjacent to CocoCay's Thrill Waterpark. The western side of the island is still undeveloped aside from storage and housing for some crew members, so this is the first project to expand Perfect Day at CocoCay on that side of the island.
Royal Beach Club
Royal Caribbean's Royal Beach Club will open in Nassau in 2025. This 17-acre club will feature a private beach atmosphere with cabanas, beach bars, a food hall, and several pools.
Island-style barbecues, live music, and local artisans will be found at the beach club as well. Activities at the club will include snorkeling, scuba diving, kayaking, parasailing, inflatable water slides, and more.
Related: Royal Caribbean beach club in Nassau will open in 2025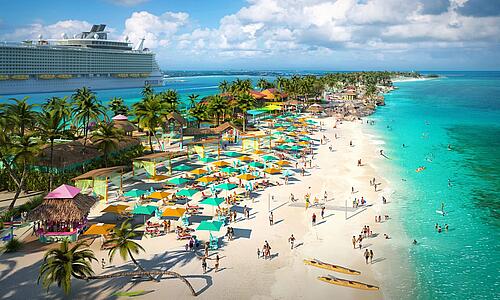 The Royal Beach Club will not be a complimentary island stop for all passengers like Perfect Day at CocoCay. Instead, it can be expected that passengers will reserve the Royal Beach Club as a shore excursion for an additional fee.
Perfect Day at Lelepa
Despite delays due to the pandemic, plans are still underway for Royal Caribbean's newest private destination, Perfect Day at Lelepa. The private destination will be located in the South Pacific country of Vanuatu on the small, uninhabited island of Lelepa.
While Perfect Day at CocoCay features amenities like waterslides and a wave pool, Perfect Day at Lelepa will provide a more tranquil, traditional beach day for visitors. In addition, it will be the world's first private cruise destination to achieve carbon neutrality, and all energy consumed on the island will be generated from renewable resources.
Related: First look at Perfect Day at Lelepa
Royal Caribbean International President and CEO Michael Bayley explained how Perfect Day at Lelepa will focus on showcasing the island's natural beauty and diverse local culture.
"We believe our destinations should be sustainably designed. That idea goes beyond simply protecting the ecological features of Lelepa and includes showing respect for the people and traditions that make this a special place."
Perfect Day at Lelepa will handle fewer passengers than Perfect Day at CocoCay. Approximately 3 million passengers visit CocoCay each year, whereas Perfect Day at Lelepa is estimated to accommodate around 800,000 visitors per year.
There is no set opening date for Perfect Day at Lelepa, although it is expected to open within the next few years.
Panama canal cruises
In 2021, Royal Caribbean began sailing from the port of Los Angeles for the first time in over ten years, with Navigator of the Seas offering cruises to the Mexican Riviera.
Royal Caribbean continued to expand its itinerary options by announcing itineraries that depart from either Colón, Panama or Cartagena, Colombia. The sailings will be 6 or 7-nights on Rhapsody of the Seas between December 2023 and April 2024.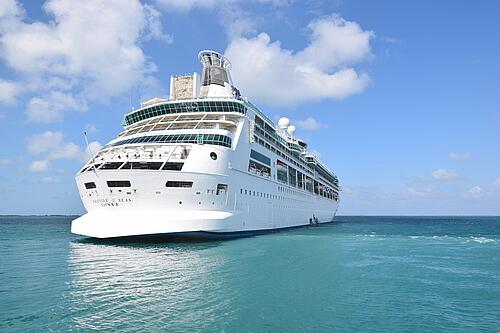 One of the biggest advantages of these sailings is the opportunity to traverse the Panama Canal, which had usually only been reserved for Royal Caribbean's longer repositioning cruises. Plus, the itineraries feature lesser-visited ports like Quepos and Puntarenas in Costa Rica and Cartagena in Colombia.
Royal Caribbean Blog is offering a Panama Canal group cruise from March 16-24, 2024 for those interested in sailing around the Southern Caribbean and Panama Canal.
Projects on hold or abandoned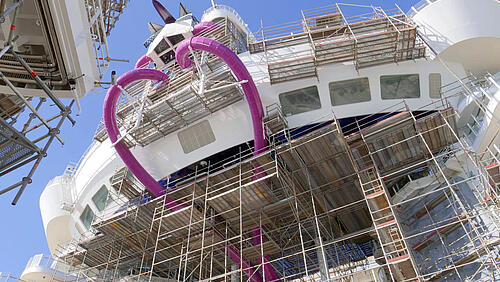 The public is at the mercy of Royal Caribbean to give updates on projects, or for there to be statements made as a matter of public record, to get a sense of any progress.
Many projects were announced before 2020 that are at best on hold, or perhaps even canceled. These are projects and ideas Royal Caribbean announced at one time, but there has not been an update in quite some time.
The Royal Amplified program, which upgrades Oasis, Freedom, and Voyager Class ships, has been on hold since the start of the pandemic. Ships like Allure of the Seas, which was due for amplification in 2020, do not have any enhancements scheduled.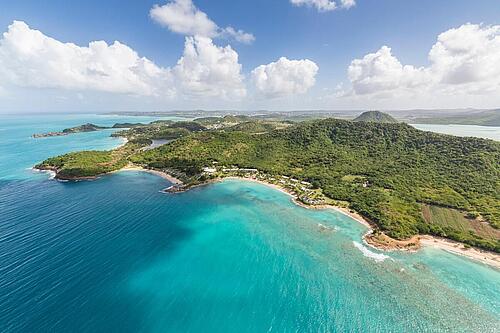 In addition, the Royal Beach Club in Antigua, which was originally supposed to be finished by 2021, appears to be on hold, and no information has been released about the project since 2020.
Likewise, there have not been any new updates on a Perfect Day makeover for Labadee.