In:
New cruise ships, new destinations and more are coming to a Royal Caribbean cruise near you between now and 2023.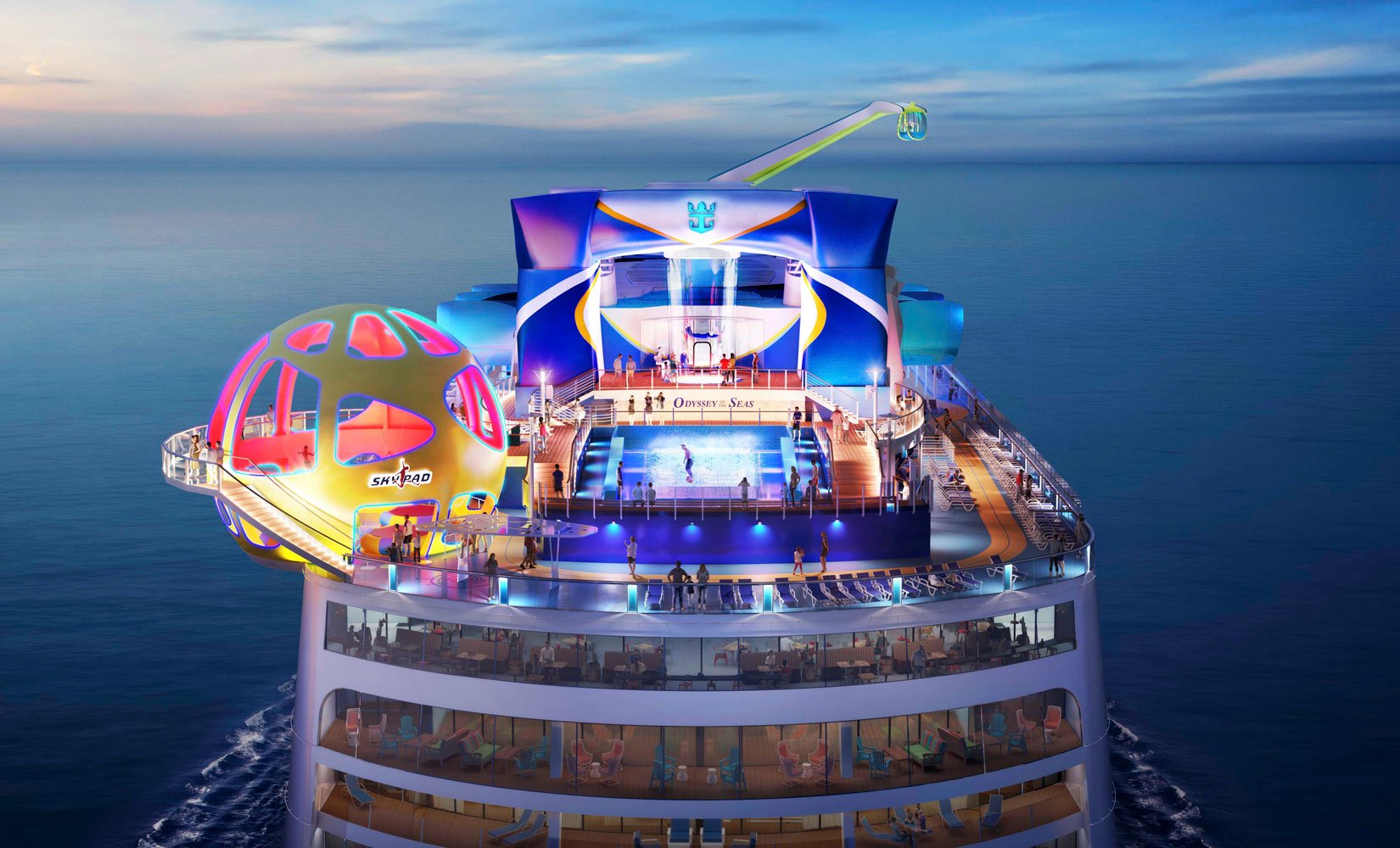 Change is continuous at Royal Caribbean, and despite the challenges the cruise industry has faced since 2020, expansion plans are still underway.  After all, cruise lines have to think long term in order to ensure their return to service is successful.  
From time to time, Royal Caribbean reveals its long term plans to give customers a glimpse of what is coming next. There is not usually a lot of details shared until Royal Caribbean is ready to pull back the curtain more, as well as because the nature of cruise ship development is some decisions are changed or purposefully left undecided until closer to launch.
Prior to the global health crisis, Royal Caribbean had orders placed for a number of new cruise ships, including a brand new class of ships, known as the Icon Class. They also had a host of port projects that were announced.  Unfortunately, the fact the cruise industry had to deal with billions in losses meant many plans had to be paused, delayed, or even cancelled.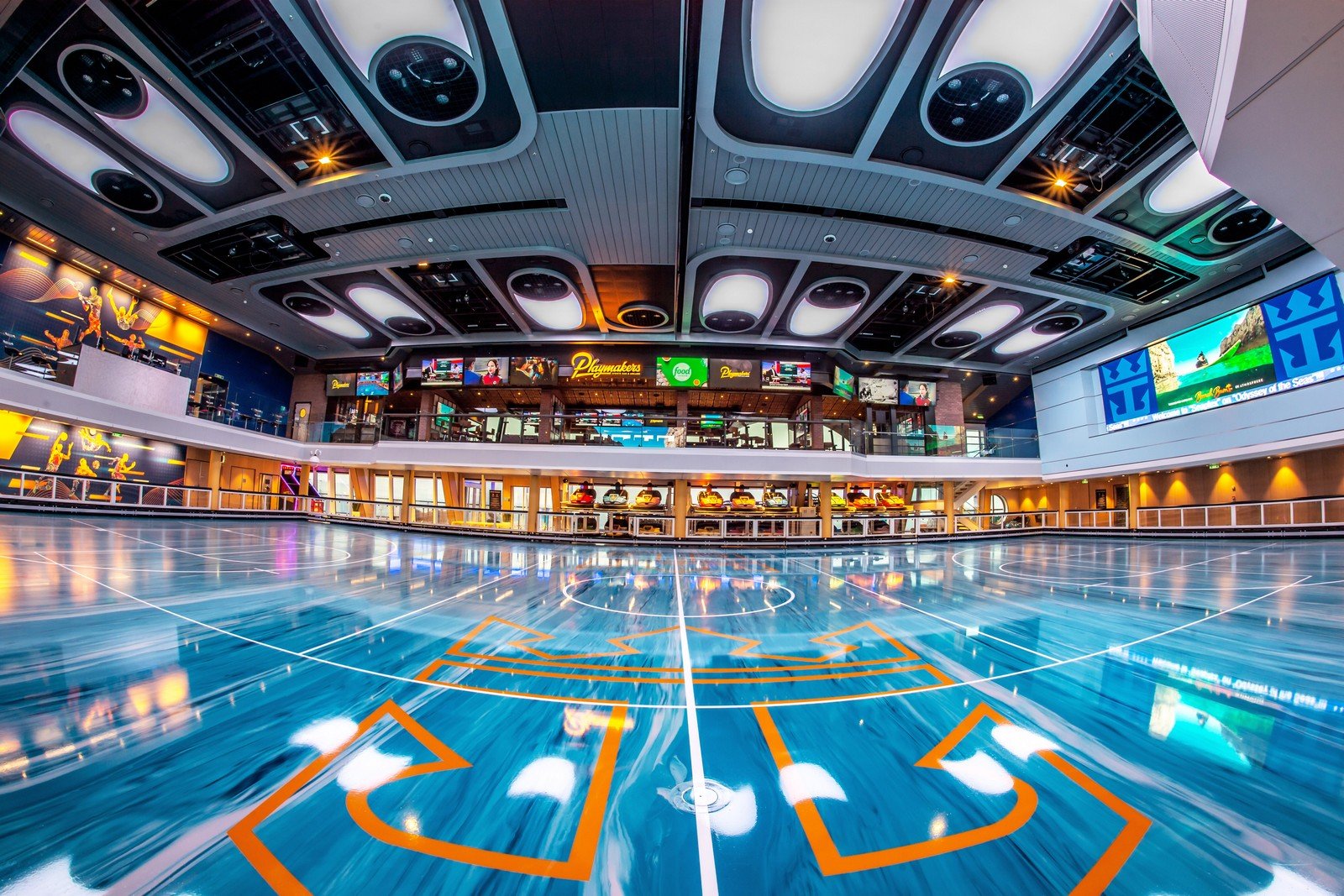 The good news is many projects are still moving forward, including all of the new ship construction plans on order. This means there is a lot of exciting things coming to a cruise port near you.
Here is a project by project look at everything new and coming soon to Royal Caribbean.
Odyssey of the Seas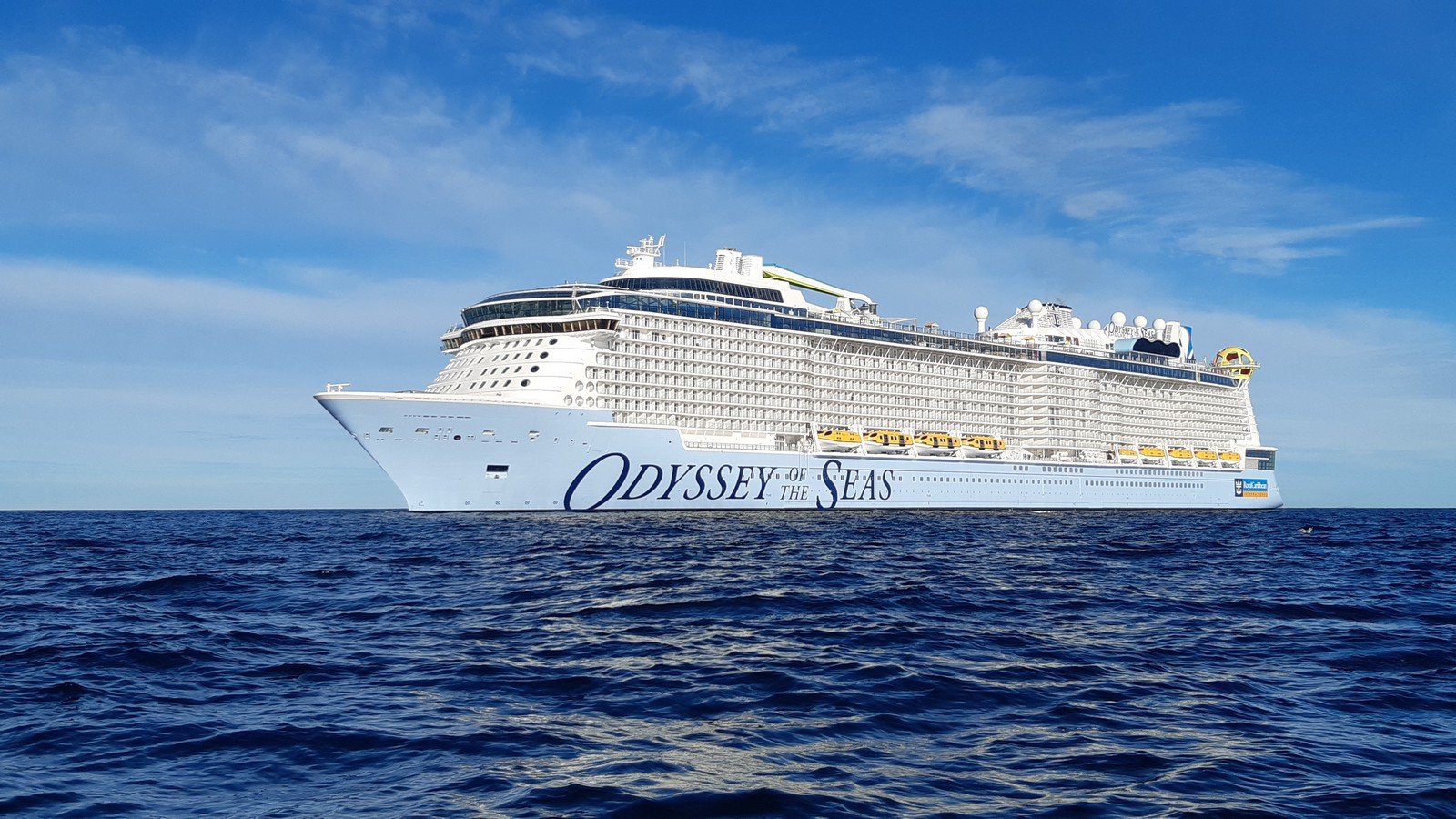 Royal Caribbean's newest cruise ship is complete and ready to begin cruises.
Odyssey of the Seas was delayed by a year (a common theme among anything Royal Caribbean had planned beyond 2019), but she is complete and now part of the fleet.
The 4,180-passenger vessel is a 16-deck-high, 1,138-foot-long ship, and is the second vessel in Royal Caribbean's Quantum Ultra Class of ships — stretched versions of three Quantum Class vessels that began debuting in 2014.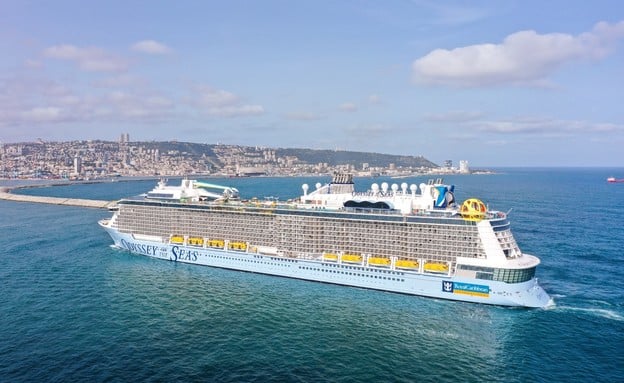 Odyssey packs a lot to do onboard, including multiple pools, aqua park for kids, surfing simulator, observation pod, and sky diving simulator.
There are even bumper cars you can ride, along with an array of complimentary and specialty restaurant options.
Odyssey of the Seas originally was scheduled to sail out out of Civitavecchia, Italy, but those plans were changed due to the global health crisis, the ship will be based out of Haifa, Israel and only open to Israeli residents.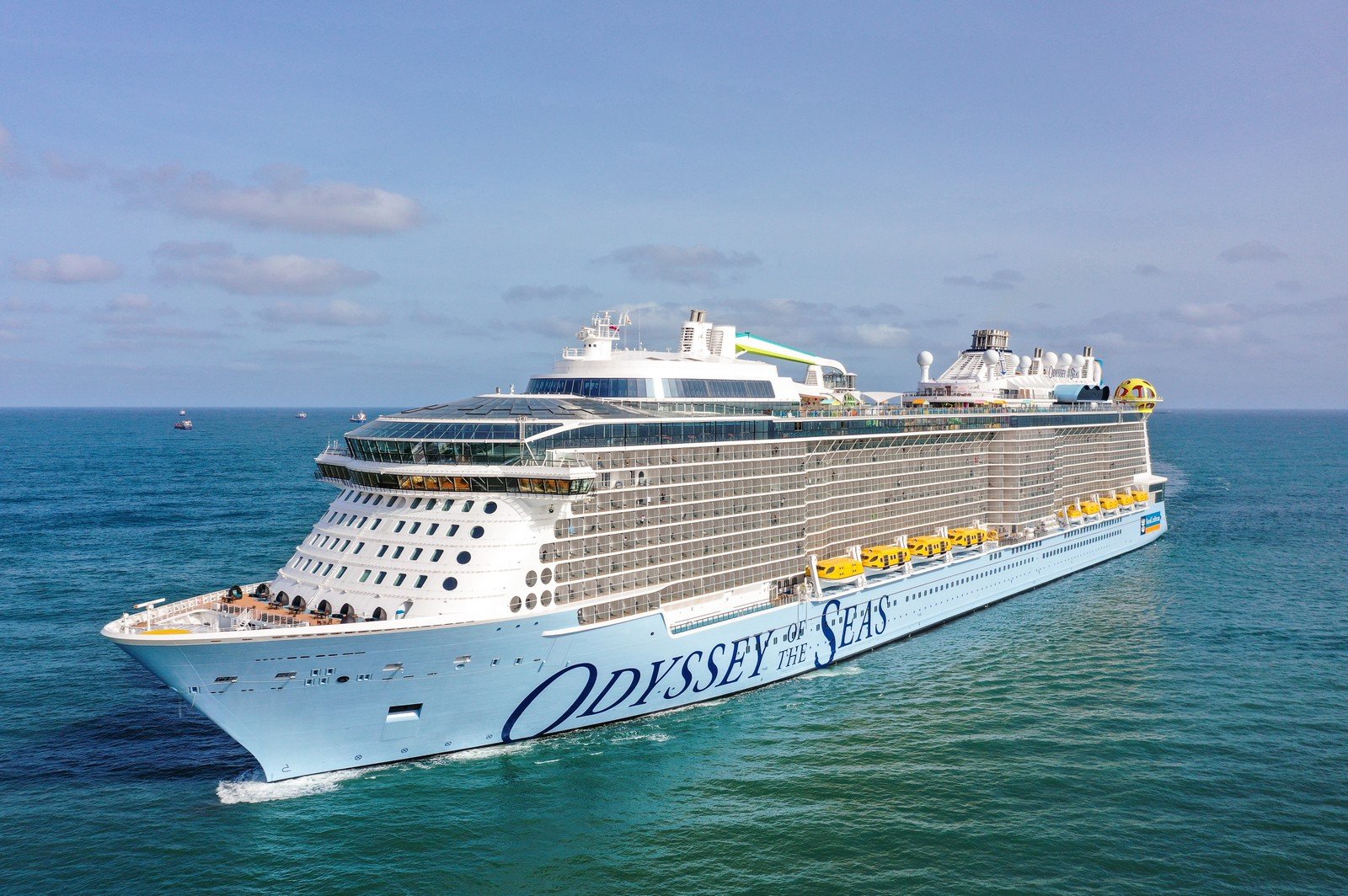 Her summer 2021 cruise season will be available exclusively to Israeli residents who are fully vaccinated.
After Odyssey of the Seas completes her summer season in Israel, she is scheduled to move to Fort Lauderdale, Florida in November 2021 to offer cruises to the Caribbean in the winter.
Wonder of the Seas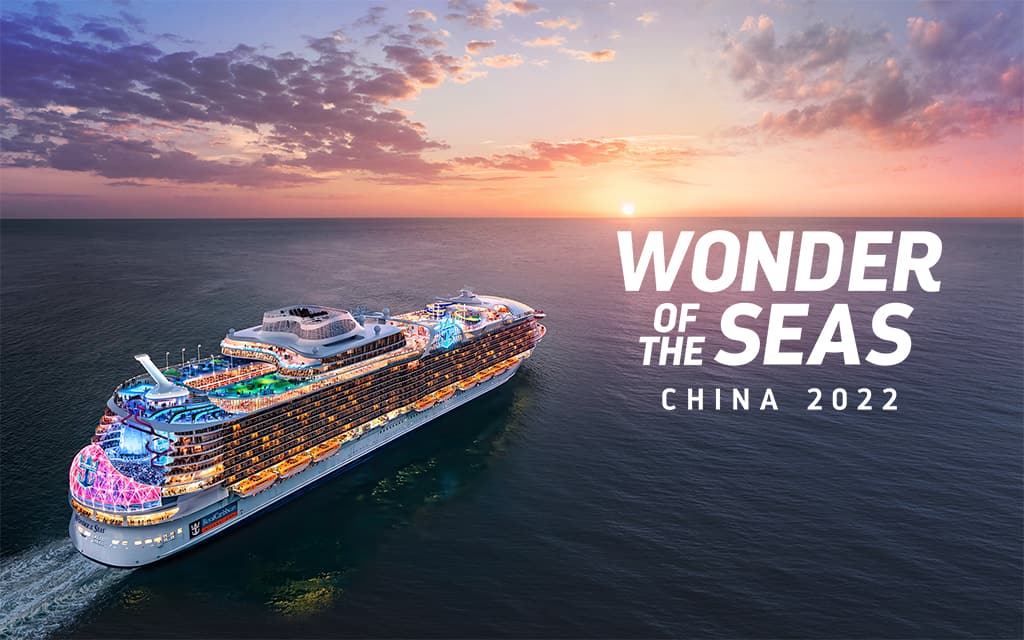 Delayed until 2022, Wonder of the Seas will be the fifth Oasis Class cruise ship in the fleet.
Her debut was pushed back from 2021 to 2022 due to the global health crisis. The impact of worldwide port and shipyard closures has created delays in the construction schedule and delivery of Wonder. 
Between March and November 2022, guests can sail roundtrip from Shanghai to Japan. Wonder will transition to warmer climates and homeport in Hong Kong, November 2022 through January 2023.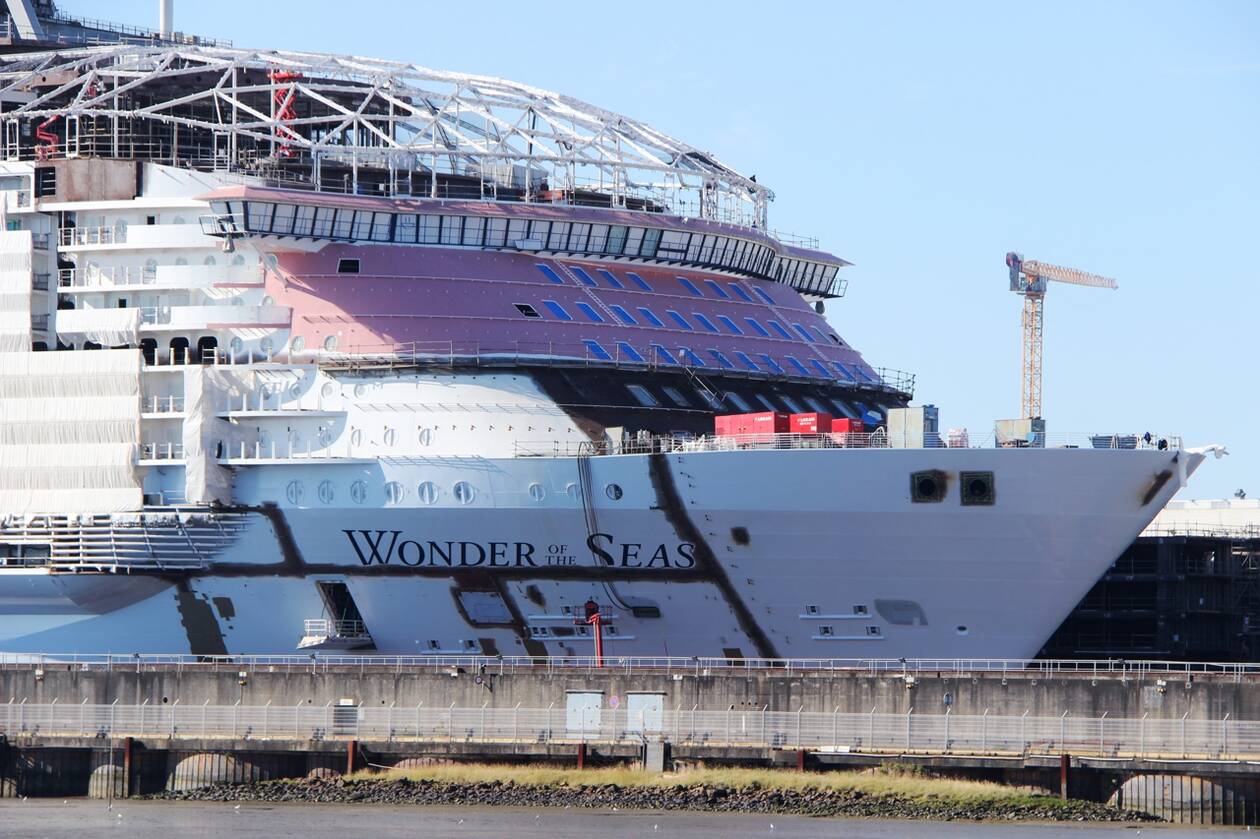 Wonder of the Seas will be the first Oasis Class cruise ship to sail from Asia.
With a gross tonnage of 236,857, the ship is 362 meters long and 64 meters wide, and it features a total of 18 decks and 2,867 staterooms to accommodate up to 6,988 guests. 
Wonder will be the first of its kind to be designed with eight neighborhoods, introducing the new Suite Neighborhood alongside returning favorites Central Park, the open-air AquaTheater, sporting a new look and where jaw-dropping, high-diving acrobatic and aquatic performances take place; Ultimate Abyss, the tallest slide at sea; and a 25-meter zip line 10 decks above the Boardwalk neighborhood.
Galveston cruise terminal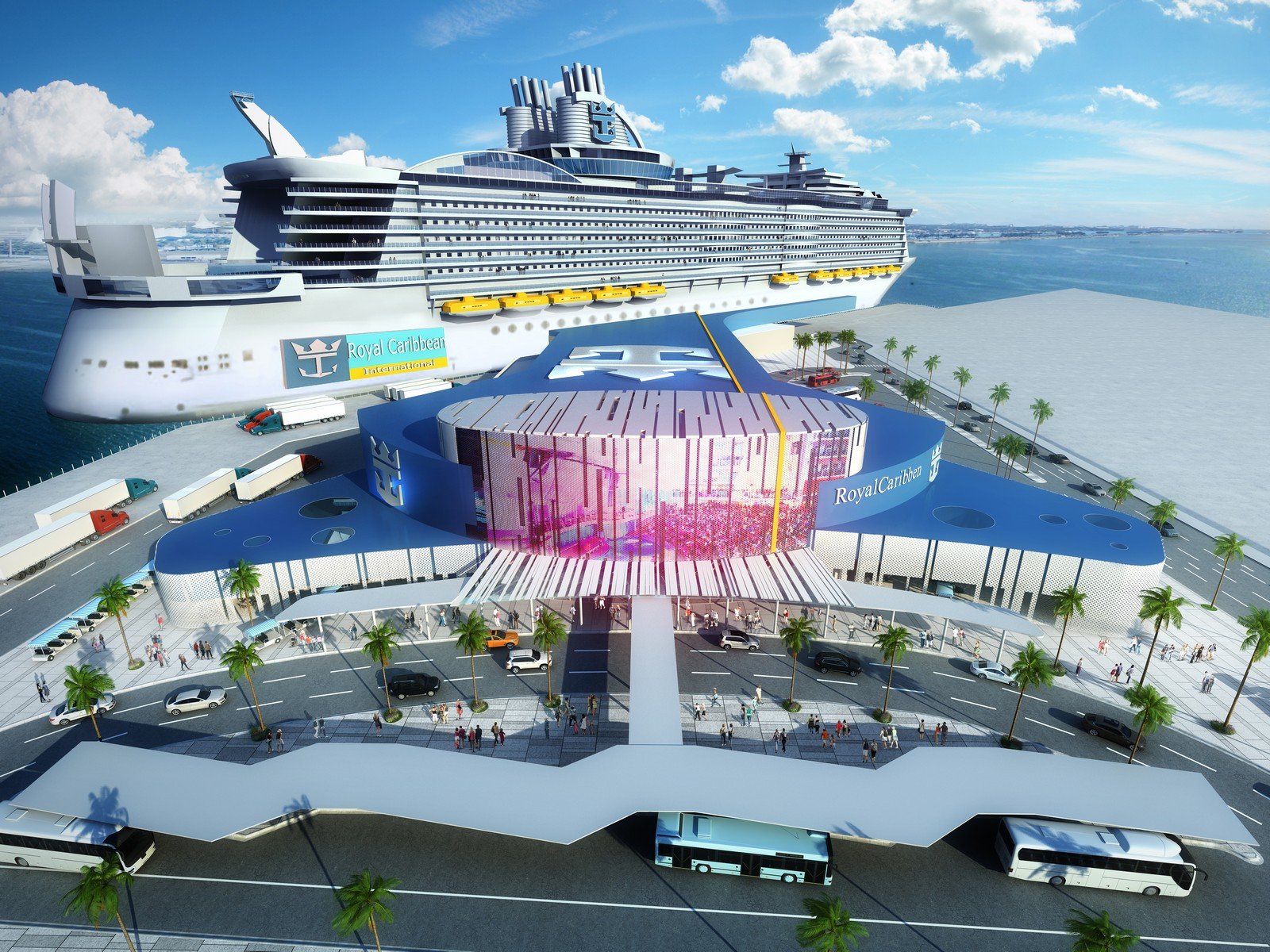 Construction began in April on a new cruise terminal in Galveston, Texas.
Cruise Terminal 3 is scheduled to open in October 2022, although there is an option for it to slip to early 2023 if the cruise industry remains shutdown longer than expected.
The new Terminal 3 in Galveston will be built on 10 acres of land at Pier 10, and will be used exclusively by Royal Caribbean. It will be large enough to handle an Oasis or Icon Class ship.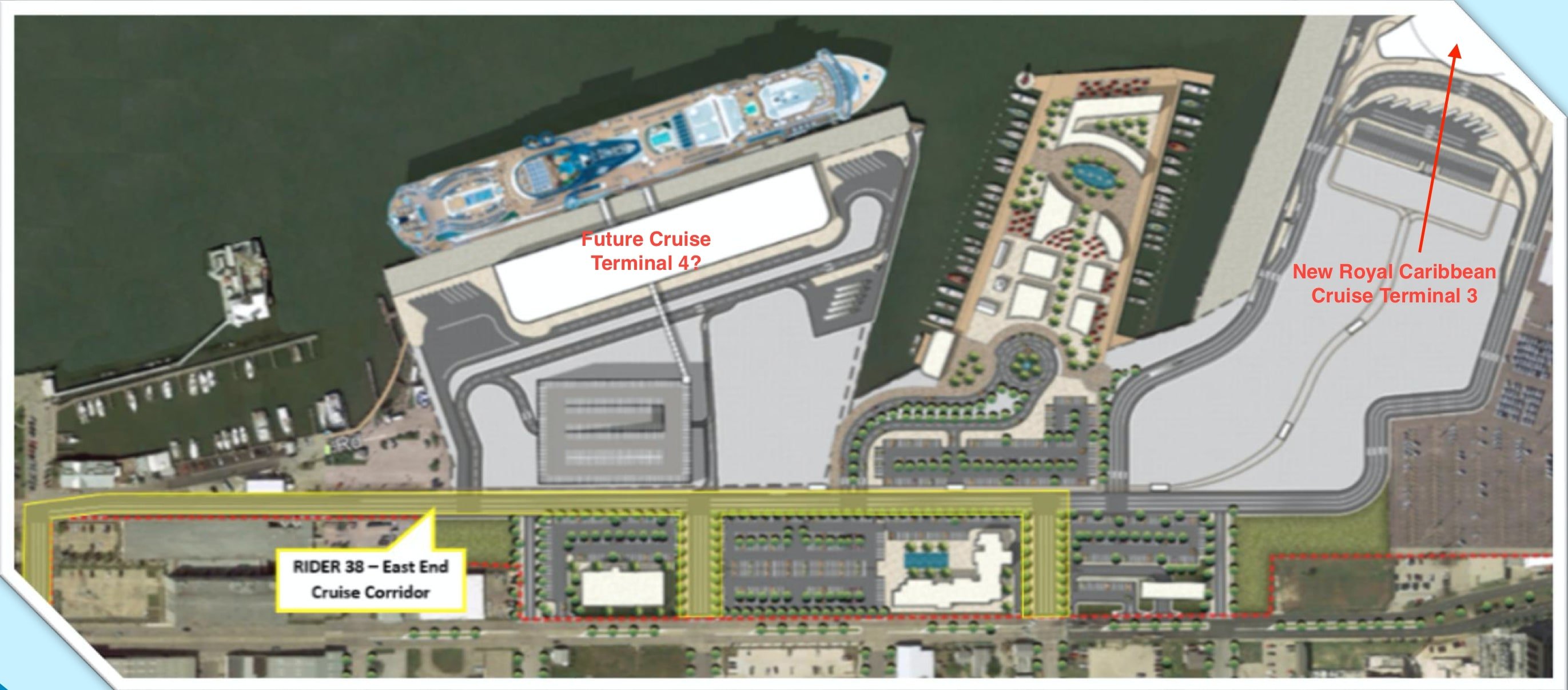 When the terminal does open, Allure of the Seas will begin offering cruises in November 2022.
The facility will feature state-of-the-art technology, including mobile check-in and facial recognition to expedite guest arrival. The terminal will be designed and developed sustainably to meet LEED (Leadership in Energy and Environmental) certification standards.
Freeport port project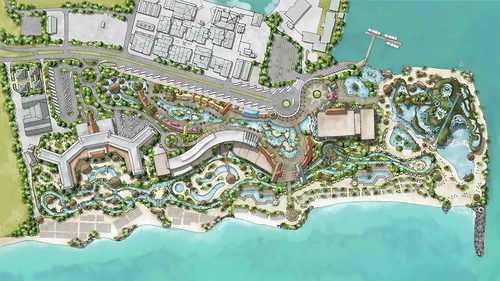 Another major port project that is still moving forward based on local reports is the purchase of the Grand Lucayan resort in Freeport, Bahamas.
Negotiations have been ongoing for months, but the agreement seems to be in place for Royal Caribbean and ITM Group to purchase the hotel, along with the surrounding area near the port to build a new port project.
Prior to the cruise industry shutting down in March 2020, Royal Caribbean announced it would revitalize and expand the Grand Lucayan resort so that it could be transformed into Harbour Village.
It is unclear if or how those plans have changed under the new deal apparently struck to purchase the resort, but the original plans called for a a world-class beachfront destination.
Two phases of the project were announced that focused on the Grand Lucayan resort first, and then the surrounding area after.
Phase One of the Lucaya Property will consist of a beachfront destination – including a 526 room hotel, shopping village, spa and wellness center, water based family entertainment (including water and adventure theme park), a 40,000-square-foot convention center, adventure activities (such as zip lines and off-roading), restaurants and bars, entertainment and nightlife.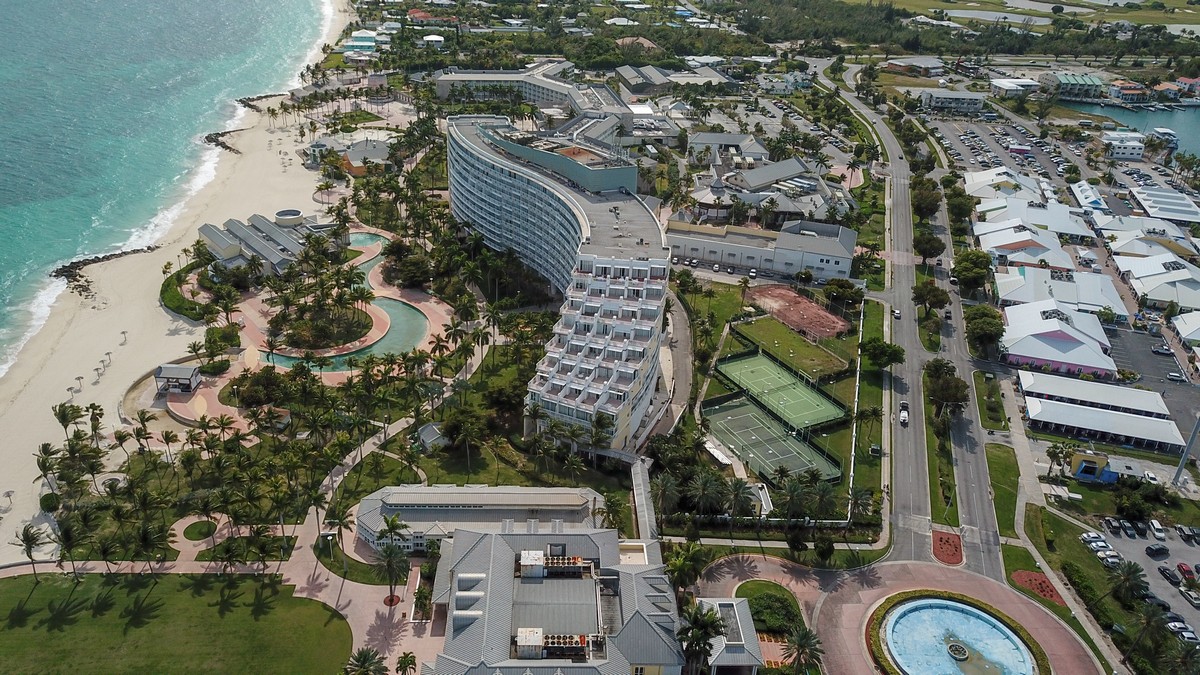 Phase Two – Harbour Village – will be at the cruise terminal in Freeport Harbor. The expected enhancements will allow visitors to enjoy numerous spaces with multiple shopping and dining venues, beach areas, shore excursions and more.
Additional plans for Freeport included a new transportation hub providing infrastructure for water ferries and ground transportation, including buses, vans, and jeeps. Holistica Destinations will partner with local business owners and entrepreneurs providing opportunities for guests to experience additional shore excursions in Grand Bahama.
First Icon class ship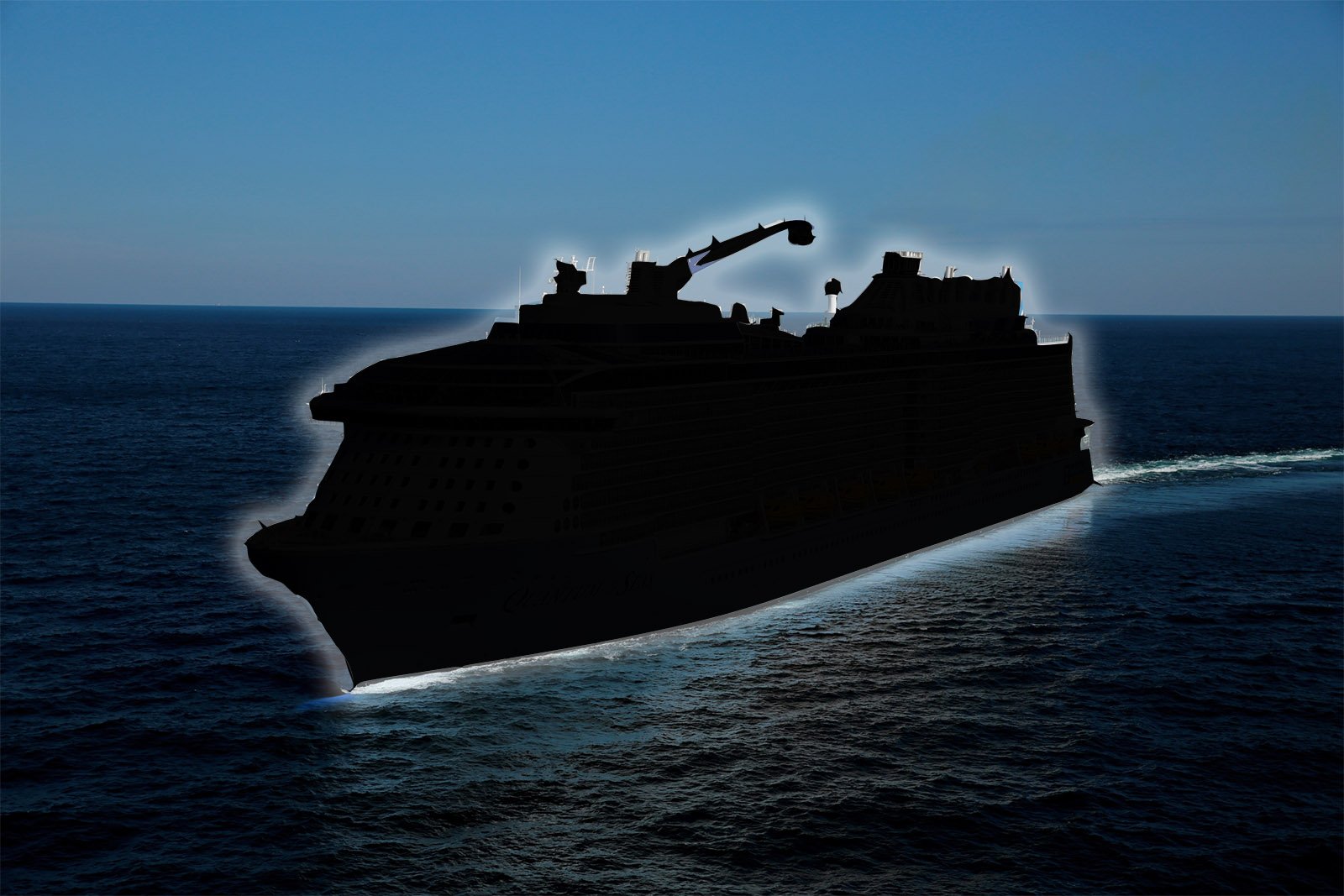 Royal Caribbean has plans to introduce a brand new class of cruise ships with the Icon class.
There are not many details publicly available, but we do know some basic information, which has been hinted as a "game changer" by Royal Caribbean International President and CEO Michael Bayley.
Based on filings with the U.S. Securities and Exchange Commission, we know the first Icon class ship is scheduled for delivery in the third quarter of 2023.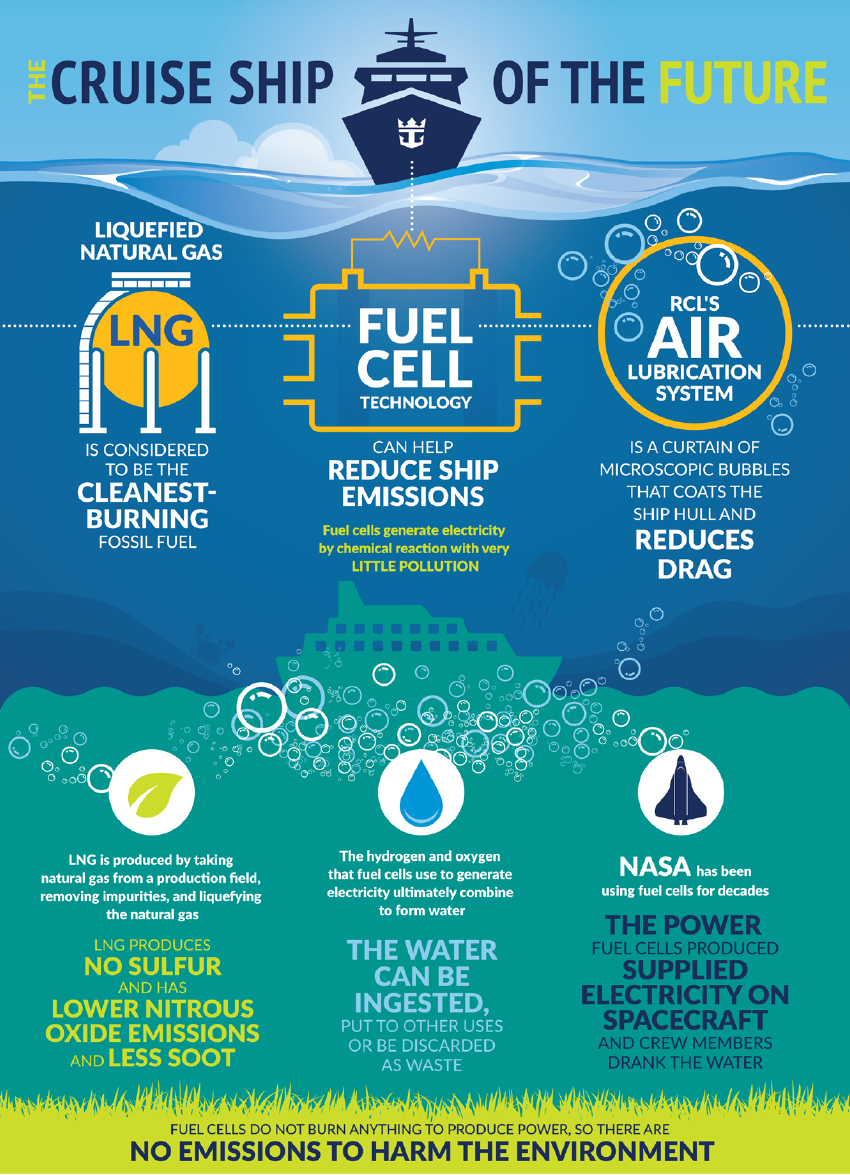 The ship will be built in Finland (Meyer Turku shipyard). Each ship will be powered by a combination of liquefied natural gas (LNG) and fuel cell technology.
At 200,000 tons, the as-yet-unnamed vessels will be bigger than Royal Caribbean's Quantum class ships but not as big as the Oasis class ships.
Royal Caribbean has not announced a name or a design, but they did trademark the name Icon of the Seas.
Bahamas beach club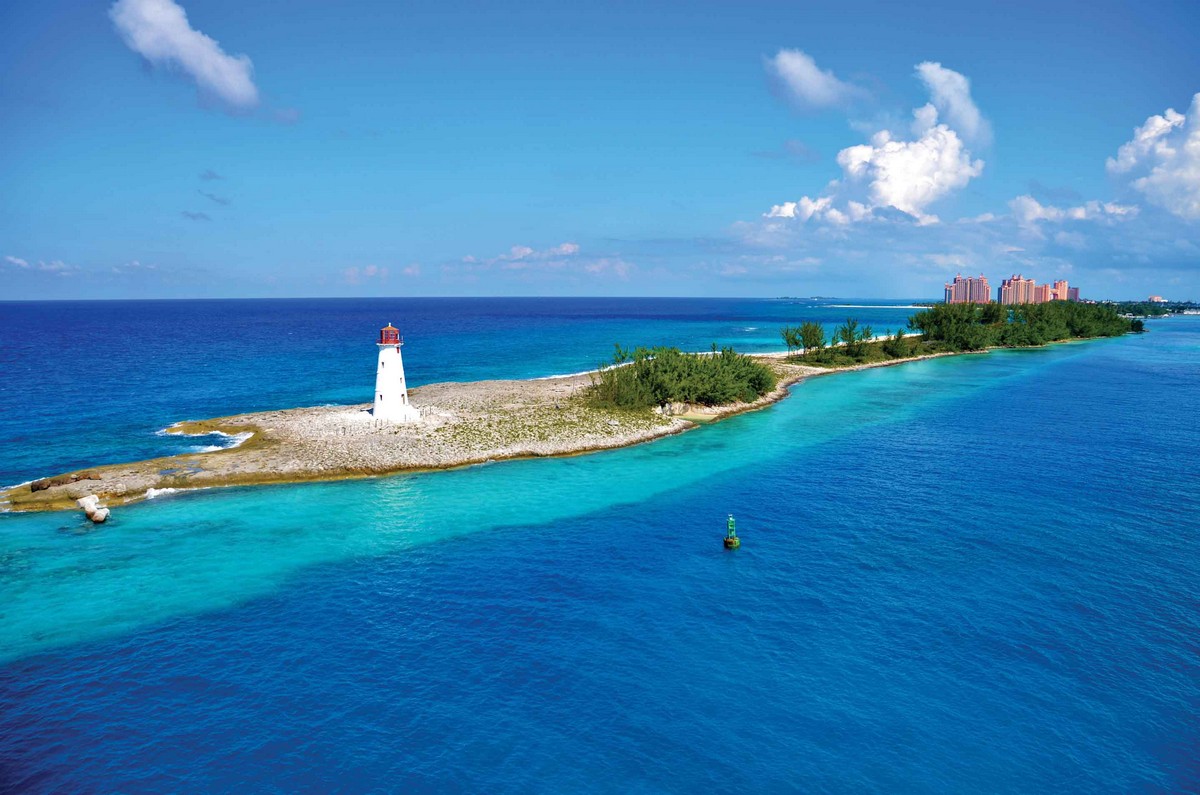 Another project announced before the cruise industry shutdown is a new Beach Club in Nassau, Bahamas.
Royal Caribbean first announced intentions to build a private shore excursion option in Nassau in March 2020, but has provided no official updates then.
What we do know is the beach club will be built at the western end of Paradise Island, and would be cruise line guests.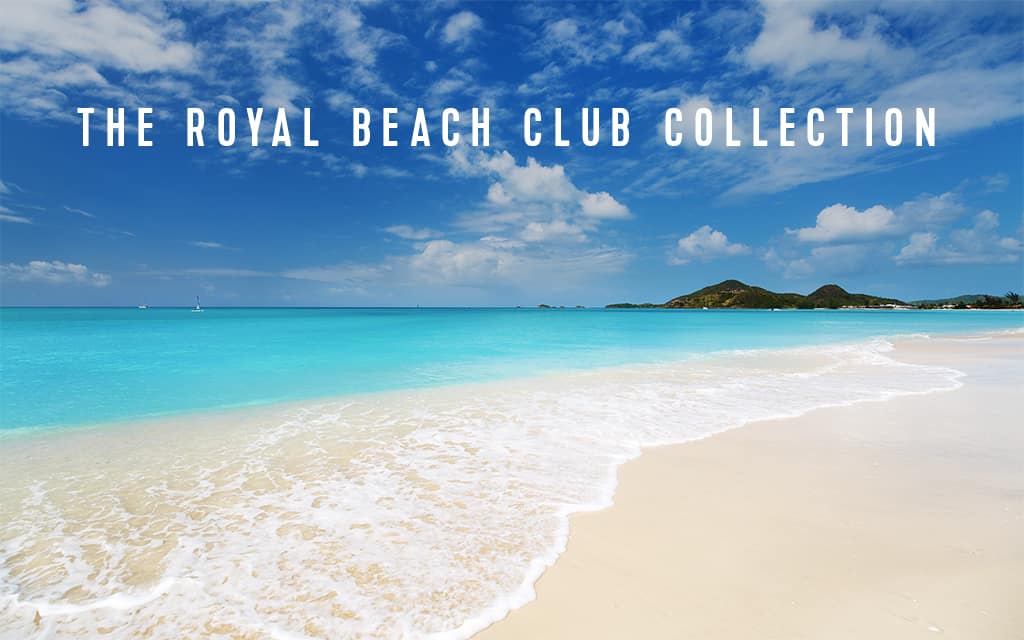 Since then, there has been paperwork filed with the Bahamas and statements to Bahamian officials that seem to indicate the project is still a go, with a final deal to secure the land the next step.
Permits filed with the Bahamas indicate the club could feature dining pavilions, a 26,000 square foot pool, 4,000 square foot "splash pad" for children, 14 beach bars, restrooms and cabanas.
Projects on hold or abandoned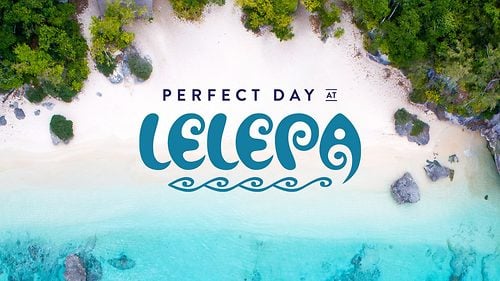 The public is at the mercy of Royal Caribbean to give updates on projects, or for there to be statements made as a matter of public record, to get a sense of any progress.
Many projects were announced before 2020 that are at best on hold, or perhaps even cancelled. 
These are projects and ideas Royal Caribbean announced at one time, but there has not been an update in quite some time.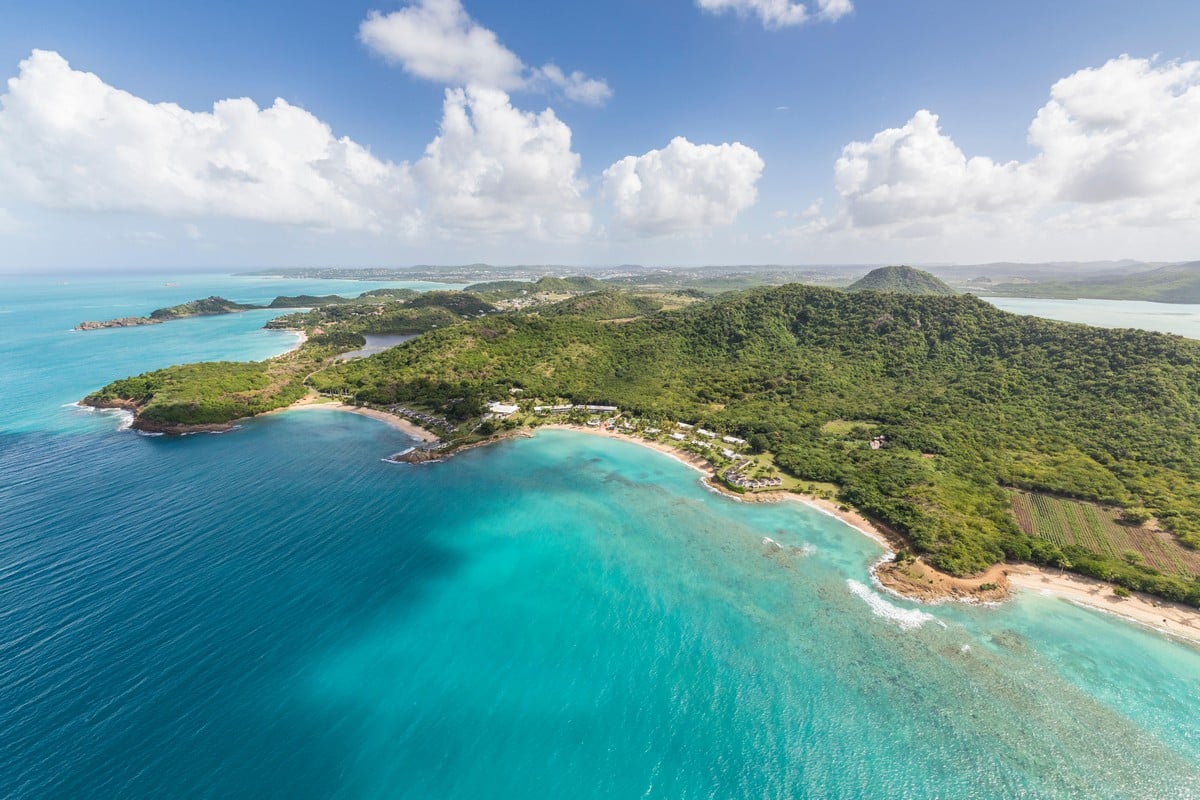 Since there has not been any statements or updates for quite some time, I have to assume these are on hold until we get an update.
Perfect Day at Lelepa: Private island in the South Pacific
Royal Beach Club in Antigua
Royal Amplified program: Ship upgrades to Oasis, Freedom, and Voyager class ships.  On hold until further notice
Perfect Day makeover for Labadee