In:
Everyone likes easy ways to improve their cruise ship vacation, and Royal Caribbean just asked its fans for their best suggestions.
Royal Caribbean asked on its Facebook page for the best Royal Caribbean cruise tips, and it generated a lot of suggestions.
Whether it's your first cruise or you're a seasoned pro, tips and hacks that can help make the most of someone's cruise is always welcome. You never want to walk off of a ship and realize that you missed out on something. 
To kick off the discussion, Royal Caribbean shared one of our favorite tips: Johnny Rockets is open for breakfast on Oasis Class ships only and it's free! 
The post generated over 250 comments, and here's the best of the suggestions made by cruise fans.
1. Planning Ahead
The great thing about cruising is that you can get most, if not all, of your planning out of the way before ever stepping onboard. 
Robert Hildebrandt knows how to maximize time on your cruise vacation: planning ahead. By pre-booking as much as you can, including dining, excursions, drink packages, activities and more, you can board your cruise ready to enjoy the ship and just relax. 
2. To-Go Orders
Have you ever tried to book a specialty dining restaurant, but there weren't any seatings available that fit your agenda?
Rebecca JoAnne has found a great hack to still be able to enjoy your favorite dishes, by ordering your food to go.
Utilizing this hack, she has enjoyed eating Izumi on her balcony several times. 
3. Avoid the crowds
There is nothing worse than having your plate full of food and searching for an empty table in the Windjammer during breakfast. So what do you do when you want to enjoy a buffet breakfast but without the crowds?
Brian Carty recommends heading to the Solarium Bistro if you're sailing on Oasis and Quantum class ships.
Here they serve a smaller version of the Windjammer breakfast buffet, with a laid-back vibe.
4. Don't fly the same day as your cruise departs
Now this may not be a secret, but not flying the same day of your cruise is one of the most important things you can do for any cruise.
Cassie Stapleton put it best, if you're flying to your cruise, always plan to arrive the day before. You never know when a delay may happen, and you don't want to miss your cruise because of one. 
5. Hold onto your belongings
When sailing through the ocean, you can expect to experience some wind. What many people don't realize is how strong that wind can be, taking their towels and belonging off of their chairs.
Chelsea Rushton Fitchett advises future cruisers to bring towel clips or bands for those windy sea days so your towel stays put on your chair. 
6. Finding a quiet place
There is nothing better than experiencing the fresh air while sailing. However, it can be hard to find a peaceful place onboard to do so, with all of the different activities going on.
Johnna Stanton knows the perfect spot to go when onboard Freedom and Voyager class ships is the outside promenade deck to not only enjoy the view, but also get away from the noise on the other decks. 
7. First day lunch 
The Windjammer is known for being a hotspot on the first day for lunch. Majority of the cruisers will head straight there after boarding to get their first fix of food.
However Eric Lynn knows that when they bob, you weave - and suggests heading over to Park Cafe instead if sailing on an Oasis Class ship. Not only do they serve great lunch options in Central Park, it is also much less crowded than the Windjammer. 
8. Check-in
When it's time to get on your cruise, you don't want to have to wait any longer than you have to. With Royal Caribbean's check-in process, you have to choose a check-in window for boarding.
Shelley Clifford suggests checking in as soon as it opens to ensure that you can get the earliest boarding time and start enjoying your vacation sooner. 
9. Keeping track of your SeaPass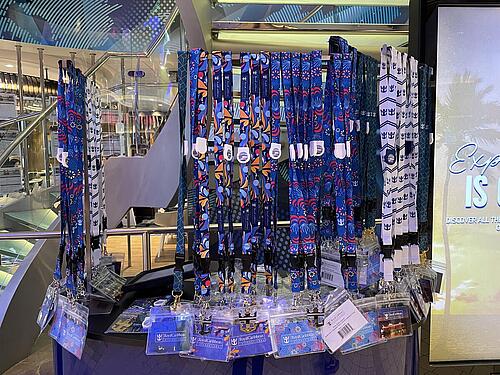 When you're onboard, your SeaPass card is your lifeline. You use it to get beverages, open your cabin, embark and disembark the ship, and more. This is one thing you do not want to lose.
Kassandra W. advises that cruisers get a lanyard and pouch prior to their cruise to hold their SeaPass card. She says not only will it help keep you from misplacing it, but it will handy when you need to use it.
10. Utilize all of your cabin space
We all know that cabin space is limited, and you don't want to give up precious closet space to hold your suitcases.
Diana Baker let's newer cruisers in on a hack: store your suitcase under your bed.
Not only does this keep it out of the way and free up cabin space, but you can also pull it out to use as a hamper for dirty clothes.
11. Keep the air conditioning running in your cabin
Some ships have a card slot to activate your ship cabin's air conditioning, but it doesn't need to use just your SeaPass card.
Tom Hinrichs suggested using any kind of gift card works in the slot to keep your room cooled while you're away.
12. Treat the crew members
Crew members are so helpful and important on a cruise, especially your cabin attendant.
Cathy Pye Barrett brings small gift bags on the ship and each day of her cruise, she drops a few goodies in one for her room attendant.
On the last day, she puts cash in one.
Michelle Taylor echoed Cathy's suggestion, "Tipping the hard working staff is important to us. A little bit goes a long way. It makes me appreciate others so much more."
13. Laundry bag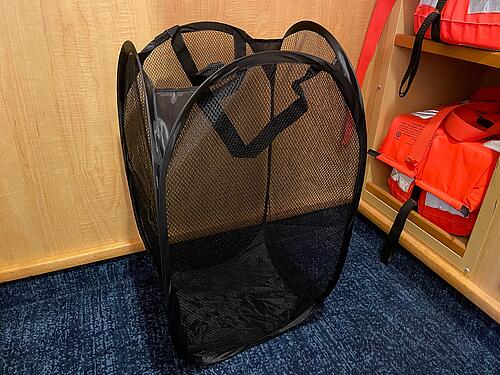 Dirty clothes pile up quickly on a cruise.
Sandy Volandt brings a laundry bag to place our dirty clothes in. This is similar to our cruise cabin hack of bringing a laundry hamper.
14. Pack a highlighter
A tried-and-true cruise tip is to bring a highlighter with you on your cruise.
Teresa Moretti suggested to bring a highlighter to mark all the things you can do in the Cruise Compass.
15. Take photos of crew member name tags
The post-cruise survey is so important for Royal Caribbean and the crew members. 
Among other things, the survey helps recognize crew members that stand out, but it's up to the guest to remember and note the guest's name.
Angie Coard takes a photo of name tags of the crew that she wants to acknowledge in the post-cruise survey, "It helps them out a lot when they are praised by the guests and they all work so hard!"
More cruise advice