In:
When Royal Caribbean's Icon of the Seas launches in early 2024, you're going to see a new look to its Royal Promenade that is filled with entertainment, places to chill, and lots to do all around.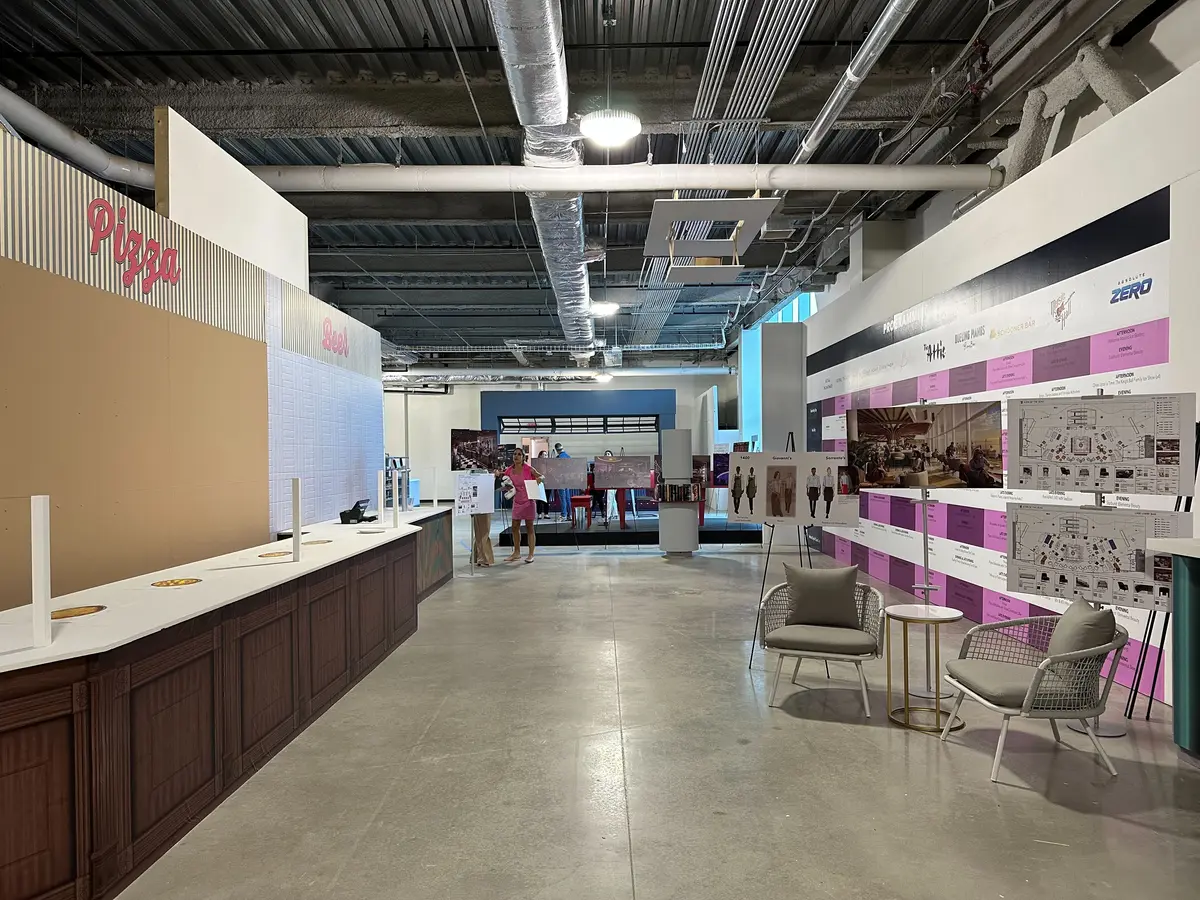 Every new Royal Caribbean cruise ship since 2004 have had a Royal Promenade as the main thoroughfare and entryway onto the ship.
With Icon of the Seas, that tradition continues, but the cruise line has grandiose plans to evolve the concept and make it a destination.
It will have full glass views of the ocean for the first time ever in this space, and a host of new venues.
I was invited to come to Royal Caribbean's Miami headquarters to walk through their Innovation Lab and see how cruise line executives are previewing the venues on the Royal Promenade of Icon of the Seas.
Construction is still taking place around Icon of the Seas as it undergoes her second set of sea trials, but mocking things up is actually one of the best ways Royal Caribbean has found to get things right when the ship is ready.
The Innovation Lab is a place where Royal Caribbean constructs life-size replicas of structures, signage, and mock-ups to get a better sense of what their plans on paper will actually look like once built.
The team wanted to answer questions related to what does the Royal Promenade feel like, and how does it operate.
I was walked through the area by Royal Caribbean's Senior Vice President and Chief Product Innovation Officer Jay Schneider, who explained what anyone sailing on Icon of the Seas can expect when they get onboard.
"We do research early on, we brief everybody on what we want based on that research. But having it come to life isn't just a picture on a screen. It's also how are you actually going to experience this product? And those are a lot of the debates we have at this stage."
The hard work to get the Royal Promenade right is already paying off with early walkthroughs of the ship from the shipyard.
Mr. Schneider said this version of the Promenade has "seamless connectivity" to make it easier to get around. This means you can easily get between deck five and deck six, or head up stairs to Central Park on deck eight. Plus, there's an escalator from the Promenade to get you down to the casino and gangway on port days.
The Pearl
As guests walk aboard Icon of the Seas, they'll first be drawn to The Pearl, which Royal Caribbean calls an "arrival moment".
Mr. Schneider says the Pearl encompasses four things, "A gorgeous way to introduce the ship as you walk into it; It's an engineering marvel; It creates gorgeous views and it has an experiential moment inside of it that's different for everyone."
In short, it creates a visual and sense of awe that Royal Caribbean wants to give guests as they first walk in.
But what we didn't know is there's an unique space behind The Pearl that Royal Caribbean has developed.
"Behind the Pearl will be what we're calling kind of a service lounge experience, as well as gorgeous lounge space."
Mr. Schneider said they are still tinkering with exactly how this space will look and act, but it will blend both "high touch services" along with a lounge feel.
Previous renders of this area had multifunctional kiosks, but that idea has been scrapped. Instead, it will be a lounge.
Pearl Cafe
Something else that is new to this area is the giant whale sculpture that will be above Pearl Cafe.
Pearl Cafe is the evolution of the Cafe Promenade concept, that has complimentary casual bistro cafe experience with elevated bistro food.
There will be some extra-cost options in addition to the food included. As an example, there will be Starbucks brewed beverages that you can order, but are also covered by a Royal Caribbean drink package or Diamond drink voucher.
There will be the traditional coffee, water and juice beverage station that is complimentary, along with grab and go food.
"We're tinkering with grab and go, which has come through in our research really strong that our guests are looking for," Mr. Schneider explained.
"It's been one of the core complementary strategies for Icon is more grab and go."
"The idea of more casual access grab and go for guests was something that came through in the creation of Icon's research. And so you'll see, grab and go, you'll see complimentary sandwiches, and then you'll see some us tinkering with some for pay, like elevated dessert options that we think will resonate with people because they actually sell very well elsewhere on the fleet."
Royal Caribbean isn't sure what the food will be, but the ideas is to make it easier to grab something quick that isn't a slice of pizza, or require a trip up the Windjammer.
"They want quick, easy, grab and go options, and we don't have a lot of really quick, easy grab and go options that don't include a Windjammer plate. And so this is in response to that."
1400 Lobby Bar
When you walk onto Icon of the Seas, you'll pass through the 1400 Lobby Bar, which is a brand new concept for the cruise line.
"We internally think this is going to be probably the most home run of a bar that we have," Mr. Schneider said.
He believes it's location at the entrance when you walk in positions it such that it sets the stage for The Pearl, is adjacent to the escalators going down to the casino, and is at the heart of the ship.
The team thinks the 1400 bar will be a gathering place that has very comfortable chairs and provides a relaxed, indoor environment without music playing, "it's really meant to be that you can have a conversation... We're not trying to shout over music somewhere."
Dueling Pianos
A brand new venue for any Royal Caribbean cruise ship is a Dueling Pianos bar.
Located on deck six, this bar features Royal Caribbean's first double-pianist bar where the two performers take requests and involve guests in the musical fun.
There will be two 90-minute shows per night, and the entertainment team is still working out what else will happen here during the rest of the day.
The location of Dueling Pianos right next to The Attic comedy club on the Royal Promenade is deliberately to bring more entertainment and more energy into to Royal Promenade.
Nearly all of the venues (except The Attic) are fully open, so music can be heard from all over the Royal Promenade and for it to be more enticing for passengers to want to experience it all.
With all that music, it's also why there are no Promenade view cabins on Icon of the Seas.  Unlike Oasis Class ships that have cabins facing the Promenade, Royal Caribbean removed them so that they don't have to worry about noise bleed.
Read more: The 5 best cabin locations on a cruise ship
Thanks to that open layout, there will be bar service from technically the Royal Promenade into the bar while walking past Dueling Pianos.  Great if you want to grab a drink and hear a tune without having to go inside.
To get an idea of layout, Royal Caribbean mocked up a scale rendition of the pianos and the bar, so they could get a sense of how far from the pianos the bar would be located.
Drink menus are still be worked out as well, but there's an idea for a cocktail that includes pop rocks candy.
Potentially called "Snap, Crackle, Pop!", the new cocktail would be one of many new drinks you could try on a cruise. The idea follows up on the fun drinks Royal Caribbean's beverage team created for Wonderland.
Read more: I spent $60 to eat at Royal Caribbean's most bizarre restaurant. I thought I would hate it, but it was one of the best meals of my cruise.
Lots of programming
Icon of the Seas will be packed with plenty of activities and entertainment, and part of this exercise was to show the thought process that goes into working through an event schedule.
In just considering the Royal Promenade, there's a lot of entertainment, from the Royal Theater, to the ice skating rink, to the dueling pianos, Boleros music, and more.
"If you think of entertainment in the Royal Promenade, this is more than we've ever done on a Royal Promenade before and really gives us really amazing entertainment," Mr. Schneider pointed out.
Sorrento's
Royal Caribbean's well-known complimentary pizza will have one change that aims to make it easier to get a slice.
The plan is to get away from having switchbacks and queues to handle the lines that form for pizza. Instead, they're hoping to improve the flow of guests with a larger footprint so the line can keep moving.
That isn't to say there won't be a line, but that there won't be a large line that requires the crew to set up stanchions to manage the line.
Sorrento's on Icon will also introduce a new beer experience, where crew members can pour you a glass of draft beer.  
A change as small as adding beer to Sorrento's is what Mr. Schneider describes as "little bets", which are essentially ideas that might not make headlines, but they are intended to improve the guest experience overall.
Other examples will include a mobile bar cart near the Flowrider, "Little things like that that you'll continue to see us do that are really meant to meet the needs identified by guests as they want more complimentary grab and go or for-pay grab and go depending on the type of experience."
Replacement for the library
You won't find a library on Icon of the Seas, as on other ships the venue was under utilized.
Instead, Royal Caribbean is experimenting with a take a book, put it back experience.
In Pearl Cafe you will find a pillar with books available to borrow, and evaluate how it performs, "this idea of grab a book in lieu of a library, we thought we'd try it. We'll see how it goes."
Just like the beer at Sorrento's, this is an example of something small Royal Caribbean is experimenting with on Icon.
Beverage center 2.0
The complimentary coffee and water station will look different than from other ships.
On ships today, you find a big carafe of coffee that eventually runs out, and somebody eventually comes over because they have to keep an eye on it and take it.
With the new beverage center, they make it easier to manage and all you have is a dispenser, with the refill functions at behind of house.
"And so the more you can move the guts back of house, the more you can monitor it and have a continual supply of whatever that liquid is for your guests."