In:
Royal Caribbean has a name for its second Icon Class cruise ship.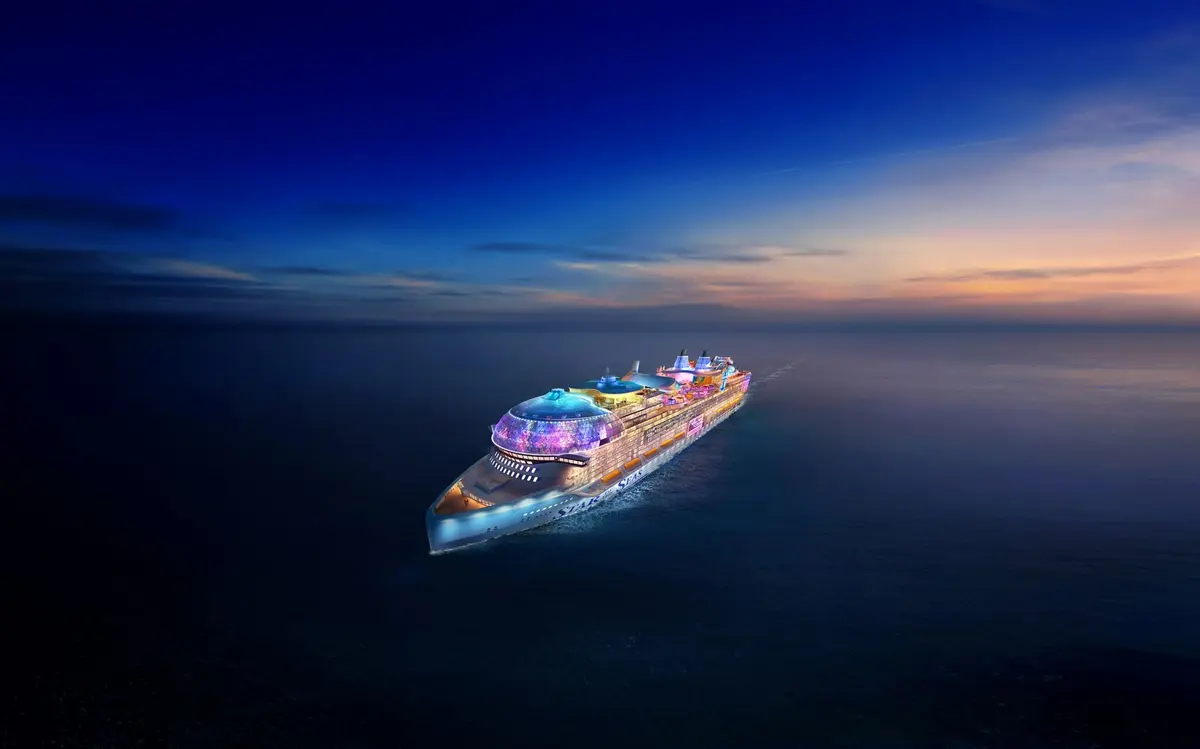 The cruise line announced on Thursday that the name of its next Icon Class ship to launch will be called Star of the Seas.
While the first Icon Class ship is about 100 days from entering service, Royal Caribbean is already eagerly looking towards the future with the second ship.
Royal Caribbean has orders in place for three Icon Class ships: Icon of the Seas, Star of the Seas, and an unnamed third Icon Class ship.
Why Star of the Seas? Royal Caribbean International President and CEO Michael Bayley thinks it's the perfect name for a ship that embodies the level of anticipation this new class has, "The idea of combining the best of every type of vacation into one ultimate adventure has created more excitement than ever anticipated, and Star of the Seas will be the next bold answer to the record-breaking consumer demand we've seen for nearly a year and counting with Icon of the Seas."
Star of the Seas was one of four ship names the cruise line put up for a vote on social media back in January of 2023. Other names included Idol of the Seas, Love of the Seas, and Queen of the Seas.
Star of the Seas did indeed win the poll on Twitter, garnering 44% of the vote.
Star of the Seas will debut in summer 2025, although there's no other details yet as to what will make this ship different or where she will sail from.
One detail we do know about Star of the Seas is she will be the third ship in Royal Caribbean's fleet to be powered by liquefied natural gas (LNG), combining the use of the cleanest-burning marine fuel available to date with a proven lineup of industry-leading environmental programs on board. With applications ranging from waste heat recovery systems to shore power connection, Royal Caribbean's most sustainable ship will advance parent company Royal Caribbean Group's journey to introducing a net-zero cruise ship by 2035.
How Royal Caribbean picks a ship name
The decision of picking a ship name is not a simple one, as Royal Caribbean often considers dozens of names before settling on one.
Royal Caribbean will commonly register many trademarks for new cruise ship names with the United States Patent and Trademark Office. 
As an example, in December 2021, the company registered 24 new cruise ship names.
Why so many?
Part of the process is not only reserving names they intend to use, but also names they know they will not use. Because trademarks are a matter of public record, from a competitive advantage standpoint, they'll include other names to prevent tipping their hand in which direction they'll go.
In November 2022,  Royal Caribbean's Senior Vice President and Chief Product Innovation Officer Jay Schneider talked about naming the next two Icon Class ships, "I'm still taking ideas on Icon two and Icon three. I feel really confident in the name we have for Icon three, it's actually two that we're still working on."
Star of the Seas is already under construction
We now know the name of the second Icon Class ship, but construction has been underway for a while now.
In February 2023, a steel cutting ceremony was held, which when the first piece of steel is cut, it marks a pivotal point in the ship building process.
Other milestones include keel laying, floating out, and delivery.
Sky-high demand for Icon
The hype surrounding Icon of the Seas is unparalleled so far, with sales for the new ship through the roof and equally high intrigue surrounding the new features and ship design.
Royal Caribbean actually opened bookings up three months early for more Icon of the Seas cruises through 2026 due to how well-booked the ship is at the moment.
The cruise line saw the single largest booking day and highest volume booking week in its history when Icon was first revealed in October 2022. 
In May 2023, Royal Caribbean Group CEO Jason Liberty talked about the incredible demand the ship has experienced so far, "Despite being on sale for only five months, Icon is significantly more booked for her inaugural season at materially higher rates than any other Royal Caribbean ship launch."
Royal Caribbean International President and CEO Michael Bayley talked about this fact, "Icon is literally the best performing new product launch we've ever had in the history of our business, and we're delighted with volume and rate and that really is a full 24 product."
"Since Icon of the Seas was revealed almost a year ago, the response has been unprecedented by every measure."
Icon of the Seas will be 250,800 tons and hold up to 7,600 passengers, both of which are stats that eclipse the current largest cruise ship, Wonder of the Seas. Icon will also be about 10 feet longer than Wonder of the Seas, coming in at 1,198 feet long.
Icon of the Seas will remain in Miami, Florida and offer 7-night Eastern and Western Caribbean voyages, with all of them visiting Perfect Day at CocoCay. 
Currently under construction at the giant Meyer Turku shipyard in Turku, Finland, Icon of the Seas will have her first sailing begin in January 2024.