In:
Cruise ship sustainability has moved a step forward with a successful test of a new kind of fuel.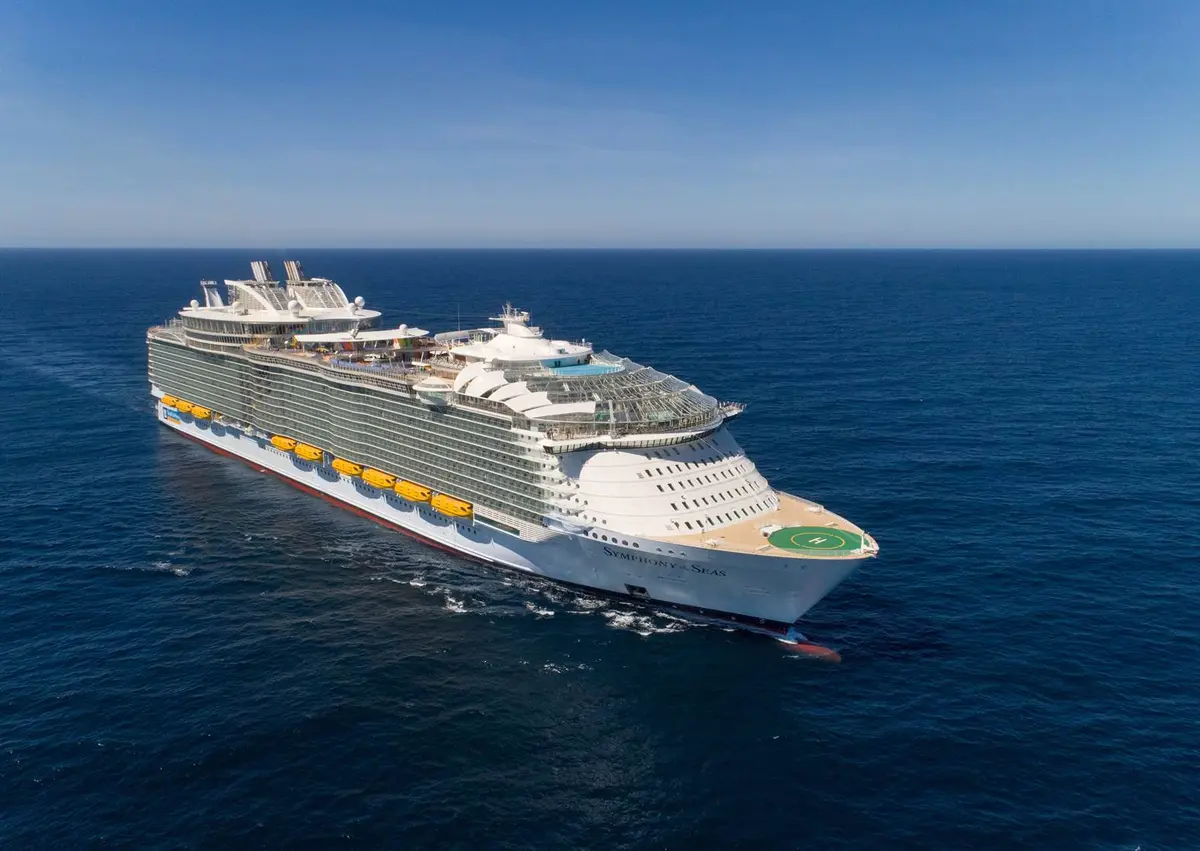 Royal Caribbean reported it tested a new biofuel alternative on a cruise ship this week that is part of the company's overall environmental strategy.
Symphony of the Seas became the first in the maritime industry to successfully test and use a biofuel blend in Barcelona to reduce the ship's carbon emissions.
Becoming a sustainable company has been an established goal, and a new type of fuel is part of the plan to get to that point. By introducing methods that reduce emissions today, Royal Caribbean Group is ultimately advancing the decarbonization of its operations.
Today, in Barcelona, Symphony of the Seas became the first ship in the maritime industry to successfully test and use a biofuel blend in Barcelona to meet part of her fuel needs.
Royal Caribbean confirmed onboard technical systems met operational standards, without quality or safety concerns, demonstrating the biofuel blend is a reliable "drop in" supply of lower emission energy that ships can use to set sail across Europe and beyond. The tests across Europe also provided valuable data to understand the availability and scalability of biofuel in the region.
Last fall, Navigator of the Seas tested out biofuel when she sailed from Los Angeles, California and became the first a cruise ship to sail from a U.S. port while using renewable diesel fuel.
The test on Navigator was conducted on a three-night cruise to Ensenada, Mexico in October 2022 with one engine powered by 30 tons of biodiesel.  
The test lasted three months.
What is biofuel?
The sustainable biofuel blends tested were produced by purifying renewable raw materials like waste oils and fats and combining them with fuel oil to create an alternative fuel that is cleaner and more sustainable. 
The biofuel blends tested are accredited by International Sustainability and Carbon Certification (ISCC), a globally recognized organization that ensures sustainability of biofuels and verifies reductions of related emissions.
Biofuel greatly reduces carbon emissions compared to the burning of the fossil fuels used in marine gas oil. It's processed through an oil refinery and is molecularly identical to diesel. 
Royal Caribbean Group President and CEO Jason Liberty credits the advancement as an important milestone, "Following our successful trial of biofuels this summer, we are one step closer to bringing our vision for net-zero cruising to life. As we strive to protect and promote the vibrant oceans we sail, we are determined to accelerate innovation and improve how we deliver vacation experiences responsibly."
What's the next step?
With Symphony of the Seas departing from the Port of Barcelona and Celebrity Apex departing from the Port of Rotterdam, both ships accomplished multiple sailings using biofuel and contributed critical data on the fuel's capabilities. 
More tests are planned for this fall when they use different types of biofuels on upcoming European sailings.
In a statement, Royal Caribbean Group said it plans to continue to use alternative lower carbon fuel as part of its overall plan.
In addition to biofuels, Royal Caribbean Group is building ships that can leverage liquefied natural gas, or LNG, to reduce emissions.
Commonly referred to as a transition fuel, LNG results in 95% fewer particulate matter emissions, nearly eliminates sulfur emissions and reduces nitrogen emissions by 85%, reducing greenhouse gas emissions by up to 20%.
LNG isn't the ultimate solution, but a step in the journey.
Sustainable by 2050
Royal Caribbean Group calls its overarching sustainability goals "Destination Net Zero", and biofuels are one way it intends to get there. 
Announced in 2021, there are two simple goals:
Delivery of a net zero emissions cruise ship
A path to net zero emissions by 2050
Destination Net Zero's four-pronged approach includes:
Modernization of the cruise company's global brands fleet through the introduction of 13 new energy-efficient and alternatively fueled vessels.
 
Continued investment in energy efficiency programs for its fleet, including energy saving technologies, enhanced data systems and digitalization.
 
Development of alternative fuel and alternative power solutions.
 
Optimized deployment and integration of strategic shore-based supply chains.