In:
Packing for a cruise vacation can be stressful. Some people will put it off until the last minute, while others start planning their outfits as soon as the initial deposit it made. Regardless of when you choose to begin the process, trying to visualize what you want to bring can be difficult.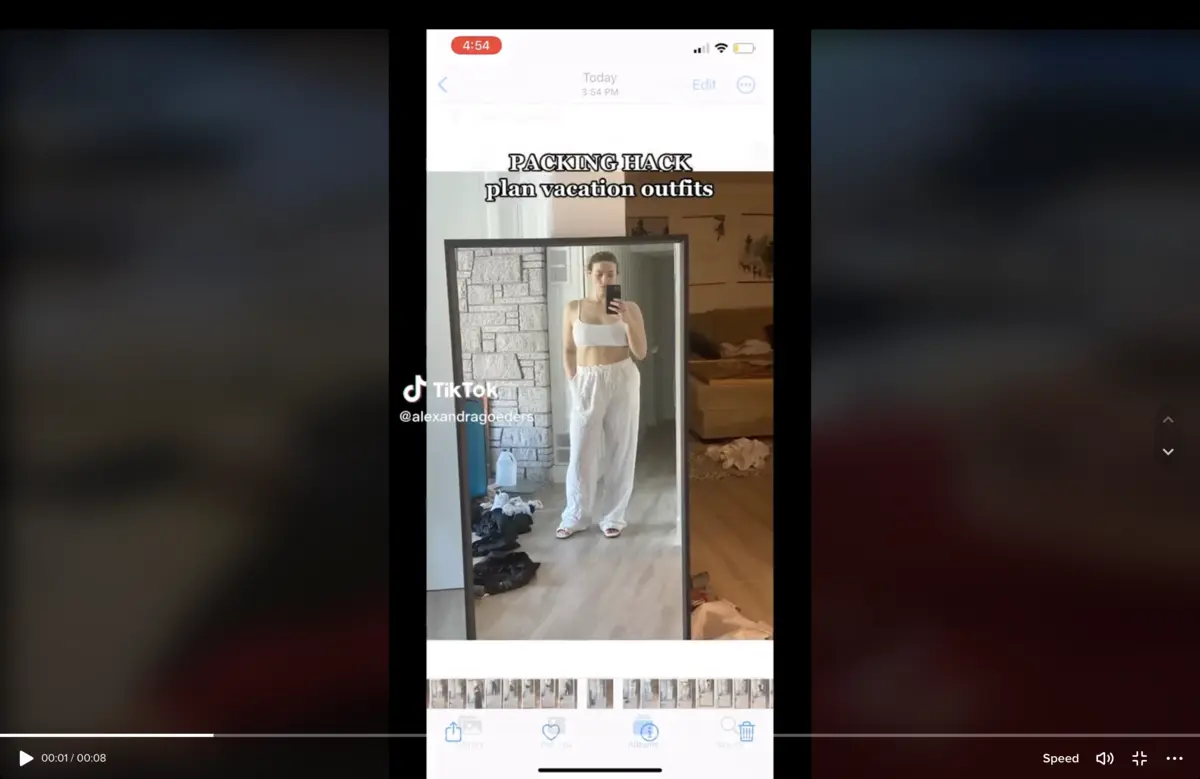 TikTok user Alexandra Goeders shared a planning hack for her Royal Caribbean cruise that she claimed was "sooo helpful." 
The eight-second video, which has amassed over 8 million views and 540,000 likes since being posted in February, illustrates how Goeders utilizes the notes app to help plan her outfits. 
"decided to try this hack I saw from @Ashley Lopes," reads the caption, "and it's sooo helpful for planning out what to bring on vacation! I'm heading to Miami on Saturday and then going on a @Royal Caribbean cruise 🚢 ☀️ perfect timing since it's supposed to snow here this weekend."
Here is a breakdown of the packing hack just in time for your next cruise!
Related: 40 essential things to bring on a cruise
Copy and pasting into the iPhone notes app
In the TikTok video, Goeders shows a screen recording of her phone where she has taken various pictures of herself in a full-length mirror wearing different outfits. 
She holds down the image of herself and copies it, effectively cropping out the background. She then pastes the image into her notes app to help her plan when she will wear each outfit, whether it is for "sports/gym/activities," "casual/beach/pool," or "dinners/shows/dancing." 
Of course, your itinerary might mean that you make some adjustments to the categories. If, for instance, you are sailing to Alaska, you will want to think about what layers you want to bring. You will be less focused with beach and pool attire!
When on the ship, it is easy to refer back to the notes app with the pictures, rather than wasting precious vacation time trying to figure out what you want to wear and trying on different outfits. You also do not want to have to scroll through a photo album trying to remember how you styled a specific outfit. 
While it is helpful for all outfits, thinking ahead to evening wear might be the most important, especially if you want to partake in any of the themes. It would be harder to throw together an outfit for White Night or 70s Disco at the last minute!
Piecing together what you have and figuring out what you need to buy in advance will let you redirect your focus to important check-in and travel logistics as the cruise approaches. 
Related: The worst cruise packing mistakes to avoid
Shrinking the pasted image
When I went to try the hack out myself, I noticed that when I pasted a copied image of myself into the notes app, the image was pretty large, so I had to do some research to figure out how to shrink the image!
Once the copied imaged is pasted, you have to hold down on it until a menu appears with the options "copy," "share," "small images" and "delete." Selecting "small images" will help you be able to use this hack for your next cruise vacation! Otherwise, the images will be too large for you to organize into categories like Goeders did.
Reactions
TikTok users are a fan of Goeders' video. Even Royal Caribbean's official TikTok commented, "Pack smarter, vacay harder." 
User @mommypleaseagain said, "As a person who LOVES lists…. You have just made my heart so happy," while user @jetnerd737 wrote, "I thought I was doing good writing them out day by day for vacations!! Like I'm jaw dropped!! Game changer!!!" 
@katiana_maz commented, "Super helpful when I'm trying to pack light! Someone thought I was crazy when I showed them I did this lol," meaning that even if you are packing for a weeklong cruise in a carry-on, there is nothing wrong with trying to stay organized during the packing process. 
Other helpful packing tips
Bring a carry-on bag
When you arrive at the cruise terminal, you will be greeted by a porter who will check in your larger luggage; you will not see it again until later that afternoon. To ensure that you are prepared for embarkation day, make sure that you have a carry-on bag to hold your travel documentation and other valuables, such as electronic devices, medication, jewelry, etc. 
You do not want to accidentally pack your passport in your suitcase! 
Related: 15 things to pack in your cruise carry-on
Do not pack any prohibited items
Read up on what items are prohibited onboard Royal Caribbean ships. If you try and bring something on that is not allowed, it will be confiscated and kept until disembarkation. Sometimes, they will discard the item and provide no compensation. 
Some things -- such as candles, weapons, drugs, and hard liquor -- make sense. Others, however, might slip your mind! You cannot bring steamers or electrical extension cords. 
Related: What can you not bring on a cruise
Use packing cubes or compression travel bags
Packing cubes or compression travel bags will help you organize your suitcase when you are in the middle of packing. Plus, they help you to pack more, which is great if you are limited on space. 
They help make unpacking a breeze when you get on the ship, too. Simply take the cubes out of your suitcase and place them in the dresser and/or closet and get back to doing the fun sail away activities!