In:
In-between seeing the progress Royal Caribbean has made on its next cruise ship at the shipyard in Finland, there were a few interesting tidbits shared about what we can expect to find onboard when the ship sails.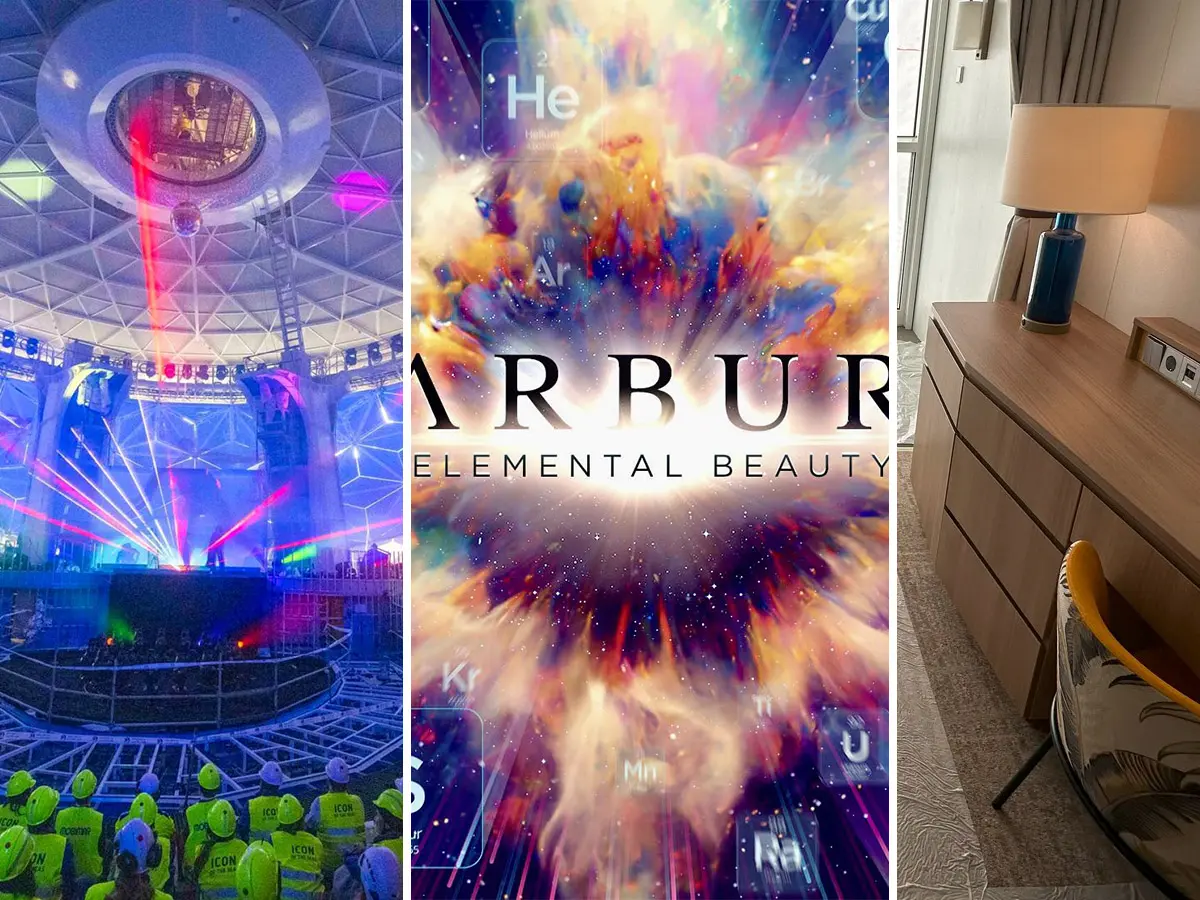 Royal Caribbean is excited to share as much of Icon of the Seas as they can, and in walking around the ship that is about 80% complete, I picked up on a number of details that was news to me.
Most of the walkthrough went over information previously disclosed, but a few interesting details were mentioned.
While some of these will not be ground breaking news by any means, if you're like me, you're eager to learn as much as possible to prepare in advance of the ship entering service.
Icon of the Seas shows revealed
Royal Caribbean Senior Vice President of Entertainment Nick Weir talked about the plans Royal Caribbean has for entertainment on Icon, and we got a full line up of shows we can expect.
There will be three primary venues for shows: AquaDome, ice skating rink, and Royal Theater.
The premier show in the AquaDome will be "Aqua Nation!".
"Pirates vs Mermaids" is the name of of the other show in the AquaDome.
"Starburst" is the name of the ice skating show in Absolute Zero skating arena.
And there will be one additional show in Absolute Zero, "Once Upon A Time".
Mr. Weir also talked about "Effectors", which is Royal Caribbean's own super hero produced show.  There's been two versions so far, and it appears a version may be headed to Icon as well.
Of course, we already knew that "Wizard of Oz" will be the featured musical on Icon of the Seas, and Mr. Weir indicated it would have a targeted runtime of around 90 minutes.
Destination elevators
Something else new on Icon will be destination elevators, instead of traditional elevators.
"You'll notice we don't have classic elevators on icon, we have destination elevators," said Royal Caribbean's Senior Vice President and Chief Product Innovation Officer Jay Schneider.
"A destination elevator is I go to a panel. I tell you where I want to go. It tells you what elevator you should go to, and then I go to it."
Mr. Schneider said the impetus to go with destination elevators has three reasons.
The first is elevators go through their own historical innovation and evolution.
The second is the company is well-aware of the issue with waits for elevators, "even with the elevators that we have on the Oasis Class, we still can struggle with lines. And you see those comments as much as we do."
Third, Icon has more passengers than any other ship, "so really being able to effectively move up to 7500 passengers seamlessly and solve for some of the problems that we've seen from our elevator technology on other ships, this is a big step forward."
AquaDome panels
The fact the AquaTheater is now indoors is more than just a roof.  
Above the theater there are panels that move and can be projected upon. This adds a new dimension to the story telling of the show.
In addition, the fountains at the base of the theater will use lights and water to be part of the set, rather a showpiece.
Great storage in cabins
We were able to tour two types of cabins that are still being constructed, but it was clear early on there will be plenty of places to store your belongings.
Royal Caribbean's ships have been steadily increasing storage space in their cabins for years, and Icon will be no different.
Cruise ships built more than 10 years ago had very limited storage space, but that's changed in recent years.
We saw a lot of extra spots to put your stuff, including shelves behind a full length mirror.
Speaking of cabins, the old style "tube" showers have been replaced with more contemporary shower doors that swing out.  There's even a seat now in the showers.
Supper Club
Royal Caribbean wouldn't confirm it, but we're pretty sure we spotted a new dining venue.
Our tour visited an unnamed venue that the cruise line said they'd reveal more details in the coming weeks.
Based on the ceiling, it looks like it could be the Supper Club.
Pool chairs that face both ways
One interesting anecdote about the pool loungers on Icon is that they can be adjust to face in either direction.
The advantage of this feature is you can always face the sun without having to lift and swivel the lounger.
Food trend
One food trend Royal Caribbean wants to jump on with Icon of the Seas is birria sandwiches.
Royal Caribbean is testing out a mushroom birria sandwich for Pearl Cafe. It may not end up on the final menu, but it's an idea they're testing out.
Royal Caribbean Vice President Food & Beverage, Linken D'Souza, said the food trend is an interesting food trend they're playing with at the moment.
Crew member interest has been overwhelmingly good
The new ship has already drawn a great deal of interest from crew members that want to transfer to Icon once she launches.
New cruise ships come with many challenges, but some crew members love the opportunity to help "break in" a new ship.
Part of that interest with Icon may lie with the redesigned crew areas.
Royal Caribbean brought in a team of crew members to check out the crew cabins and crew areas of Icon, and they hated it.  As a result, Royal Caribbean reworked the crew spaces with a team of crew members that provided helpful insight.
The end result is a much better received design for crew areas.
An experience not yet announced for the AquaDome
Royal Caribbean is far from done with announcing everything for Icon of the Seas, including something else to see/do in the AquaDome.
During our tour, it was alluded to that there would be more to enjoy in the AquaDome beyond what has already been announced.
The vague tease infers we should expect another announcement down the line.